Ben Carson Blames Everyone but Himself for $31,000 Table
The Secretary of Housing and Urban Development decided to throw his wife under the bus.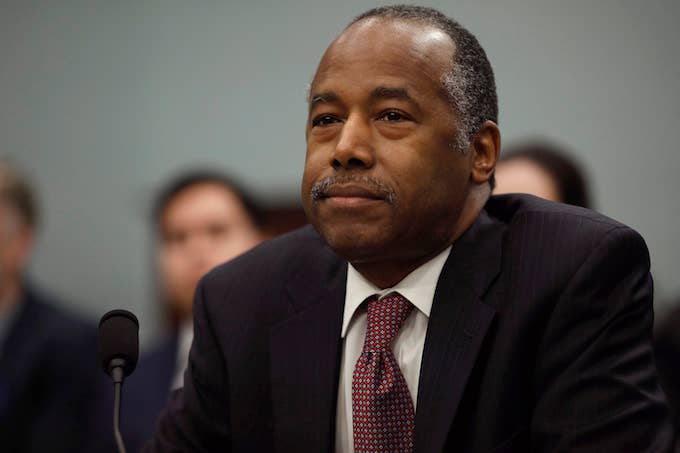 Getty
Image via Getty/Aaron P. Bernstein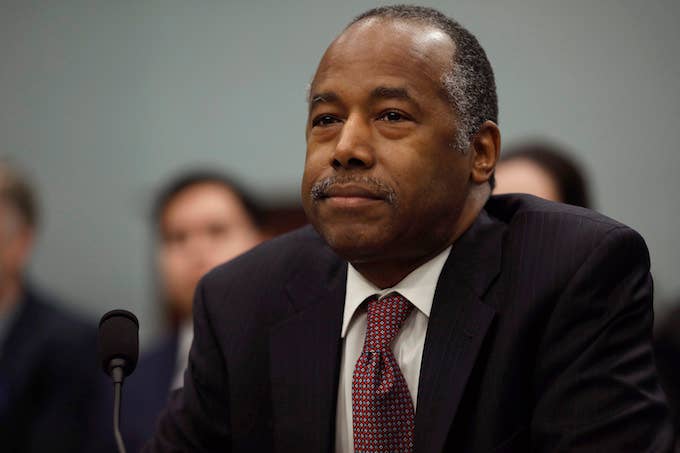 The expensive table drama involving Housing and Urban Development Secretary Ben Carson continues. Carson, who apparently demoted a staffer after she refused to buy him a $31,000 table, addressed the controversy on Tuesday during a House Appropriations Committee hearing.
According to Business Insider, instead of taking responsibility for the horrendous attempt of using taxpayers dollars for furniture, he blamed...chairs. "People were being stuck by nails, a chair had collapsed with somebody sitting in it," Carson reportedly told the committee.
Carson, who I imagine at this point was shaking his fist in the air wondering how a benevolent God could allow people could work in such insufferable conditions, decided to put his wife Candy (who, to be clear, does not work in government) in charge of renovations. During the meeting, Carson decided to go ahead and throw said wife under the bus. "I left it with my wife," Carson said. "The next thing that I, quite frankly, heard about it was that this $31,000 table had been bought."
Of course Carson, who considers poverty a "state of mind," pulled the plug on such a lavish expense after he heard about it on the news. "I was as surprised as anyone to find out that a $31,000 dining set had been ordered," said Carson in a statement to CNN earlier this month. "I have requested that the order be canceled. We will find another solution for the furniture replacement."
HUD spokespeople initially denied that Carson and his wife had anything to do with the purchase, despite some email evidence to the contrary and claims from HUD staffer Helen Foster, who said Candy Carson pressured her into buying the furniture. Candy allegedly said "$5,000 will not even buy a decent chair."
Damn, what the hell am I sitting in right now???
Long story short, Carson lied and then blamed the whole incident on his wife. This story serves as a reminder that this administration is apparently full of men who can't own up to any of their actions.