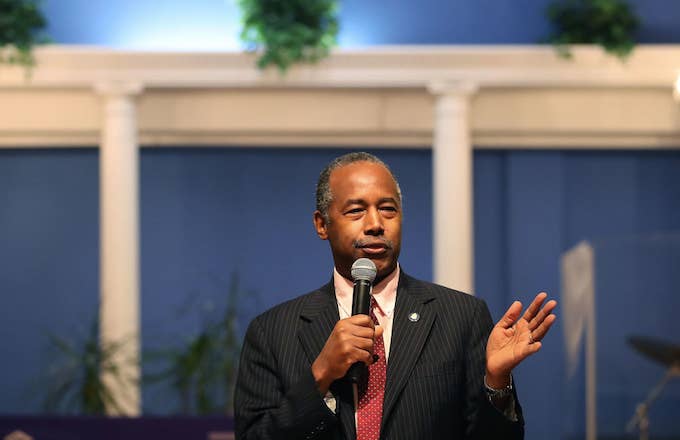 A former official for the U.S. Department of Housing and Urban Development says she was demoted and transferred after refusing to break the law for Secretary Ben Carson.
According to the Guardian, Helen Foster has filed a complaint with the Office of Special Counsel, claiming she was moved from her position after declining to violate the spending laws to redecorate Carson's office. Foster says HUD's interim secretary, Craig Clemmensen, had urged her to "find money" to purchase nicer furniture for the Trump appointee last summer. After Foster reminded Clemmensen that the spending cap for office decorations was $5,000, he allegedly told her: "$5,000 will not even buy a decent chair" and that past administrations had "always found a way around" the spending limit.
Foster says she was also punished for wanting to disclose a $10 million budget shortfall at the department, which oversees programs that provide housing and community development assistance.
The Guardian reports:
She said she reported the shortfall to David Eagles, HUD's chief operating officer, but was told in June that "agency leadership is unwilling to report the $10.8m funding deficit" to appropriations staff, who deal with congressional approval for the department's funding. Foster said she warned HUD's budget staff this would be illegal.
After these incidents, Foster claims her work responsibilities began to decrease. According to the complaint, she was prohibited from handling two freedom of information act requests relating to Trump because her superiors thought she was a Democrat. Foster was reassigned in July of 2017, but said she did not receive a new job description until several months later.
According to the Guardian, Foster is now seeking compensatory damages, a public apology from HUD, and reinstatement as the department's chief administrative officer.
HUD spokesman Raffi Williams previously claimed HUD had only spent $3,200 to put up new blinds in Carson's office; however, on Tuesday, he confirmed to the New York Times that the department had spent $31,000 on a dinning set for the secretary's office. Williams insists Carson "didn't know the table had been purchased," but he has no plans to return it.