The Best Robin Williams Fits
From Bathing Ape to archival Issey Miyake Bomber jackets, Robin Williams loved streetwear. Here are the best outfits that show the evolution of his style.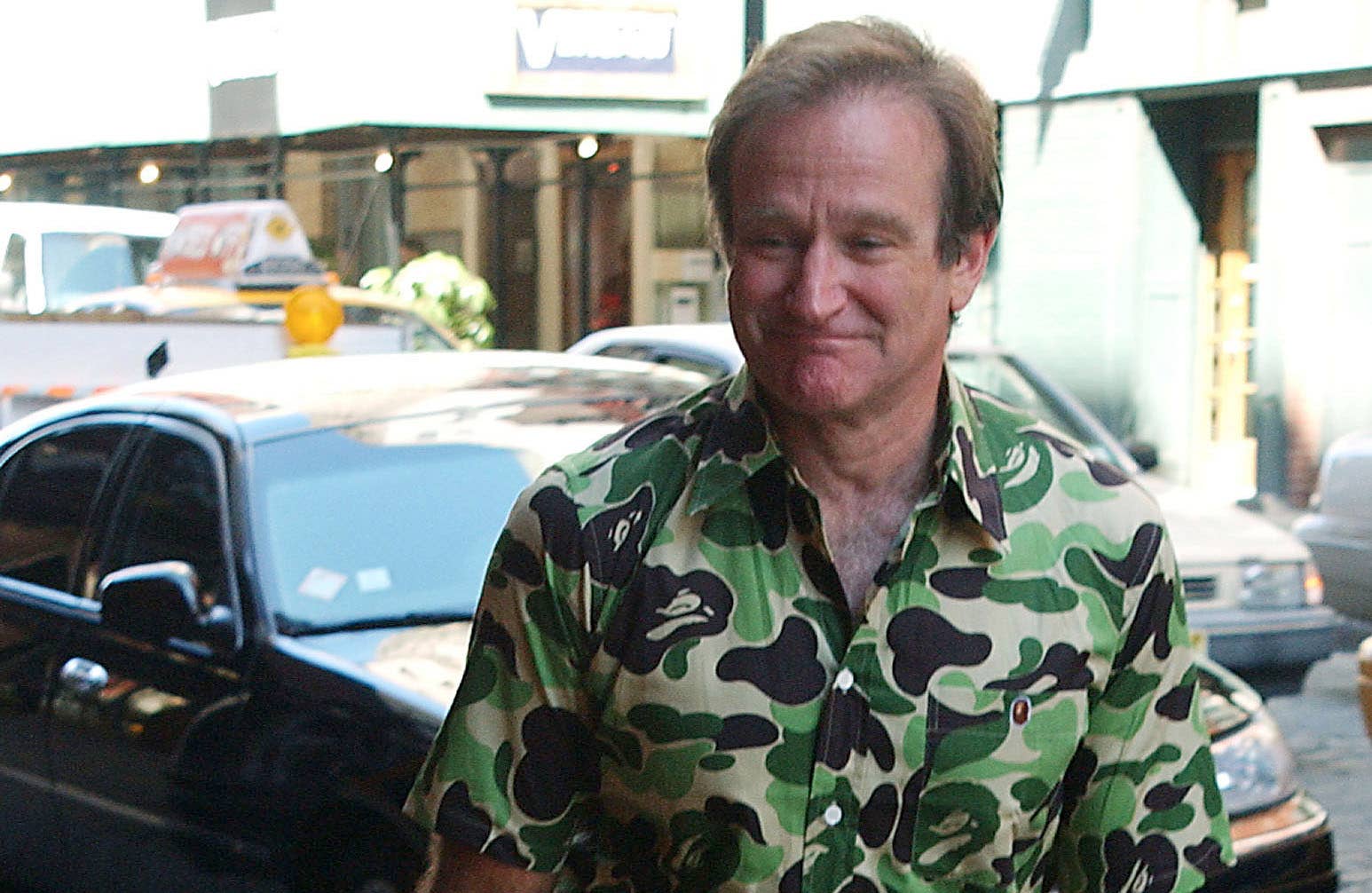 Getty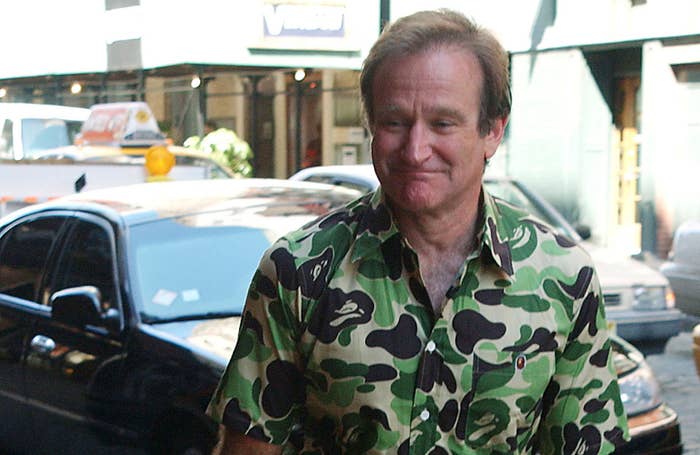 From wearing OG Nike Viotech Dunks and archival Issey Miyake grails, the late Robin Williams clearly had an eclectic taste for clothing. Long before rappers like ASAP Rocky and Playboi Carti became fashion icons, Robin was turning up the heat in Hollywood. Ask any Instagram archive page admin, if you flip through some of Williams old pictures, you're bound to come across impeccable amounts of drip. Some rare pieces in Robin's rotation included Jean Paul Gaultier shirts straight from the runway and Gore-Tex Visvim jackets from the early 2000s. Plus, when it came to forecasting trends, Robin was lightyears ahead of the hype for vintage North Face jackets or BAPE camo.
Towards the end of March, Tweets about some of Robin's greatest fits made their rounds on Twitter. Eventually, Zelda Williams commented on her father's style with a Tweet saying that he "wore things I have never seen another person dare wear, and I have always respected that flex." We absolutely felt the same way, so we dug through the archives to share some of his greatest fits with you. Let this be some inspirational material for years to come. God bless Robin Williams and may he rest in peace. 
1979: Bomber Jacket and Vegimals Hat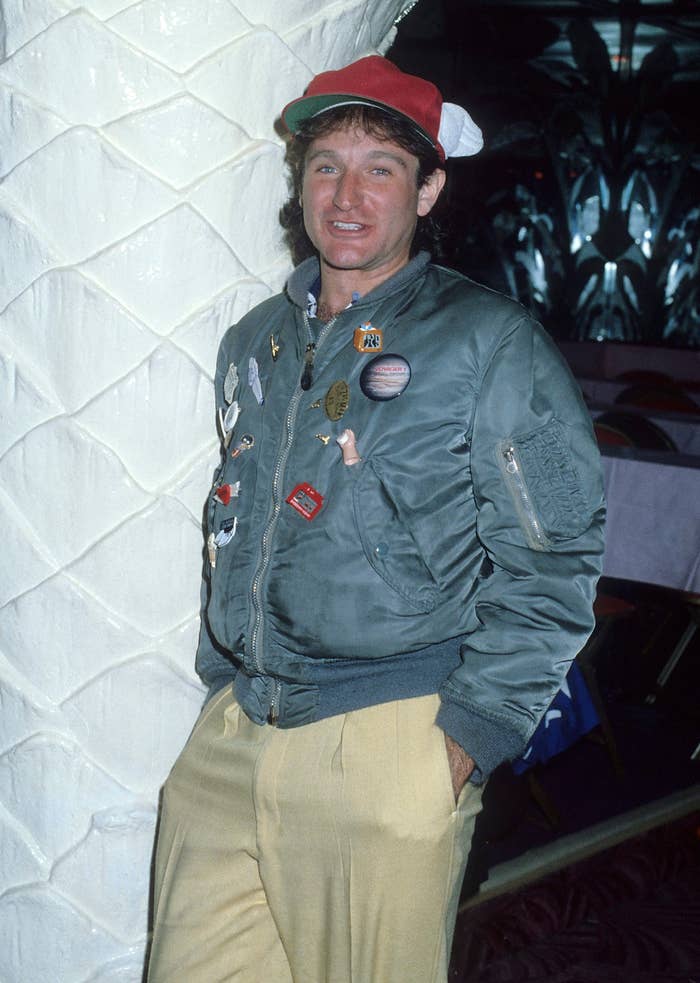 Early on, it was clear that Robin Williams had an eye for the latest trends while maintaining his own unique style. When this photo was taken in 1979, Williams was a newly discovered comedy star who won a Grammy for his comedy album and starred in the television sitcom, Mork & Mindy. This bomber flight jacket embellished with enamel pins somehow works for Williams perfectly. But to truly dissect this fit, we have to take a moment to appreciate this baseball cap with plush wings on it. No, that hat wasn't made by Jeremy Scott, it was made by a toy company called Vegimals. In the late '70s, Vegimals started producing silly baseball hats with plush wings, horns, and more. The hats sold for $9 a pop and quickly sold out in toy stores across the country. According to this article by The Washington Post, during the peak of the brand's popularity—note that this was published the same year this photo was taken—the hats could resell for as much as $100. Robin was a hypebeast before they even existed. 
1990: The North Face Trans-Antarctica Expedition Parka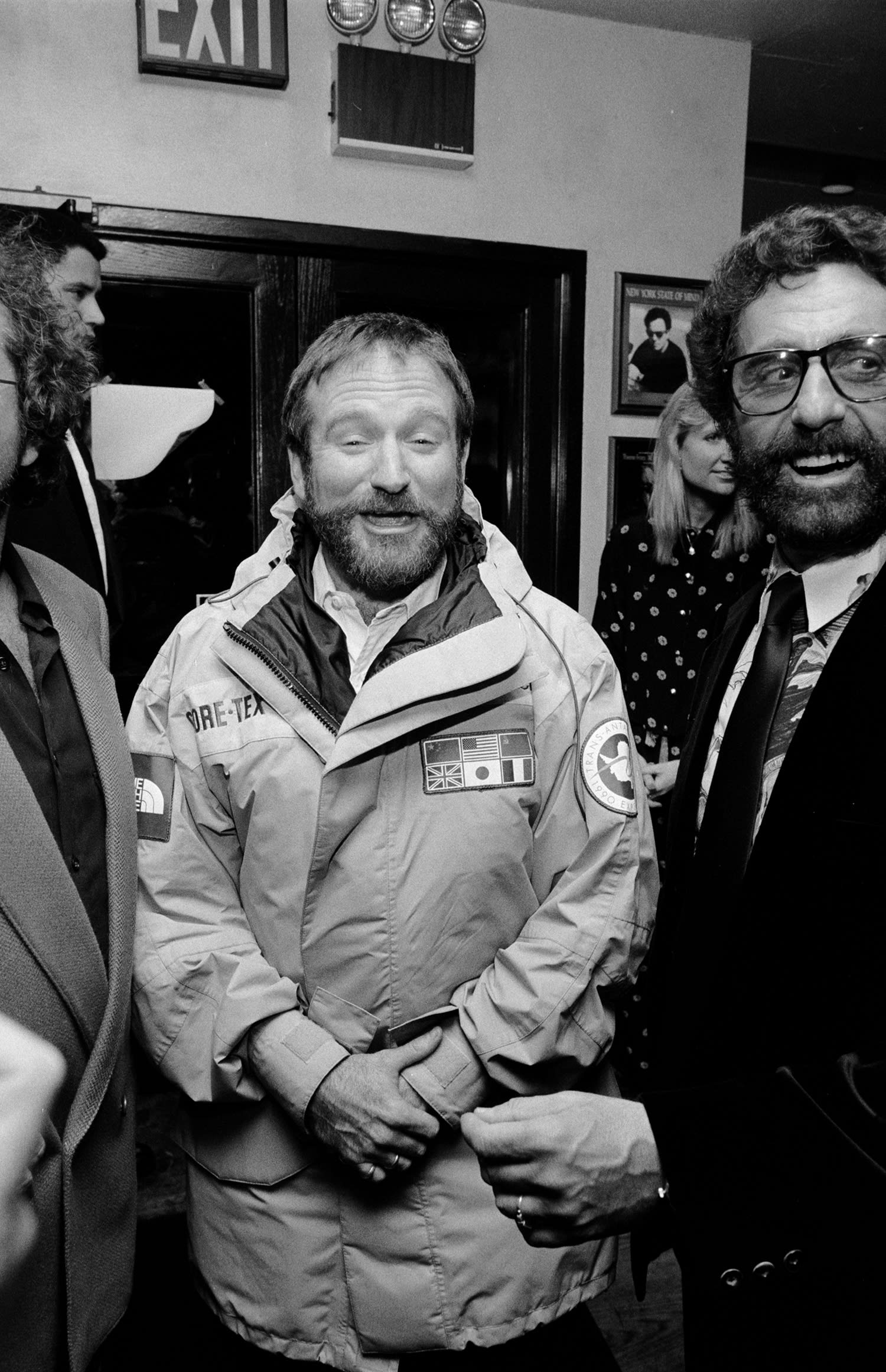 What makes this fit mindblowing is that the jacket Williams is wearing is considered to be one of the most sought after vintage North Face grails today. This jacket is one piece from The North Face's Trans-Antarctica Expedition line, a limited edition collection which commemorated the specially made North Face jackets worn during the 1989-1990 Trans-Antarctica expedition. When this collection was commercially released at outdoor retailers to celebrate the voyage, it was likely purchased by simple outdoor enthusiasts. But when North Face jackets were framed under the lens of streetwear in cities like New York, pieces from its Trans-Antarctica line became highly sought after Gore-Tex grails. Nearly 30 years before Supreme re-released the Trans-Antarctica line with a North Face collaboration, Robin was rocking this parka the very year it hit stores.
1992: The 'Toys' Noise Suit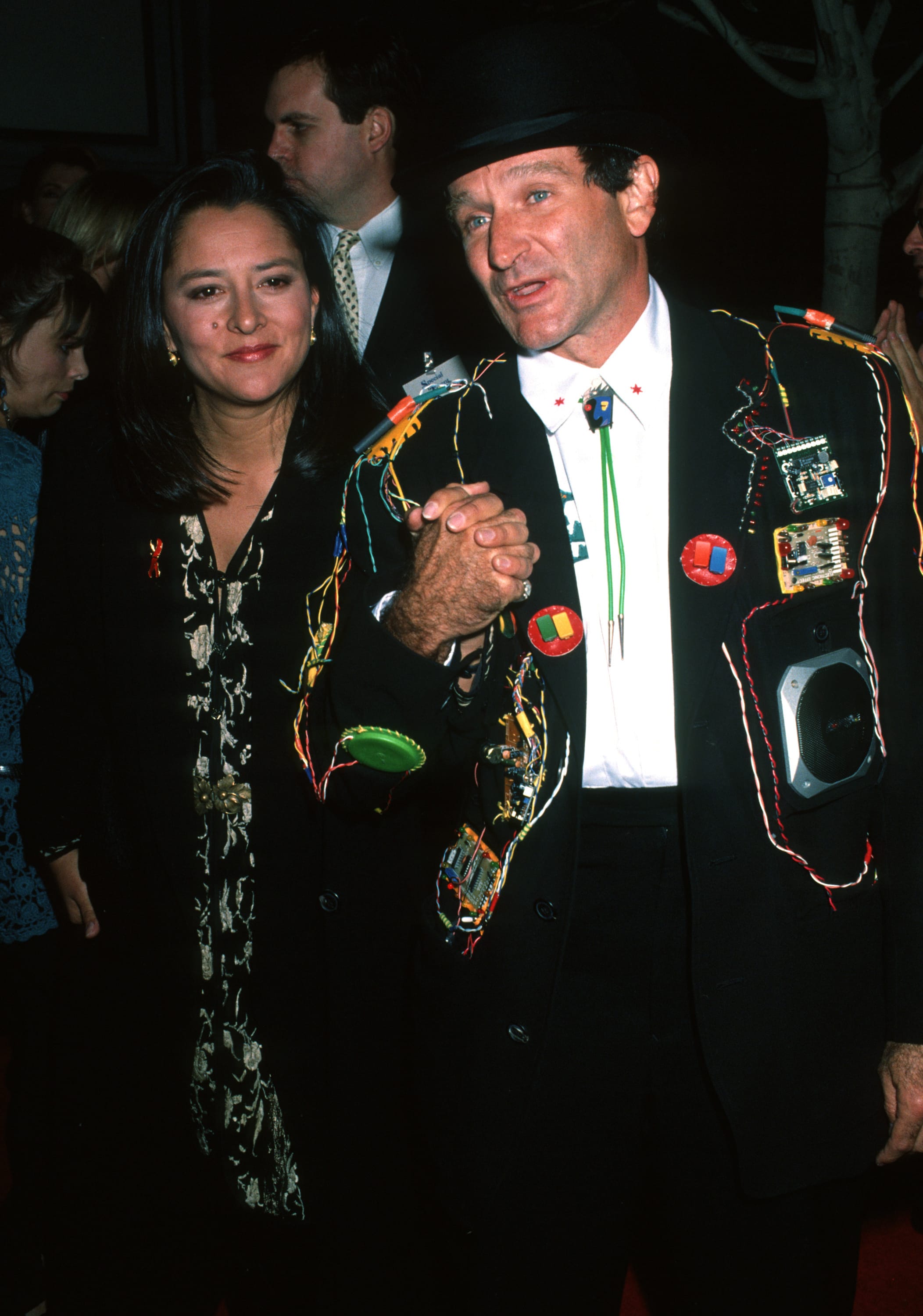 After Robin Williams was nominated for a Best Actor Oscar for his lead role in Good Morning Vietnam, he went on to work with the film's director again for the 1992 film Toys. Although Williams' second film with Barry Levinson failed to garner the widespread critical acclaim of Good Morning Vietnam, it did create one of Williams' most iconic looks. One of the key costumes in the film, which was centered on a toy inventor, was a zany suit embellished with wires, speakers, and circuit boards. The suit was crafted by the Italian actor Giancarlo Giannini and actually made noises when Williams walked around in it. 
1995: Gaultier Shirt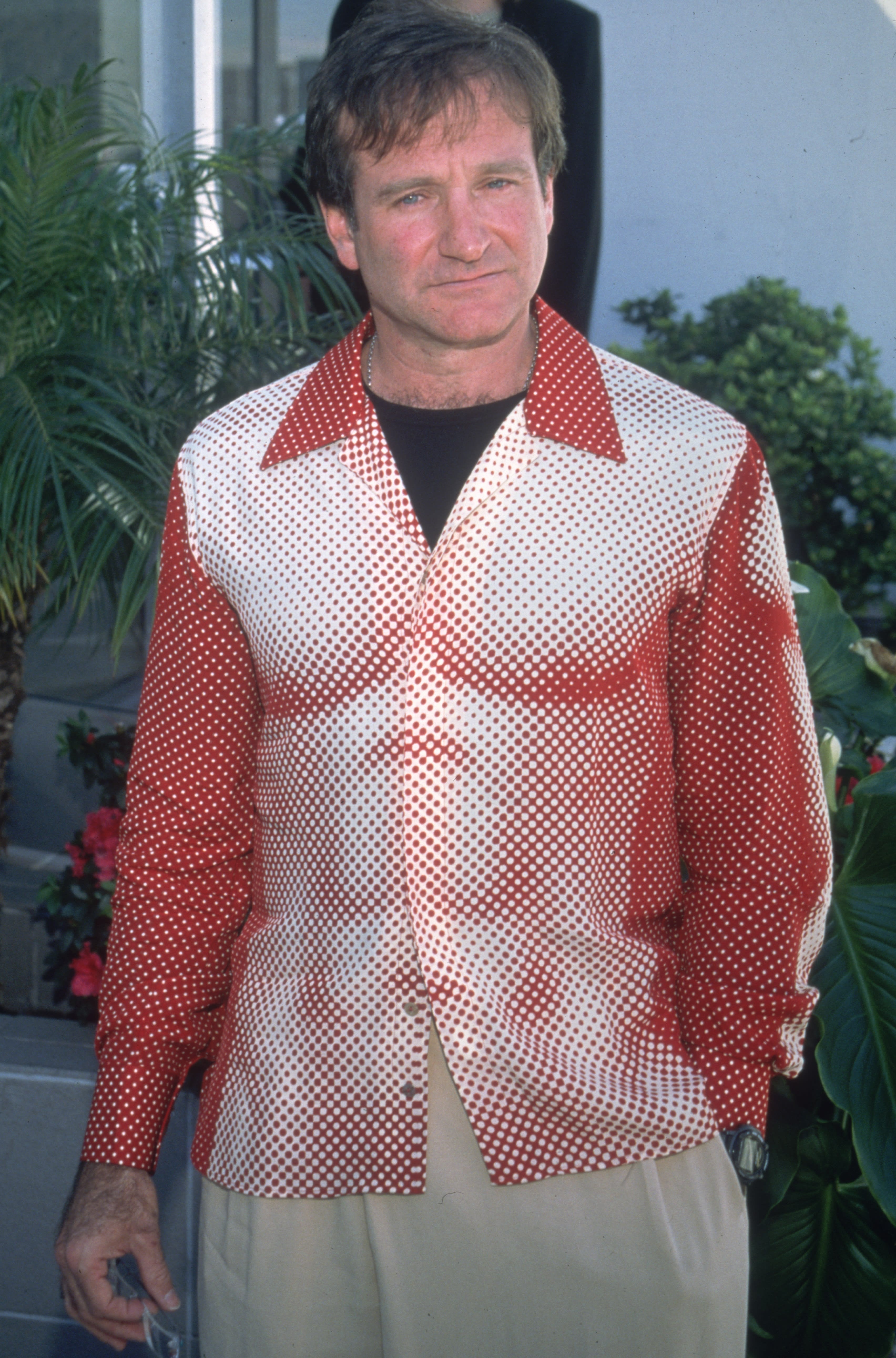 This fit shows Robin Williams' love for French fashion's most infamous enfant terrible, Jean Paul Gaultier. This shirt was from Gaultier's Spring/Summer 1996 'Pin Up Boys' collection. Once again, Robin was lightyears ahead of rappers such as Lil Uzi Vert, who is also a fan of Gaultier's work.  
1997: Issey Miyake at the 'Flubber' Premiere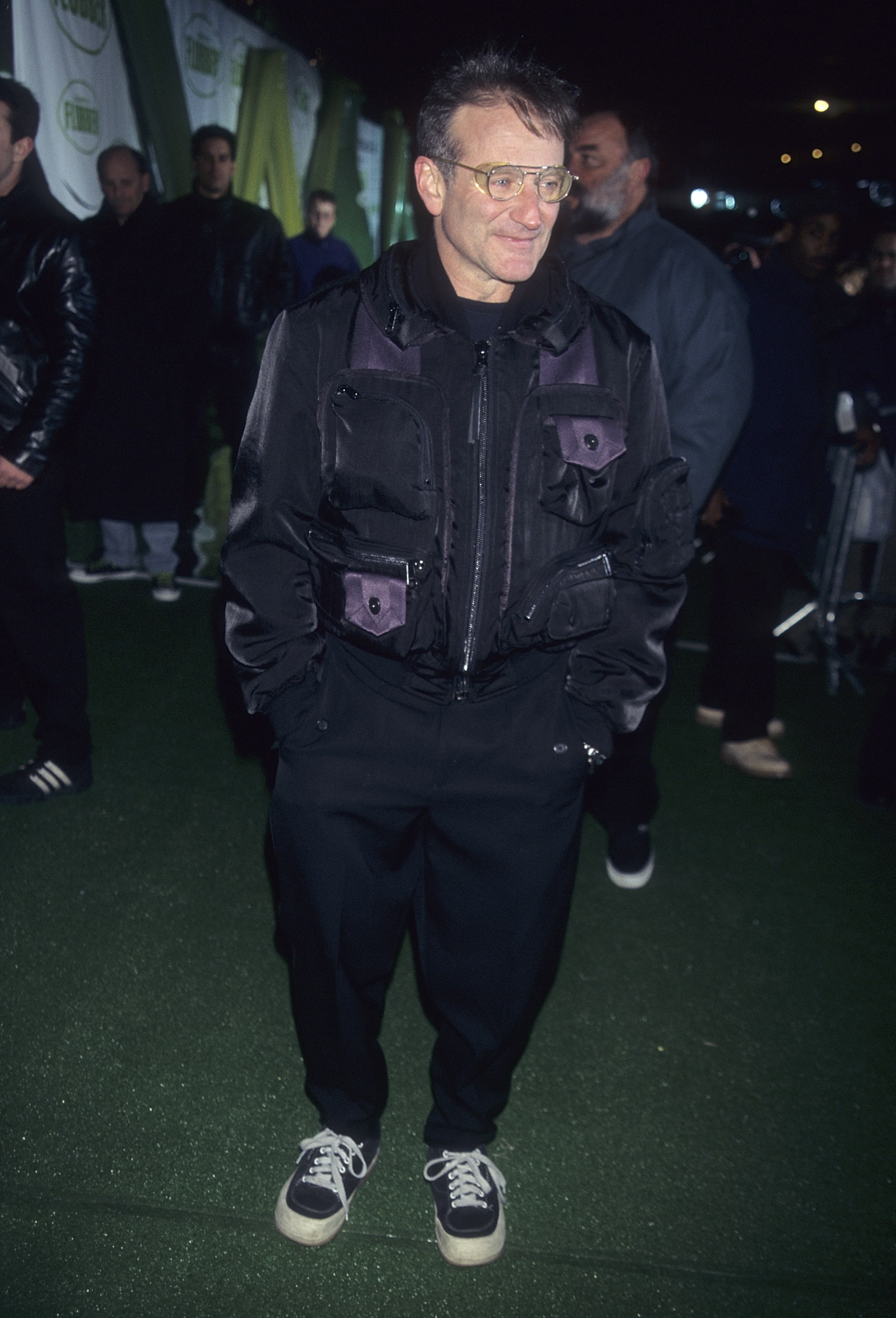 Years before Playboi Carti would don this exact Issey Miyake grail in the music video for "Magnolia," Williams wore this iconic bomber jacket to celebrate the premiere of his 1997 Disney classic, Flubber. Dubbed the "Parachute Cargo Bomber," there is little information surrounding this popular piece from the Japanese designer's Fall/Winter 1996 collection. But what is known is that Williams' fit has greatly added to this jacket's mythological allure. The same year Williams wore this jacket, he also starred in one of his most memorable films, Good Will Hunting. 
1998: Japanese Suiting at the 'Patch Adams' Premiere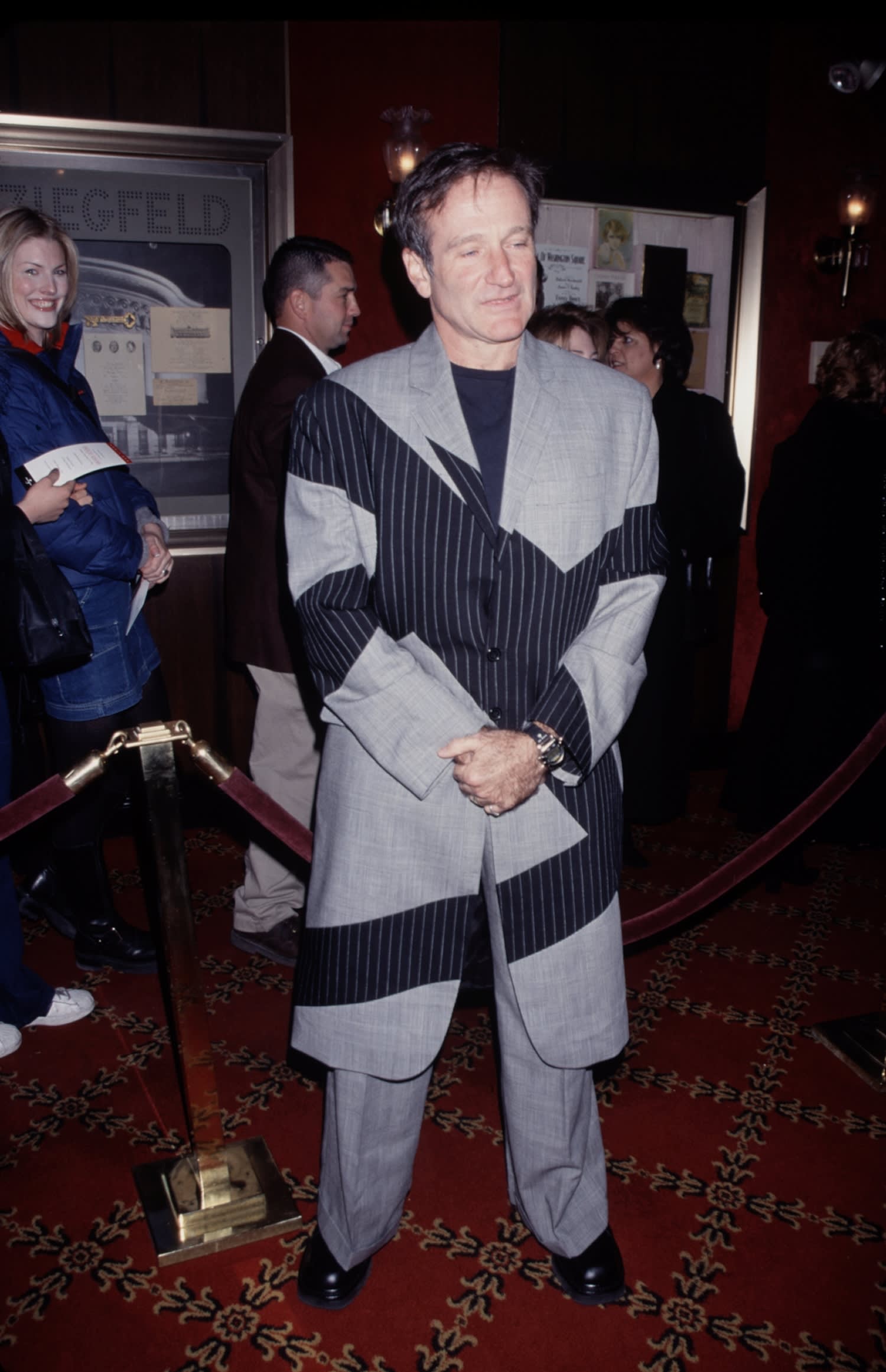 When Robin Williams arrived for the premiere of Patch Adams, he truly switched it up by rocking this patchwork striped suit reminiscent of Japanese brands such as Comme des Garcons and Junya Watatanbe. If only we knew where Robin was sourcing these Japanese garments. Williams went on to win a Best Supporting Actor Oscar that year for Good Will Hunting. 
1999: Robin in a Fuego Camp Collar Shirt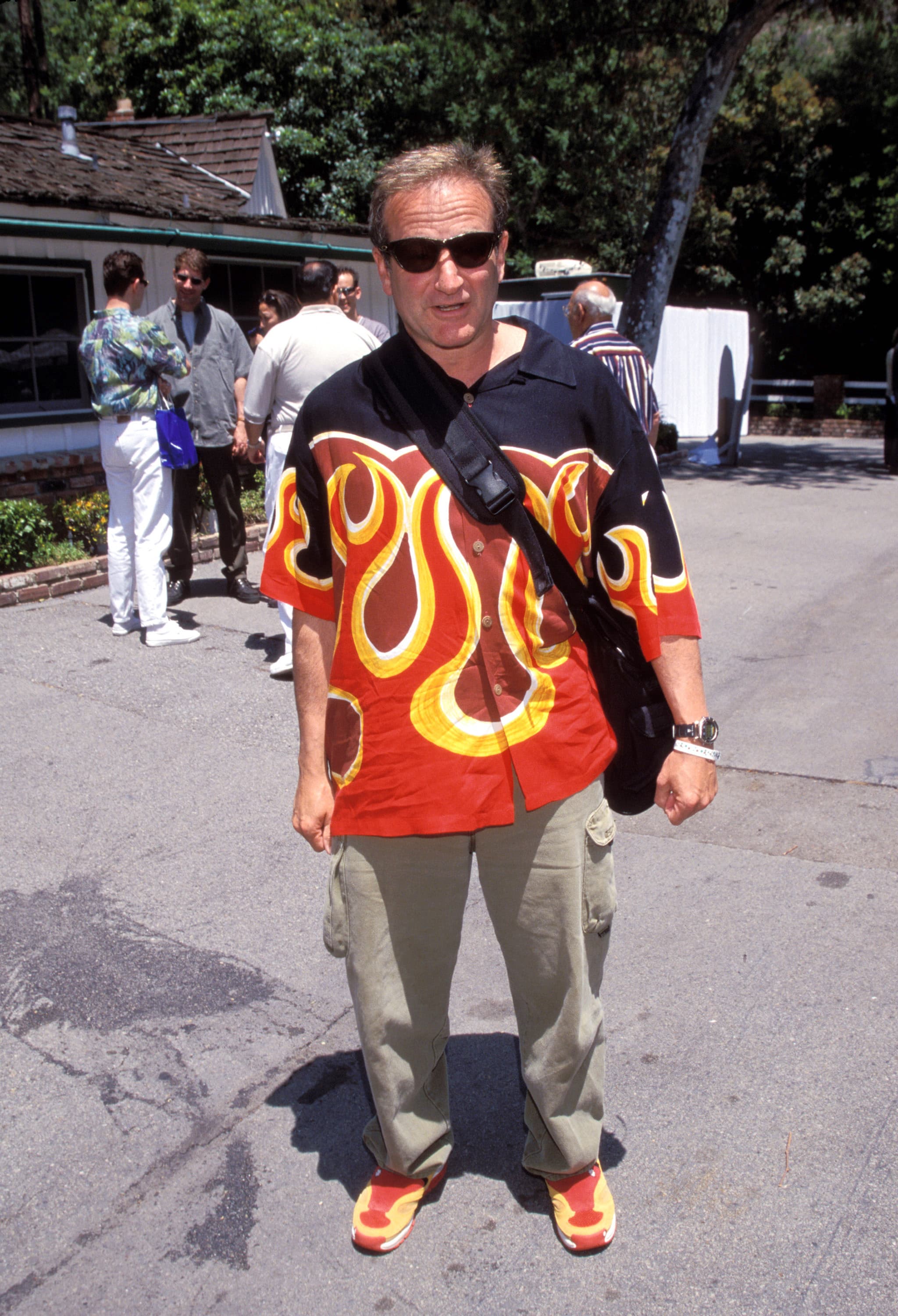 Years before Prada would bring back Camp Collar shirts, and way before Guy Fieri popularized the look of flame graphics, Williams was miles ahead of the game. But what are those shoes he's rocking? Thankfully, Zac Dubasik at Sole Collector was able to ID this obscure '90s sneaker for us. Robin is wearing one of the first pairs of Royal Elastic sneakers, an Australian sneaker brand that became a symbol of the Cool Britannia scene in the late '90s. Williams flyness was worldwide. 
2002: Flexing With Nike Viotech Dunks and a BAPE Camo Shirt
Even before A Bathing Ape opened its first U.S. brick and mortar store in New York City, Robin was rocking the brand before most sneakerheads and rappers. Along with this fire ABC Camo button-up, Williams is seen wearing a pair of Triple 5 Soul shorts and a newly released pair of Nike Viotech Dunks. At the time, those kicks could have only been copped in Japan. In 2006, Nike SB released the "Mork & Mindy" Dunk High,  a red and silver colorway inspired by Williams' iconic television show. 
2004: Repping Project Dragon at The Tour de France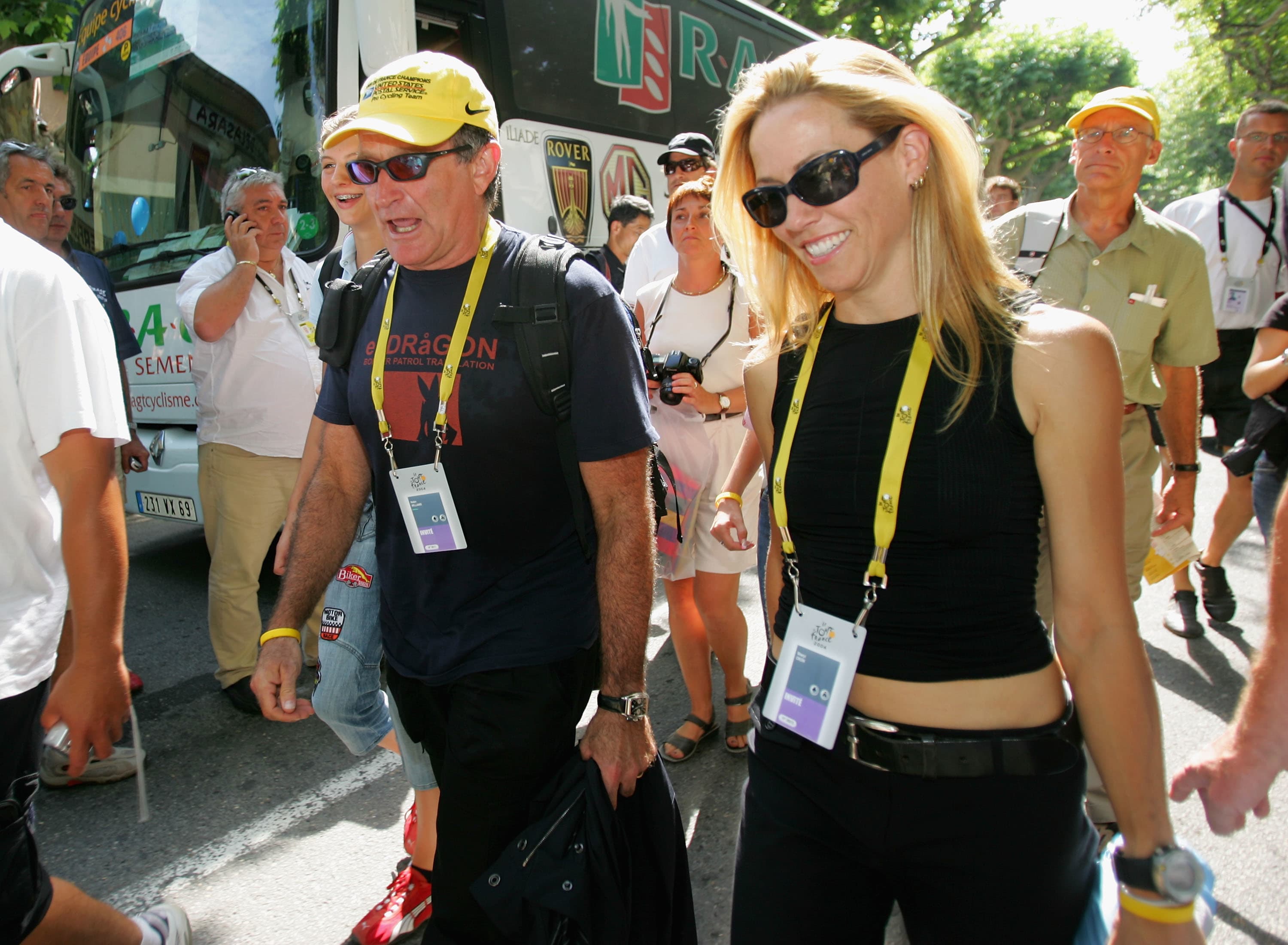 Robin wasn't just plugged into Japanese fashion, but underground New York City streetwear as well. Here we see Robin pulling up to the Tour de France in a Project Dragon T-Shirt. For those who are unfamiliar with Project Dragon, it was a streetwear brand founded in 1997 by Futura, Stash, and the late Blue. It was popping years before Futura would enter the consciousness of mainstream hypebeasts through collaborations with brands like Nike and Supreme. You wasn't there, but Robin was. 
2006: The Ape is Here 
As explained by Zelda Williams in a recent Tweet, Robin was such a big BAPE Head that he even knew every employee that worked at his local store. But was Robin on that "Fuckk Thupreme" shit like YM Bape? Apparently not, as shown with this pic of Robin chilling with Odd Future at Supreme's Los Angeles outpost. 
2008: Visvim and Mishka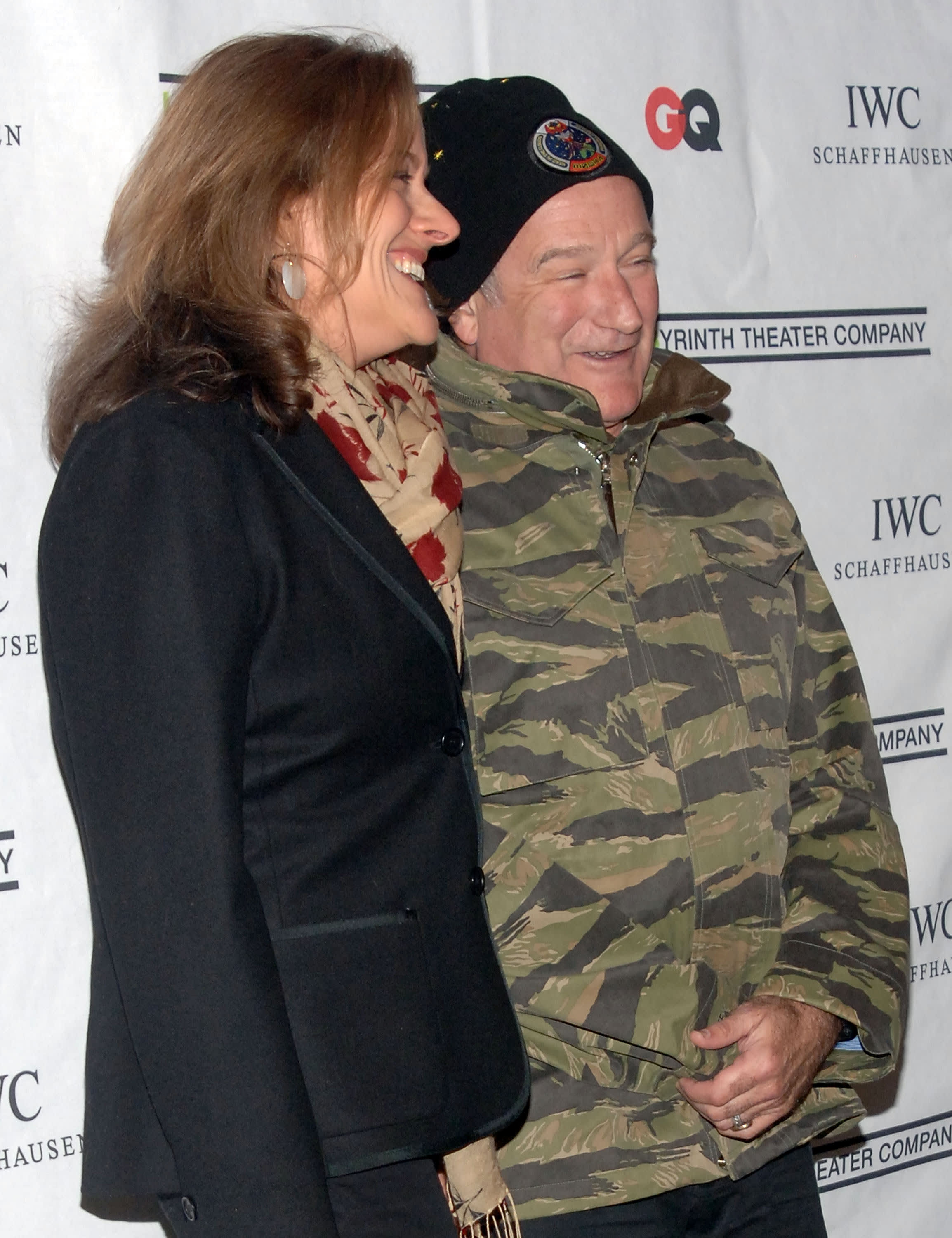 It looks like John Mayer wasn't the only celebrity rocking Visvim in the 2000s. Robin's consistent love for high quality Japanese fashion shined through with this Gore-Tex M-65 Visvim jacket. Peep how he lays down this fit with an icy Mishka beanie when the brand was at its peak. This same Visvim jacket can be yours today for $2,500.  
2009: Acronym Techwear God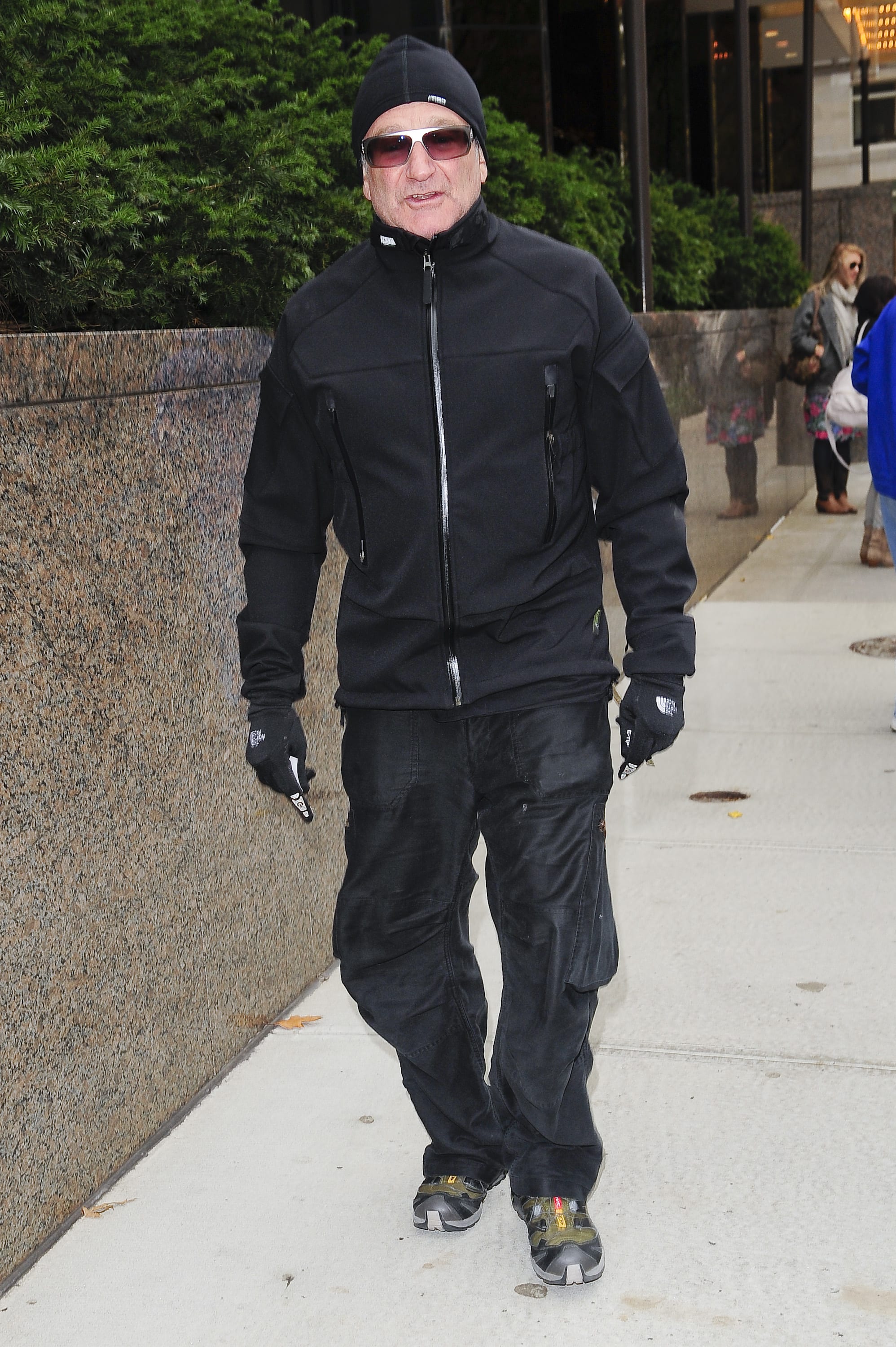 Ever since Robin Williams rocked that Trans-Antarctica in 1990, there wasn't a shred of doubt that he knew a thing or two about good outerwear. Another cult brand that Robin clearly loved was Acronym. In this photo, he's rocking a soft shell J16 jacket from the early 2000s. Yes, Robin was also a proud owner of the brand's iconic 3A-1 bag. Thank you Robin, for blessing us with this fit.