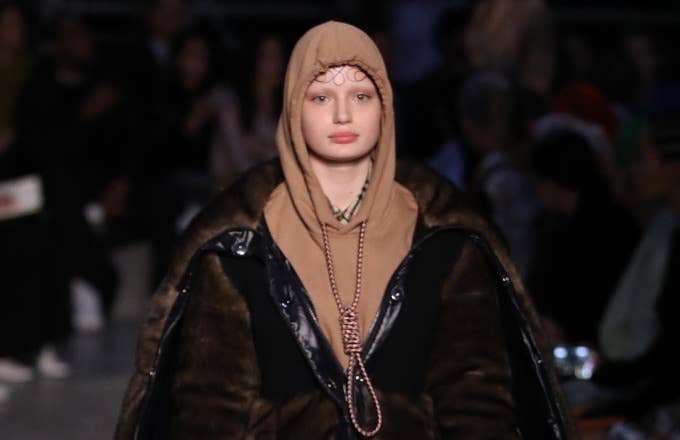 A hoodie with a goddamn noose on it got exactly the reaction it deserved when it showed up on the Burberry runway in London over the weekend.
Attention on the noose, which was presented as part of a hoodie/coat combo, was heightened when model Liz Kennedy—who saw the piece during a fitting but was not asked to wear it—called out the label for evoking suicide for the sake of fashion.
"Suicide is not fashion," Kennedy wrote in a lengthy Instagram caption in which she tagged both the official Burberry account and that of current chief creative officer Riccardo Tisci. "It is not glamorous nor edgy and since this show is dedicated to the youth expressing their voice, here I go . . . [I]t is beyond me how you could let a look resembling a noose hanging from a neck out on the runway. How could anyone overlook this and think it would be okay to do this especially in a line dedicated to young girls and youth."
Now, the brand has responded to criticism of the noose piece with public apologies. The piece, which Tisci says was inspired by a nautical theme, has also been confirmed as being removed from the collection.
"I am so deeply sorry for the distress that has been caused as a result of one of the pieces in my show on Sunday," Tisci toldHighsnobiety. "While the design was inspired by a nautical theme, I realize that it was insensitive. It was never my intention to upset anyone. It does not reflect my values nor Burberry's and we have removed it from the collection. I will make sure that this does not happen again."
In a separate statement, brand CEP Marco Gobbetti said he had spoken with Kennedy and reemphasized that the brand was "deeply sorry" for the distress.
Reps for Burberry did not immediately respond to Complex's request for additional comment.