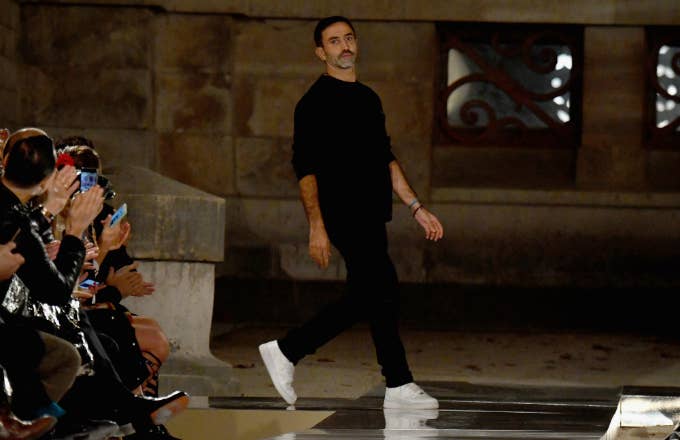 Tisci was announced as the brand's new chief creative officer Thursday, according toBusiness of Fashion. Tisci follows Christopher Bailey, who left Burberry last October after nearly two decades in the CCO role. "[Tisci's] designs have an elegance that is contemporary and his skill in blending streetwear with high fashion is highly relevant to today's luxury consumer," Burberry boss Marco Gobbetti, who previously worked with Tisci at Givenchy, said in a statement. "Riccardo's creative vision will reinforce the ambitions we have for Burberry and position the brand firmly in luxury."
During the Tisci era, Givenchy was known for a romantic-dark aesthetic and became one of (if not the biggest) brands on the planet, with the likes of Kanye West and Rihanna wearing it regularly. His work on Kanye and Jay Z's Watch the Throne merch, as we outlined back in 2016, altered artist merch forever. With Tisci now in their corner, we can hopefully expect a similar rebirth for Burberry.
In his own statement, shared via a pair of Instagram posts early Thursday, Tisci said he was "honored and delighted" to be stepping into this new role at Burberry. "I have an enormous respect for Burberry's British heritage ad global appeal and I am excited about the potential of this exceptional brand," he said. "I want to thank Burberry for this incredible opportunity. I am so excited to join the team and for everything we will achieve together."
Tisci begins his Burberry duties March 12.
Following Tisci's exit from Givenchy in February of last year, rumors started floating around about Virgil Abloh being considered as his replacement. Those rumors were firmly squashed by Givenchy, who later tapped Clare Waight Keller as artistic director for its women's and men's ready-to-wear divisions.