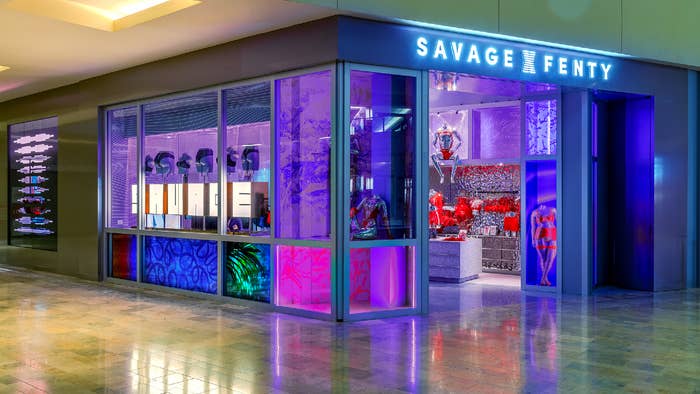 With the launch of the inaugural Savage X Fenty brick-and-mortar store in Las Vegas, Rihanna is aiming to give consumers "something they have never seen before."
Over the weekend, the store—located at Fashion Show Las Vegas—opened its doors to welcome the public into a wholly unique shopping experience that sets the stage for future locations in additional U.S. regions.
"We wanted to be able to connect with our customers in real life and give them something they have never seen before," Rihanna said in a press release. "Creating the space took a lot of imagination, married with things I've always wanted to change about my own experiences as a customer, from mannequins to the Fit Xperience, to customer service. We are so happy with the outcome and now I can't wait for people to see it."
The Fit Xperience, notably, marks a collaborative effort between Savage X Fenty and the FIT:MATCH platform that takes the form of an app. Store visitors can be the subject of a body scan with AR using a LiDAR-backed phone, a process which is said to help facilitate a 3D body shape for a shopper that can be used for personalized product recommendations.
The larger team that helped bring Rihanna's vision to life includes visual artist Jed Skrzypczak, the PlayLab firm, and O'Neil Langan Architects. The layout is comprised of the following interactive rooms: Ripple, Logo, Swirl, Video, and Evergreen.
Here are the hours (in local time) for the Vegas store:
Monday – Thursday: 11 a.m. – 8 p.m.
Friday, Saturday: 10 a.m. – 9 p.m.
Sunday: 11 a.m. – 7 p.m.
As previously reported, this location merely marks the beginning of this chapter of Savage X Fenty's expansion. Fans can expect future locations to open later this year in Los Angeles, Philadelphia, Houston, and D.C. In the meantime, get a closer look at the Vegas store below.