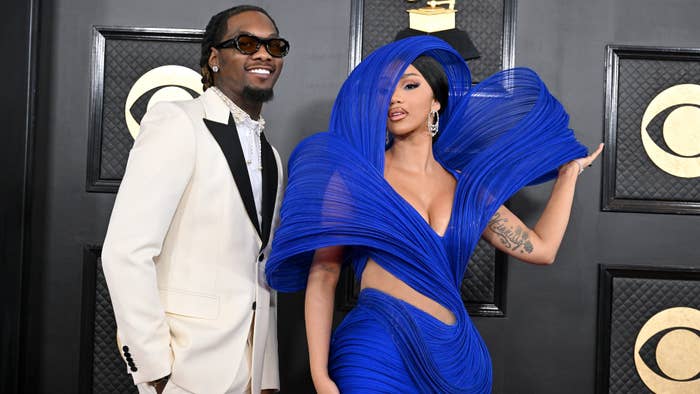 Cardi B and Offset celebrated the Super Bowl and their love this week with a McDonald's Valentine's Day meal and commercial, which aired during the event.
Now, in addition to the couple's own menu item, they also released a McDonald's merch line which includes t-shirts, crewnecks, hoodies, shorts, a beanie, and a baseball cap, ranging in price from $38 to $68. The clothing items are emblazoned with various graphics, including images of the two rappers and phrases like "nice buns," "the apple of my eye," "okuurrrrrr," "my dream date," and more.
The Cardi B and Offset meal is designed for two people and includes a quarter pounder with cheese, cheeseburger, tangy barbecue sauce, large fries, baked apple pie, large Coca-Cola, and a large Hi-C Orange Lavaburst.
The pair recently spoke with Complex about working with McDonald's, with Cardi noting how special the Super Bowl has become for them.
"I guess the Super Bowl is a tradition for us now," Cardi said. "I'm not really into football, but because the Super Bowl was our first date, every single time that the Super Bowl comes around I get a little bit emotional…and [now] we have this major amazing commercial with McDonald's, it's like damn they probably know how we feel and [it's] just great, everything's great."
Check out Cardi B and Offset's McDonald's merch line here.