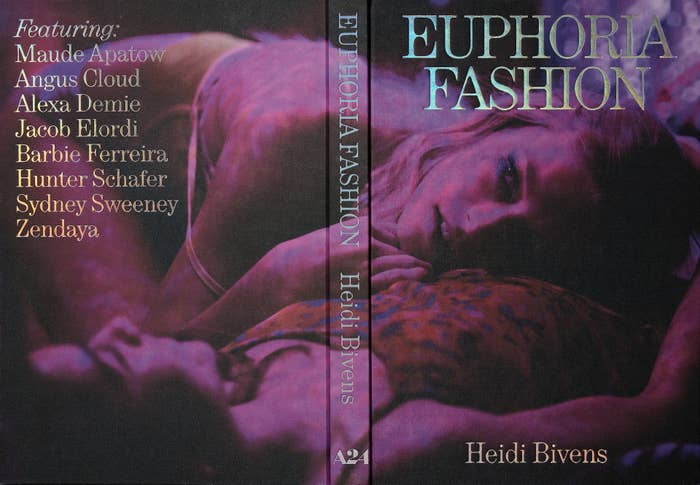 The fashion on HBO's Euphoria puts everyone in a craze. From endless TikToks surrounding the show's iconic looks to tracking down pieces seen on favorite characters, fans live and breathe the style—and we can all thank costume designer Heidi Bivens.
Now devotees can dive deeper into the series' sartorial sense as A24 releases the book Euphoria Fashion. It's got 273 pages of content featuring style details and conversations with Zendaya, Hunter Schafer, Alexa Demie, creator Sam Levinson, makeup artist Donni Davy, plus a foreword by designer Jeremy Scott.
"There's a spread on that I.AM.GIA cut-out set worn by Alexa Demie, fashion breakdowns on notable looks, such as Jules' Romeo + Juliet Halloween costume (sourced from Poshmark) and Fezco and his RL polo (a personal piece)," according to i-D.
The outlet published an excerpt where Bivens—whose other credits include Mid90s, The Beach Bum, and Reservation Dogs—talks to Levinson about how she gains inspiration to outfit each character in a specific way. "Most of the time, I'm relying on gut instincts—employing empathy for the characters and a curiosity about the storytelling as well as honoring the vision of the director," said Heidi, who's nabbed three Emmy nominations for Best Contemporary Costumes for her work on the show.
Bivens continues, "In our case, you give me a sense of each character with wardrobe cues, music cues, and details you write into the scripts, and it sends me down a path. I gather what I can and try to turn it into something that feels fresh and isn't too derivative. I think, in essence, that's always been the focus of my process—to pull from many different points of inspiration and create something people hopefully haven't seen before."
A24's Euphoria Fashion book also features exclusive conversations with designers and houses like Coperni and Arianne Phillips, plus original essays penned by the likes of José Criales-Unzueta, William Van Meter, Mitchell Kuga, and Biz Sherbert.
Get a look at some of the pages below, and scoop up a copy here for $60.