The Resurgence of Pioneering Streetwear Brand X-Large
XLARGE, the OG streetwear brand at ComplexCon next month, survived high-fashion culture vultures and remained true to its roots.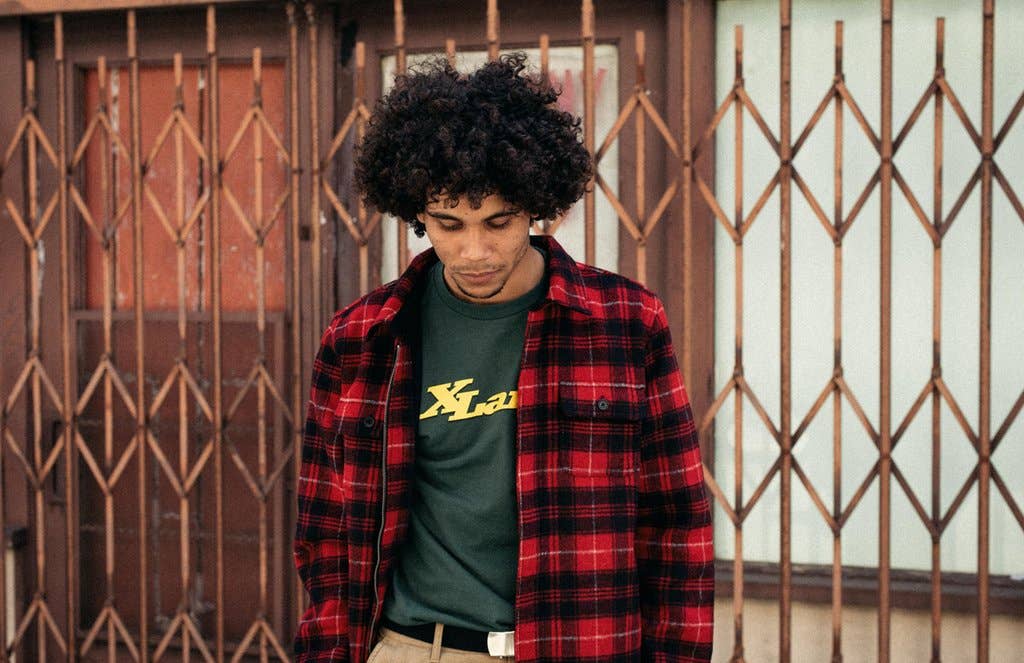 XLARGE
XLARGE's Fall/Winter 2016 lookbook.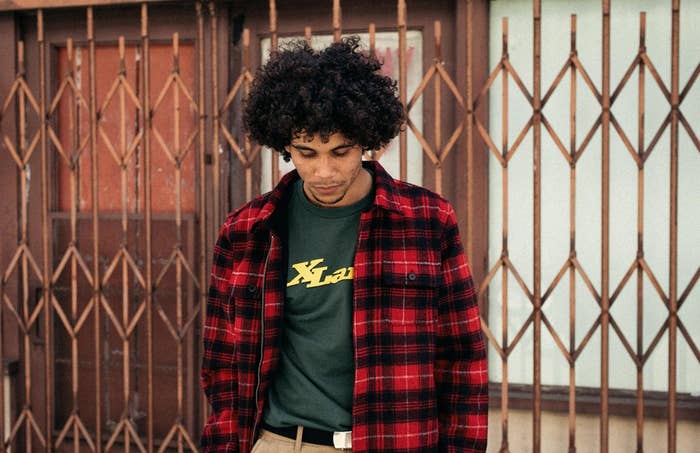 What were you into in 1991? POGs? Color Me Badd's "I Wanna Sex You Up?" Maybe Super Nintendo? Hell, were you even born yet? 1991 seems like a lifetime ago—and for some of you, it actually is—so what was relevant 25 years ago is not necessarily relevant today. Unless you're XLARGE.
After bursting on the scene back then, the street fashion brand's iconic items now hang in premium shops like New York's VFILES and L.A.'s Magasin, where they're displayed among avant garde and minimalist menswear. XLARGE's recent re-emergence (you can also catch them at ComplexCon, November 5-6 in Long Beach, California) exemplifies the cyclical nature of the fashion world and is proof that maintaining a strong brand identity pays off in the long run.
When Rhode Island School of Design roommates Eli Bonerz and Adam Silverman decided it was time to take their cutting edge knowledge of L.A. culture to the next level, they knew exactly where to begin. In the hillside neighborhood of Los Feliz was Vermont Avenue, a cooler alternative to Melrose. Along with Eli's brother Adam Bonerz, they set up a shop focusing largely on workwear and vintage clothing, with an aesthetic that stretched across the L.A. hip-hop, skate, mod, and club scenes simultaneously. Blessed with funding from Beastie Boys' Mike D, Bonerz and Silverman poured their focus into creating the in-house XLARGE brand, knowing it would be more profitable than slanging rare Adidas and Puma sneakers. With a trademark ape logo—unveiled a year before Nigo's A Bathing Ape line appeared—they opened shops in Chicago, Tokyo, Seattle, and Toronto, not to mention building burgeoning connections to up-and-coming tastemakers like Spike Jonze and Kim Gordon of Sonic Youth. The XLARGE brand was an agent of counter-culture, quickly establishing itself as a streetwear giant.
XLARGE marketing manager Andrew Tim attributes a lot of the brand's success and staying power to their storied past and authenticity. "It definitely helps to be one of the pioneers of Los Angeles streetwear," he says. "During our rise in Japan, we took this opportunity to maintain our authenticity instead of chasing trends."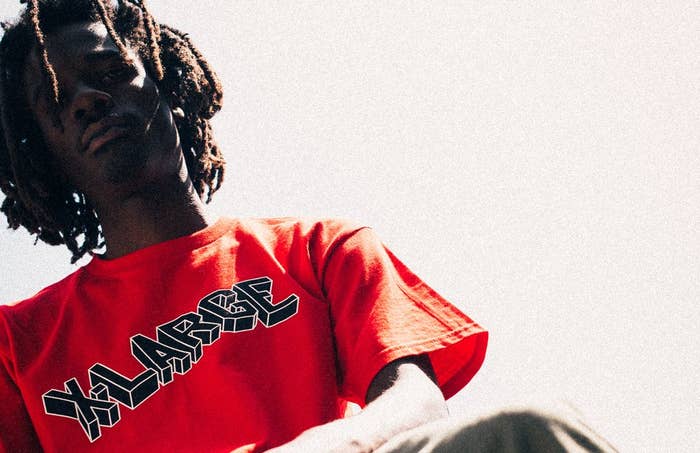 That rise in the '90s helped catapult the brand to international fame, with cotton OG logo tees and knit caps popping up everywhere, solidifying them as a necessity among trendsetting cool kids. By 1993, they were already a $1 million business.
Naturally, like many brands of that time, XLARGE began to see a bit of a downturn in the late-'90s/early 2000s. The original owners and some brand ambassadors moved on, their Seattle and Toronto locations closed, and there was a general shift away from XLARGE's particular style. Despite this, they never compromised their true ethos to follow trends that would inevitably come and go, which has worked in their favor. As they continued to move units internationally and with the help of a handful of third-party retailers in the U.S., streetwear began to enjoy a meteoric comeback. And while that streetwear resurgence would primarily live at the upper echelon of the category for a number of years, it eventually took a drastic turn from a trendy high-end craze, one that's seen a renewed market for graphic tees and mutinous streetwear risk-taking from designers on the fringe. "There's been a '90s thing going on for a while in fashion, and a lot of younger brands such as Gosha Rubchinskiy reference the look of that era heavily, but through a new lens," says Magasin co-founder Josh Peskowitz. And with the emergence of social media and fashion blogging, the documentation of these shifts provides a playbook for some newer brands to try and steal from—a playbook that is in large part built on blueprints written by XLARGE, who essentially made it streetwear scripture.
"It has been interesting to observe the rise of streetwear throughout the ranks of fashion," says Matt Breen, US Sales Director at XLARGE. "Streetwear stores are stocking more elevated brands and high fashion is appropriating looks from streetwear all day long. With that comes a frenzy of new internet brands like the flavor of the week; I think that prompts people to dig deeper for brands with history."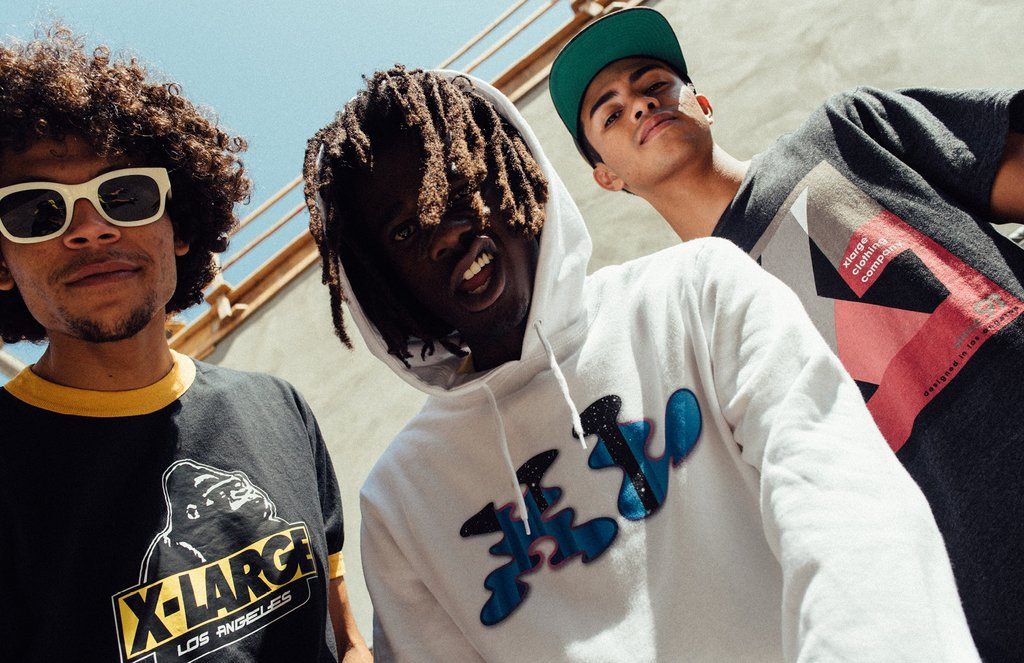 The evolving market provided the perfect opportunity for XLARGE to take a look at those shops that shared their unique perspective, focusing beyond just the "now" and looking more towards the longevity of brands like theirs. Outside of the tenured fashion houses, not many labels can claim a 25-year history and even fewer have consistently stayed in their lane. Breen said that XLARGE has adapted to the evolving market, taking a unique approach toward the brand's retail partnerships and positioning. "Stores like Magasin, Notre, and VFILES are part of different communities within their city, but each store identifies with the DNA of XLARGE," he says. "Their individuality as retailers provides a fresh perspective of XLARGE within the current landscape that streetwear has taken to."
"What's nice about XLARGE is that it hasn't needed to change too much," says Peskowitz. "The graphics evoke nostalgia for some, but for others it feels super fresh. In Japan, XLARGE never went anywhere, but now feels like the right time for it in the States again." Maybe it's time to dust off that old Super Nintendo, too.
Want to experience Complex IRL? Check out ComplexCon, a festival and exhibition on Nov. 5-6, 2016 in Long Beach, Calif., featuring performances, panels, and more. For ticket info, click here.