Artist merch is nothing new. Travis Scott certainly isn't the first rapper to capture people's attention with his own limited clothing and accessories. But you would be hard pressed to find many artists who have been able to capitalize on their popularity with such offerings in the way that he has been able to throughout his career.
Limited edition capsule collections with some of fashion's most notable designers. A virtual concert within one of the world's most popular video games as his stage. A cheeseburger combo meal with the world's largest fast-food chain. There doesn't seem to be anything off limits for the Houston rapper when it comes to collaborations these days; and with a fanbase as passionate as his, it's pretty much guaranteed that no matter what he does next, people will be talking about it.
With Travis' latest album, Utopia, dropping this week, we decided to take a look back at all of Travis Scott's brand collaborations. From Been Trill to Dior, check out a breakdown of each below.
Been Trill
Year: 2014
One of the first official product collaborations for Travis came back in 2014 when he released a long sleeve T-shirt with fashion conglomerate Been Trill. The all-over Real Tree camouflage design went hand in hand with the album art for "Upper Echelon," one of his biggest songs at the time. It was highlighted by Travis' "La Flame" nickname written in Been Trill's signature drippy font across the chest and a giant flame logo covering the back. Travis was far from the household name he is today, but the piece remains a hard-to-find grail for any day one La Flame fans. —Mike DeStefano
Diamond Supply Co.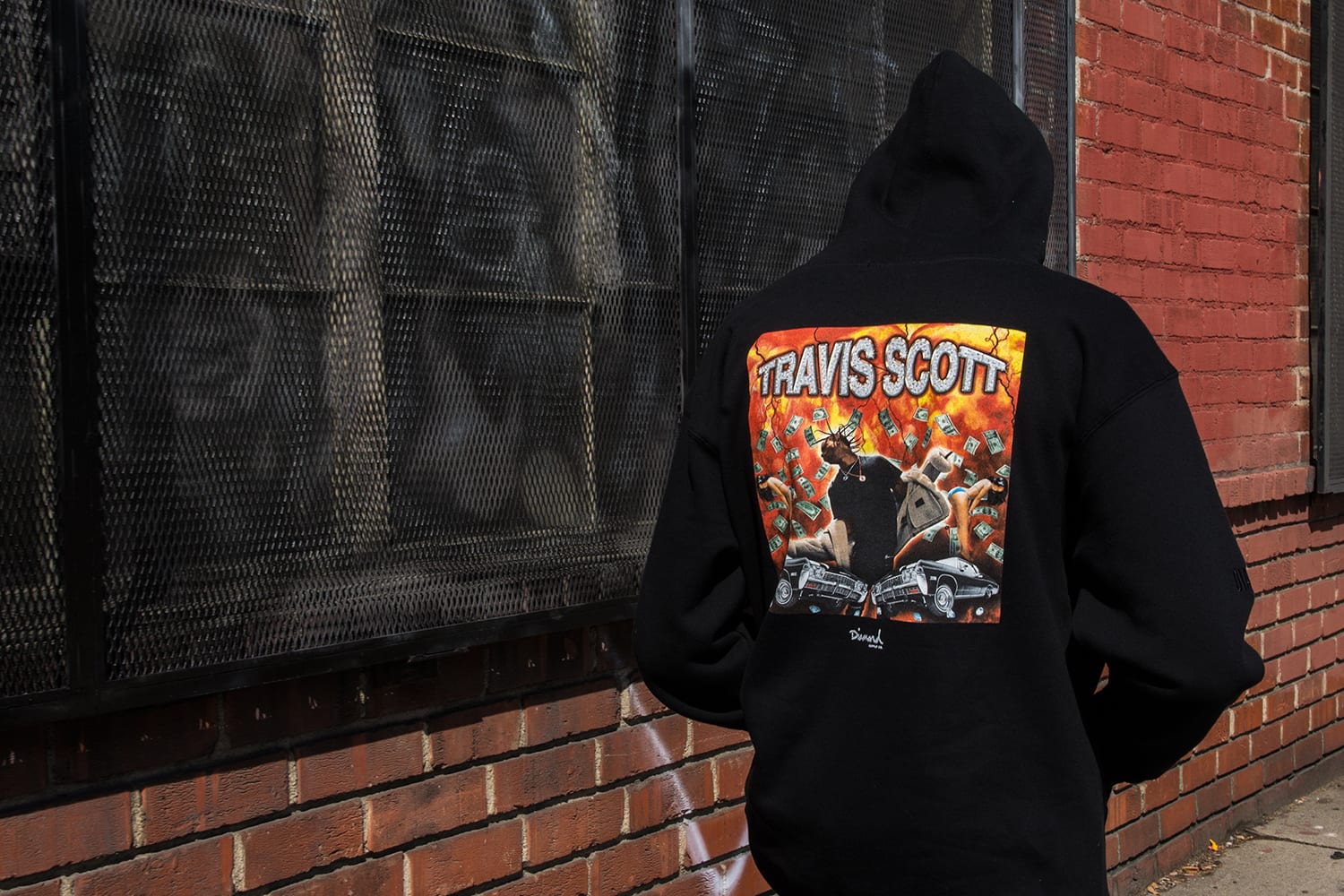 Year: 2016
Another early La Flame collaboration that has aged fairly well is his collaboration with Diamond Supply Co. in 2016. The graphic on the T-shirt was undoubtedly inspired by the work of Pen & Pixel, two graphic design artists who defined the look of album covers coming out of the South in the '90s and early 2000s. —Lei Takanashi
Bape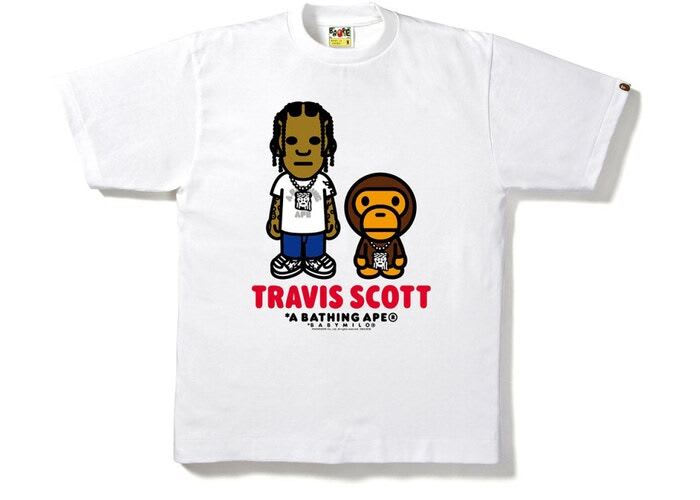 Year: 2016
When Bathing Ape decides to make a Baby Milo version of yourself, you know you truly made it as a rapper. In 2016, Travis Scott received the official Baby Milo treatment at ComplexCon Long Beach, where limited-edition Baby Milo T-shirts featuring Big Sean and Kid Cudi were also released. Today, these shirts are highly coveted pieces of Travis Scott memorabilia. Consider yourself lucky if you were able to get your hands on one. —Lei Takanashi
Maharishi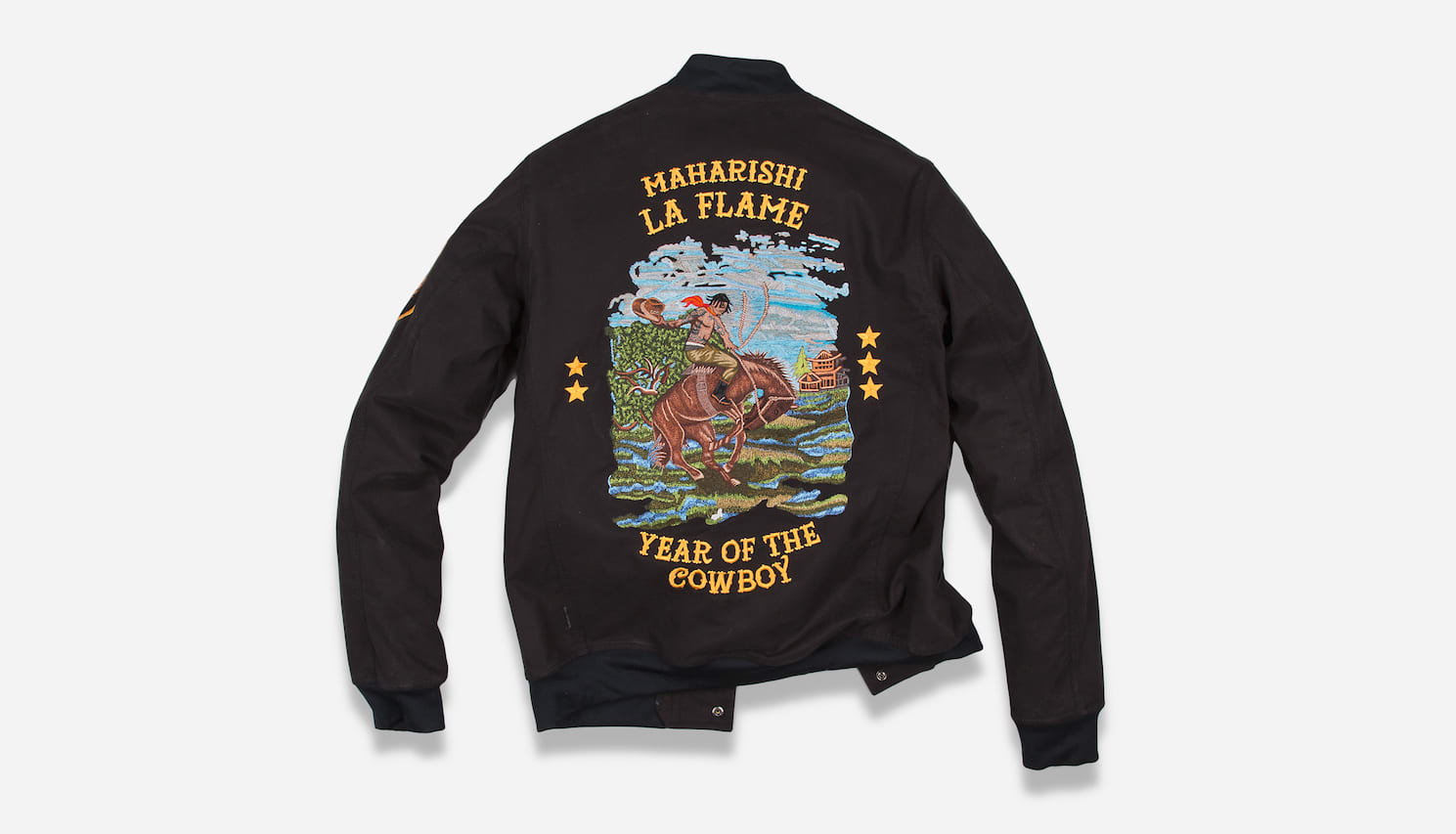 Year: 2016
Another collaboration that was inspired by Rodeo was Travis Scott's collaboration Maharishi. The collection included hats, crewneck sweatshirts, trousers, and a tour jacket referencing Scott's debut studio album. Dubbed as the "Year of the Cowboy" collection, the standout tour jacket piece featured sheriff patches and detailed embroidery of Travis Scott riding a bucking horse. —Lei Takanashi
Helmut Lang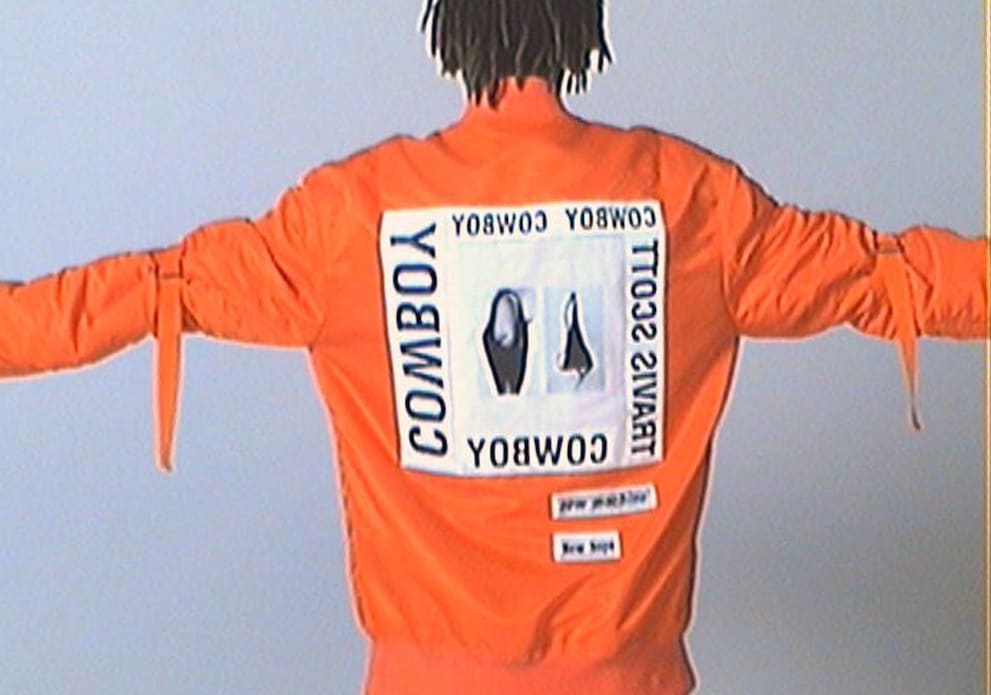 Year: 2017
One of the most surprising collaborations that Travis Scott landed was with none other than the revered fashion brand Helmut Lang. Of course, it's important to clarify that the namesake designer was not involved with this collaboration. However, it certainly went down as a memorable moment for the brand. Scott designed a collection that riffed on Lang's classic Spring/Summer 2004 collection that referenced the idea of urban cowboys. So, it was a no brainer for the brand to eventually tap into a Houston artist who constantly referenced the rodeo throughout his career. —Lei Takanashi
Ksubi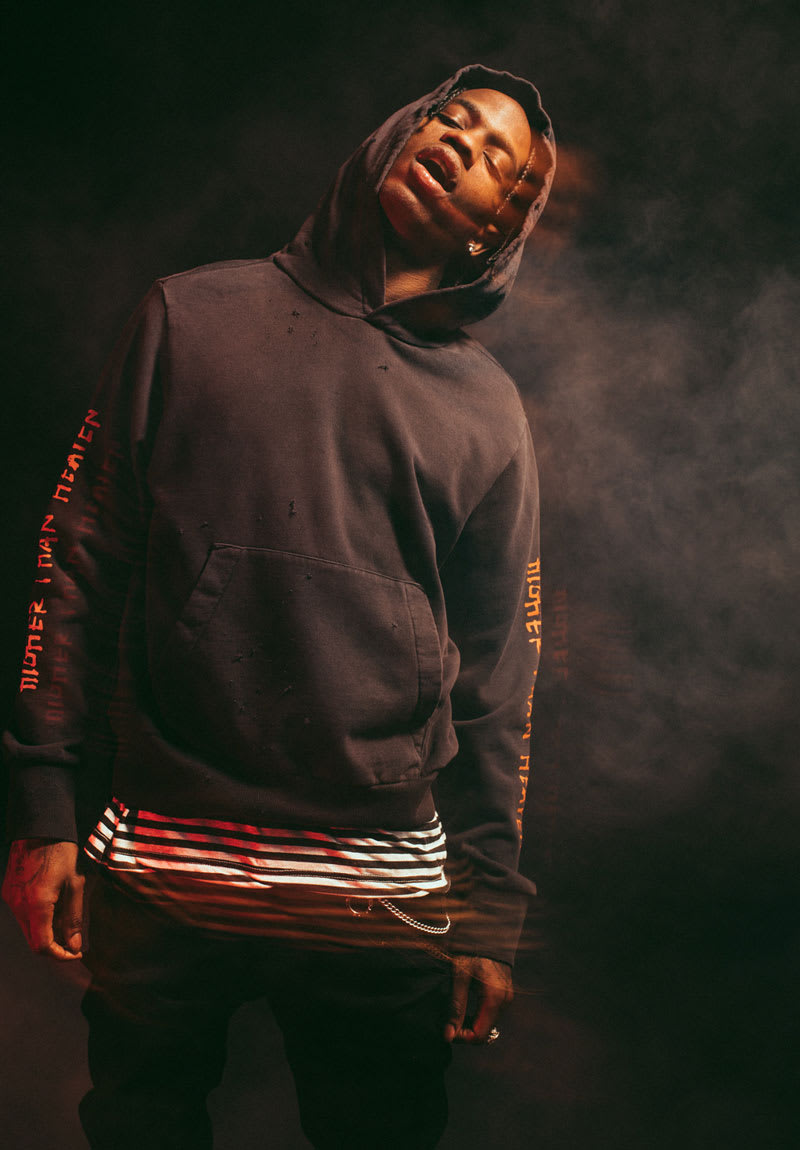 Year: 2017
While it wasn't his first project with a major designer, some might consider Travis' 2017 collection with Ksubi to be one of his stronger up to that point in his career. Along with distressed denim offerings, the rapper and Australian label combined to create bomber jackets, striped T-shirts, and hoodies bearing everything from birds to flaming skulls. Each piece was completed with special cobranding as well. Travis transformed Ksubi's usual logo with orange flames. To celebrate the release, Travis filled Ksubi's New York flagship with ragers for a launch party that included live performances from him, his DJ Chase B, and Sheck Wes. —Mike DeStefano
Virgil Abloh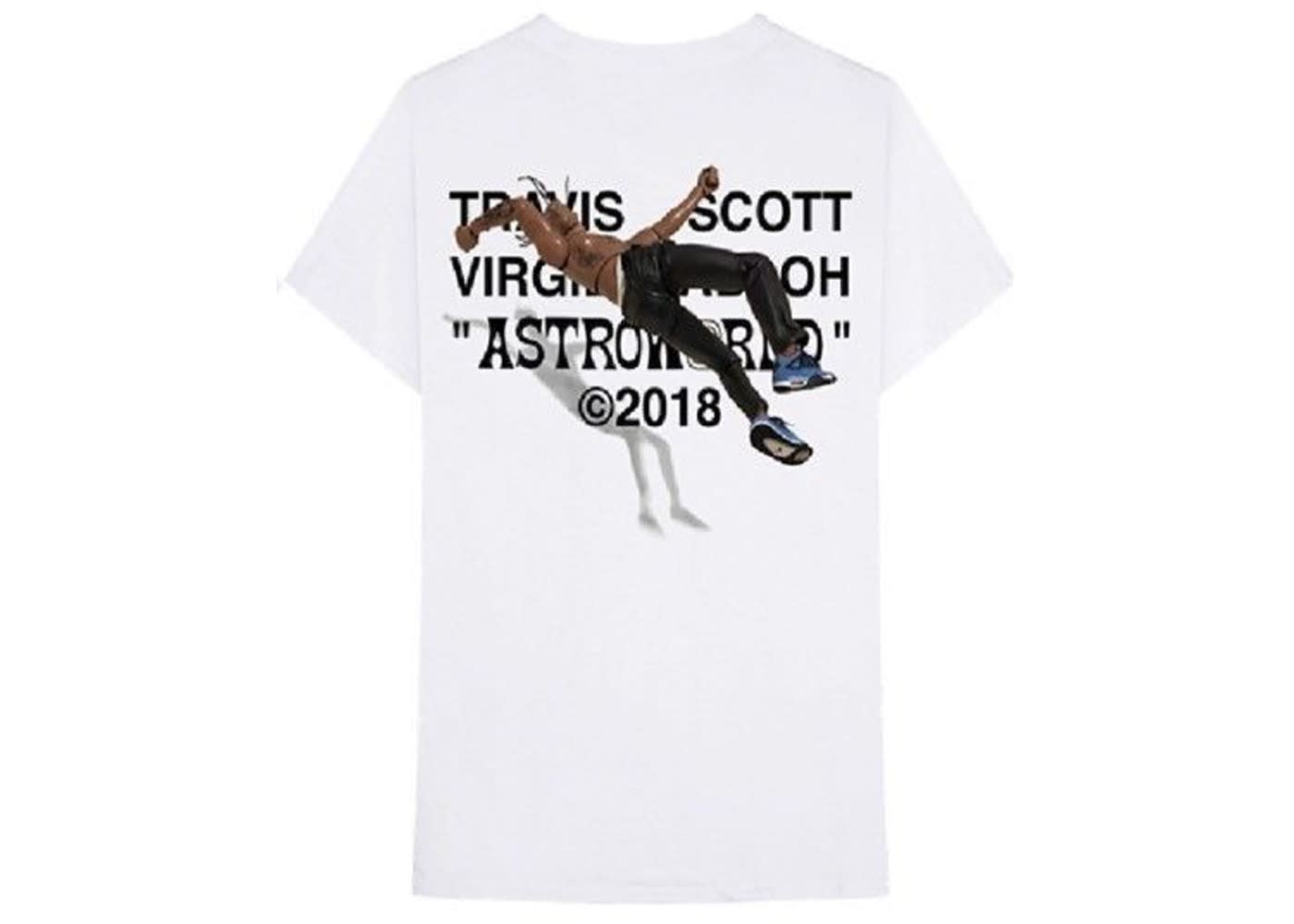 Year: 2017
Although Virgil Abloh has worked with Travis Scott since the Been Trill days, an official Virgil Abloh x Travis Scott collaboration did not surface until Scott performed a sold-out gig at Terminal 5 in 2017. For the New York City stop of the Birds Eye View Tour, Abloh performed a special DJ set and released merch exclusively at the show. The Champion hoodie and T-shirt from that tour stop are still coveted La Flame grails today. Later in 2018, Abloh designed two Astroworld T-shirts. One T-shirt featuring a Travis Scott toy wearing Cactus Jack Air Jordan IVs was sold exclusively for 24 hours on Scott's webstore. Another T-shirt, featuring Scott wearing Off-White Air Jordan "Chicago" 1s, was limited to a run of 500 and exclusively sold at one of Abloh's rare DJ sets in New York City. —Lei Takanashi
Nike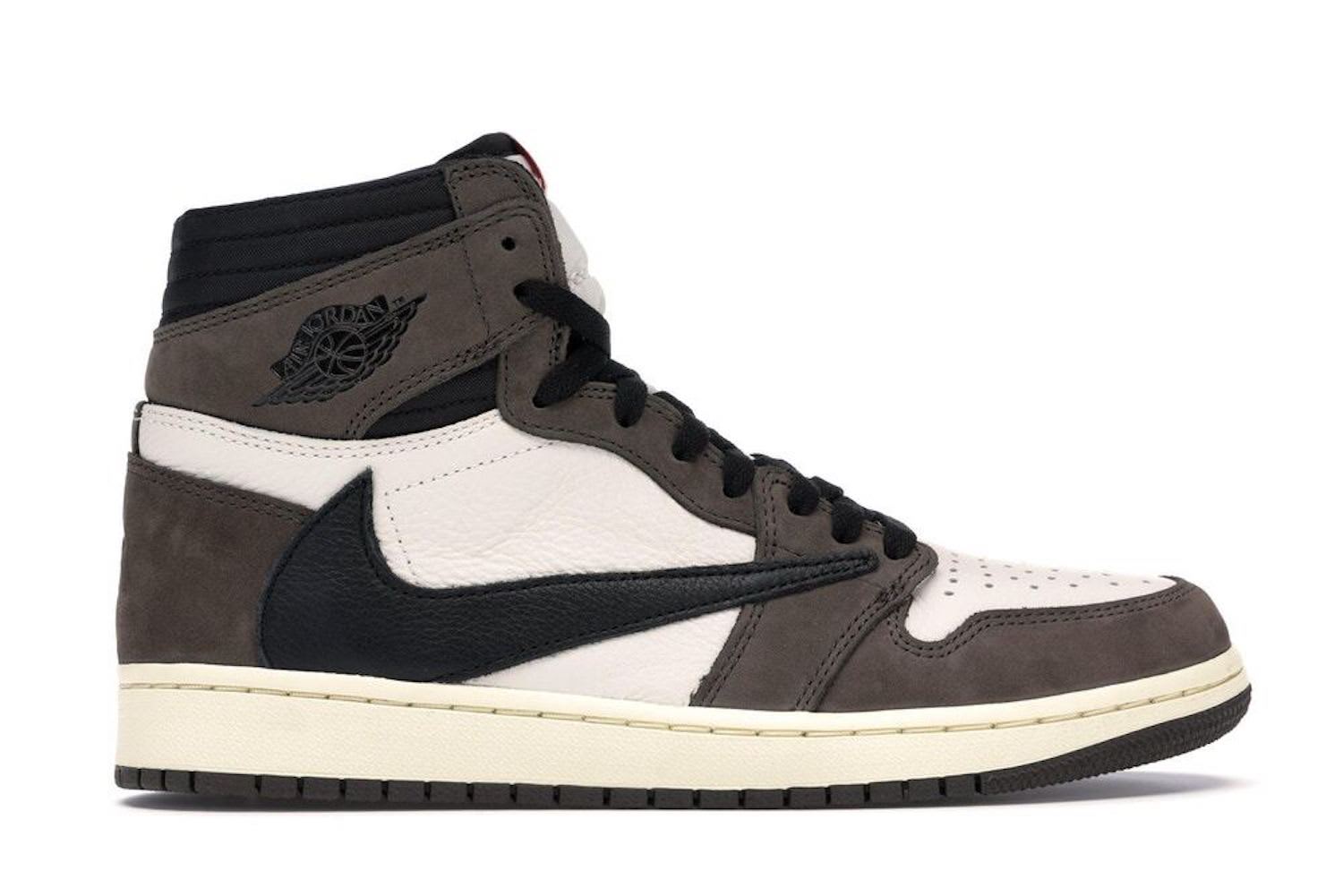 Year: 2017
Perhaps the most notable brand partnership in Travis Scott's archive is his ongoing work with Nike and Jordan Brand that kicked off in 2017 with his take on the timeless Air Force 1. His Air Jordan I, complete with its flipped Swoosh branding, is probably his most valuable sneaker collab to date. But there have been plenty. The Air Jordan 4, Air Jordan 6, Nike SB Dunk Low, and so on. They are pretty much all good. And all worth a ton of money on the aftermarket these days. The partnership has also expanded to include apparel over the years such as hoodies and sweatpants altered with cargo pockets modeled by wrestling legend Mick Foley (aka Cactus Jack). —Mike DeStefano
Saint Laurent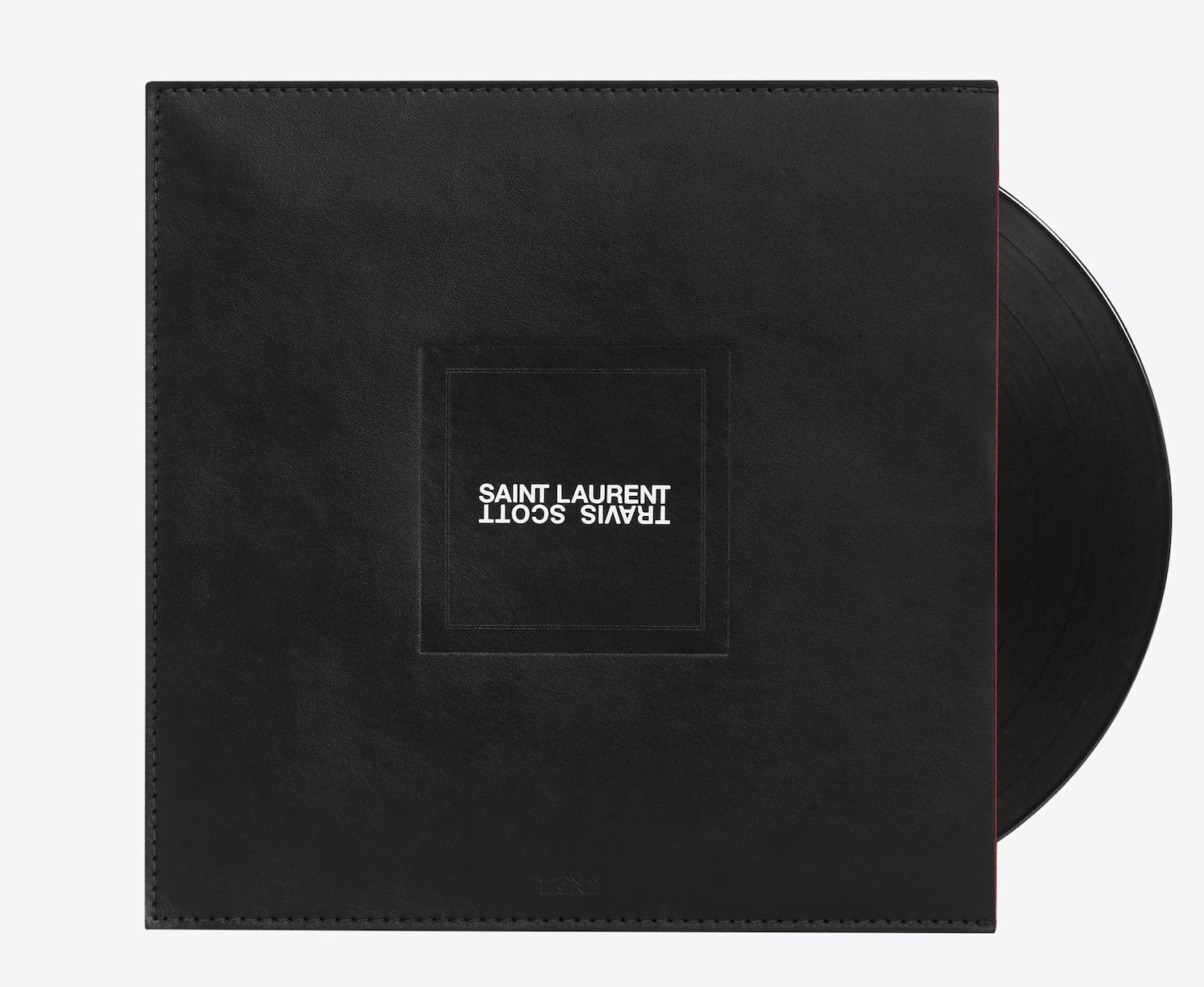 Year: 2018
Travis has been an ambassador for Saint Laurent since 2016. He was the face of the brand's Spring/Summer 2019 campaign, his "Can't Say" video doubled as an ad for Saint Laurent, but his only official product offering with the luxury designer came by way of a limited edition vinyl record in December 2018. It was sold exclusively at Colette. Only 500 were made. And each was home to a specially-curated, 12-track playlist that featured an eclectic mix ranging from Fat Pat's "25 Lighters" to Toro y Moi's "So Many Details." —Mike DeStefano
Readymade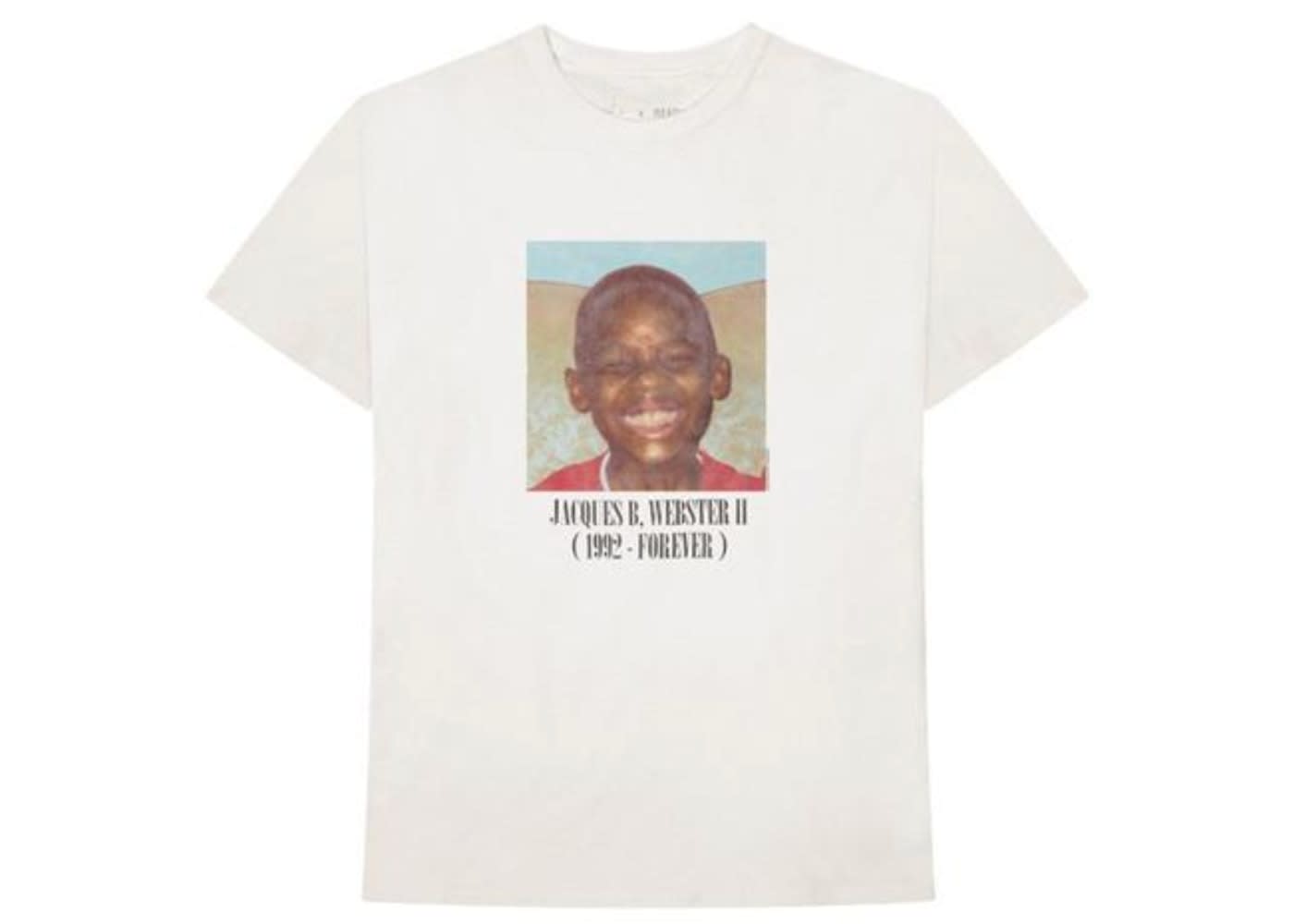 Year: 2018
Travis Scott first collaborated with Readymade in 2018 for his Astroworld tour. The Japanese brand known for upcycling military garments created a custom cargo vest and pants for Travis to wear on stage. For tour merch, he ended up dropping a T-shirt with Readymade, which featured a childhood portrait of himself and lyrics from "Yosemite" printed on the back. In 2019, Scott collaborated with the brand again for a limited run of 3-pack white T-shirts, which stylized Readymade's logo as Astroworld. —Lei Takanashi
New Era x Houston Astros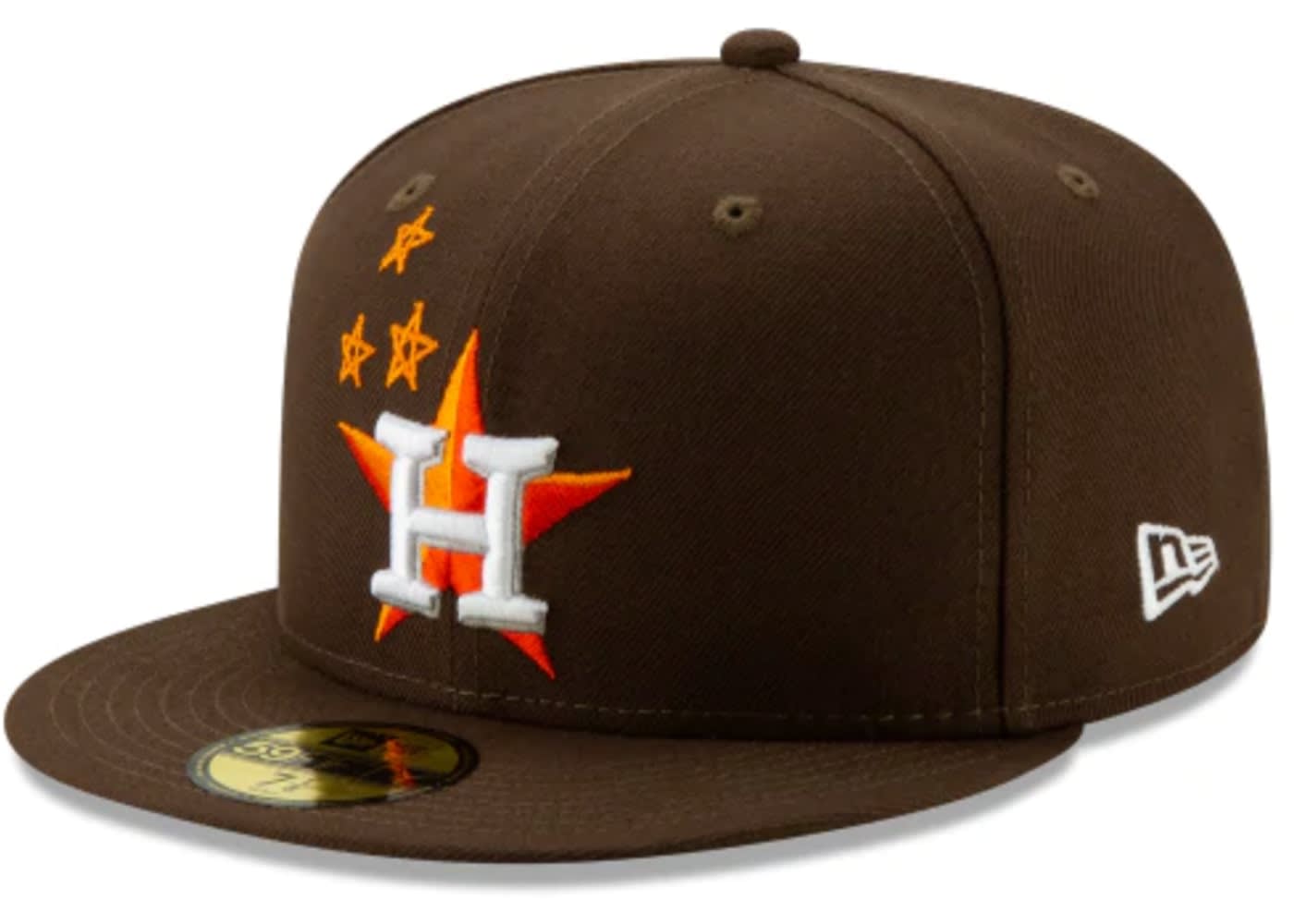 Year: 2019
Travis' love for Houston is undeniable. So, it made perfect sense to see him get an official New Era fitted collab with the Houston Astros. The 'Stros on-field cap was remixed with three sketched stars added to the logo and "Wish You Were Here" stitched on the back in a font commonly seen across plenty of the rapper's Astroworld tour merch. It came in three colors: navy, black, and his signature brown with orange accents. He even tossed out the first pitch at a game in April 2019 to mark the release. —Mike DeStefano
Reese's Puffs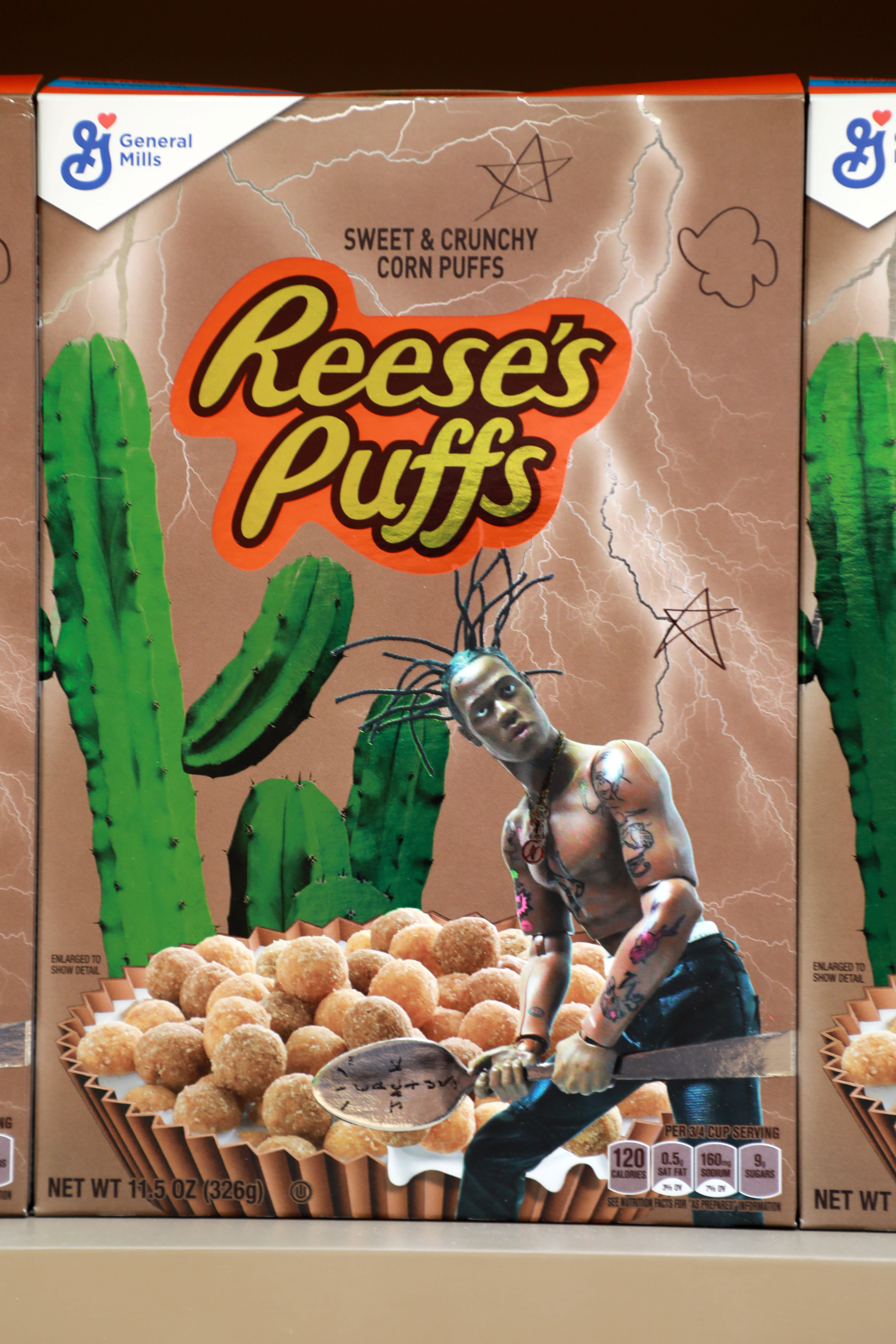 Year: 2019
Travis Scott's first collaboration with food arrived last year in the form of Reese's Puffs. The original release included limited edition cereal boxes, bowls, and spoons sold through Cactus Jack web store. Each cereal box was displayed inside a clear acrylic case, priced at $50, and sold out in half a minute. La Flame fans in Paris were able to purchase this limited-edition General Mills collaboration through a pop-up event in Paris, where Scott signed boxes. When the boxes eventually hit supermarket store shelves, they were quickly emptied by fans and hungry resellers. —Lei Takanashi
Houston Rockets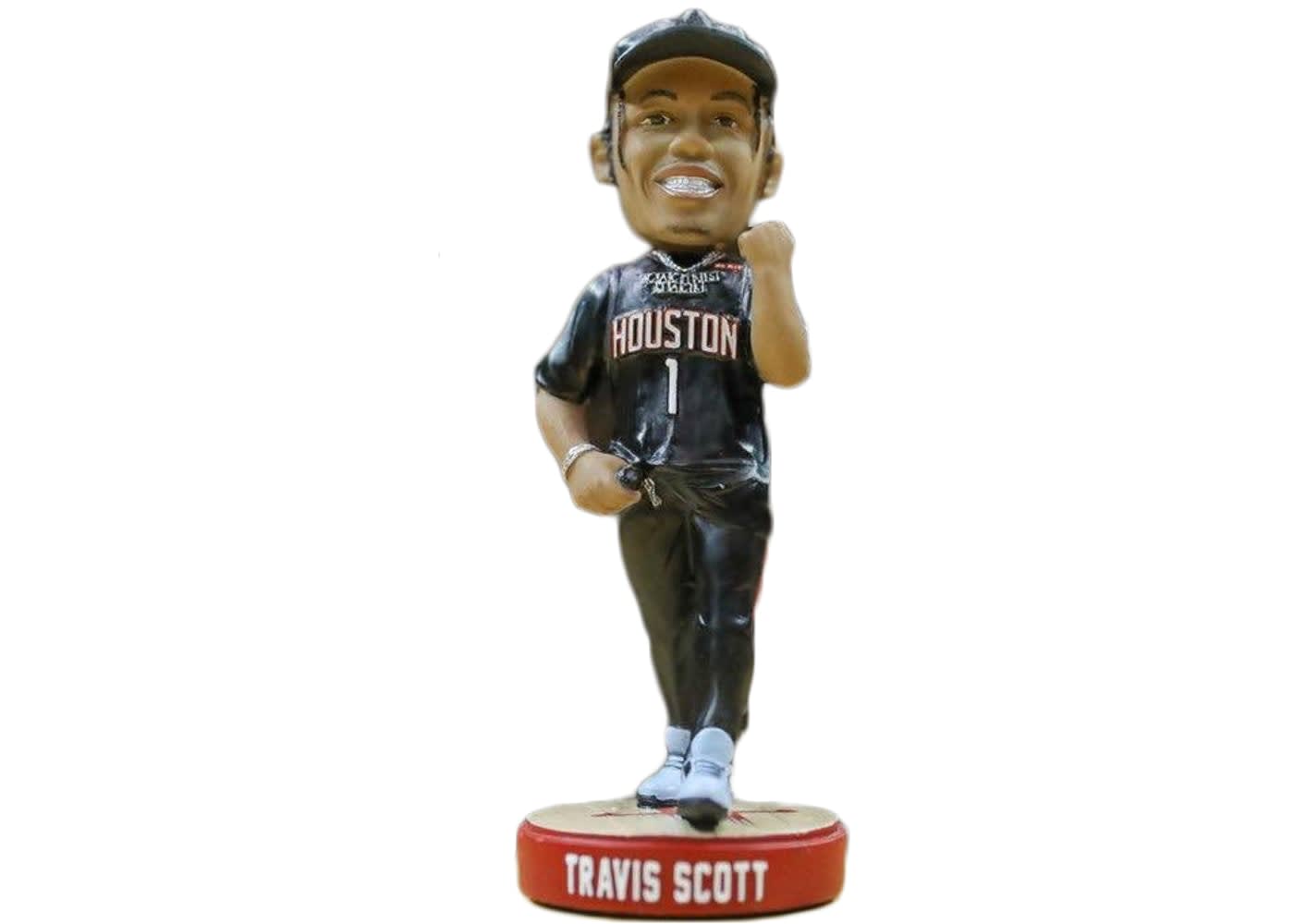 Year: 2020
Travis raps "Packin' out Toyota like I'm in the league," on the intro to his critically acclaimed Astroworld project, a clever nod to the arena of his hometown's Houston Rockets. He's also a courtside mainstay throughout the NBA season at Rockets home games. He's such a big fan that the team even had an official Travis Scott bobblehead giveaway night in February 2020. The collectible is pretty accurate too with the ceramic Scott rocking a Rockets jersey, Astroworld cap, his Air Jordan IV collab, and one of his custom pendants around his neck. Previously, Travis has worked with the team on an official T-shirt giveaway. —Mike DeStefano
Hot Wheels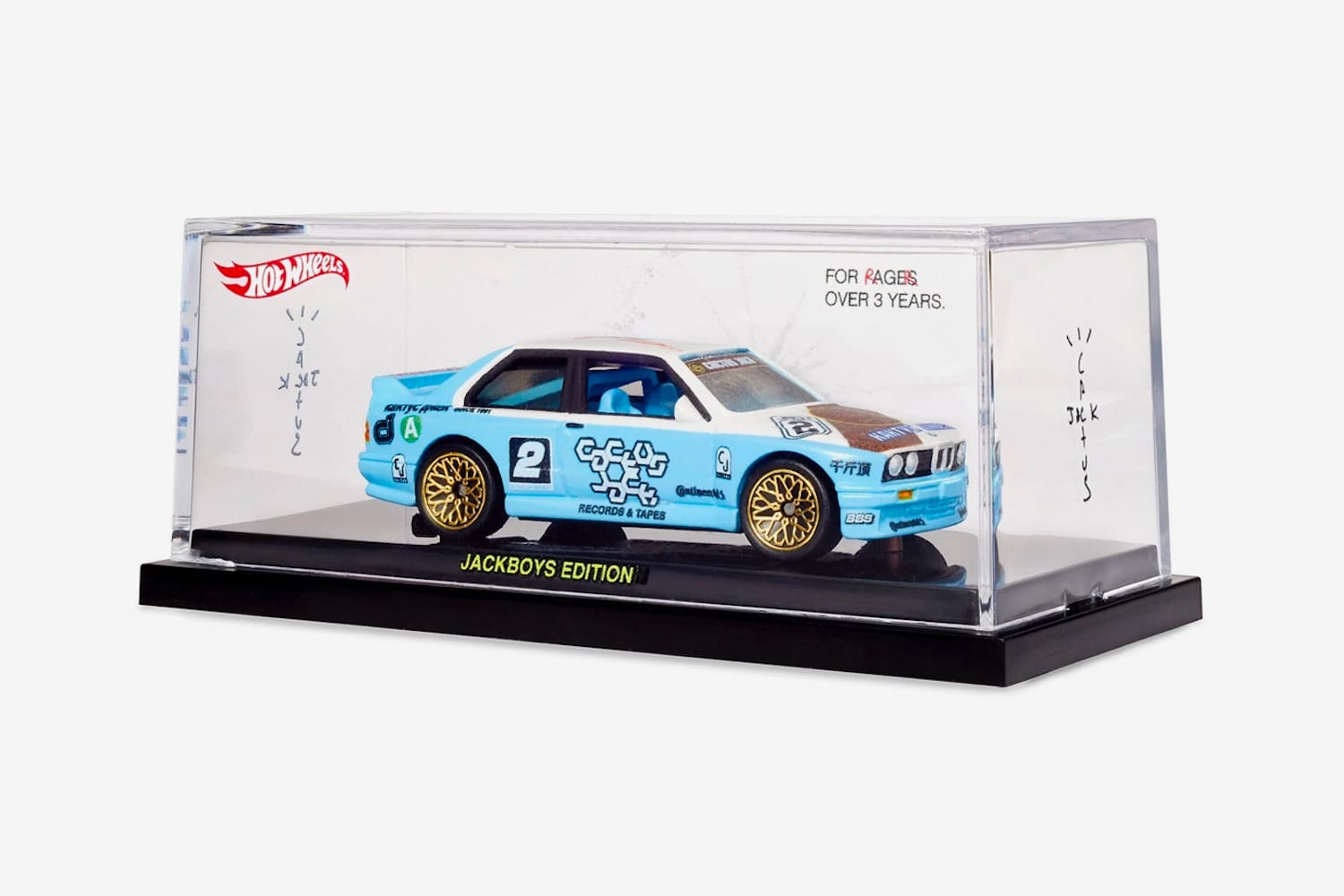 Year: 2020
How else could Travis Scott celebrate the release of Jack Boys? To coincide with the album's cover art, Scott released a die cast affordable version of the Cactus Jack BMW M3 E30 as a Hot Wheels car. He also released a sign-up sheet for anyone who was interested in bidding on the actual car. To this date, the auction has not been held. —Lei Takanashi
'Fortnite'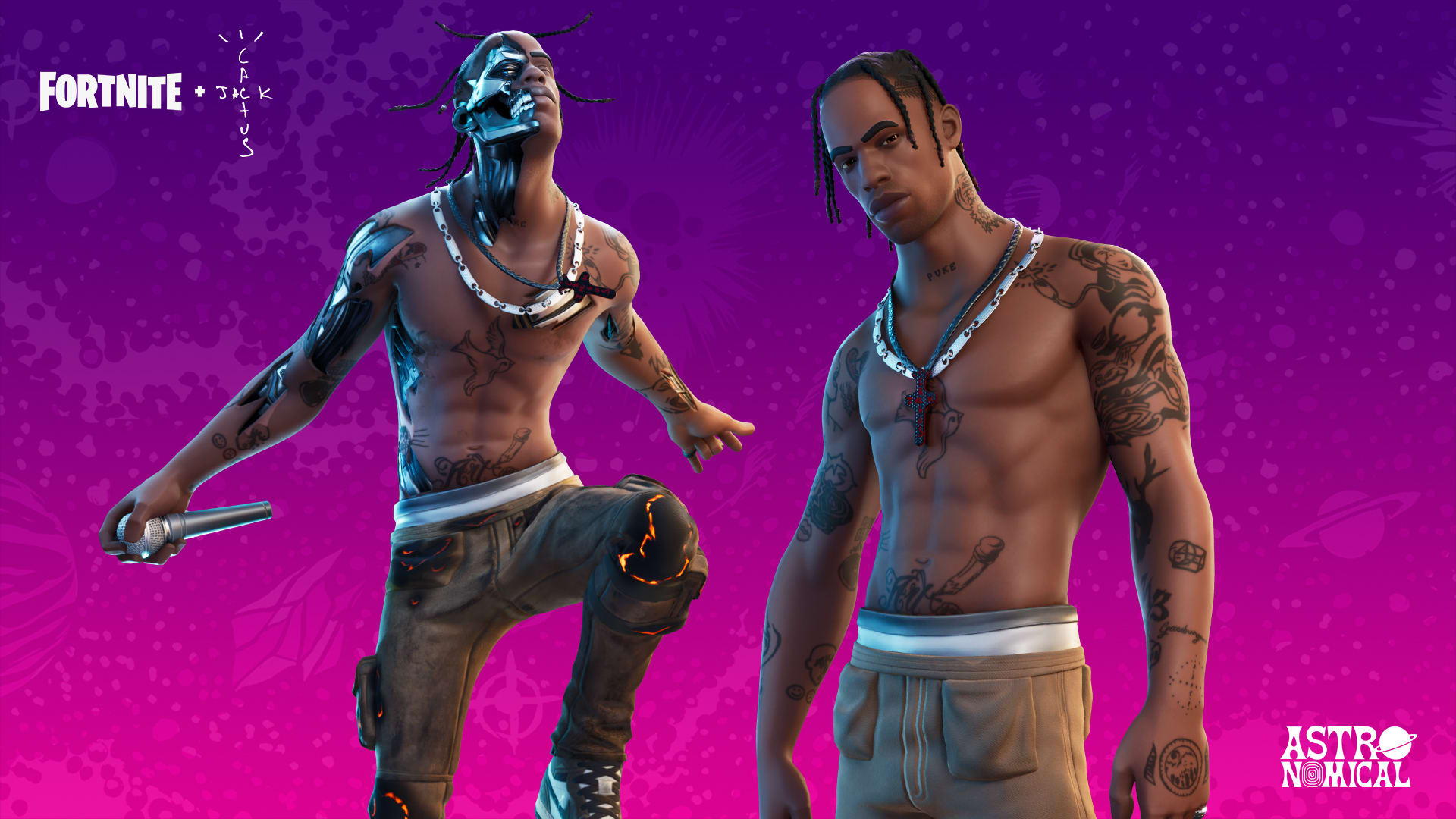 Year: 2020
Fortnite, the multiplayer battle royale game, has turned into arguably one of the biggest video games of all time. One of its most impactful moments came earlier this year when a virtual Travis Scott held his 10-minute long Astronomical performance on the game's servers. Players who tuned in were treated with a gigantic version of the rapper stomping around the map as fire rained down on them, they were shot up into space, and shot down into the ocean. It was something truly unique that pushed the boundaries of what a "concert" could look like during a global pandemic. Players were also given the option to purchase special in-game skins and items inspired by La Flame. In addition, Travis released tons of merch on his online shop throughout the week after its premier. It was yet another indication that there aren't many avenues that Travis and his team won't tap into. —Mike DeStefano
Nerf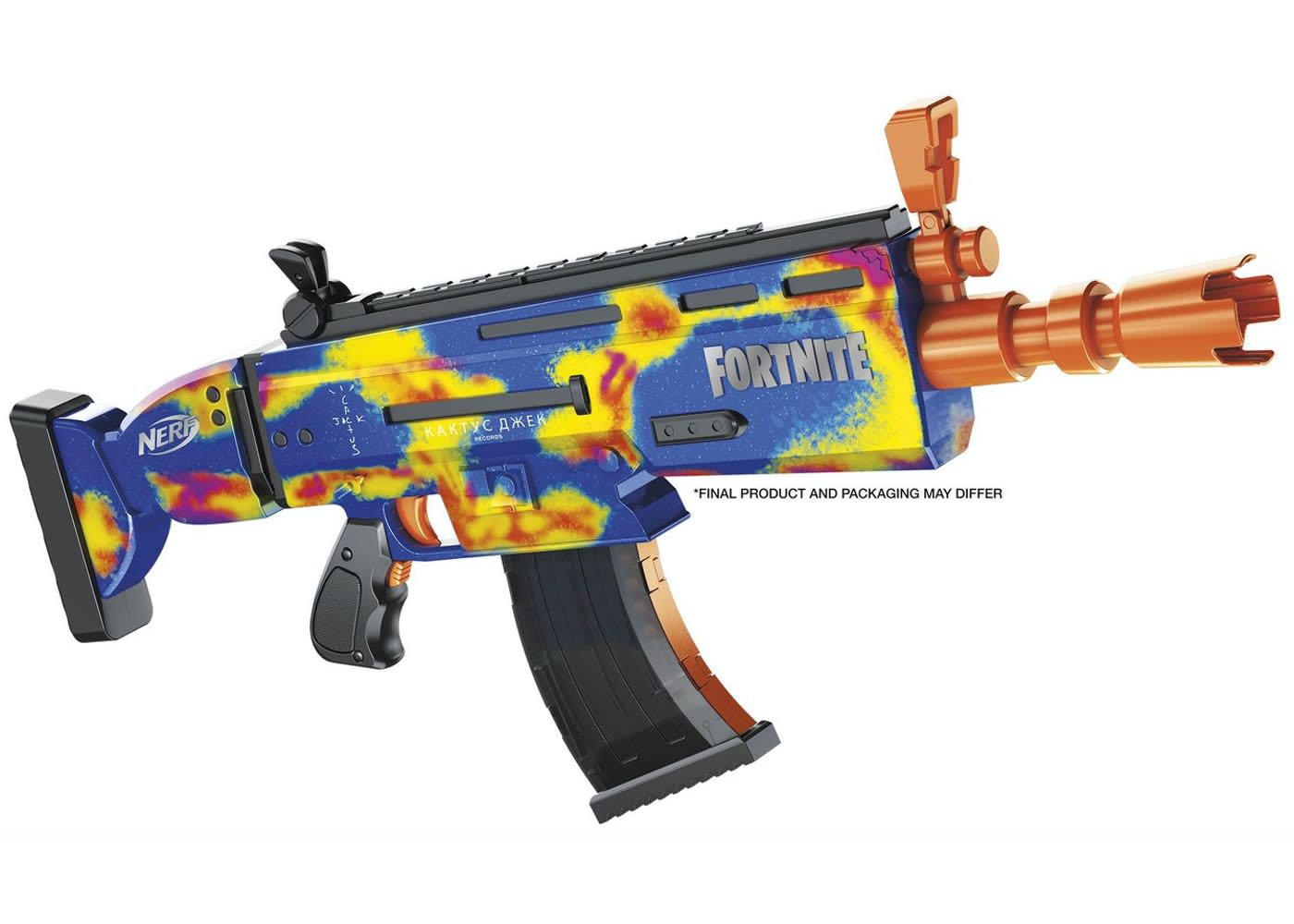 Year: 2020
As part of his Astronomical event with Fortnite, Travis dropped off an extensive merch capsule, which has become the norm for his projects. It featured T-shirts, hoodies, and action figures. But one of the highlights was the AR-goosebumps dart blaster made in collaboration with Nerf. Weird flex to say you have your own Nerf gun. But a flex nonetheless. —Mike DeStefano
Uninterrupted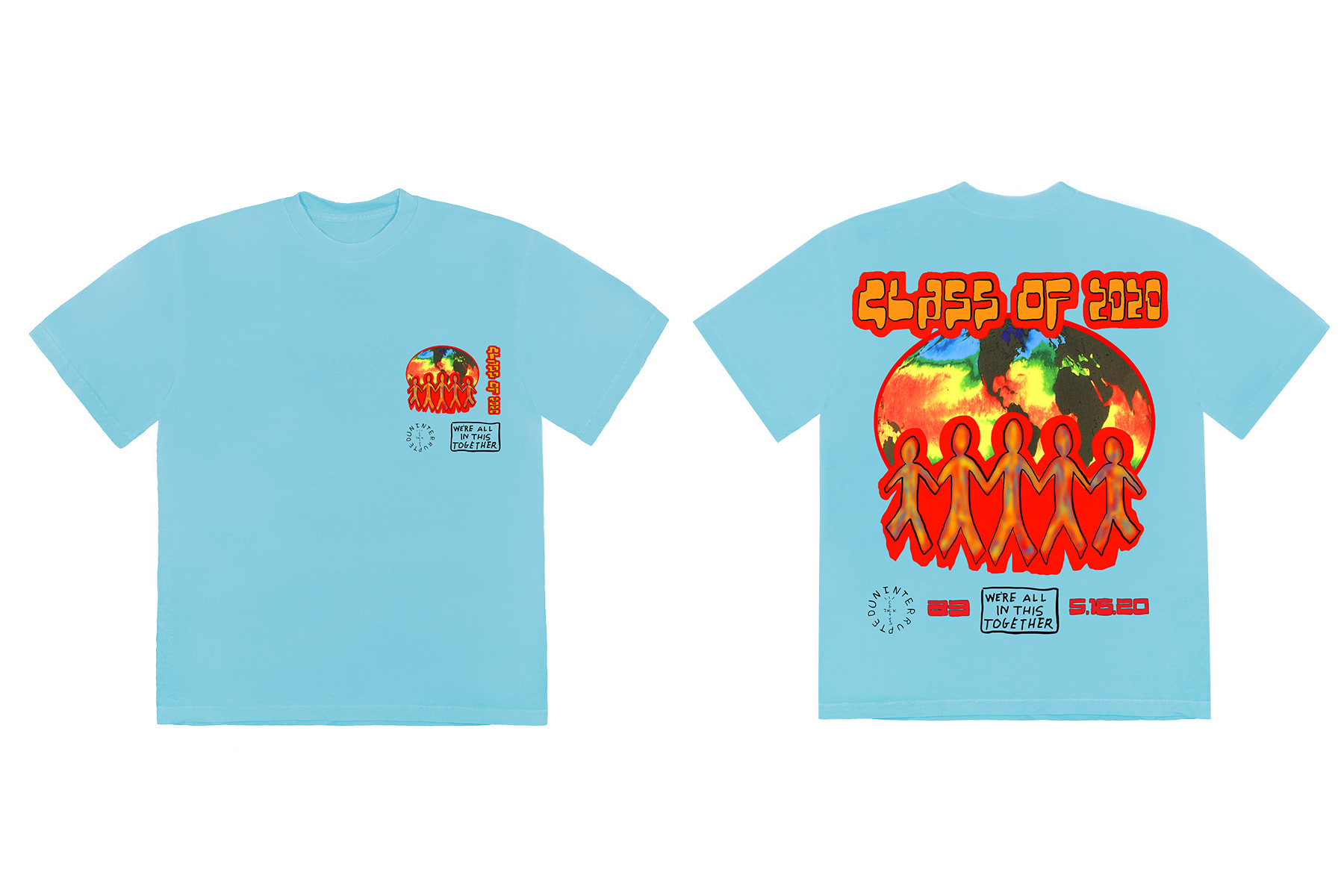 Year: 2020
2020's high school graduating class was dealt a pretty crazy hand. Covid-19 ended their senior year early, which meant they weren't able to have a proper sendoff with an in-person graduation ceremony. While a T-shirt doesn't make up for that, it is pretty cool nonetheless to say your "Class of 2020" shirt was designed by Travis Scott and LeBron James and not printed at a boardwalk T-shirt shop. The collaborative design with James' Uninterrupted also raised funds for the LeBron James Family Foundation and Feeding Texas. Good vibes all around with this one. —Mike DeStefano
McDonald's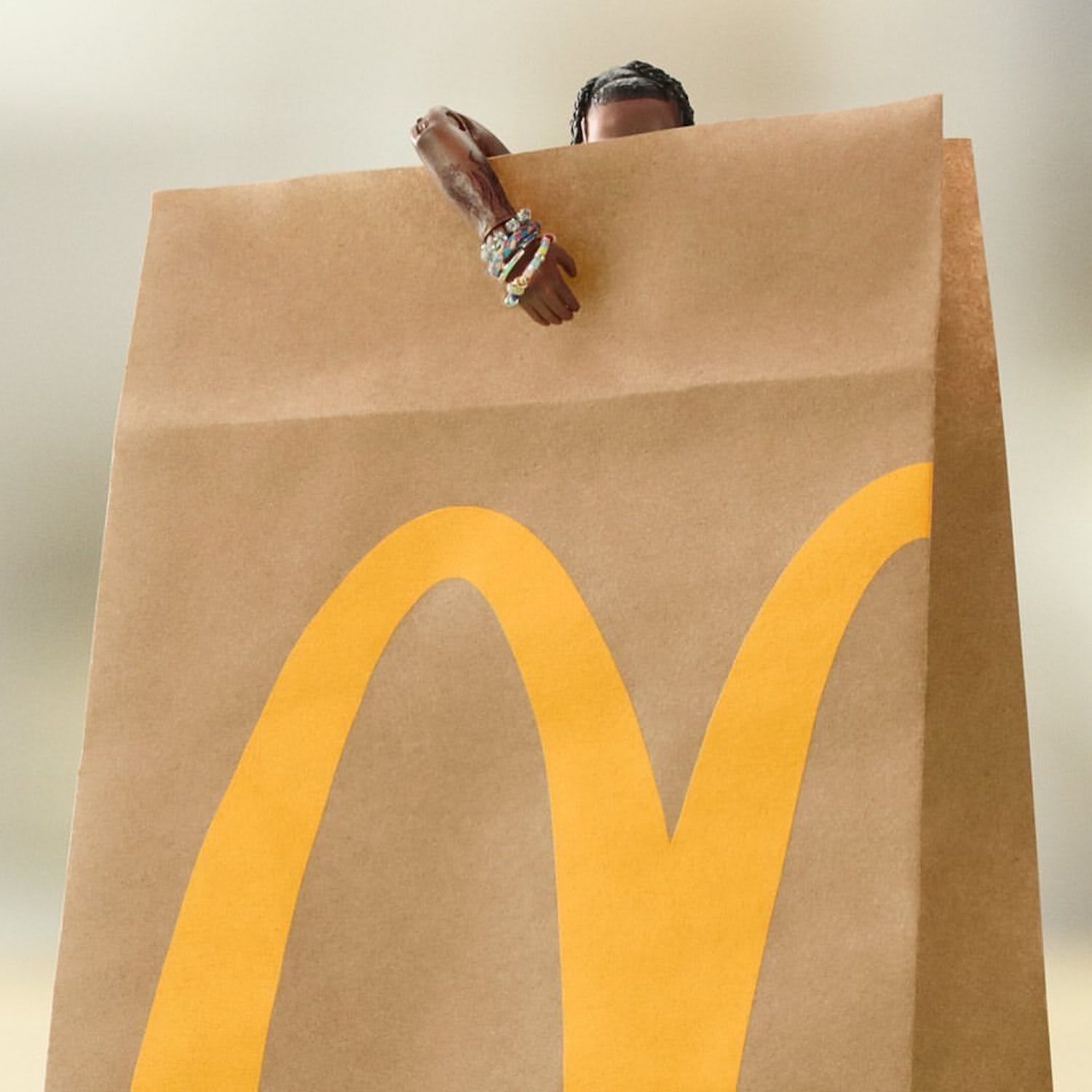 Year: 2020
Travis Scott really had his own McDonald's collaboration. No, he wasn't selling cactus-shaped burgers or purple Sprite. But there was a special Travis Scott Meal up for grabs that included a Big Mac, fries, BBQ sauce, and Sprite for only $6. Food aside, we all know what really mattered when hitting the Mickey D's drive-thru as a kid: the toy. While a mini La Flame figurine wasn't included with each purchase, there were 15 Travis Scott figures raffled off to celebrate the project. He even designed special uniforms for employees to wear throughout the month-long campaign. For everyone else, there were hundreds of collaborative merch pieces to shop such as nostalgic graphic T-shirts riffing off of old Mickey D's campaigns, food trays, pieces with Cactus Plant Flea Market, the infamous McNugget body pillow, and more. If you ask us, the TV spot was still our favorite piece of the collab. Real Lil' Penny vibes. —Mike DeStefano
Sony PlayStation
Year: 2020
To help promote the launch of the PlayStation 5 in November 2020, Sony tapped Travis Scott. He appeared in an ad for the gaming console. As has become the usual routine, he also dropped off a large batch of Playstation-inspired merch for fans to shop that included everything from varsity jackets to graphic T-shirts covered in official PlayStation branding. The most memorable piece of the project was an insanely limited five-pair run of PlayStation Nike Dunk Lows that were raffled off ti lucky fans. —Mike DeStefano
Cacti
Year: 2020
"Cacti, not no iced tea." Travis Scott's hard seltzer brand hit the market in March 2021. It arrived with a huge marketing push that included placement in his "Franchise" video, a robust merch capsule, and even a TV commercial featuring actor Eric Andre. It wasn't some limited edition product. Cacti's strawberry, pineapple, and lime cans were readily available in most liquor stores around the country. Lana Buchanan, vice president of marketing for Anheuser-Busch's Beyond Beer division, said the hard seltzer would be "step one" of building a larger Cacti portfolio in a 2021 interview with Complex. But as quick as Cacti made a splash on the market, it disappeared. Anheuser-Busch announced it would be discontinuing the brand following the tragedy at Travis Scott's Astroworld Festival in November 2021. As Travis has slowly re-entered the spotlight, it seems that a relaunch could be imminent. But as of now, nothing has been made official. —Mike DeStefano
Verzuz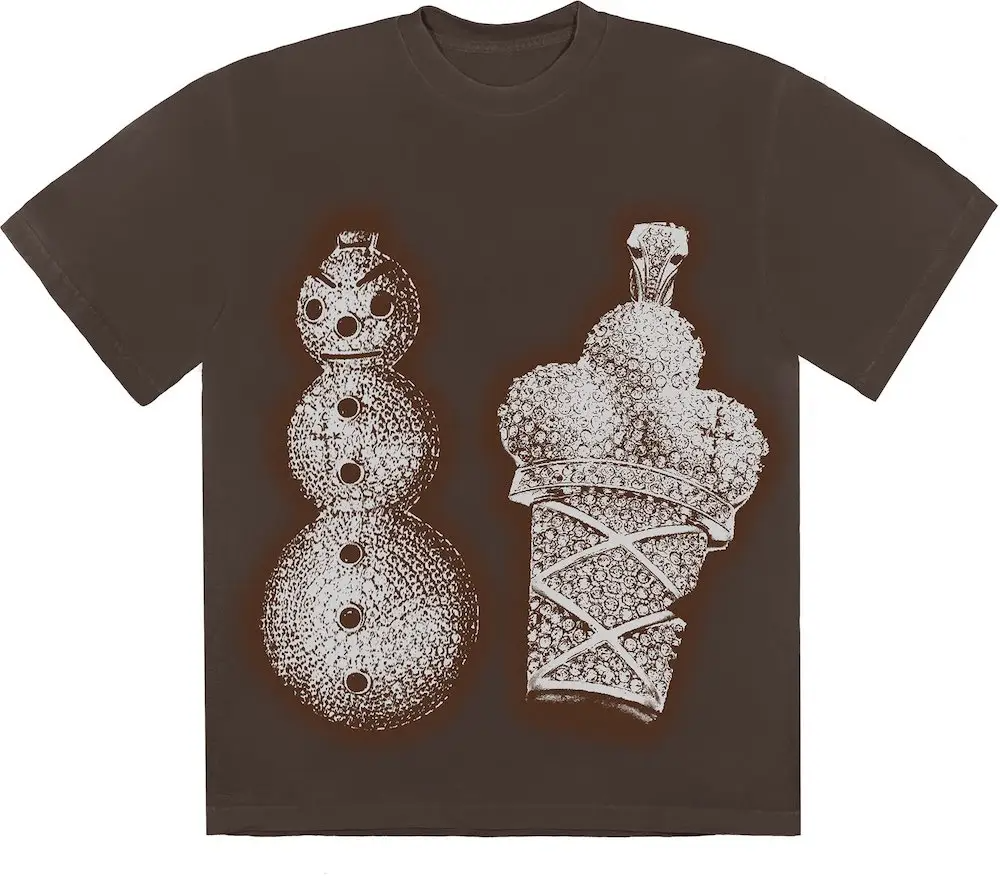 Year: 2020
Remember Verzuz battles? Man, the pandemic was a wild time. One of the more memorable Verzuz battles was between Gucci Mane and Young Jeezy in November 2020. Surprisingly (or not I guess), Travis Scott's Cactus Jack decided to drop some merch to mark the occasion. Brown and white T-shirts featured graphics nodding to both Atlanta rap legends that included snowman and ice cream cone diamond pendants and a 1017 script logo. To get us feeling super nostalgic, the T-shirts were even offered in "2005 TALL TEE ONE SIZE," a lovely nod to 2000s style. —Mike DeStefano
Byredo
Year: 2020
If you ever wanted to smell like "Space Rage," Travis Scott made it possible by creating a scent with Swedish perfume brand Byredo in 2020. Available in a perfume and candle, the scent included top notes of "Cosmic dust, Antimatter particles," a heart featuring "Starlight, the scent of Supernova," and a base consisting of "Atmospheric vapour, Dark nebulae." Now, we don't really know what that means. But it smelled very good. We wouldn't mind seeing them collaborate on a new scent for Utopia. —Mike DeStefano
i-D Magazine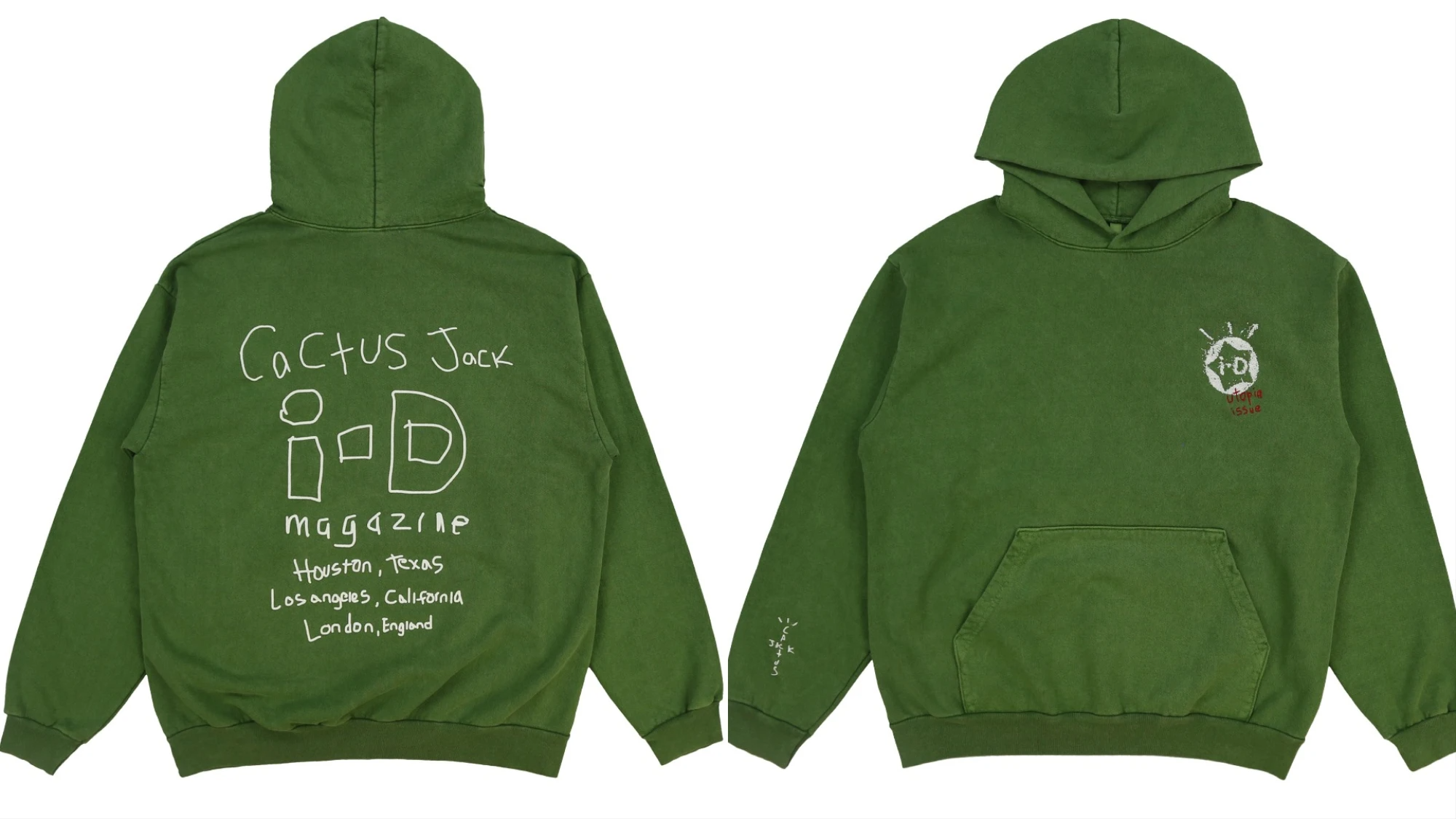 Year: 2021
Travis Scott (and an adorable dog) appeared on the Spring 2021 cover of i-D magazine. To celebrate the cover story, which featured Travis Scott speaking with famed director Robert Rodriguez, there was some merch. Illustrations by Spike Jonze appeared on hoodies, T-shirts, and a beanie. This one isn't very memorable in comparison to some of the other projects on this list, but we could see it becoming a cool thing to stumble upon in a number of years on the rack of your local thrift store and saying, "Wow, this happened?" —Mike DeStefano
Neighborhood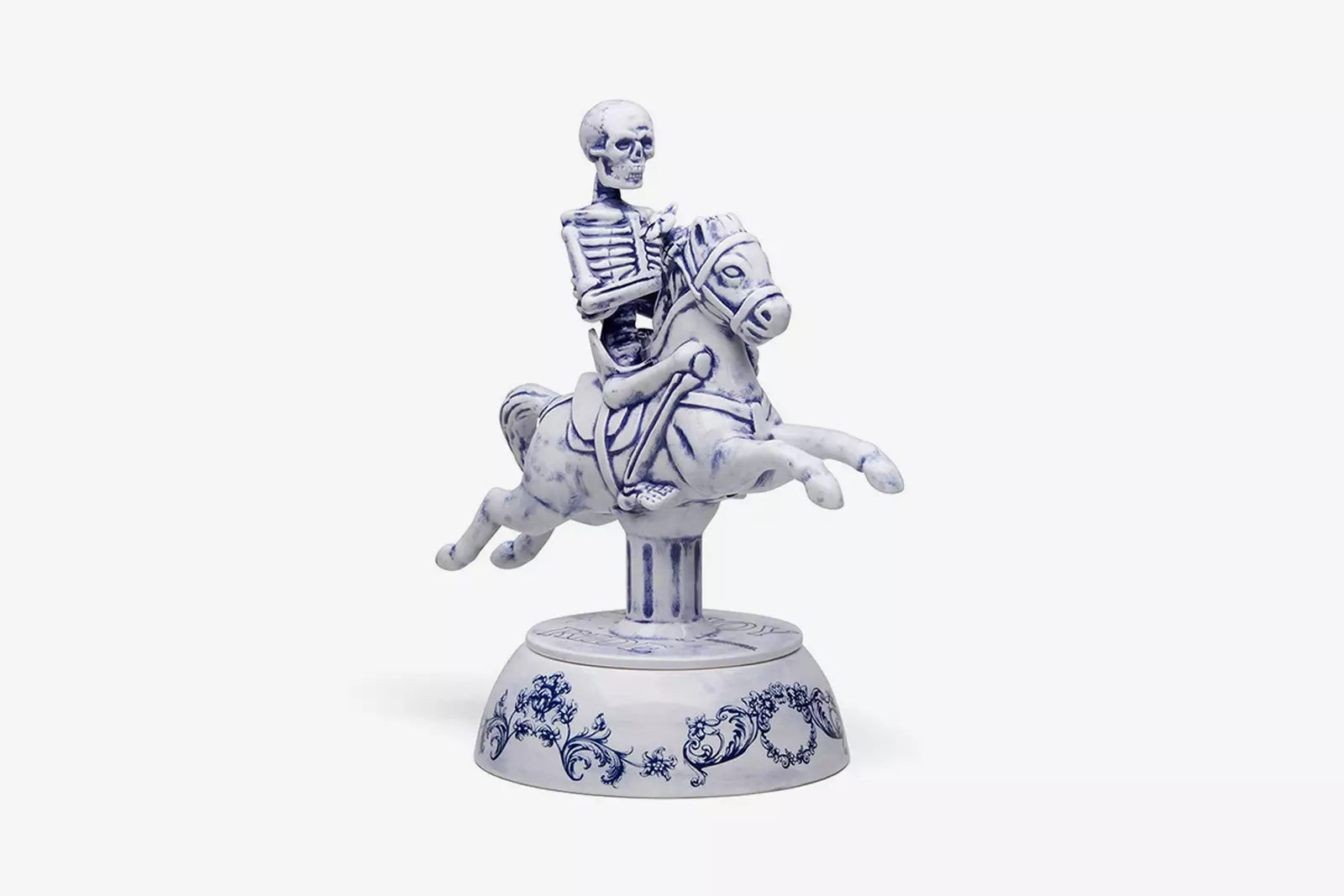 Year: 2021
Not many of us can celebrate our birthday by releasing a number of items in collaboration with an iconic Japanese streetwear brand. That's exactly what Travis Scott did to celebrate his 29th birthday in 2021. He tapped Neighborhood to release a series of hoodies and T-shirts. They were fine, but by far the best item was an incense chamber made to look like a skeleton riding on a carousel horse. Travis Scott really gave his fans gifts on his birthday. How generous. —Mike DeStefano
Fragment Design
Year: 2021
Most people think of the Air Jordan 1 Highs and Air Jordan 1 Lows when they think of Travis Scott's collab with Hiroshi Fujiawara's Fragment, but there was also an entire lineup of apparel that came along with the coveted footwear. There was an official capsule with Jordan Brand that even featured archival imagery of Michael Jordan. Other merch released included varsity jackets covered in chenille patchwork and full-zip skeleton hoodies. Some of the best pieces included original artwork from KAWS. Travis Scott x Hiroshi Fujiwara x KAWS items for under $100 were hard to pass up. That's why we didn't. Hopefully, you didn't either. —Mike DeStefano
Dior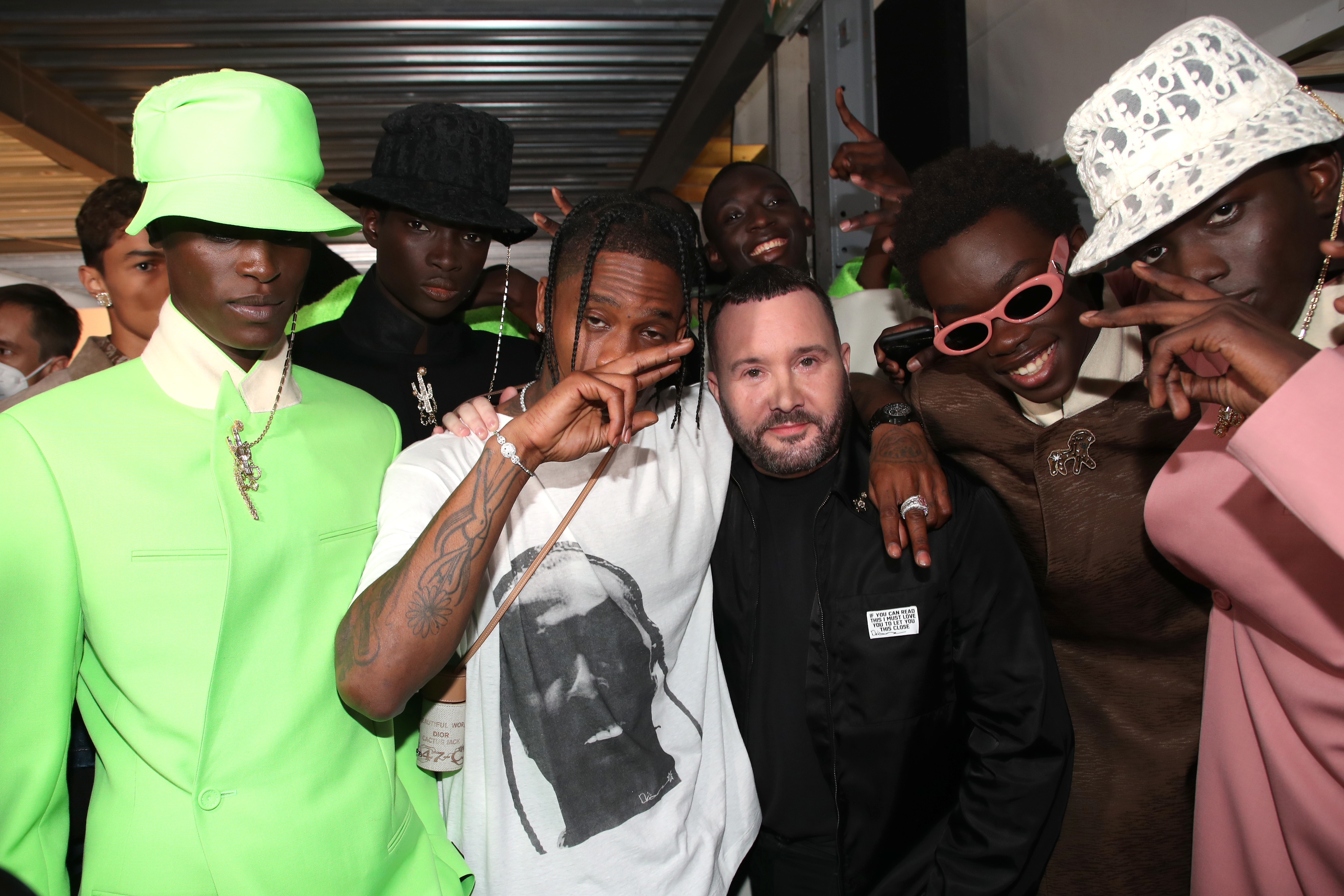 Year: 2021
As desirable as Travis Scott merch is and as successful as his run of collabs with Nike has been, we can't say we expected to see him design a full runway collection with one of the most storied fashion houses in the world. The Cactus Jack for Dior collection acted as Dior's Summer 2022 range. The first full Dior collection created with a musician debuted during Paris Fashion Week in June 2021. Models walked down a desert-themed runway as tracks like a yet-to-be-released song by Travis Scott featuring James Blake and Westside Gunn (please be on Utopia so I can stop listening to the SoundCloud rip) played over the speakers. Standout items included a remix to Dior's signature Oblique pattern that read "Jack," Saddles bag remixed with snakeskin and stirrup handles, and a T-shirt honoring the late Pop Smoke. Following the Astroworld fest tragedy, Dior announced that it decided to "postpone indefinitely" the release of the collection that was initially slated for January 2022. When it ultimately hit stores in July 2022, a portion of the proceeds were donated to Travis Scott's Project H.E.A.L., a community-focused initiative that funds design programs and provides mental health resources to the youth. —Mike DeStefano
Mastermind Japan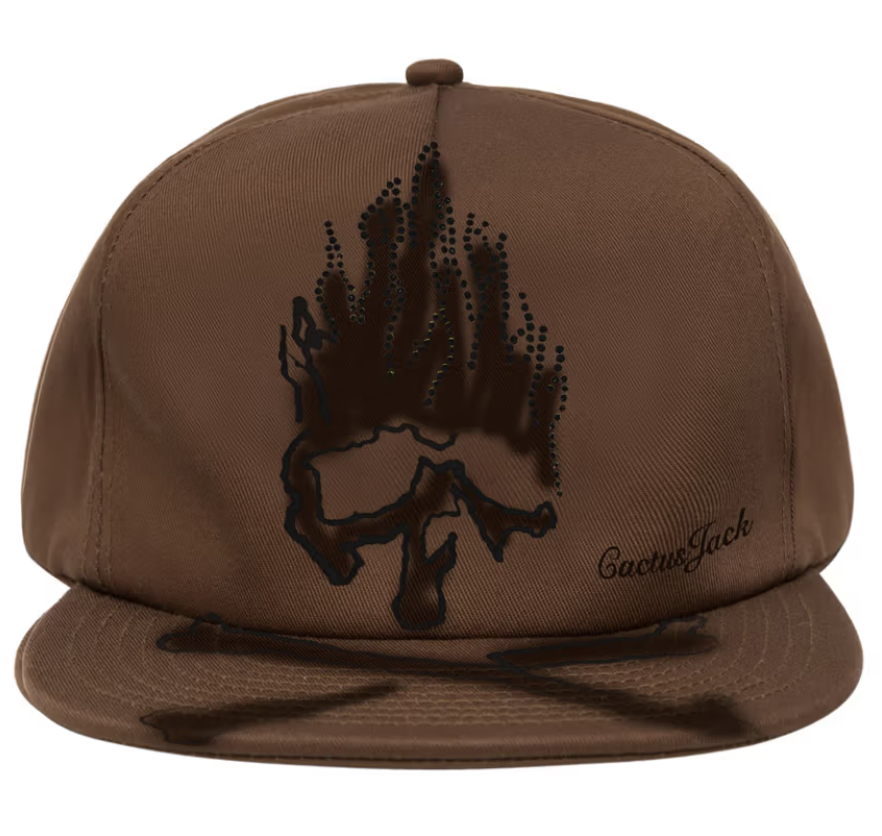 Year: 2021
Yet another iconic Japanese streetwear brand that Travis Scott can say he's collaborated with, a merch capsule with Mastermind Japan debuted in August 2021. A version of Mastermind's signature skull and crossbones motif with flames made of rhinestones appeared on a black T-shirt and brown cap. Dusty pink shorts and a full-zip hoodie sporting more minimal co-branding rounded out the concise offering. Not the most exciting apparel, but if you're looking for something that doesn't scream "I'm Travis Scott's biggest fan" then maybe this is right up your alley. —Mike DeStefano
Zouk Nightclub
Year: 2022
In September and October 2022, Travis Scott hosted two shows as part of his seven-show residency at Zouk Nightclub in Las Vegas. Dubbed the "Road to Utopia," he marked the run of shows with some merch that was exclusive to the venue. Casino-themed graphics appeared on T-shirts, hoodies, and caps. The next show of Travis Scott's residency is slated for Nov. 16, 2023. —Mike DeStefano
Circus Maximus (A24)
Year: 2023
What can't the man do? One of Travis Scott's latest creative endeavors is Circus Maximus, a 1 hour, 15 minute film that is airing in theaters around the United States on Thursday night ahead of the release of Utopia. While we aren't sure what exactly to expect from the A24-produced visuals, we're hoping it's a proper accompaniment to Utopia a la Kanye West's Runaway short film that accompanied My Beautiful Dark Twisted Fantasy back in 2010. —Mike DeStefano