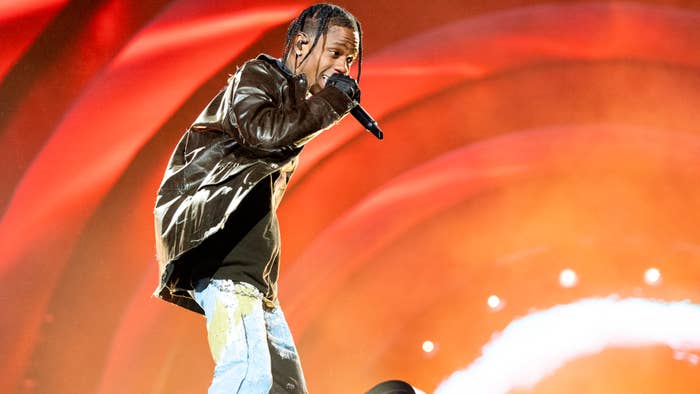 Dior has announced its decision to "postpone indefinitely" the launch of a new collaboration with Travis Scott's Cactus Jack.
In a statement shared with Women's Wear Daily on Tuesday, a rep for the French luxury house said the indefinite postponement was spurred by last month's fatal Astroworld Festival in Scott's hometown of Houston. While fans have already been given a look at the collaborative pieces, the items weren't expected to begin rolling out until next year.
"Out of respect for everyone affected by the tragic events at Astroworld, Dior has decided to postpone indefinitely the launch of products from the Cactus Jack collaboration originally intended to be included in its summer 2022 collection," a company rep said.
Complex has reached out to a rep for Dior for additional comment and will update this post accordingly. The announcement of the indefinite postponement comes weeks after Anheuser-Busch said that its Cacti seltzer line with the Utopia artist was being discontinued.
Meanwhile, a source familiar with the Dior situation told Complex that the latest move marked a "mutual decision made by both Dior and Travis Scott to postpone the upcoming collection due in Jan '22 with both parties working to reschedule the launch at a later date."
As reported earlier this month, 10 Astroworld Festival attendees (including eight on the evening of Nov. 5 and two more in subsequent days) have been determined by medical officials to have died from compression asphyxia. Also this month, a congressional committee started an investigation focused on Live Nation's alleged role in the tragedy.
In his first interview since the Astroworld tragedy, Scott told Charlamagne Tha God that he's aiming to become "a voice" for the larger issue of concert safety moving forward.
"I gotta step up and be a voice to just figure out [how] this doesn't happen in the future at shows, period, or figure out the bottom solution of what's going on and ensure people's safety," he said in the interview, which debuted earlier this month.