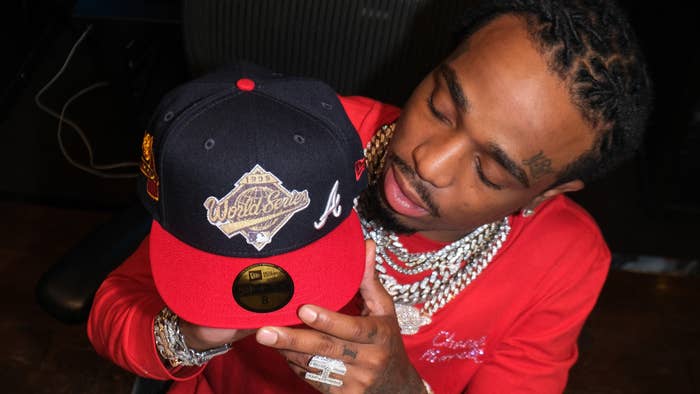 "Y'all boys in trouble when you come down to the Hawk's Nest," says Quavo over the phone prior to Game 3 of the first round playoff series between the Atlanta Hawks and New York Knicks. "I'm speaking for the whole city of Atlanta. The arena will be rocking. We're going to turn it upside down."
Quavo's passion for his hometown was obvious. And it wasn't just talk. The rapper was courtside for the game 3 matchup at State Farm Arena in Atlanta on May 28. The Hawks took a 2-1 series lead following a 105-94 victory. And the crowd was going crazy the entire time. Anyone watching the broadcast with a keen eye saw Quavo erupting out of his seat along with the fans whenever the Hawks would sink a three-pointer or go on a big run. His hometown pride isn't just limited to Atlanta's NBA franchise though. He's got love for all of the city's professional teams. If you were paying extra close attention to Quavo during game 3, you may have noticed his headwear was another nod to Atlanta athletics. It was actually his upcoming collab with Lids, a new take on the two-tone Braves cap to commemorate the team's 1995 World Series championship that is set to hit select Lids locations in Georgia and lids.com on June 4 and will retail for $65. 
Fitteds adorned with commemorative World Series patches are nothing new, but Quavo's unique take changes things up by enlarging the gold 1995 World Series patch and stamping it on the front of the cap instead of the right side panel. The self-proclaimed "glacier boy" even covered the logo in shimmering Swarovski crystals. He made the signature "A" logo smaller and placed it beside the large '95 patch, while other additions include a giant Braves tomahawk logo on the right side panel, World Series trophy embroidered on the back, and even a special custom patch showing off Quavo's signature "HUNCHO" rings.
"The Braves hats been going before me, before I was even born. So just to be a part of that legacy, a part of the Atlanta legacy, and tradition, and the culture is a blessing," says Quavo who tells Complex he first fell in love with the Braves cap as a kid when he saw Andre 3000 rocking it. "Migos being at the forefront of the culture, it's the perfect marriage. It's only right. And I'm thankful for it."
Ahead of his new collab's release, we chopped it up with Quavo about the current fitted hats trend, feeling like Virgil Abloh while designing his fitted, Pop Smoke being featured on Culture 3, and more. Check out the full interview below.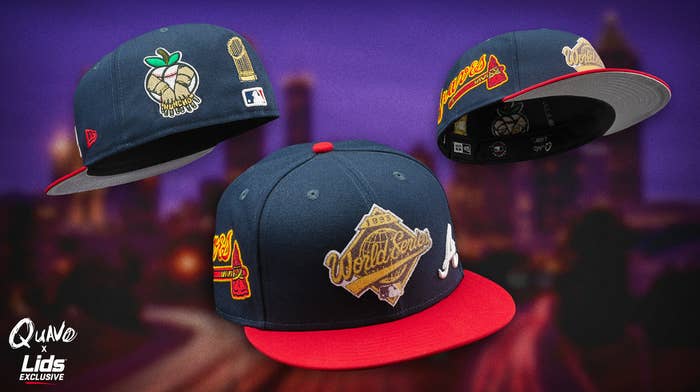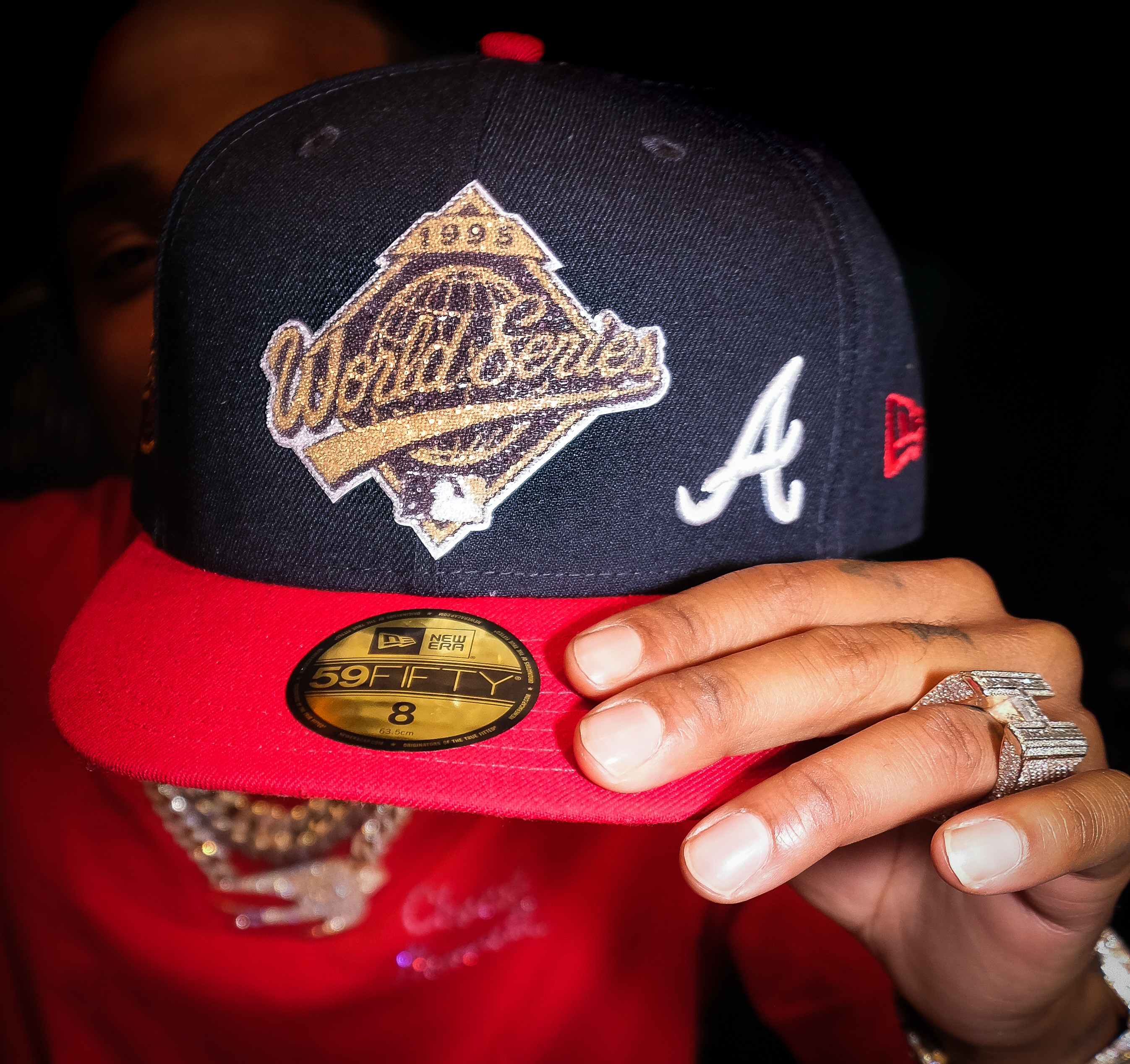 So I've heard you talk about like your first pair of Js that you got growing up. Is there a similar story with the first fitted that you got when you were growing up?

Yeah. I remember my first fitted. It was all red with a black brim, an Atlanta Hawks Pac-Man logo hat. It was my favorite hat. That and I had a Cincinnati Reds hat that me and Takeoff took this picture up under the tree and we had big oversized clothes on. And that right there went viral. So them two was my favorite hats.
There's a big wave around fitted hats right now. Are you excited that now you get to say that you got to add your own spin to it and you have your own collab coming out? 

Most definitely. I'm proud to be a part of the fitted family. I love fitteds. We all love fitteds. They always come back in style. I'm just proud to be a part of the Lids family and create some. I can I had a fitted hat in Lids one day. I did that.
You've been going crazy with the sneaker purchases recently too, but are you going just as crazy with the fitteds right now? I see like you, Offset, and Takeoff always rocking the Lord Fubu and the Jon Stan customs and stuff like that. Are you going super hard on the fitted collection right now?

Yeah, fa sho. We love the fitteds. It's doing something special to the outfit. It's the drip. Like I said, we grew up rocking fitteds. When the snapbacks came in, we have dreads, so it was kind of tough. You had to unbutton the snaps just to rock it. So once the fitteds came back we were like, 'Okay, cool. We finna take this and run with it.'
Growing up in Atlanta, is it cool that now you can say you have your own Braves cap? Cause like you said, it's such a symbol of the city. It represents more than just that team now.

Yeah, most definitely, man. The Braves hats been going before me, before I was even born. So just to be a part of that legacy, a part of the Atlanta legacy, and tradition, and the culture is a blessing. Migos being at the forefront of the culture, it's the perfect marriage. It's only right. And I'm thankful for it.
Were you looking up to some of those Atlanta artists back in the day that became known for rocking the Atlanta hats?

Outkast. I fell in love with the Braves hat when I seen Andre 3000 wearing it.
To that point, every city has it's signature style. Like New York has Timberland boots, and Yankees hats, and stuff like that. What do you consider Atlanta's signature style or signature items?

Atlanta signature items, you gotta have a Braves hat of course, and you gotta put some jewelry on. I think a fitted cap and some jewelry is the best thing. Cause it's hot down there in Atlanta. We may go shirt off, some jewelry, fitted cap, and some fresh jeans. You know what I'm saying? With some 5 Js. 
Obviously you're someone that cares about how they are getting dressed. Are there any brands in particular that you're messing with right now?

Them boys out there. What LORDFUBU is doing with them hats, I like it. I've been rocking with him for a little while. That's pretty much it.
When you first came into to the rap game, you were all about the designer, all Versace and stuff like that. But your style has evolved a lot. Can you just sort of talk about how your taste in clothes has evolved throughout your career?

I feel like we (the Migos) look good in anything, you know what I mean? We some well-dressed brothas, bro. Anything we put on, we gonna put that shit on. We gonna drip it to the death. Our horizons are big when it comes to clothes and fashion.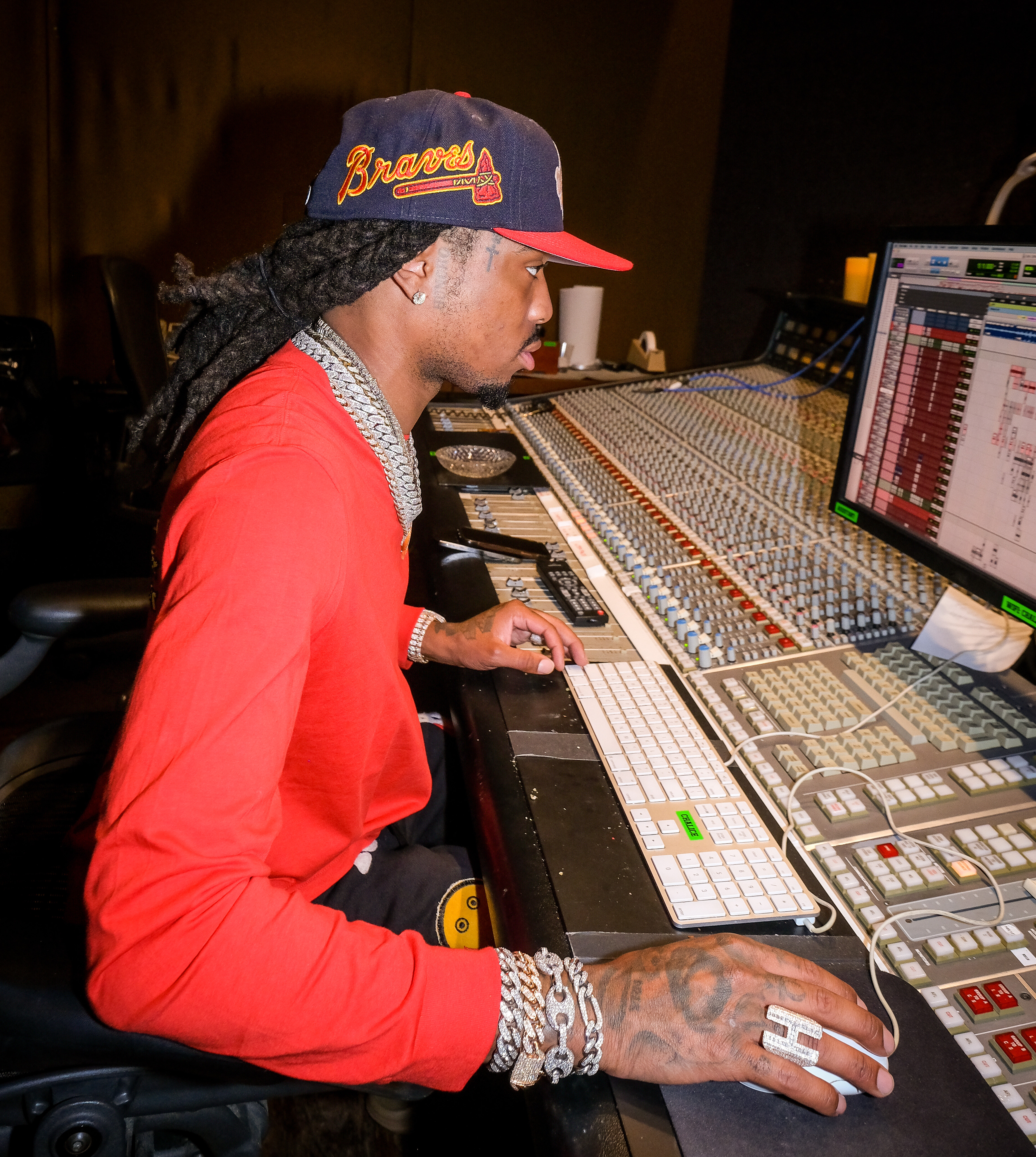 I have to ask you a little bit about the music. Culture 3 is almost here. What can the Migos fans look forward to? Are y'all working with anyone new? Is there new producers that you guys tapped into? 

Greatness. The greatest album of this year. The greatest album of the summer. It's back open. I feel like this album going to open up the world. We're having fun and smiling again, you know what I mean? Everybody's been hurtin', and going through this pandemic, and losing loved ones. I feel like this is a breakthrough. This is the sonic boom to the new life and new world that we live in. We've been going through this pandemic for like a year and a half. So, we're coming back with Culture 3. We haven't dropped any music in three years. The year that we was going to drop, the pandemic hit. So I just feel like it's a breath of fresh air. 
We got some good guys on there. We got our good friends on there. It's going to be the greatest album of the year. We put our blood, sweat, and tears into it. We had a lot of time to go over and a lot of time to bond and be together with this album. So, Culture 3. 6/11.
Leading up to the album release, you guys have been dropping a ton of snippets online. It's clear that you're all super locked in. The verses have all been crazy. I know that none of you really ever stopped making music entirely, but is it nice to be back in that album mode? Is that vibe different for you guys when you all get together for the album?

I just want to go see the fans again. I miss my fans. We miss our fans. We miss performing. You can't express your music if you're not sweating and running around on stage, it's hard to. Sometimes you don't see the picture until I show you the picture. I just want to be back and bless the fans with my music, and touch 'em, and see 'em.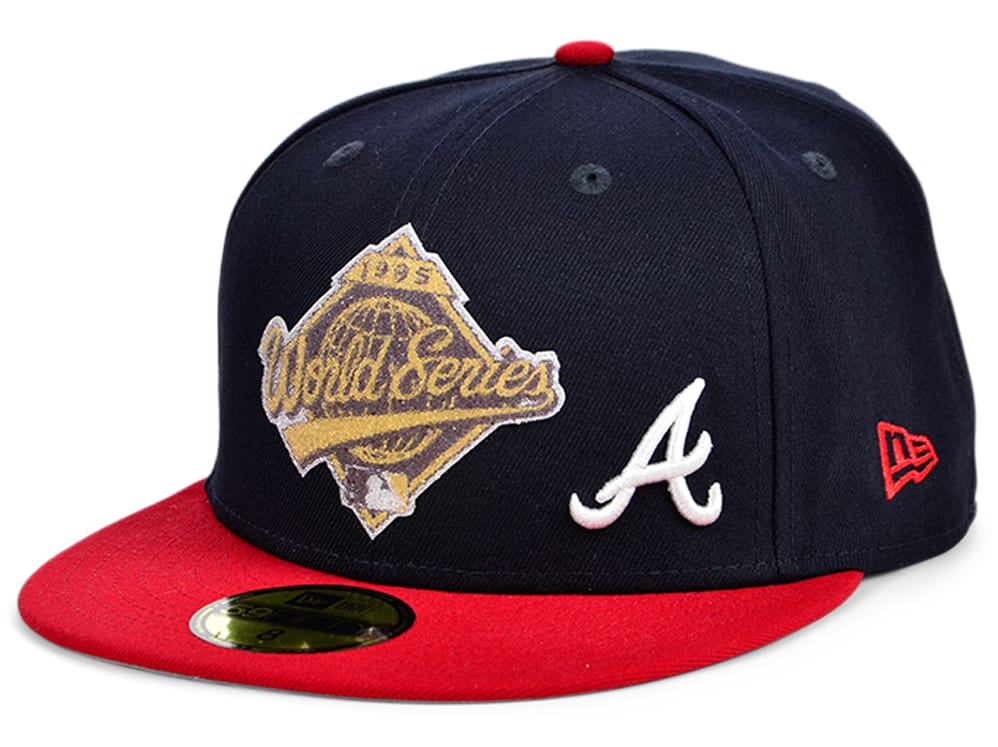 There was some people out there that started overlooking the Migos since it had been three years since Culture 2 and everything. Is that extra motivation at all when you guys got in the booth for this one? Do you pay attention to that talk?

Nah. That's just the young generation. You leave the porch for two years, somebody's gonna be sittin on it. But it's not the throne. Cause we sit at the top and we respect everything that's going on. But that's just the youth. They got a short attention span. Like you said, it's been three years. It's time to take control and bring the spotlight back to the stage. 
So one of the people that you've been seen with in recent months is Bobby Shmurda. Can we expect a feature? Have you been in the booth with him? Is there anyone that we can expect to hear on Culture 3?

We got a really, really, really hard record with Pop Smoke. 
And that's my dog, Bobby Shmurda. He's been my friend since day one, stayed in contact with him the whole time while he was locked down. He told me he wanted me to come get him when he got out. That's what I did. We men of our words, just keep it 1000. Loyalty lasts forever.
One more quick thing, on the basketball front. We've seen you show off your skills on the basketball court countless times like you did at All-Star Weekend in Atlanta. So who's the next opponent? If you had to issue a proper challenge right now, who do you want to defend the title against? 

Anybody. It don't matter. I'm the best. Can't nobody beat me.