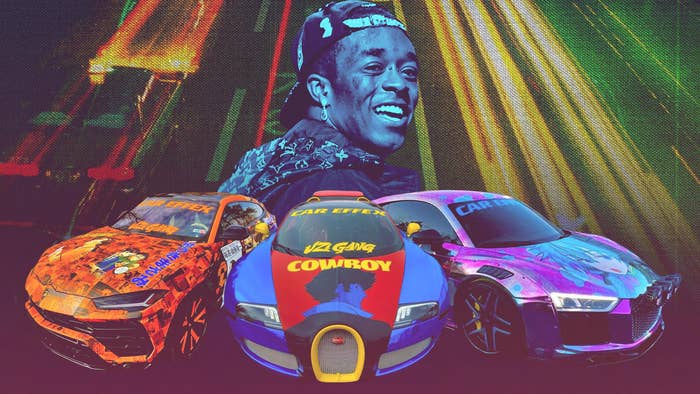 Few rappers have had as big of a year as Lil Uzi Vert, so far. Last month, he dropped off his long-awaited album, Eternal Atake. He followed it up with another full project in the form of the deluxe version he titled LUV vs The World 2. The substantial drop off of new music has satisfied his fanbase's craving, but Uzi has been indulging in something else entirely. No, we aren't talking about his fits this time, but his stellar collection of vehicles.
You might have seen them pop up on social media recently. His $1.7 million Bugatti Veyron, which he purchased for his 25th birthday, previously owned by Floyd Mayweather Jr., is probably his most notorious. The hood of the car is covered with a painting of Spike Spiegel, a character from the popular anime series Cowboy Bepop, and it's styled to resemble The Weeknd's Starboy album cover. Last month, a clip went viral when the multi-million dollar car was booted by New York authorities. A few days later, a fan captured the unmistakable whip on a flatbed tow truck riding down the highway. Uzi hopped on Twitter to clarify it was just being transported to his shop to fix the rims. That shop is none other than Car Effex, a 20-man operation led by Michael Layton located in Sewell, a small town in southern New Jersey about 30 minutes from Uzi's home city of Philadelphia. 
Layton has owned Car Effex since 2002, but worked on cars since he was 15, tinting windows for friends in his home garage. He says he started the business as a web-based operation installing body kits for customers. He was able to capitalize off the success of Fast and Furious with plenty of clients asking for things like Lamborghini doors and kits for their Toyota Supras and Nissan 300 ZXs, popular models at the time. By age 23, Layton purchased his first shop and has been running the show there ever since.
These days, Car Effex caters to plenty of clients ranging from local business owners to celebrities. Most of their big name clientele comes from the Philadelphia Eagles with custom work for players like a Lamborghini Urus for Fletcher Cox, a Dodge Demon for Carson Wentz, and a Rolls Royce truck as a tribute to Nipsey Hussle for DeSean Jackson. Layton says he was initially introduced to Uzi back in 2018 through an Eagles player, though could not recall who. The first cars he did for him were a fleet of matte olive green vehicles—a Urus, Dodge SRT Hellcat, Rhino GX, Audi R8, Rolls Royce Cullinan, and Bentley Bentayga. The most wild creation to date for Uzi, according to Layton, had to be a Bentley Continental crafted for off-road use.  
"We pretty much text back and forth every day. He's constantly got new ideas for all his cars, maybe throws ideas at me. Most of his cars will be here in the shop. Then when he wants to take one out, we'll bring it to him. Sometimes he'll keep it for a day or two, sometimes he'll keep it for a week or two, and then we rotate it out with another vehicle," says Layton. "He's always constantly changing the wrap ideas on the cars, looking for more horsepower, changing the wheels out, maybe different interiors. It's a constant. We work on his cars every single day."
Layton tells Complex Uzi has about 10 cars right now, most of which have been rewrapped seven or eight times. The swaps come randomly. Sometimes it's only a month, but others last a little longer. More recently, Uzi has become known for his series of wild car wraps sporting anime characters like the aforementioned Cowboy Bepop Bugatti. There is also an R8, which Ayton says was the biggest project to date and took five months to complete, wrapped in pink chrome complete with anime characters emblazoned on the hood and doors, and a Urus wrapped in graphics from manga series Disu x Komi and Kidou Keisatsu Patlabor. Since the interview, Layton has also outfitted Uzi's Bentley Bentayga in a blue anime graphic too. He says the obvious attention the cars receive has inspired others to request similar custom work. 
"It's pretty complicated, but he'll give us an idea of what he wants on each one, then we'll design it up, send him some pictures, and go back and forth five or six times until it's finalized to his liking," says Layton. "Once it's good, then we'll print it and install it on the car. He has a lot of input on exactly where he wants everything placed at, what colors, what characters are on the cars."
While Layton wouldn't disclose costs, he did indicate these projects are obviously pricey. He mentioned having to be particularly careful with the Bugatti because each part is "extremely expensive" and not even readily available given the rarity of the car.  
"Nobody's as crazy with their vehicles as Uzi is. He's definitely over the top compared to anybody else that we've ever dealt with."