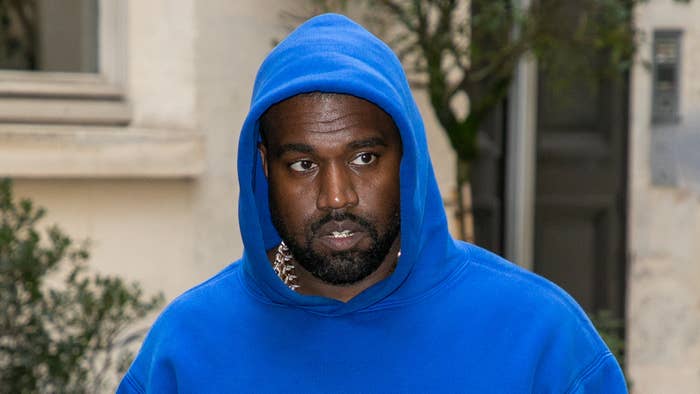 The wait is over. In the wee hours of the morning (3 a.m. ET to be exact), Kanye West decided to celebrate his 44th birthday by finally giving his fans the chance to cop from his highly-anticipated Yeezy Gap line. The surprise drop comes almost one year to the date that the project was announced back in 2020. But its debut isn't exactly how we expected though. Rather than a full line complete with a rainbow of "perfect hoodies," T-shirts, and totes, Yeezy Gap dropped off an appetizer of sorts, a singular blue jacket. 
Gap and Kanye opted to shock drop the first item from Yeezy Gap today when most people were sleeping. An image of the zipperless blue jacket projected onto various buildings alongside a QR code and the Yeezy Gap logo in specific areas of Chicago, New York, and Los Angeles (see locations below). Fonzworth Bentley even shared an image of one of the projections on Instgram. The rollout might be familiar to longtime Kanye fans. He used a similar tactic in the lead up to the release of Yeezus in May 2013 when a video clip of his face rapping along to "New Slaves" randomly began playing on buildings in major cities around the world. Along with the floating projections, it also appears Yeezy Gape has hijacked the official Gap Instagram account for the time being. It currently only shows one post, a looping video of the Round Jacket, and has the "YZY" logo as its profile photo.
The recycled nylon jacket that is the focus of West's latest attention commanding marketing is identical to the one that he was recently photographed wearing in the streets of LA a few days ago. Some people may have picked up on the new item at the time (West frequently teases his new Adidas Yeezy models and colorways in similar fashion simply by wearing them in public and letting the paparazzi do the rest), while others were fixated on the rapper's recent habit of wearing full face coverings bearing religious motifs or the Nike Vandals on his feet. But I guess technically, he warned us this was coming. The blue Round Jacket is currently a US exclusive and only available for preorder via gap.com. It retails for $200 and will ship in Fall 2021. There is still no official indication of when the full product line will start to trickle its way into Gap stores nationwide despite the various rumors that have been circulating in recent weeks that have made it seem like the full drop is imminent. I guess we'll just have to keep patiently waiting for those hoodies in the meantime. 
It's only fitting that we are getting our first taste of Yeezy Gap in June though. It was almost a year ago when West celebrated the #WestDayEver on Twitter by dropping off various announcements about his upcoming projects. Arguably the biggest was Yeezy Gap, which was revealed with a GAP logo flip to read "YZY." The initial information we received on June 26 was scarce, similar to how most of West's rollouts begin. Along with a name, he tweeted out a teaser photo that showed someone dressed in a bright red puffer similar to the one that was released today layered with a blue hoodie. The news that up-and-coming Nigerian designer Mowalola Ogunlesi would be Yeezy Gap's design director was followed by an image of Gap's Chicago flagship on Michigan Avenue draped with a white tarp with a handwritten message from West about the future of the line. It was enough to cause GAP's stocks to soar by nearly 40 percent that same day.
"Under West's creative direction, the Yeezy design studio will develop the new line to deliver modern, elevated basics for men, women and kids at accessible price points," stated an official press release from June 2020. "Additionally, West's design vision will extend to unique Yeezy Gap expressions in Gap stores and digital channels over time."
The seed was planted. The hype train was already full steam ahead. It's a Kanye West project, of course. But the months that followed provided no update aside from a random warehouse photo from Cody, Wyoming here, or a paparazzi shot of West rocking a slightly cropped blue hoodie prototype there. A bulk of the hype thus far has surrounded what has continued to be billed as the aforementioned "perfect hoodie," an item crafted in the USA, which has been seen in a handful of colorways from bright blues to earthy browns. West has also teased items on Twitter such as baseball jerseys, overalls, and caps that will be featured in the Yeezy Gap kid's line. But until today, it was essentially West acting as his own leaker. It almost seemed like West was bending the rules a bit, showing his fans pieces of the process that are usually left behind the curtain. There has been no official lookbook images, no pricing, or even so much as a date. But when it comes to West's ventures, these formalities really aren't necessary. Anything he drops is going to be met with a fervor from his fans. Unsurprisingly, this round jacket was no different. 
Kanye West's History With Gap
What's Next?
What's the next step for Yeezy Gap? Well, nobody really knows. All we know for sure is that there will certainly be more clothing for us to buy. A 10-year contract that is valued at nearly $1 billion guarantees that. But we also know how Kanye works these days. Hard dates aren't part of his rollout plan. We will get more Yeezy Gap whenever we get it. Chances are, it will be similar to today's drop, and we won't know until the link is tweeted to the masses and breaks the internet for a few minutes. 
What we can say is that Yeezy Gap could single handedly reinvigorate Gap's reputation and introduce it to a new generation. It wouldn't be the first time Yeezy has legitimized a brand for a bigger audience. Just look no further than his Adidas Yeezy line, which saw nearly $1.7 billion in revenue in 2020, and instantly had plenty of people positioning the Three Stripes directly next to its main competitor located in Beaverton, Oregon for a number of years. Let's just hope the second wave of Yeezy Gap items drops sooner rather than later. A puffer jacket is cool, but it's scorching hot outside right now. We want some items we can wear immediately, at the very least a hoodie to rock with some shorts, not something we need to stash in our closet for a few months until the temperatures start to dip back down again.
Where you can see the Yeezy Gap Jacket projected on buildings:  

New York: New Museum; 7 2nd Avenue; 142 Spring Street; 184 Wythe Avenue

Los Angeles: Grammy Museum; Grand Central Market; Vine Street – Walk of Fame; 8340 Sunset Boulevard

Chicago: 1601 N Milwaukee Avenue; 1453 N Milwaukee Avenue; 2053 Division Street; 2113 Sangamon Street