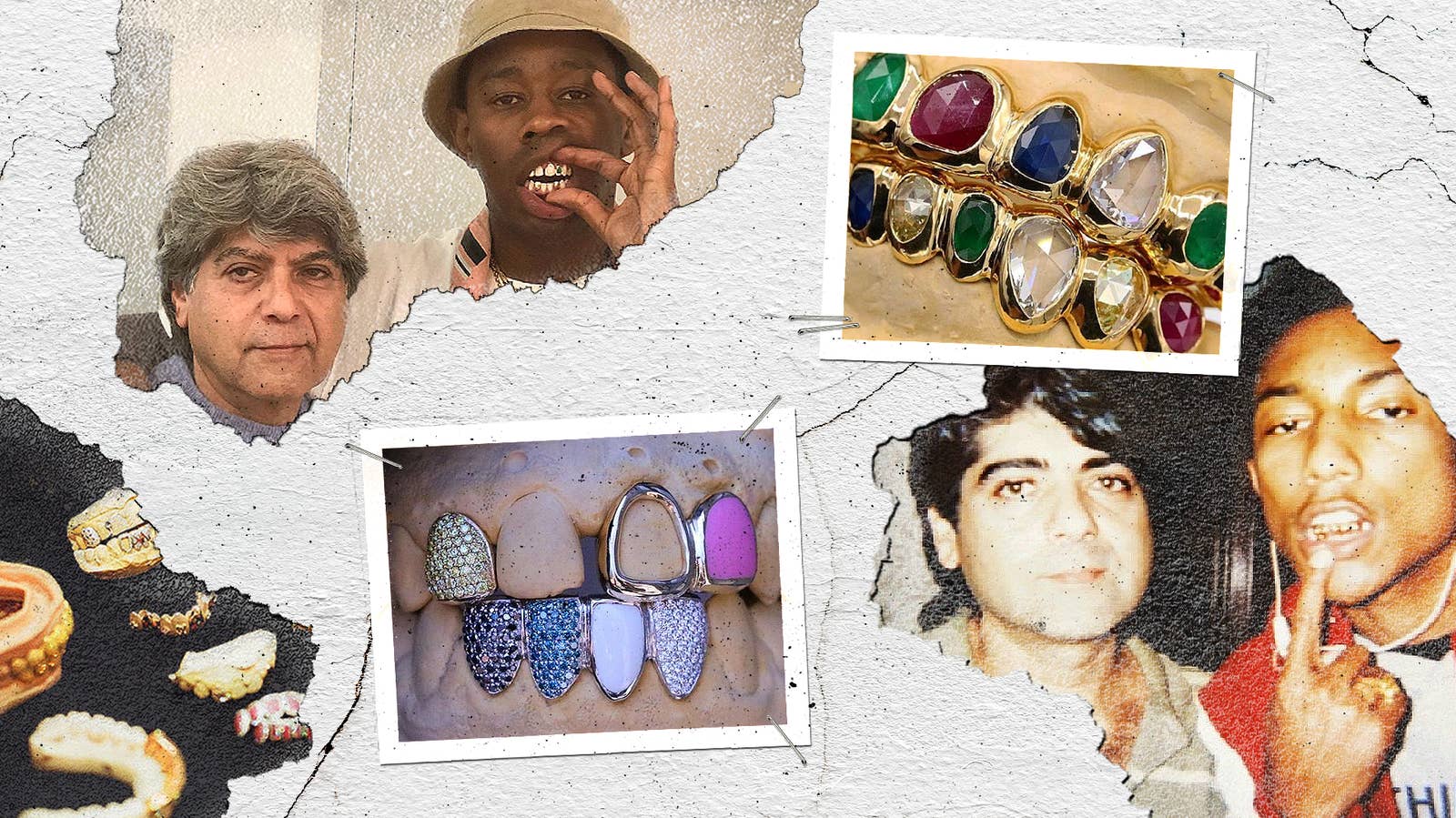 In an office space stationed high above New York's buzzing Diamond District, the iconic city block that runs down 47th Street between Fifth and Sixth Avenues, Elan Pinhasov dumps plastic grocery bags onto a wooden table. The bag's contents include dozens of gold grills created by his father, Gabby Pinhasov, that date back to the early '90s. Some have lost their luster. One is a pair of gold fronts that spell out "MIKE." One looks like a set of vampire fangs. Some are coated with colorful diamonds. Gabby, dressed in a green button-up shirt, blue jeans, and a pair of Nike Air Max 1s, was noticeably sluggish on this particular evening while maneuvering around his 1,100-square-foot office. He had been fasting all day. But when the 57-year-old sees his son pour decades of his work onto the table, it lifts his spirits. He begins to rattle off the exact years he made some of the grills. The archive shows just how long he's been in the jewelry game. And because of his hard work and attention to detail, he's been able to expand from a jewelry counter in Brooklyn to his current appointment-only operation in Midtown Manhattan where clients have to be buzzed in.
That was his 25-year-old son Elan's idea. He encouraged his father to move away from accepting walk-in clients, which was a big shift. But as the company enters its third decade of business, the 25-year-old is injecting a more youthful viewpoint into Gabby Elan, the jewelry business which combines both of their names. Dressed in a Billionaire Boys Club crewneck and "Royal" Air Jordan 1s, he takes me to another room and shows off their newer work. There's a set flooded with canary yellow diamonds that was made for Pharrell and never picked up. Another unclaimed Pharrell creation from the 2000s features pave rubies outlined in platinum diamonds. Others are simpler, like a silver spacer for Bella Hadid. Some of them feature enamel, which acts as a canvas for miniature paintings of things like cherubs or cherry blossoms. There are even gold teeth with intricate multicolored renditions of Louis Vuitton's monogram print painted on them. 
If you saw Gabby on the street, you probably would never guess that he's responsible for many of hip-hop's most recognizable grills. Pharrell, Pusha-T, and Vashtie are longtime clients, but celebs including Marc Jacobs, Kim Kardashian, and even Madonna have also had grills made by Gabby Elan. When ASAP Rocky and Tyler, the Creator starred in a Gucci campaign back in 2020, they both wore Gabby Elan grills.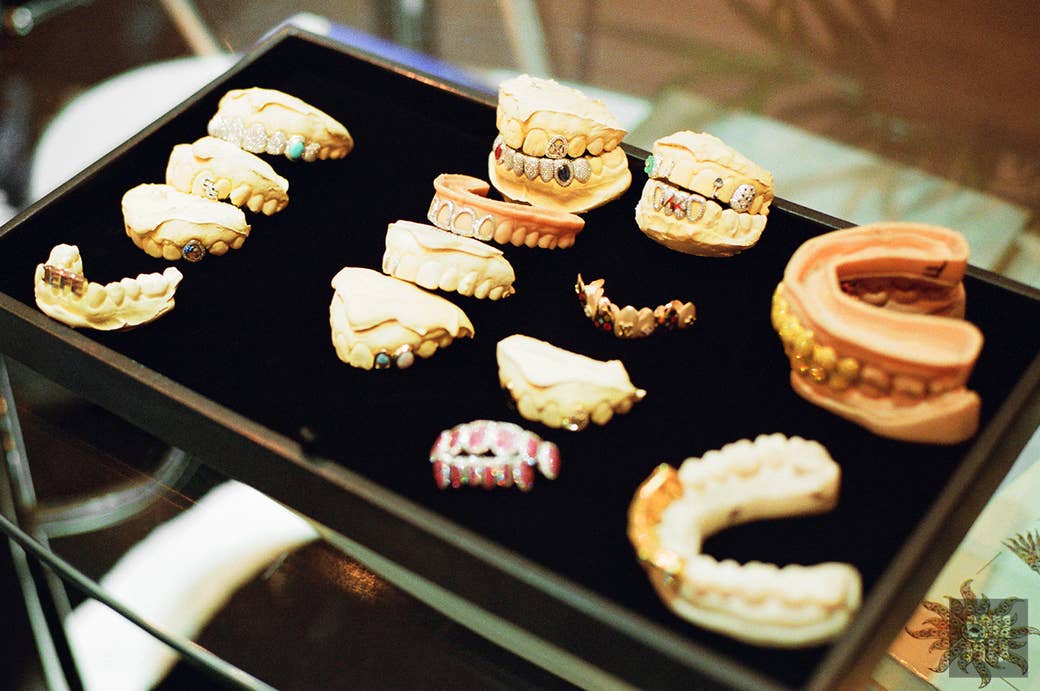 But Pharrell is their most consistent client. "Pharrell's like a little angel for me. He's helped me a lot for the past 20 years I've known him," says Gabby when asked about the artist, whose penchant for jewelry is well-documented. Who could forget the cotton candy-colored Gucci link chains and N.E.R.D. pendants by Jacob the Jeweler that used to hang from his neck? But when it comes to some new diamond teeth, Gabby has always been his go-to. "Whenever I'm asking God for some help, he always sends me Pharrell," says Gabby. "It's amazing."
Pharrell purchases three or four new grills a year from Gabby Elan. And a few of his grills are still hanging around the office––not because he forgot to pick them up, but because they've had to start some designs over from scratch based on how intricate they are and how particular Pharrell is. Over the phone, Pharrell explains how gold teeth were a status symbol for Black families in Virginia when he was growing up. His father has four and his mother has one and he remembers being 10 years old and seeing teenagers in Norfolk, Virginia with permanent gold fronts. By the '80s, he observed rappers like Big Daddy Kane and a young Jay-Z wearing them. But it was Slick Rick that had the biggest impression on him. 
"We used to watch Yo! MTV Raps and see all these rappers with gold teeth. The one that made a really incredible, serious, cerebral tattoo of an impression was Slick Rick," says Pharrell. "He just was the king to me with that."
Neither Pharrell nor Gabby can recall how they met, but he's been making his custom grills for nearly 20 years. In many ways, his work for Pharrell shows how Gabby's craft and business has evolved, and how sophisticated grills have become. Pharrell treats them like tiny works of art and Gabby is happy to bring his visions to reality.
"I was always thinking outside the box and he was always willing to try things. At first, I was just getting simple things like one gold tooth on each side. Then, I got a couple down bottom. Then, I started mixing it up, arranging grills, and just going crazy. But it was all because he allowed me to push him," says Pharrell, who won't get specific but notes he's had over 25 grills made by Gabby over the years. "People do it now, no problem. But we started putting enamel on grills years and years ago, mixing it up, doing mixed media, a long time ago."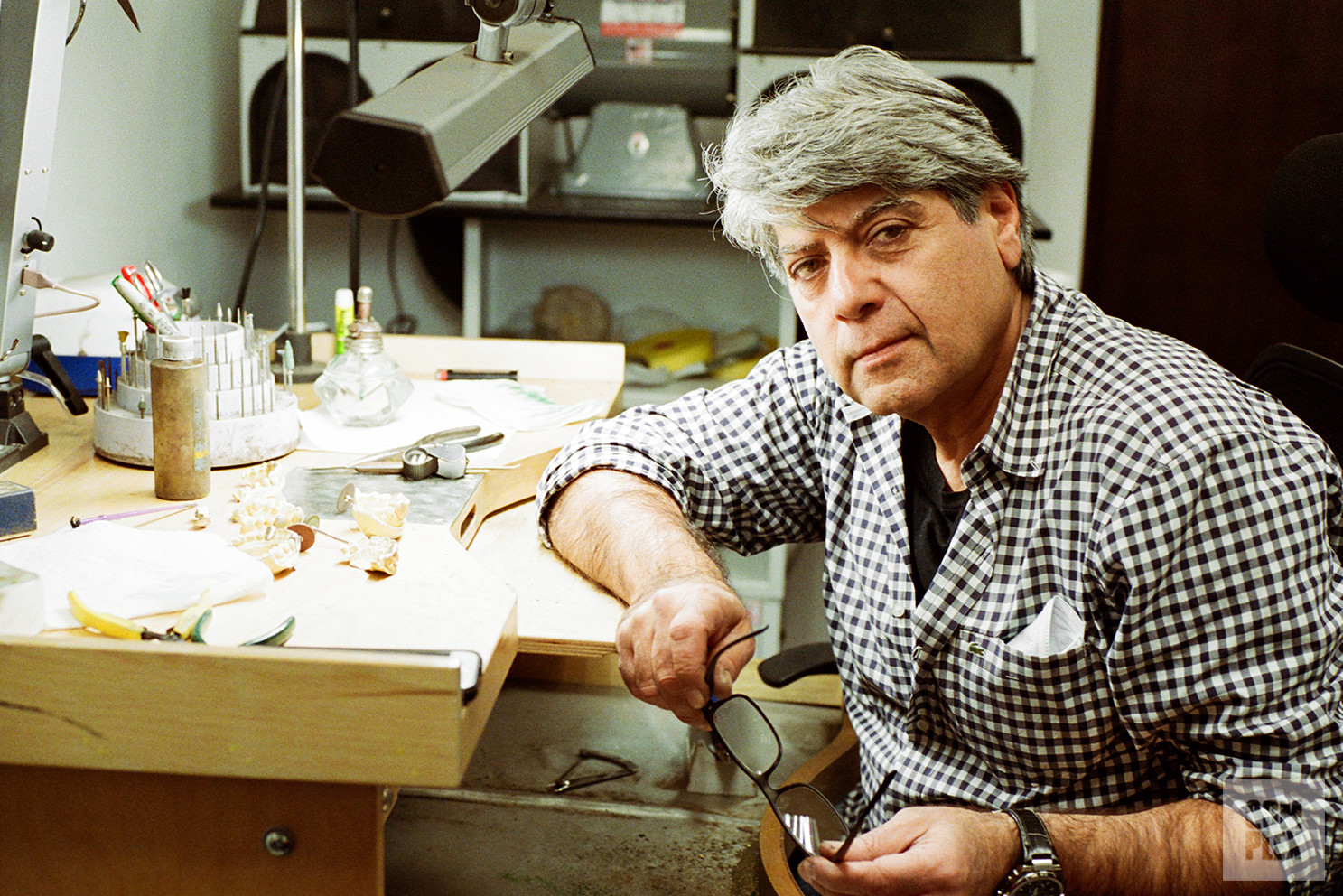 Grills are synonymous with hip-hop. But gold and gem embellishments have been used to reflect status in society as far back as 800 B.C. Many people consider Nelly's 2005 hit "Grillz," featuring Houston's grill king Paul Wall, when they think about diamond teeth. Others may think of Flava Flav rocking gold fronts in the '90s. And ASAP Rocky made gold slugs part of his signature look during his come-up in the 2010s, which seemed to usher in a new generation's obsession with the shining dental work. Gabby is responsible for some of the gold sets ASAP Rocky rocked during that time.
Gabby was born in Uzbekistan (then part of the Soviet Union), but his family moved to Israel in 1973 to follow their Jewish roots and find better living opportunities. He studied to be a dental technician in Israel from 1978 to 1982 and then served three years in the Israeli army. He immigrated to the United States from Israel in 1990 when he was 26 years old. His initial plan when he moved to New York City was to continue his work in the dental field. But upon arriving, he noticed locals wearing gold grills. 
"It was interesting because [dentistry] was my business. When I look somebody in the face, the first thing I see is their teeth. It's my passion. When I was looking and would see gold teeth, I was like 'Whoa,'" says Gabby, who is working on a grill as we speak over the phone. He spends between seven and eight hours a day at his workbench in the Diamond District forming wax molds and polishing gold. While that may seem like a lot, it used to be closer to 15 hours a day. "When I came to the United States and saw a lot of people wearing grills, it reminded me of when I was born. My grandma and a lot of my relatives were wearing gold teeth too."
"I always know I can push him because I know it can be done. He always does it and he crushes it. There's something so cool about him, how surprised he is when he pulls it off." -Pharrell
When Gabby immigrated to New York City, grills were still a fairly new phenomenon in the jewelry world. Before, dentists used gold caps and crowns for permanent dental work. It didn't become a removable accessory until 1983 when Eddie Plein, the Surinamese immigrant credited with making removable gold grills a statement piece in the city, started selling gold fronts out of a pawn shop in Hillside, Queens. His spot Famous Eddies, which was located at the Colosseum in Jamaica, Queens, would become a go-to for locals. As competitors kept popping up in the city, Plein moved his business to Atlanta in 1992 where he would attract acts from Outkast to Ludacris and further solidify his status.
Gabby was one of the jewelers who filled the void left by Plein and became a new go-to in New York. His background in dentistry helped set his creations apart from competitors. His grills weren't just cosmetically appealing, they were practical, more comfortable, and better fitted to each wearer's mouth. Even today he makes Pharrell's grills using his Invisalign mold so the accessory also functions as a retainer.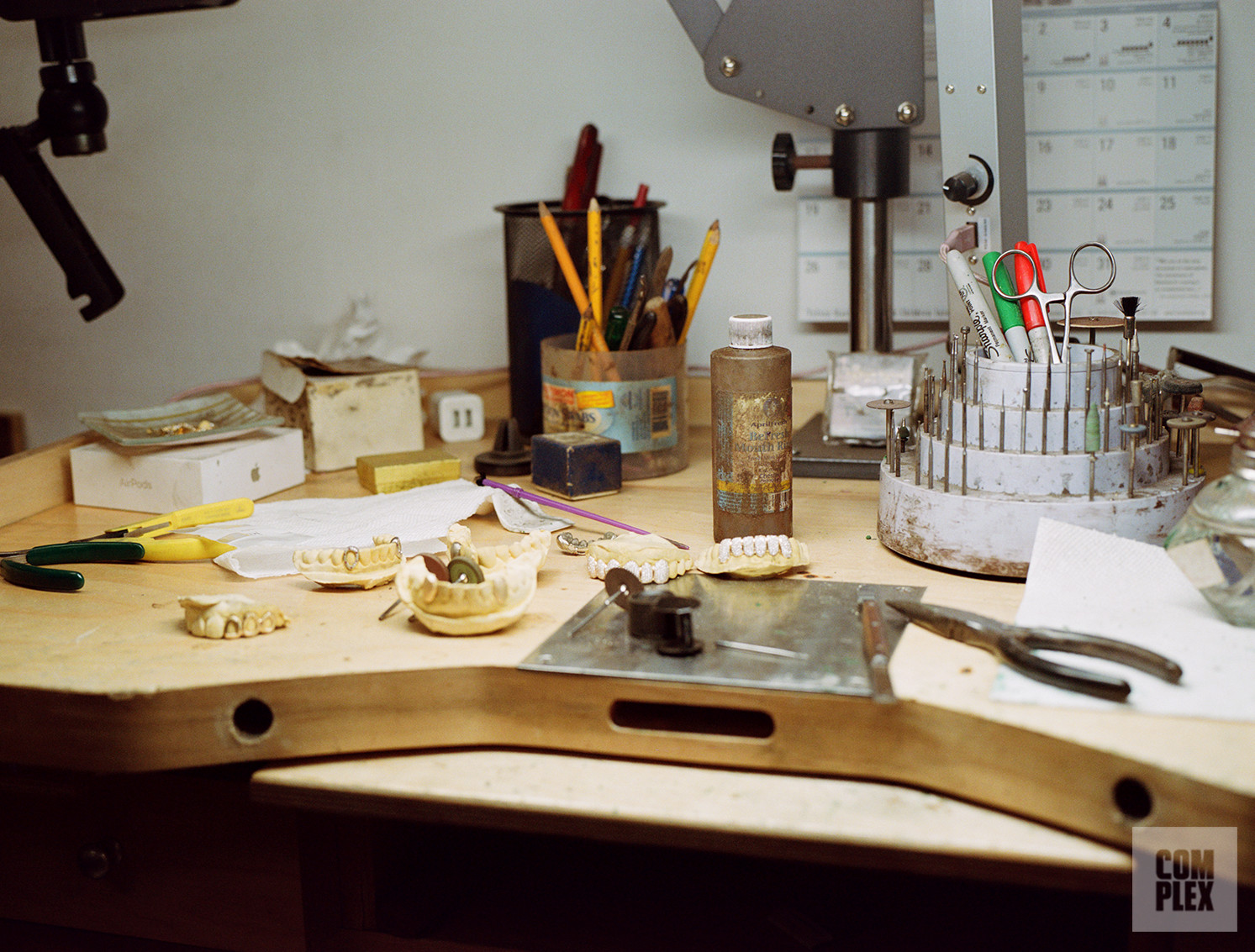 Gabby opened his first jewelry stand in 1990 at Albee Square Mall in downtown Brooklyn. He still recalls the first sale he ever made before he could speak English fluently. It was a gold grill for $155. Eventually, he began to get the attention from local hip-hop acts like Big Pun. Many of his customers would request special designs such as letters to differentiate their grill from everyone else's gold fronts. This is how Gabby first began to experiment with different cuts and designs and push the boundaries of grills into something more artistic. RZA of the Wu-Tang Clan would purchase sets with round stones and exaggerated fangs. He recalls making a princess cut diamond grill for Moses Michael Levi Barrow, formerly known by his stage name Shyne, back in 1999. It was the first time he'd crafted something like that. Princess cut diamonds were trendy in earrings and rings around this time and Shyne, a repeat customer who had already had a few sets made by Gabby, was the first customer open to the idea of trying it in grills. 
"There's many times I've browsed or had conversations with other jewelers over the years, but definitely not for gold fronts, it's always Gabby." -Vashtie Kola
When the Albee Square Mall closed down in 2004, Gabby moved the operation to Brooklyn's Fulton Square Mall where he would remain until 2017. This is also when he introduced the name, Gabby Jewelers, for his business. Today, the company is still pushing boundaries and providing innovative ideas to their customers. The involvement of Gabby's 25-year-old son Elan has had a lot to do with it. His age allows him to look at the business from a different vantage point. Elan says ideas can be spurred from anywhere. He and his father may see a cool diamond shape or color and want to experiment. Other times it's a desire to bring the high level of craftsmanship seen on vintage Cartier and Tiffany pieces to the grill world. Sometimes they pursue a design idea simply out of boredom. For a lot of Gabby Elan's bigger clients, the crazier the better.
"He's gotten creative at creating," Pusha-T tells Complex via email. 
Pusha-T, who has been buying from Gabby Elan since the shop was located in Brooklyn, gets new teeth from Gabby each album cycle and has had at least eight grills made by him. He notes a staggered gold and diamond set inspired by the "rough and all over the place" teeth Louie Rankin's character, Lennox, had in Belly. Pusha was impressed with the craftsmanship on Shyne's grills in the '90s, which Gabby made, and sought him out.
"Shyne's were the freshest. As soon as I walked in I saw the photo of Shyne in the glass and I thought 'this is where I'm shopping forever,'" Pusha writes about first discovering Gabby Elan at Albee Square Mall in the '90s. "He's always been helpful even when it's not necessarily all for his business. He cares about what's best for me regardless of how it lines his pocket, or doesn't."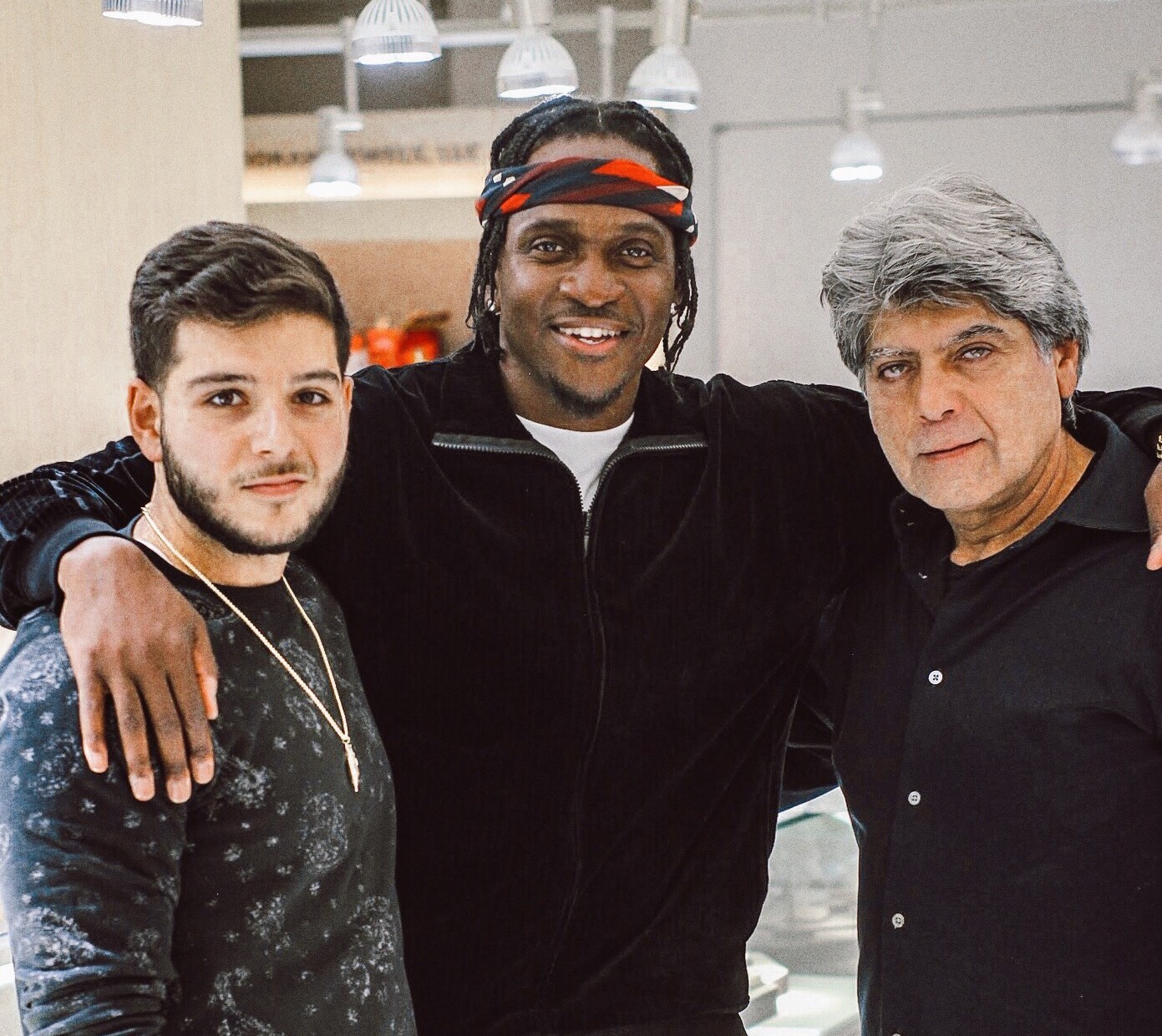 In the wake of more department stores opening and gentrification bumping up the rent in Brooklyn, in 2017 Gabby closed up shop. After taking a year to regroup, Gabby relocated to the Diamond District in 2018 for a fresh start. It's around this time that Elan began to play a bigger role in the day to day of the business, hence renaming the company Gabby Elan. Per Elan's suggestion, the company also began to elevate its output and take a more detail-oriented approach, hiring new diamond setters and working with the diamond suppliers offering the best quality stones. Elan says the move to the Diamond District had a big impact on the business. Being surrounded by thousands of jewelers eager to make money gave the family some extra drive they didn't always have in Brooklyn.
"I think the environment we were surrounded by [in Brooklyn] was stuck. It was like churning water. You're just going to get the same results over and over again," says Elan. "But [in the Diamond District], you're surrounded by jewelers. You're surrounded by sharks. Everybody's trying to make a dollar over here."
But the move to the Diamond District also came with its challenges. Exposure was tough because of their location in the back corner of the Diamond Exchange. "You eat shit for like a year or two. It takes some time, but eventually one client leads to another client. You just have to make sure that the end result, everybody's happy, whoever comes your way," says Elan.
"I can talk normal with the work Gabby does, and that's the most important part aside from looking beautiful."-Tyler, the Creator
Elan spent most of his days off school in the shop. When he turned 16, he started working Sundays and while attending college, he made sure his schedule would accommodate him working as a salesperson five days a week. He planned to go to law school after college, but he decided to pursue the family business, where he is now a co-designer. Despite other creators like Dolly Cohen, Helen With the Gold Teeth, and Youth Grills Worldwide, who also make sophisticated and complicated grills, the company has been able to remain relevant with a new generation of artists thanks to Elan, who calls himself the creative director and his father "the boss."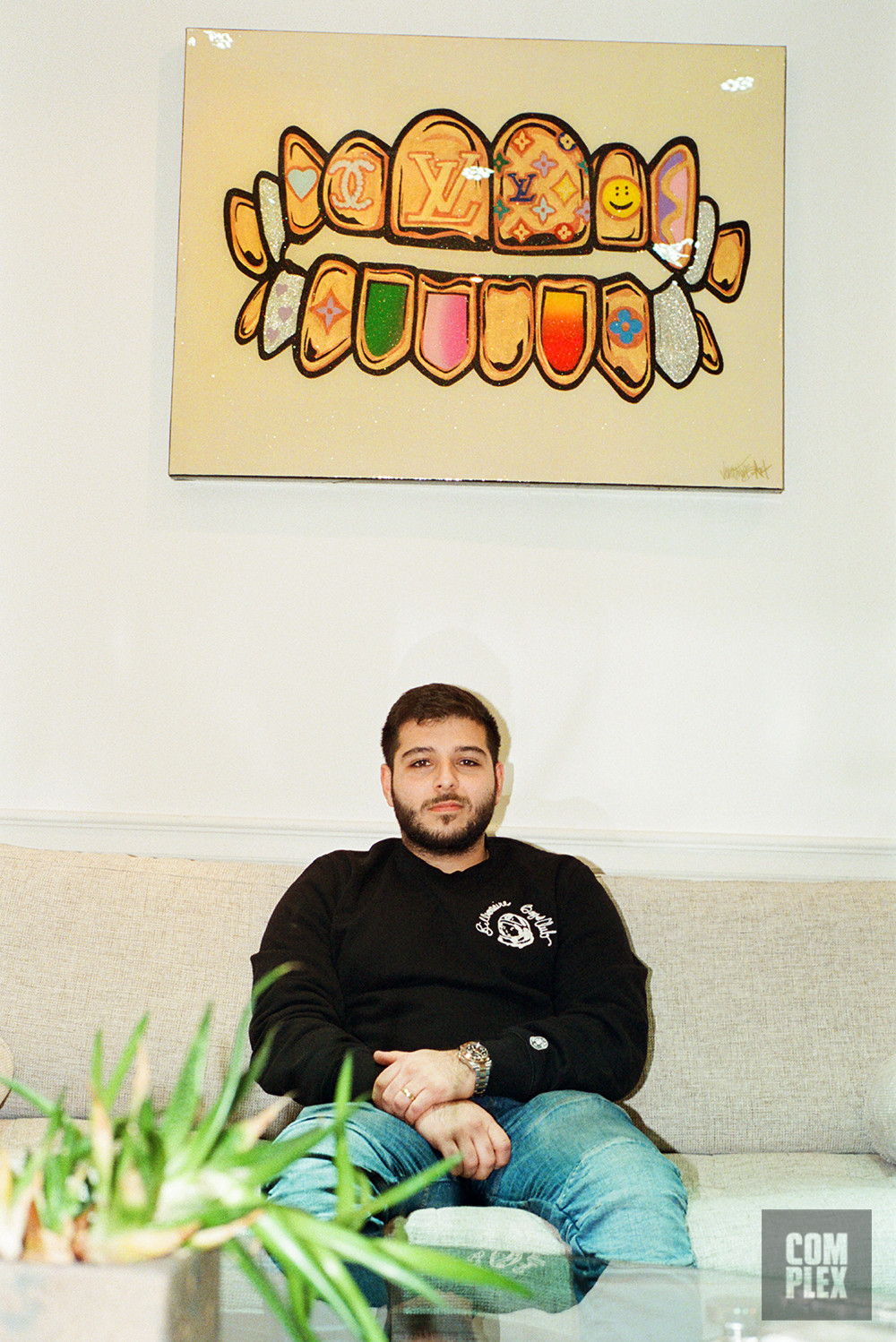 Elan has helped build up clientele via their Instagram page, which now has around 120,000 followers. When he first attempted to grow the page, he sent roughly 600 DMs to celebrities in an attempt to work with them. For years they relied on the day-to-day walk-in business, but Elan encouraged his father to operate by appointment only and dedicate their time to making very special pieces that pop on IG. For model and entrepreneur Raven Tracy, Gabby made grills with specific items on each tooth like the Cactus Plant Flea Market's signature yellow smiley face, a silhouette of a naked woman, and an emerald surrounded by diamonds that also went viral. "It really put us on the map," Elan tells Complex. Newer clients like J Balvin and Buffalo Bills wide receiver Stefon Diggs are also experiencing the Gabby Elan treatment. They made a full diamond set with multicolored kite-shaped gems set in the middle of each tooth for J Balvin, and swirling diamond anchor design for Diggs.
"With these newer celebrities and influencers, they like to show off what they're wearing. That's a part of why they are who they are," says Elan, who notes Lil Uzi Vert as one of the clients who responded to his cold DM. He says Uzi's co-sign was an important one that helped boost business. Lil Uzi Vert purchased the first ever set of all certified Hearts and Arrow diamonds, named after each stone's precision cut, from the jewelers. "Once they put you on the map like that, that's part of their look. You grow as they're growing too."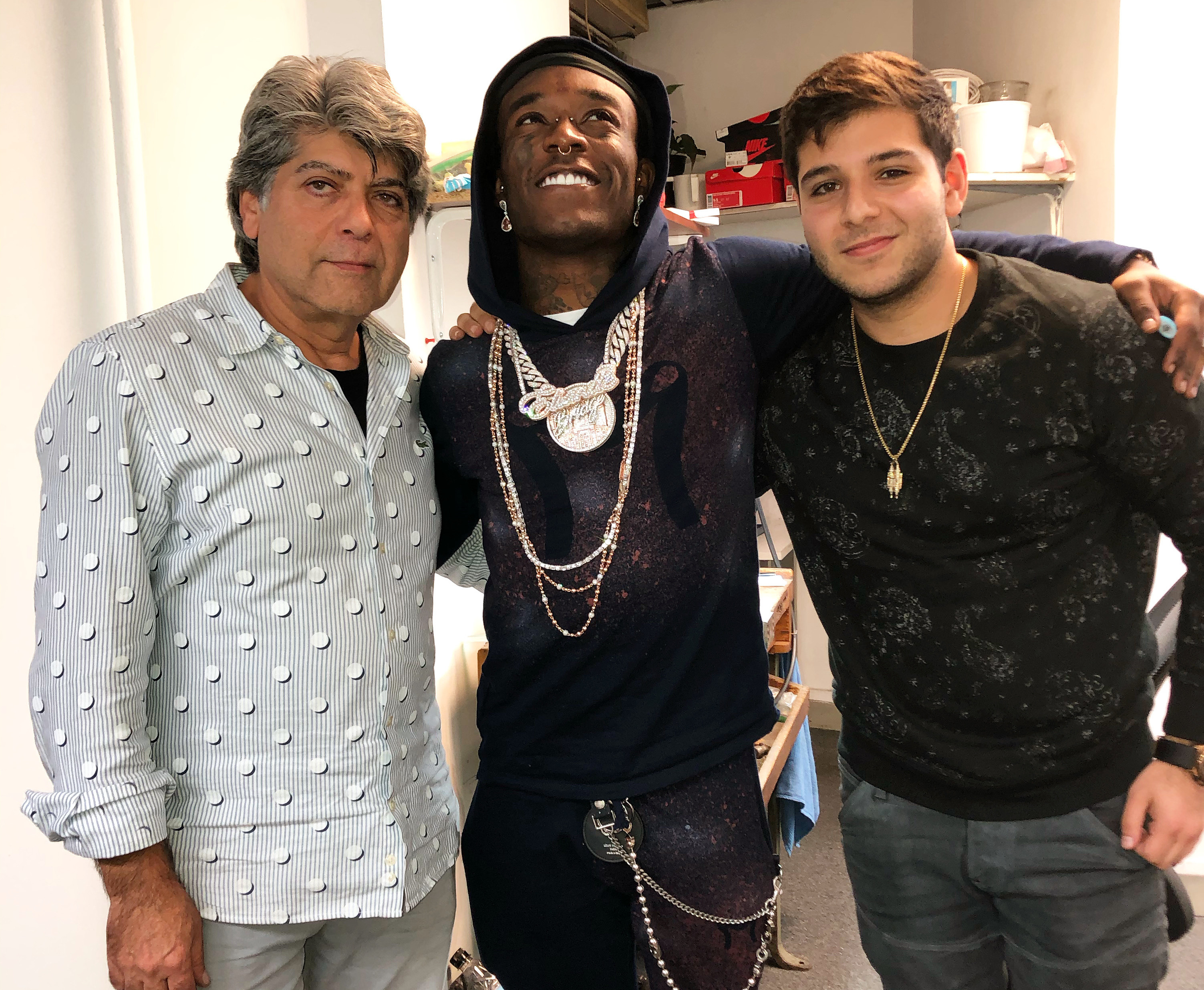 High profile clientele are drawn to Gabby Elan's work because of its visual appeal, but also its comfortable fit. An ill-fitting grill can completely change how someone speaks, which is the main reason why Tyler, the Creator works with them.
"Gabby's the only person who didn't make the teeth clunky," says Tyler, the Creator via email. He's flaunted his colorful teeth on the cover of the Wall Street Journal in 2019 and recently in the "Come On, Let's Go" video. "I can talk normal with the work Gabby does, and that's the most important part aside from looking beautiful."
The high level of craftsmanship should come as no surprise. Elan is a self-proclaimed perfectionist. The father-son duo works with a small team that includes Kurtis "KJ" Moses, who helps with digital 3D designs, and Pedro Asis who is overhauling their website and assisting with graphic design. They only trust a few people for outsource work: four diamond setters, three diamond sourcers, one diamond cutter, one gem cutter, and one woman who hand paints enamel designs. An average grill takes about one to two weeks. Some can take months depending on the complexity. Their creations can hit six figures. But generally speaking, the starting price is $250 per tooth in gold or silver. A simple design like an engraving bumps it up to $350 a tooth. The price fluctuates depending on how many teeth you want. Once diamonds and artwork enter the mix, that can also lift the price. Diamond teeth can vary from $1,000 to $2,000 a tooth depending on the quality. Pharrell has spent six figures on some of his customs, but that is far from common. Usually, an extravagant design settles in the $30,000 to $40,000 range. While some jewelers in the industry may cut certain corners to limit costs, Elan has a different mindset. "It's not really worth saving a couple of bucks for me," he says.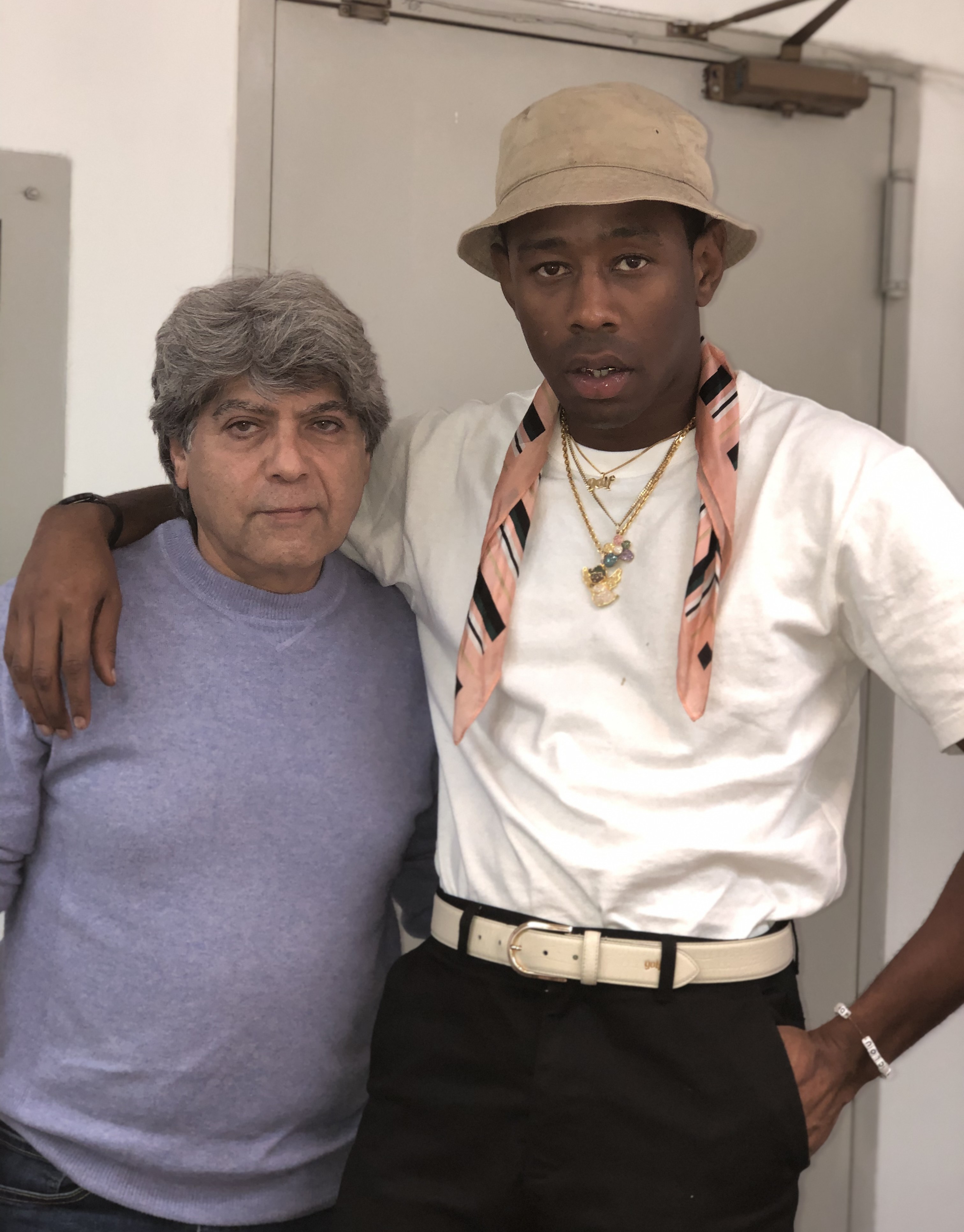 There's an iconic photo on the internet of Vashtie Kola that was taken by Paul Cupo back in 2004. She's wearing a multicolored BAPE camo hoodie with a big smile covered in diamonds across her face. Gabby was responsible for the shiny set of grills in her mouth. Vashtie Kola found out about Gabby through Pusha T while on set for Kaya's "Fabulous" music video in New York City in the 2000s. She described gold grills as a status symbol in her neighborhood that held the same weight as Air Jordan 1s. She knew she had to visit Gabby to purchase a set of fronts. She was impressed by the craftsmanship—she's purchased multiple sets, including one with multicolored yellow and blue stones, since—but she also felt at ease with the experience. 
"I feel like going into the space of jewelry, it's kind of overwhelming, at least for me. I don't come from that background of knowing jewelers or knowing where to go. If you're venturing into that world, you wanna go to someone who's reputable, who's trusted, who's going to give you an experience," says Kola. "There's many times I've browsed or had conversations with other jewelers over the years, but definitely not for gold fronts, it's always Gabby."
Now Elan is focused on growing the business and bringing on more clients who are as loyal and inspiring as Pharrell—he's hoping to work with Migos, Lil Baby, Young Thug, and Future. Eventually, he'd love to operate a Gabby Elan storefront. He also wants to expand beyond grills and move into custom rings, necklaces, and pendants. 
"If you trust us with your grills and you're ready to spend $20,000, $50,000, $100,000, then I don't see why you can't trust us with your engagement ring or your gift for your wife or a personal charm," says Elan. "I just want to just be that celebrity go-to guy."
But even as their roster of celebrity clientele continues to grow, Gabby says he still gets a bit anxious when it comes time to cook up something new for Pharrell. "I get nervous working on Pharrell's stuff until he says, 'Gabby, thank you. I love it,'" Gabby says.
Pharrell's style may not be as flashy as it once was when he used to dress in head-to-toe BBC ICECREAM and tote a giant purple crocodile leather Birkin bag. Nowadays, he's much more subtle, adding a pop of jewelry to one of his signature Human Made hoodie and shorts ensembles. But that doesn't mean he has lost his desire to create pieces we have never seen before. Just look at the set created by Gabby in collaboration with Jacob and Co. that was unveiled back in 2021, which Elan refers to as the "holy grail of grills." Over the phone, Pharrell speaks about the pieces he's worked on with Gabby in the same way he might talk about producing new music in the studio. 
"When people were doing diamond grills, I was doing pink diamonds. I did yellow diamonds back then. I did irradiated blue diamonds. That was like '08. I did emeralds. I did rubies back then. I did ruby solitaires," says Pharrell, running through some of his most special creations in his usual calm tone. "I always know I can push him because I know it can be done. He always does it and he crushes it. There's something so cool about him, how surprised he is when he pulls it off. If we not changing the game, we ain't doing something right."