The Hollywood Bowl, an outdoor amphitheater in the Hollywood Hills, is one of the best music venues in the country. Fear of God's Jerry Lorenzo called it "the last space in Los Angeles that feels iconic," while speaking to the media after his first runway presentation.
As iconic as it may be, the Hollywood Bowl isn't known for hosting runway presentations. Until Lorenzo's display on Wednesday night, it had been 30 years since a designer used the venue to showcase their latest collection. Calvin Klein, a fellow American designer who was able to build his own fashion empire, did it in 1993. It feels like Lorenzo is on a similar path.
But it should come as no surprise that Lorenzo opted to host his first show in Los Angeles, where his brand is headquartered, rather than compete with Paris and Milan's loaded fashion week schedules. He's been redefining norms for 10 years with Fear of God—he's known for not operating on the traditional fashion calendar. On the apparel side, he leaned into "quiet luxury" before it was a thing, producing sandy sweatsuits from the main line and more affordable pieces from his Essentials label, which have become a modern day uniform for men and women. That same aesthetic also informed Yeezy Season 1 and 2, which he helped design. His heavy metal-inspired approach to Justin Bieber's Purpose tour merch played a pivotal role transitioning concert merch into lifestyle apparel. And he's reimagined traditional suiting by straying away from sleek tailoring in favor of more casual, slouchy silhouettes, even collaborating with industry titan Zegna in 2020. Given how much he's influenced wardrobes for the past decade, it's surprising that this is Fear of God's first official presentation.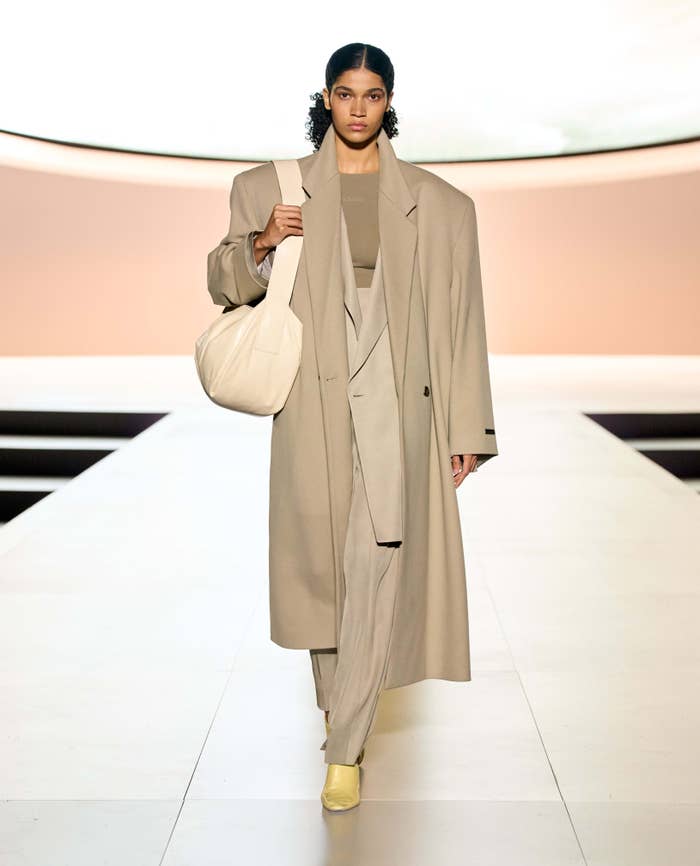 His show at the Hollywood Bowl was a hot ticket, with roughly 5,000 attendants. Upon entering, everyone mingled in the concourse, many of them sipping their complimentary glass of champagne, before flowing into the seating area. Some outfits were highlighted by unorthodox items like Loewe's recently-released pixel hoodie, while others took the more simplistic "quiet luxury" approach everyone can't seem to stop talking about. The variety was a testament to the wide scope of people that Lorenzo's designs can appeal to. Many of them were diehard fans dressed in the FOG uniform–a tastefully cut pair of sweatpants, roomy suits, or an Essentials T-shirt. Other guests included A-listers like Tyler, the Creator and Tracee Ellis Ross, or behind-the-scenes tastemakers like Taz Arnold and Ibn Jasper.
Once everyone was seated, the show kicked off shortly after 8 p.m with a lone piano sitting at the edge of a runway. It was connected to a stage with three rows of steps and a white, UFO-like circular structure looming overhead projecting images of clouds similar to Ye's Yeezus tour set design in 2013. Sampha took a seat at the piano and opened the presentation with a riveting, three-song medley. Someone in the crowd next to me literally gasped in excitement once the English singer appeared.
Sampha's performance set the tone for an incredible musical arrangement that ran a full gamut of emotions. 
Lorenzo said the show music tells the full scope of the Black journey. As the show kicked off, gates parted on stage to reveal a beam of light that felt like a portal to heaven. Models poured out one by one as Dinah Washington's "This Bitter Earth" played over the speakers before eventually transitioning to Nina Simone's "Strange Fruit." Kanye West's "Blood on the Leaves," a much more uptempo track that samples Simone's syrupy vocals, followed. And yes, Ye was even in attendance alongside his wife Bianca Censori despite his rocky relationship with Adidas and absence from the spotlight post his problematic outbursts. "Blood on the Leaves" moved into a C-Murder's "Down for My N*****," a song that elicited arguably the most enthusiastic reaction from the crowd who began to jump around and bob their heads as the bass from the rap anthem shook through their bodies. "Thug Luv" by Bone Thugs-N-Harmony and Tupac played later on during the final walk.
While it was hard not to marvel at the grandiose spectacle, it didn't overshadow the clothing, which added to the magnitude of the show. The collection was full of luxurious sweatsuits. Slim leather pants that spilled over shoes felt like a subtle callback to the silhouettes of Fear of God's earlier years of tattered flannels and thrashed skinny jeans. He also showcased a handful of new silhouettes including chestnut brown fur coats that reminded me of Magic Johnson in the '80s, suede coats with ropes cinching the waist, and massive leather bags slung over the models' shoulders. Suits and bags featured a new pattern that resembled squares freshly raked into a zen garden. Bursts of color from layered, boxy yellow blazers or kelly green gloves interrupted the otherwise earthy color palette that has come to be expected from Fear of God.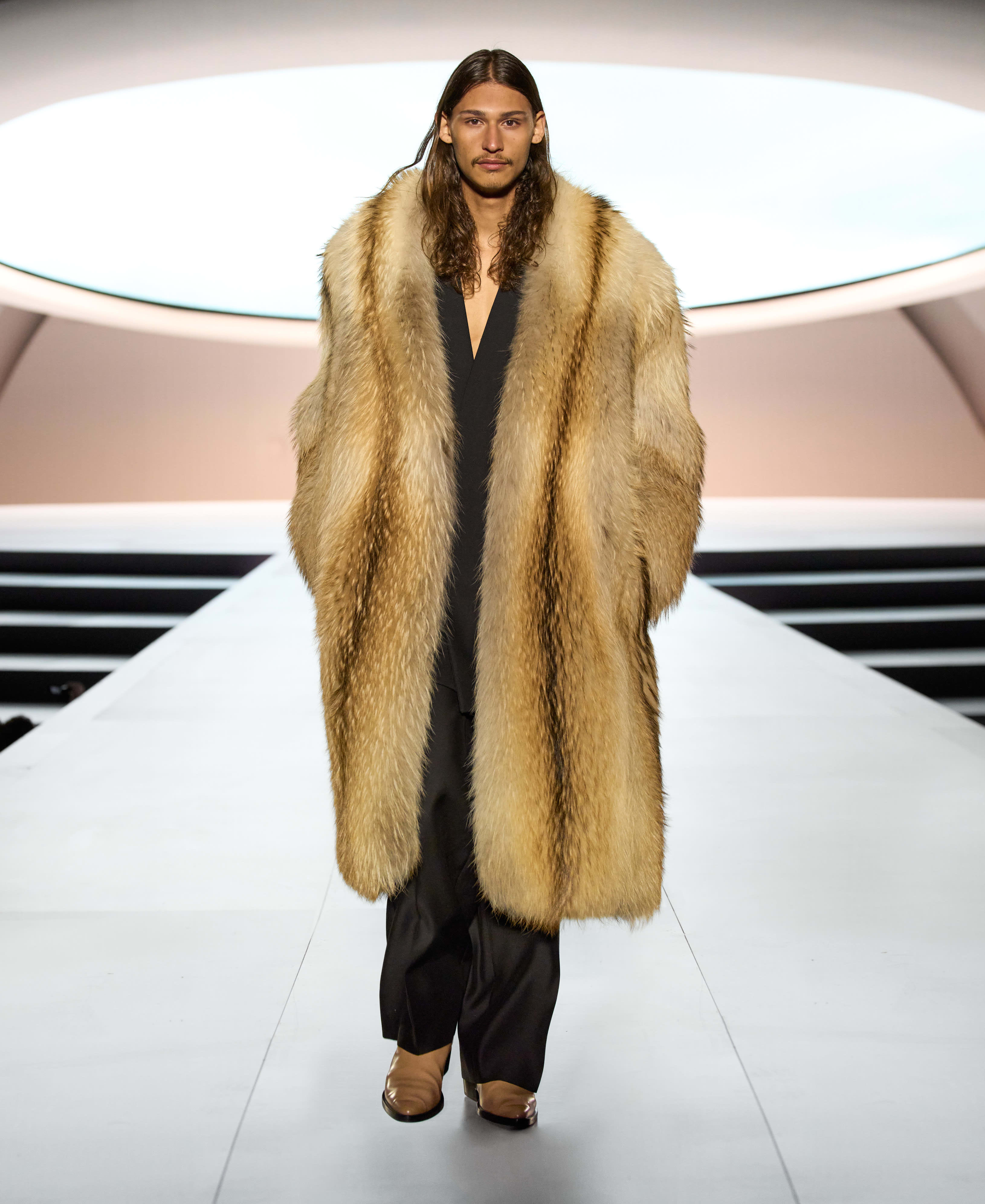 As Fear of God's collections usually do, everything felt very wearable, a likely outcome of Lorenzo's goal to make pieces that he would want to wear in his everyday life. His exploration into tailoring and luxury is nothing new. But with each passing collection, it feels like he is able to further master his craft. Collection Eight may be the most he's leaned into this approach. It's indicative of the larger shift we have seen streetwear take in recent years as loud prints and logos fall by the wayside in favor of more minimalistic essentials made to live in someone's closet for years. With this Lorenzo finds himself at the forefront of this conversation once again. There wasn't a single graphic or T-shirt in sight on the runway. Those were reserved for the merch booths filled with various T-shirts, hoodies, sweatpants that ranged from $65-$495 to commemorate Fear of God's watershed moment in Hollywood, proving he still hasn't totally abandoned the approach that many of his fans likely latched onto in the 2010s through his work with Ye and Bieber. And it's clearly something his supporters still want to see. A line extended from the booth with plenty of fans walking away with giant white totes full of new gear.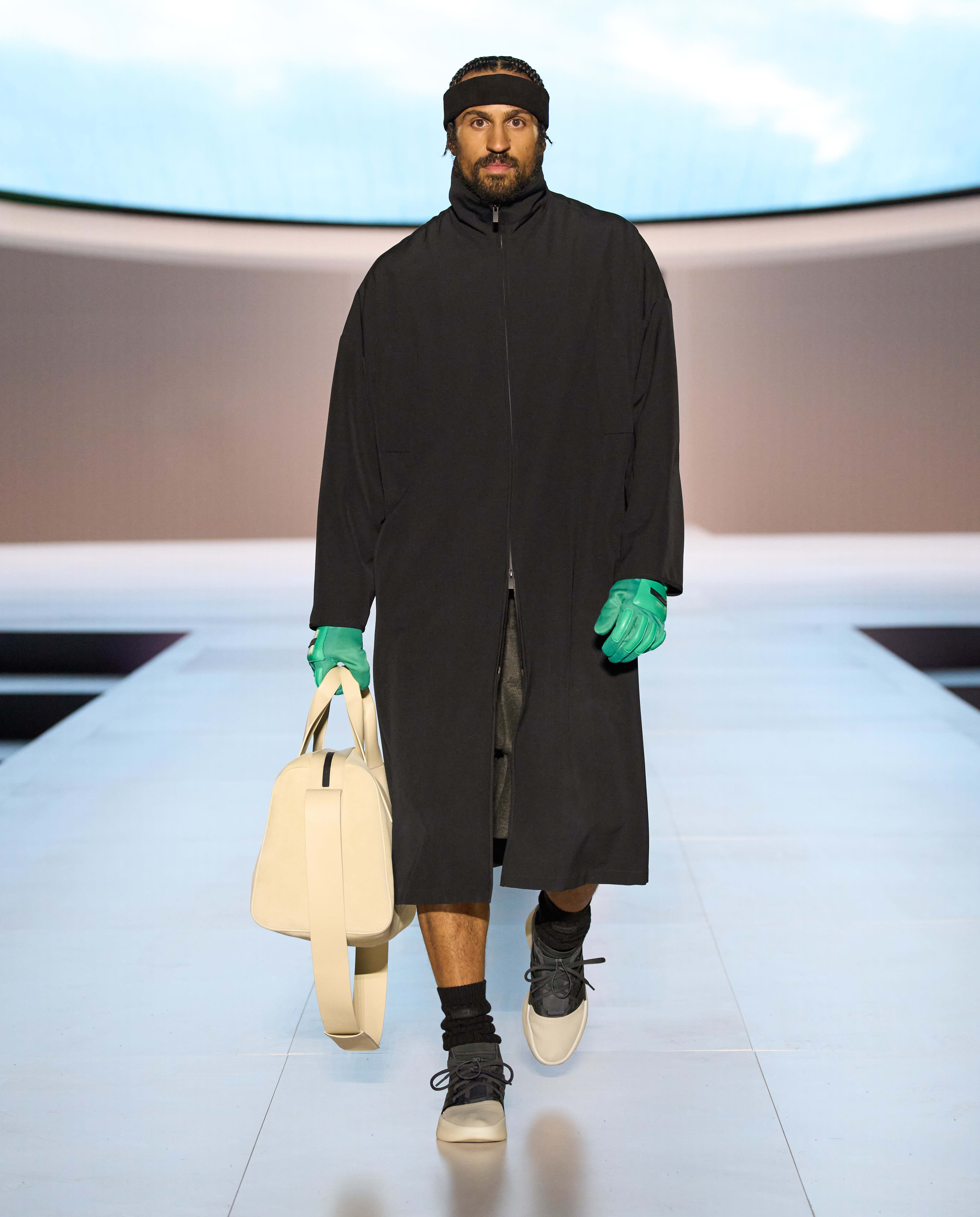 After years of waiting since Lorenzo's deal with Adidas was first announced in 2020, we finally got a first glimpse of Lorenzo's Adidas basketball sneaker, which featured a neoprene ankle collar, TPU lacing cage, and contrasting toe cap that fits right in with other performance footwear we have seen from the Angelino designer in the past. Like his Nike Air Fear of God 1 that debuted in 2018, Lorenzo is once again doing more than tweaking existing silhouettes. He has created his own. And to tie the apparel back to his sports ethos, he showed track pants with fringe detailing running down each leg or baggy basketball shorts that looked like they were ripped from TJ Ford's locker in 2003. As a further nod to sports that inform so much of the Fear of God aesthetic, NFL wide receiver Deandre Hopkins and on-again-off-again NBA guard Frank Jackson walked in the show. 
Pusha T, donning a head to toe FOG x Adidas fit complete with a black nylon tracksuit, blue gloves, and yet-to-be-named basketball sneakers, followed this up with a surprise live performance of his verse from the Kids See Ghosts cut "Feel the Love." The models surrounded him as he rapped, showcasing the wide spectrum of sandy tones and silhouettes. Throughout the verse, he tweaked his various fashion references to highlight Lorenzo and his brand. He rapped, "Jerry's not to be compared to designers" instead of "I am not to be compared to you rappers." Lorenzo's grand emergence followed, soundtracked by Ray Charles' rendition of  "America the Beautiful" as a fireworks display filled the night sky overhead. Whether it was intentional or not, it felt like a subtle nod to his father and his past as a baseball player and manager. It immediately brought to mind this iconic scene from Sandlot. He embraced the crowd and even hit the infamous "too small" basketball taunt as he exited the stage, a slight bit of braggadocio from the otherwise mild-mannered designer that proved he was well aware of what he had just accomplished. 
In recent years, some may have felt that Fear of God was losing steam or that the ubiquity of Essentials had watered down the brand to some degree. With Wednesday night's presentation, Lorenzo proved those doubters wrong. By no means did Fear of God need to host a fashion show to solidify itself. Its resume after a decade in the game speaks for itself. But after 10 years, it's nice to see Lorenzo isn't simply content from his past success. He is still capable of capturing everyone's attention. And he's done it all, while remaining independently owned, on his own terms.