Crocs Can't Stop Going Viral in 2023
Official collaborations with Shrek, MSCHF, McDonald's, and more prove that Crocs is paying attention to the internet's greatest memes. So far, it's paid off.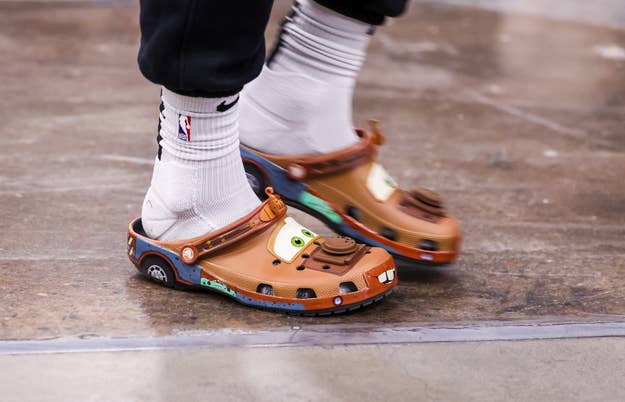 Mike Christy / Getty Images
For years, the colorful rubber clogs made by Crocs were a meme for all of the wrong reasons. They were a faux pas that nobody even semi-fashionable would be caught dead wearing. Nowadays, that couldn't be further from the truth. With the help of creators like Salehe Bembury, Crocs have become one of the most popular pieces of footwear on the market. And it isn't just the unique collaborations. The classic $50 version has become ubiquitous. Walk down the street and you'll surely see a few of them.
Despite shedding its bad reputation, Crocs still knows how to get the Internet talking. Throughout 2023, we have seen the brand lean into playfulness with a variety of special projects. MSCHF's Big Reds Boots became the biggest meme on the Internet. Crocs tapped the creative collective for a yellow boot/clog hybrid that hijacked the news cycle at Paris Fashion Week when it debuted. Shrek has been a long-running meme for years on our social media timelines. The green ogre was Croc-ified in September 2023. In June 2023, the internet was celebrating Grimace's birthday and his special-edition McDonald's shake morphed into a very weird TikTok trend. In November 2023, Crocs released fuzzy slides that mimic Ronald McDonald's big purple buddy.
The Crocs team is clearly keeping up with the latest and greatest Internet memes, and it keeps paying off for them. Take a look at some of Crocs' most viral releases of 2023, below.
Sign up for the
Complex
Newsletter
Your leading source for what's now and what's next in Music, Style, Sports, and Pop Culture.
By entering your email and clicking Sign Up, you're agreeing to let us send you customized marketing messages about us and our advertising partners. You are also agreeing to our
Terms of Service
and
Privacy Policy