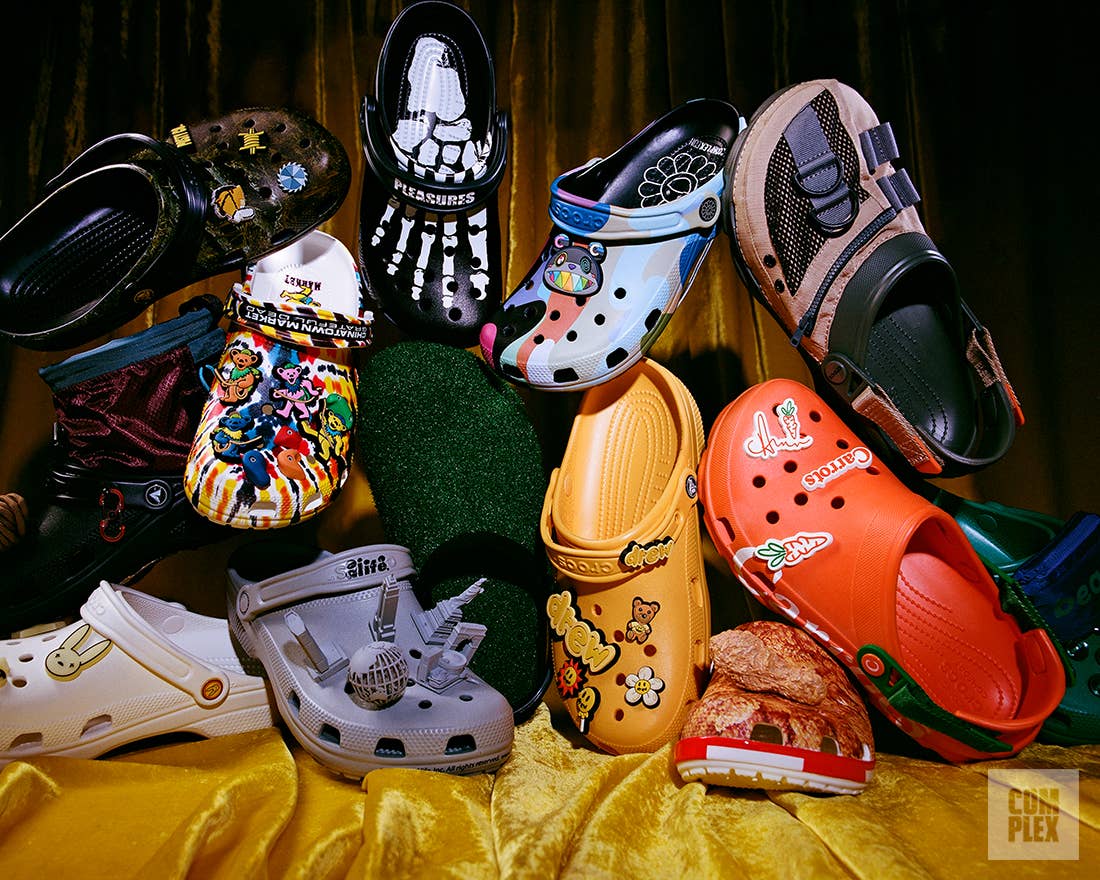 In 2008, Crocs had a big problem. The Colorado-based footwear brand was only six years old and experiencing a huge dip in sales. In 2003 the company did $1.2 million in sales, which catapulted to $850 million in 2007. But after years of exponential growth, sales dropped in 2008 by 15 percent to $722 million, and the company posted a $185 million loss. 
A mix of things contributed to the downturn. Crocs had a team of executives with no experience in footwear or fashion—its then-CEO Ron Snyder was a former exec at Flextronics, an electronic contract manufacturing firm. And because of that, they didn't have a handle on production and fulfillment. They would make too much product and have to deal with excess inventory. Or they wouldn't fulfill store orders in a timely manner. The product assortment also got too big, going from 25 styles in 2006 to 250 in 2007. But one of its main issues was perception. While brand awareness around Crocs was high, young people found the foam clog ugly and unappealing. And amidst all of this, a recession was happening. Crocs was inching toward bankruptcy.
"When I joined, people weren't ambivalent about the brand. They weren't like, 'Well, maybe [I would wear them] or maybe not.' They were like, 'Oh no. I know Crocs and they are not for me,'" says Michelle Poole, Crocs president who joined the company in 2014. "We were somewhat ridiculed as a brand."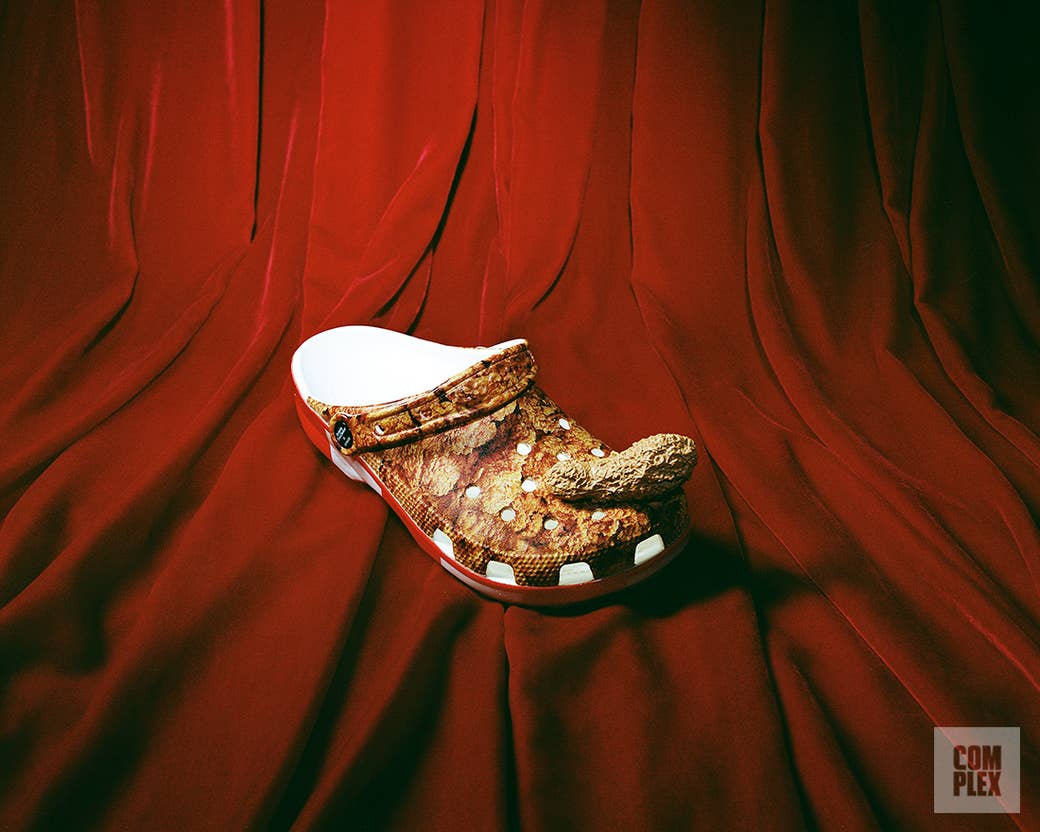 In 2020, the year of the Croc, it's hard to fathom a time when young people didn't like the lightweight foam clog, but Poole has watched Crocs transform from undesirable to a hot ticket item. This year the company dropped collaborations with a varied roster of brands and artists: Post Malone; Bad Bunny; Justin Bieber; Grateful Dead x Chinatown Market; Carrots; Nicole Mclaughlin; Beams; KFC; Peeps and more. And each of these collabs sold out in minutes. According to the NPD Group, which tracks 30 footwear brands, Crocs was the only top footwear company to see a rise in sales during March and April—sales increased by 14 percent from March 2019 to March 2020. And in this year's third quarter, its revenue increased 15.7 percent over last year and digital sales were up 35 percent. 
While it may appear as if this transformation happened overnight, it didn't. In 2014 Blackstone, a private equity firm, invested $200 million in the ailing company, retained 13 percent ownership, and brought on Gregg Ribatt, a footwear executive, as CEO. He helped jumpstart Crocs' turnaround and Andrew Rees, who replaced him as CEO in 2017, pushed the company even further. Rees' strategy has been simple: fix manufacturing issues, close underperforming stores, build a new team of footwear vets, focus on the clog, and most importantly, make Crocs "cool."
Poole and Lucy Thornley, Crocs' vice president of global trend, design, and product, were part of the new team tasked with making the clog relevant. They both understood that collaborations would be key to repositioning the brand, but they faced a big problem: Brands and designers weren't taking their calls. But eventually, important people started to call Crocs. Scottish designer Christopher Kane reached out in 2016 to work on a pair of marble print Crocs with mineral stone Jibbitz, the shoe charms that connect to the clog, and in 2015 Balenciaga's new creative director Demna Gvasalia reached out and tasked the team with constructing a bubble gum pink Croc with an almost 4-inch platform and custom Jibbitz in 10 weeks. Both of these collaborations were a turning point for Crocs, but one could say that things really changed for the brand once they aligned with streetwear.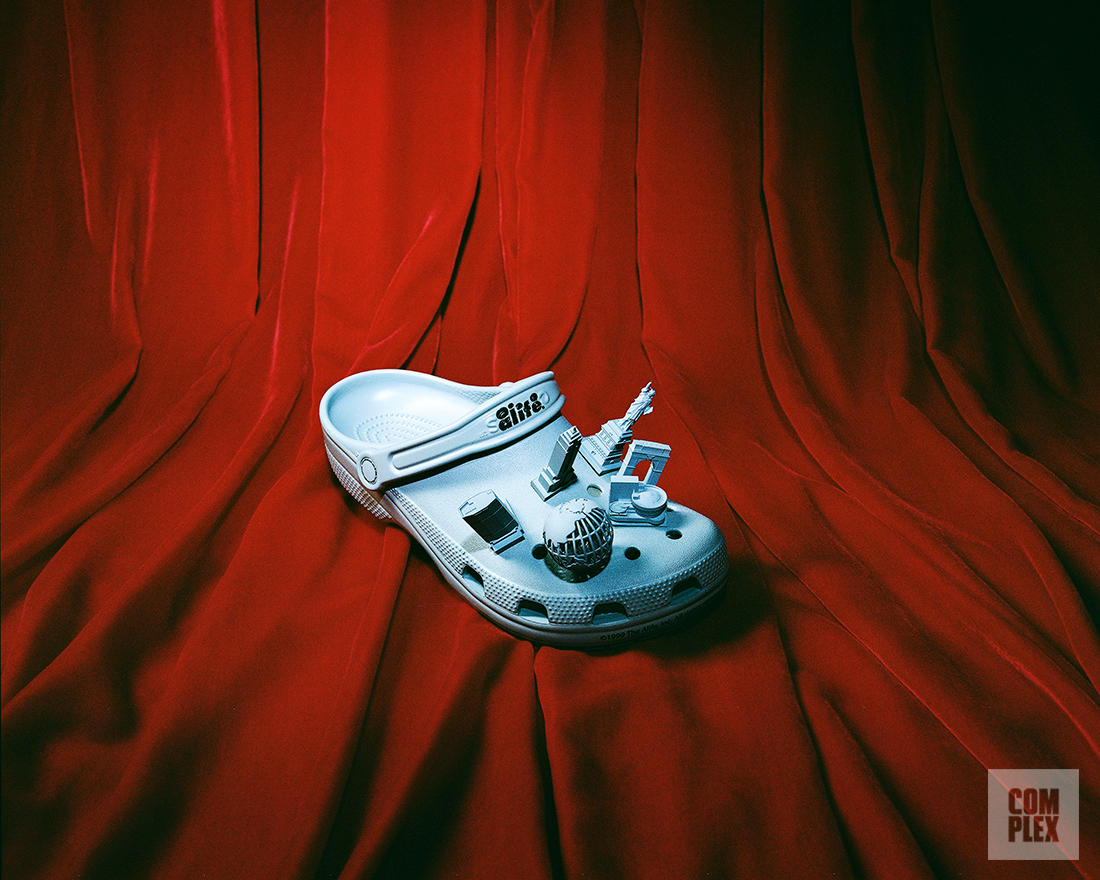 Rob Cristofaro of Alife, a pioneer in streetwear brand collaborations, was relaunching Alife into the market and wanting to make a big statement. His idea was to work with Crocs and he started talking to the company before the Christopher Kane and Balenciaga Crocs hit the runway. Cristofaro says at that time the clog wasn't embraced by streetwear in any way.  "Nobody would touch a Croc, in regard to streetwear especially," says Cristofaro. "So it was really more of a message saying we're not afraid to touch a product that might be deemed terrible within the streetwear game."
In June of 2018, Alife dropped three pairs of Crocs that pushed the foam clogs into a new direction. They released a classic pair of gray Crocs with Alife's logo screen printed on top, a quirky pair of Crocs attached to a white sock, and the "Art Crocs" that retailed for $600. This shoe, which featured 3D-printed Jibbitz of iconic New York City landmarks, was limited to 100 pairs and only dropped at Alife's famed Rivington Street location.
"It was kind of this story of two brands emerging forward again and what we loved about Alife, was just how authentic to streetwear they were," says Thornley. "I think that when you engage with streetwear brands, you start to become part of the conversation in a different way than you do with haloing a big high fashion brand. There's a bit of a grit to it. And I think it started to put us in a different area as well."
Cristofaro lit the match, and Crocs fanned the flame. 
"When I joined, people weren't ambivalent about the brand. They were like, 'Oh no. I know Crocs and they are not for me.' -Michelle Poole, Crocs' President
Crocs dominating 2020 says a lot about the state of the world—we are staying at home, craving comfort, and more inclined to buy something that's affordable—but it also says a lot about the state of streetwear. Over the past 10 years streetwear has crossed over from a subculture driven category to one that appeals to the masses. Crocs has benefited from this transition and capitalized on the category, like most big companies, but not every corporation gets that right. We aren't sure how well Crocs pays these designers—many of them declined to speak on record about their contracts—but Crocs stands out in 2020 because they've given streetwear designers, who are used to corporations telling them what they can't do, creative license to reinvision the clog however they want—Crocs mantra is "Come As You Are"—and it's worked. Young people are clamoring for something they once hated, celebrities are partnering with the brand, and resellers are making more than double the retail price on a foam clog, which will now be available at Footlocker and Finish Line next to Jordans, Nikes, and Adidas. 
"As a brand, Crocs figured out how to grow with their youth consumer while also attracting a new generation of kids. That is really hard to do," says Mel Peralta, senior director of Project Greenhouse, Footlocker's streetwear incubator. "I think the breadth of their collabs have been the main driver of the excitement around the brand."

It's a big jump from the shoe's original intention. Back in 2002, founders Scott Seamans, Lyndon Hanson, and George Boedecker went on a boat trip to the Caribbean islands. During the trip, Seaman presented his friends a slip-resistant clog made out of injected foam from the Canadian company Foam Creations. The material made the shoe more comfortable and so lightweight that it could float in water, which was perfect for boating. "The first thing I said was, 'Man, are those ugly,''' Hanson told Fortune in 2006, but he couldn't deny their comfort. He said wearing Crocs was "like walking on Nerf Balls."
The trio saw a lucrative business opportunity. They licensed the shoe, added a strap to the back, and named the foam clogs Crocs after they realized the shoe's side profile resembled a crocodile snout. When they officially launched Crocs in 2002, they sold the clogs at boat shows for $30 a pair. Within three years, national retailers like Nordstrom and Dillard's started selling Crocs. The drainable, lightweight alternative to a boat shoe became an icon of 2000's fashion that defied class; it was worn by both humble restaurant service workers and celebrities like Adam Sandler on the red carpet. 
Then there's the Jibbitz, tiny rubber charms placed inside Crocs' holes that have become a calling card for most Crocs collaboration and the thing, or things, that make the foam clogs feel special. Sheri and Rich Schmelzer, two parents who loved Crocs, invented Jibbitz. They wanted to give their children's Crocs a little more flair, so they used cufflinks, craft store charms, and glue to make Jibbitz, which were named after a nickname the family gave to someone who talked too much. The Schmelzers' business exploded within a year of launching in 2005 and Crocs purchased the company for $10 million in 2006. A pair of Crocs can hold up to 26 Jibbitz charms and each charm sells for $4 today. Jibbitz's revenue doubled in 2020 and in quarantine many Instagrammers are making their own.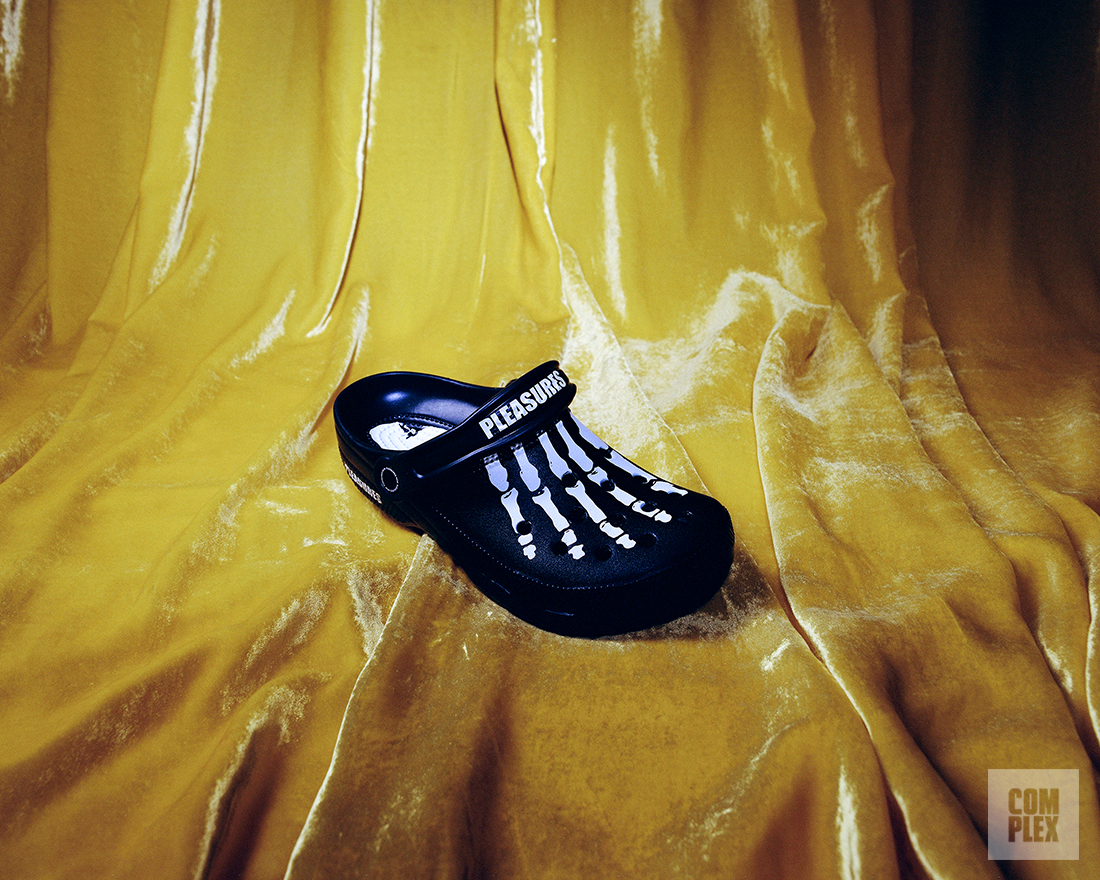 After the Alife collab, Crocs realized the untapped potential of streetwear when it came to its clogs. Pleasures, the punk-inspired streetwear label from Los Angeles, followed Alife. It was able to add a bit of its rebellious design language with a skeletal white foot printed on black clogs. The design was inspired by the iconic punk band, the Misfits. It gave an edge to a historically unassuming silhouette. Released in January 2019, they sold out in only 30 seconds. More recently, the two brands worked together in 2020 on a Halloween-inspired version lined with black fleece, covered in orange Real Tree camo and featuring Pleasures logo Jibbitz. This pair also sold out in mere minutes. Then Chinatown Market released a pair of Crocs in January 2019 that were covered with bright green turf. Thanks to streetwear, Crocs were slowly transitioning from a product people sought out for comfort to a novel object that people could display on a shelf. 
"It's all about design challenge and you know most brands are, sure, making basketball and lifestyle sneakers all day, but how many times do we have an opportunity to collaborate on, you know, a clog," says Chinatown Market founder Mike Cherman. "For me, it just was so fun to be able to go into left field and then try to take a concept that totally wouldn't align with the function of the shoe and try to smash those two things together, which ended up birthing something super beautiful." 
"For me, it just was so fun to be able to go into left field and then try to take a concept that totally wouldn't align with the function of the shoe," - Mike Cherman, Chinatown Market
Chinatown Market has maintained a relationship with Crocs, releasing a Grateful Dead collab this year. LeBron James even wore the rainbow tie-dyed clog with rock climbing bear Jibbitz in the NBA's Orlando bubble this past summer. They also worked with Japanese retailer Beams on multiple projects inspired by the great outdoors that added functional design elements like zipper pouches, D-ring buckles, and durable nylon uppers. Artist Takashi Murakami covered a pair in rainbow camo with bear Jibbitz that dropped exclusively at ComplexCon 2019 that now sells for hundreds on the resell market. KFC chicken and marshmallow candy brand Peeps even made their own clogs inspired by their respective food items. The KFC pair smelled like fried chicken. Crocs was giving its collaborators a level of creative freedom that isn't always provided by major footwear brands. And the opportunity to tell their stories was capturing more consumers' attention in the marketplace with each passing release.

"It's creating hype moments," says Cherman. "It's a huge moment maker for us when it comes to conversation. And all of them have ended up on StockX."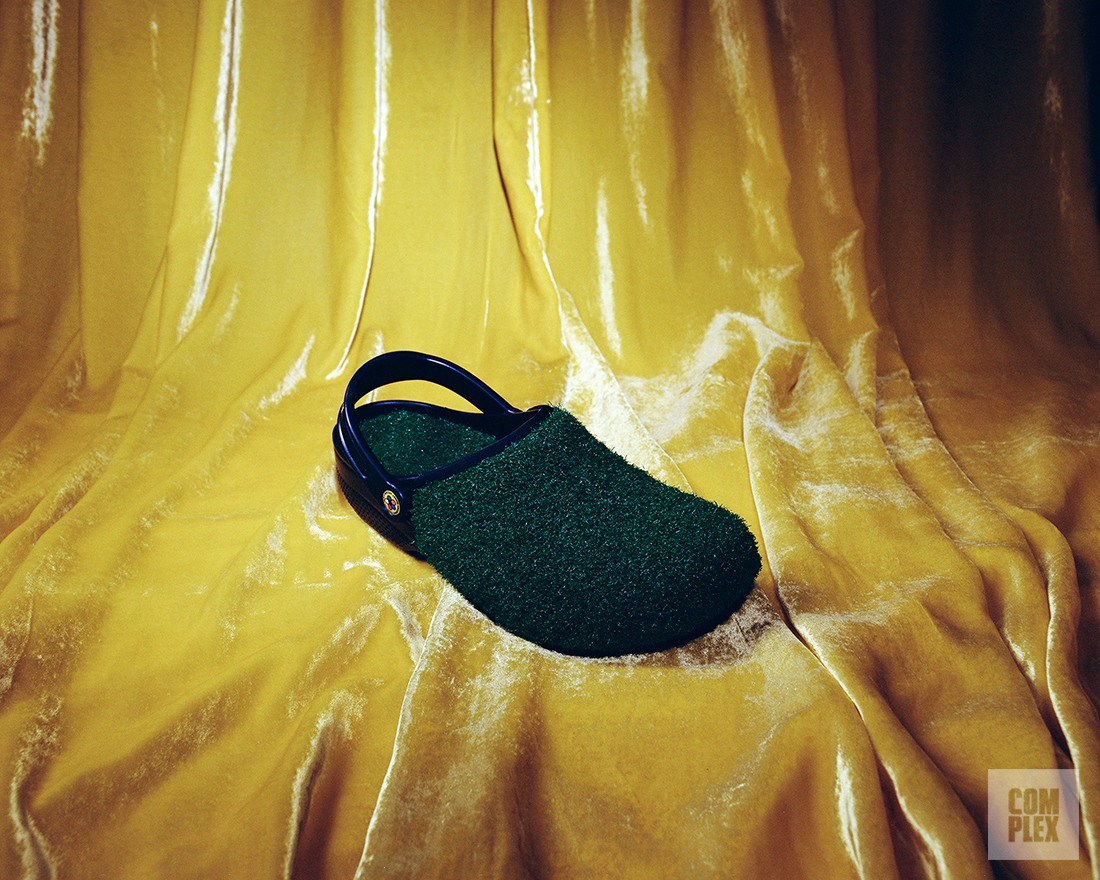 Collaborating with Crocs starts with their product, design, and marketing teams as they work in tandem with the partner to create a shoe—and, in some cases, Jibbitz charms. Nicole McLaughlin, who worked with the company through Footlocker's Greenhouse program, says Crocs sent her a box of samples and she created a couple prototypes. She was surprised by the timeline.

"I think they are able to produce quickly and stay on the trend curve," says McLaughlin. She was also surprised that they kept most of her original ideas intact. McLaughlin outfitted her clogs with a headlamp integrated into the strap, a compass on the strap's hinge, carabiners and Jibbitz that included a bundle of real paracord and a tiny stash sack. The Crocs even boasted ankle gaiters that resembled chalk bags. McLaughlin came up with a couple of prototypes, but did not expect the brand to go with her most ambitious design.

"They were pretty much down to try anything that I came out with, like sourcing wise, they were able to get pretty much everything I have on it," says McLaughlin. "The only thing that got taken off was a carabiner, but I felt like people can add and take away things and kind of make it their own and that was more or less like what I was trying to achieve with this collaboration in general."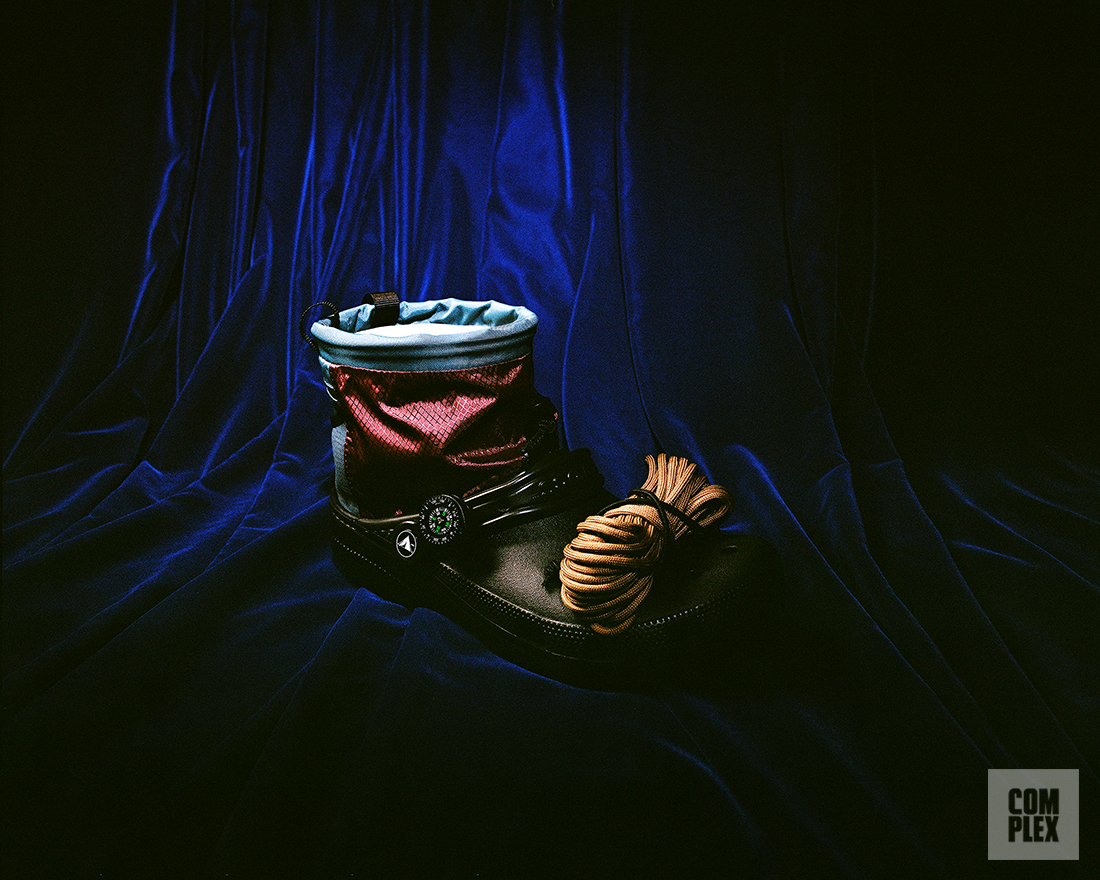 Because Crocs are made from a foam resin, there is more flexibility with printing and colors and application of different materials, and designers take advantage of that, in some cases covering the clog in tie-dye prints, or Murakami's multicolored camouflage. This setup is appealing to creators who are able to make something they couldn't make without Crocs and have creative control.
McLaughlin, who is known for constructing conceptual DIY pieces from upcycled materials, has collaborated with brands to sell small runs of products for in-store events or social media activations. But her work with Crocs marked her first major footwear collaboration that was widely released.
Anwar Carrots, who also worked with Crocs through Greenhouse, wasn't fully aware of the fandom around Crocs—he produced a pair of orange and green "All Terrain" Crocs with Carrots-themed Jibbitz and branding. He was prepared to present 200 people who already own pieces from his brand with a private code so they could shop early. But it was too late. The bots had already connected to his server and even when the site was private, 450 pairs sold within two seconds.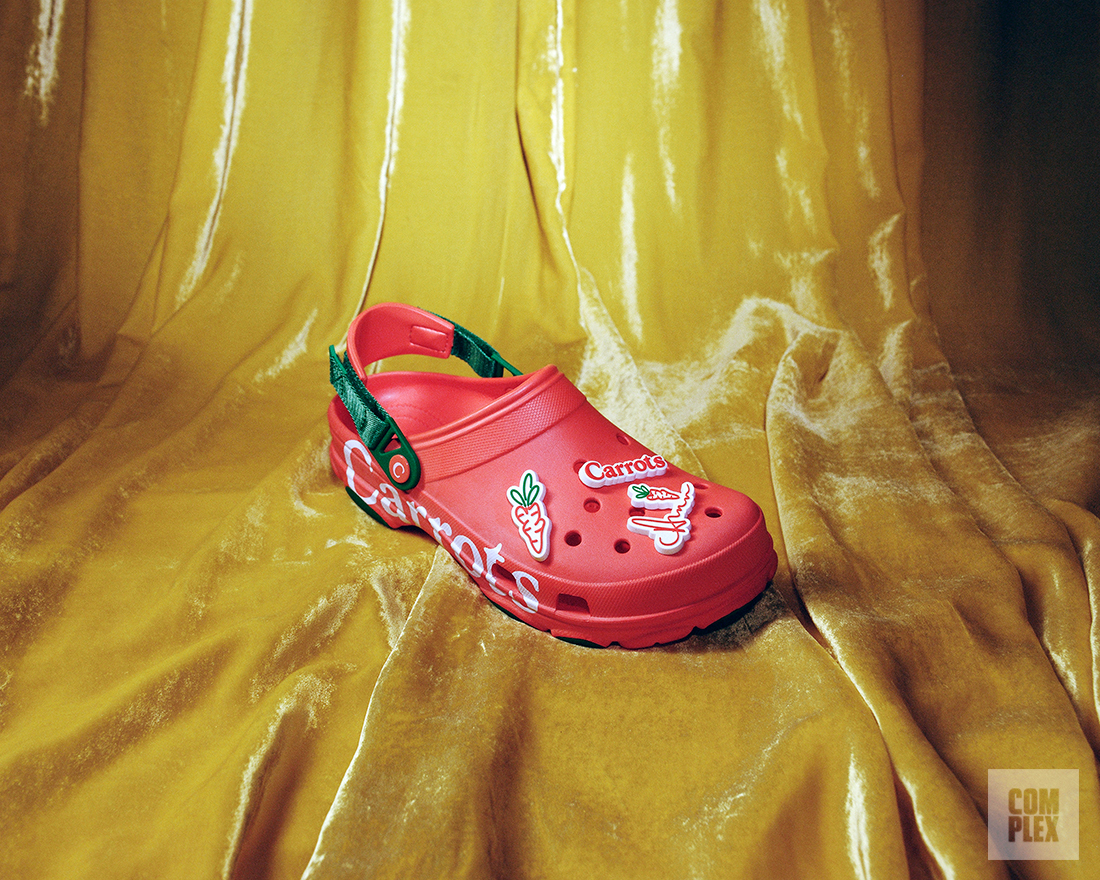 "It was just gone," says Carrots. "Then I saw two or three names pop up on my phone because it happened so fast. I was like, 'What happened?' And my mans, he's like, 'Yo, did you see this stuff?' Me and my wife Shamira were just sitting there looking at each other like an earthquake just happened. That has never happened before. I know it was because of the reseller market, but it was trippy because it's Crocs. It's not like Jordans or stuff like that."
The footwear industry at large has capitalized on the Crocs trend, too. Merrell started selling its own variation in Spring 2019, the $50 Hydro Moc, that appears almost identical to Crocs with a perforated EVA upper and adjustable strap. And Kanye West's Yeezy Foam RNNR is Crocs-adjacent. Yeezy design director Steven Smith introduced the puffy white marshmallow design at the Fast Company Summit back in November 2019. Despite its fair share of naysayers, the algae-based $75 clog instantly sold out when it hit Yeezy Supply this past June, proving once again that Crocs-like clogs have carved out a niche space for themselves in the footwear market. 
Online resell platforms, usually relegated for things like West's hyped-up sneaker drops and the like, are seeing the impact of Crocs' growing popularity too. On GOAT, sales for Crocs increased 23 times year-over-year and listings for the colorful clogs grew 18 times year-over-year. Post Malone's "Blue Camo" collab and Bad Bunny's glow-in-the-dark release are among some of the best sellers on the marketplace. StockX reported similar results. Since the top of the year, Crocs' market share is growing 8 times faster than the sneaker market with pairs of Post Malone's first Crocs collab reselling for an average of $1,000. It retailed for just $60. Murakami's $85 iteration is flipping for an average of $330, with a high of $999 in 2020. In total, 30 different Crocs colorways have been sold on StockX. Five of the special collabs have even garnered 1,000 or more individual sales apiece.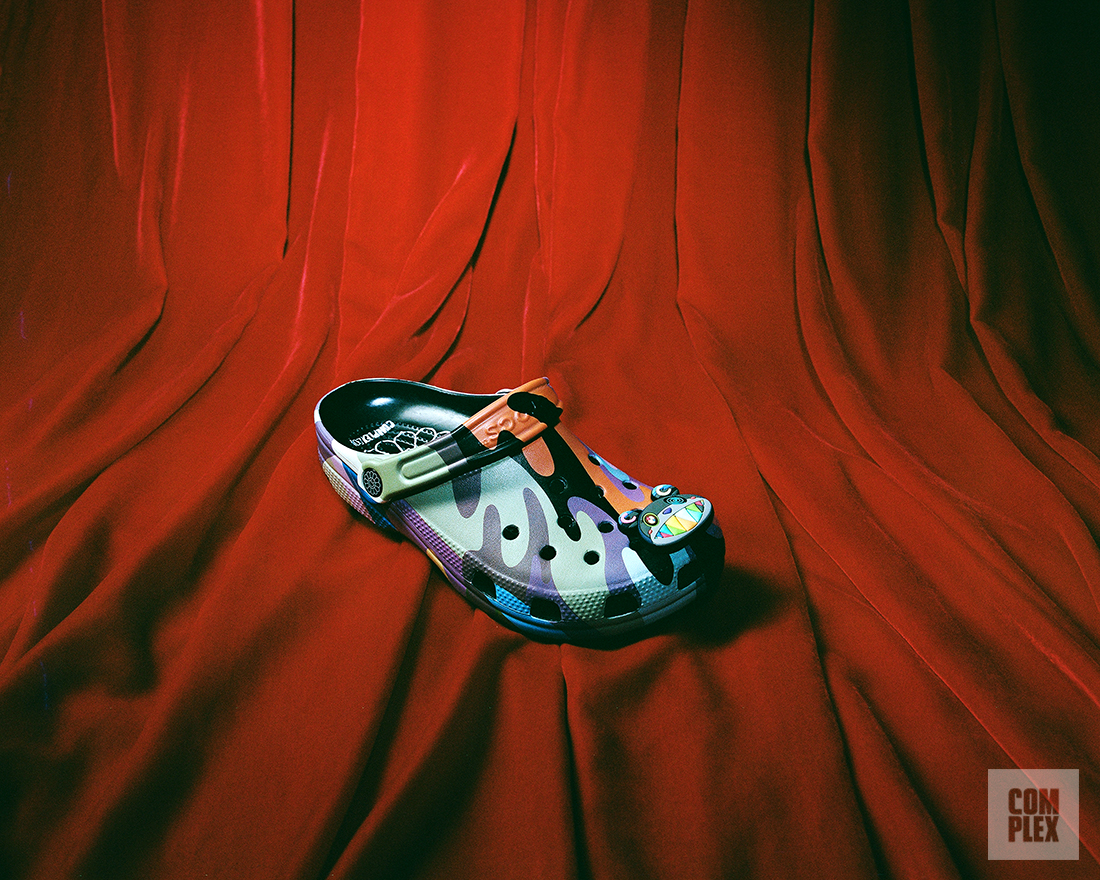 "We started to see an uptick in August and September of this year, and it's been pretty consistent since then, peaking in October," says StockX senior economist Jesse Einhorn, who credits Crocs' aggressive collaboration strategy with the brand's recent success. "They've obviously put a lot of energy and money into pursuing a collaboration strategy, picking some really huge names at the forefront of culture, and have been able to tap into a next-gen consumer that happens to be the consumer that StockX is really great at catering to."
The new interest helps the resellers too. Einhorn says that Crocs collabs are currently selling for over two times their retail price, which means there's a nice bit of profit to be made from flipping them. For comparison, Yeezy 350 V2s usually resell for roughly 60 percent above their $220 retail price, meaning that Crocs actually provide a higher profit margin for resellers. While the numbers might not look as drastic moving forward now that Crocs is establishing itself in the market, Einhorn says he does expect the category to continue to grow heading into 2021. 
But is this all a passing trend? Peralta doesn't think so.
"I don't know if it is a trend anymore," says Peralta. "I think this is a brand that's really connected with a younger kid that genuinely loves them. Crocs practically owns the category and their Alife, Balenciaga, and Post Malone collaborations launched over two years ago now. Trends come and go obviously, but what Crocs has been doing over the last couple years feels more like brand positioning than a trend."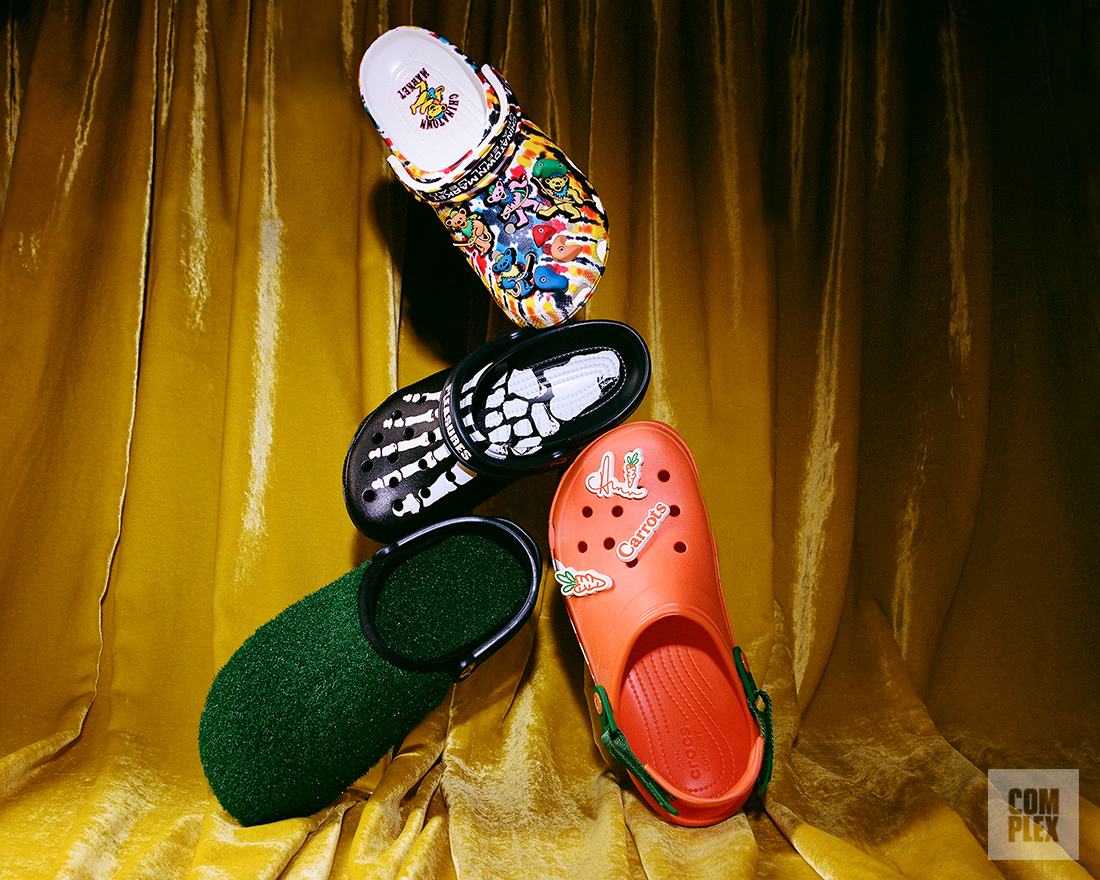 Six years has changed a lot for Poole, who saw Crocs graduate from the "reject bin" to being the brand people want to work with. But the brand currently sits in an interesting position. While brand desirability is high with the younger consumer, there's a chance Crocs could overdo it and turn that demographic off completely. When Poole is asked how can Crocs avoid jumping the shark, she says putting that customer first is the solution. 
"I think, ultimately, we say, 'What's in it for the consumer?' So we definitely put the consumer at the start of all of our conversations, which isn't about chasing a revenue number. We really start with the consumer and say, 'Is there something interesting for the consumer?' And we look at the other brand partner and we think about what they bring to the table. And we say, 'What's the angle? What's the story here? What does the consumer get?' says Poole. "I think we are most likely to decline collaborating with a brand if we don't think that we can turn it into an interesting product offer. We're definitely not interested in just putting a logo on something. It's got to be more. It's got to be the consumer really gets something interesting here."