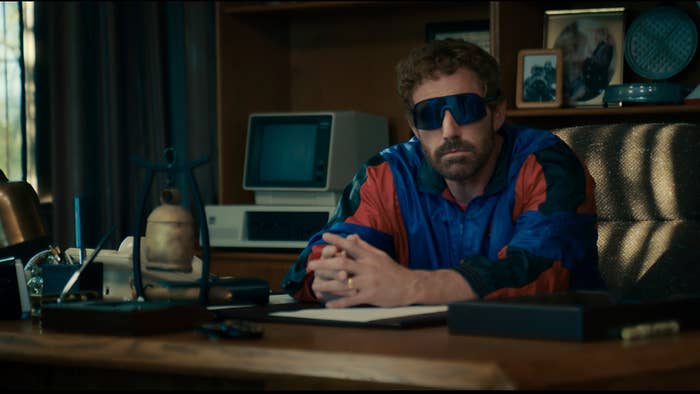 Like many children growing up in the '90s, Charlese Antoinette Jones remembers flipping through Eastbay catalogs in school and obsessing over the newest sneaker designs with her friends. Seeing the OG gold colorway of the Nike Air Max 97 for the first time sticks in her memory. She worked at Kids Foot Locker and Champs Sports in high school for the employee discount. She can rifle off information about the first 11 Air Jordans with ease; "Space Jam" 11s are her favorite pair. And a look through her Instagram page will show you that Nike and Air Jordan sneakers are still laced on her feet often.
So it should come as no surprise that when Jones was hired to be the lead costume designer for Air, a film that tells the story about how Nike courted Michael Jordan back in the '80s to sign a sneaker endorsement deal that changed the industry forever, she was excited.
"God," says Jones with a laugh when asked what led to her landing the role. She goes on to say how Air director and star Ben Affleck was impressed by her work on Judas and the Black Messiah, and one of the film's producers had initially connected them both. Jones has been a costume designer since 2012 and also worked on films like the 2022 Whitney Houston biopic I Wanna Dance With Somebody. For Air, she was tasked with taking Nike and its employees back to the '80s.
One might assume that a film about one of the biggest moments in Nike's history would grant Jones access to its archives in Beaverton, Oregon. But Nike actually had no involvement in Air whatsoever. That meant Jones had to get creative to represent Nike decades before it was a multi-billion dollar corporation. She scoured the internet and sourced items from a vintage dealer's warehouse (she would not disclose whom). If she couldn't find something, she recreated it. To nod to the Dapper Dan high school basketball tournament that one of the film's main characters Sonny Vaccaro (Matt Damon) co-founded in 1965, she had the logo recreated and printed onto one of the many schleppy polos he wears throughout the film. Phil Knight (Affleck) goes on a run in a purple spandex number that Jones based off of old footage of the Nike CEO going on a run that perfectly matches his grape Porsche 911.
The most notable Nike item seen in Air is worn by Affleck on the movie poster and isn't even from the '80s. It's a blue and red Nike flight jacket from 1992. It was initially supposed to be a reference piece to help the costume department properly recreate a vintage Nike windbreaker. It looked so good that it made it into the film. 
"I didn't want to use that jacket originally because it wasn't accurate. But because he was using it in the end credits, it made sense," says Jones. "Also, creatively, you don't want to stifle things just because it's not accurate. We have this amazing look that's on this amazing poster."
But Jones wasn't just sourcing and remaking Nike running gear. Throughout Air, we're also given a look at what the typical American might have been wearing to the corporate office job in the '80s. Jones says she relied on old issues of GQ and Esquire to nail the more specific details and sourced a lot of vintage Armani. Her team stumbled upon retro 7-Eleven polos that workers would have worn in the '80s on eBay, under the radar gems from the film's wardrobe. When it came to dressing Jordan's mother Deloris (Viola Davis), Jones not only referenced photos but also memories of her own family members to dress Deloris for more intimate scenes at her home in North Carolina. 
"I based her look off of my knowledge as a Black woman having aunts and a grandmother who are in that age range," says Jones. "My family's from North Carolina, so when I would visit, that's what my aunt would be wearing at my great-grandparents' house."
For more on Jones' work on Air, check out our full interview below.
How does your interest in fashion morph into you deciding to pursue costume design?

I was pretty aware early on that designing clothing was something that I wanted to do. I wasn't sure about costume design yet or even thought it was a realistic or attainable career goal for myself. I grew up in suburban Maryland, where we didn't have that many options for clothing. Everybody went to the same mall and bought the same stuff. So my friends and I started customizing pieces. I would be ripping up denim, bleaching denim, just customizing my Levi's and stuff like that. We formed a small design collective and we had business cards. We were in high school. It was mainly so we could just wear cool outfits at parties. [Laughs.]
When I graduated from high school, I picked a college that had fashion programs, which was Philadelphia University, which is now Thomas Jefferson University. I switched my major at the last minute to fashion merchandising and marketing. I took design classes in college and stuff like that. I did price development for Macy's. I was a part of the Black Retail Action Group. I had all these really cool opportunities to come to New York. I started working in corporate and I hated it. So then I started styling and took some courses at FIT, started my portfolio styling artists in the early 2000s in Brooklyn. I had my own little collections and lines. I learned how to be a jeweler. I was just doing all these really fun, creative, design-based things. But I've always had a love for film. Some of my best memories are just watching my favorite films for costumes growing up. When I got to New York, I saw movies shooting all over the city. That's how I figured out I could get into costumes. I literally just asked people. I probably was so annoying. Everyone I met, I said, "Hey, I wanna work at a movie. How do I work at a movie?" This is in my early 20s. I just kept asking until the right person gave me an opportunity to intern. I really worked my way up to the department and started designing films in 2012.
How did you land this gig on Air?

God. [Laughs.] 
I worked on costume design for Judas and the Black Messiah, which I'd say was my first commercial, breakout hit movie. It won Oscars. It got nominated for a bunch of Oscars. I got nominated for awards by my peers, the Costume Designers Guild. That was my first, like, "Oh my God, people see me and recognize me as a legitimate, talented costume designer." I knew it in my heart but the industry did now. From that, all these different opportunities started coming. People were seeing the movie and seeing my work. I was getting opportunities I wasn't before.
This came from that. One of the producers that produced Judas has worked with Ben [Affleck] for a long time. He and I hit it off really, really well. About a year after Judas came out, he contacted me. We had a meeting and the meeting was awesome. But you know, I go on so many meetings for movies that I didn't get the job for whatever reason. So I went on the meeting with Ben and then his producer would text me every once in a while to update me on things. But I still didn't believe it was happening. Literally, I was in Atlanta partying when they were like, "We're booking your flight." [Laughs.]
Working with Ben Affleck, was he very specific about what he wanted to achieve with the costume design or did he kind of let you do your own thing and kind of trust your vision for it?

I think the biggest thing for Ben was he wanted Nike to feel like a scrappy start-up. That informed the design of the Nike offices because we spent so much time there. He wanted things to feel real, and authentic, and not worn in, and lived in. He just wanted the portrayal of certain characters, because they're real people, to really feel like those people, especially for Phil Knight. The authenticity was very important to him, but I still had room to create and do my thing and have fun. It wasn't so restrictive. I presented my ideas and he liked them. We were on the same page. He really trusted me. And that's what I appreciate about him. 
Are you creating a lot of this stuff from scratch based on reference photos you're seeing? Is a lot of it actual vintage stuff that you're sourcing? What's that breakdown like?

In some cases it was like 50-50 between built and sourced. In some cases, it was all built. Ben's costumes were pretty much all built except for the one track jacket on the poster. That was a vintage one we sourced. Sonny's was vintage that we sourced, because it's so hard to create that lived-in feel with the time constraints we had. So I made the decision with Sonny to actually use vintage pieces. Like, all the awesome polos he ends up wearing, that was just so much fun sourcing and finding those things. 
Deloris Jordan, her suit she wore at the Nike meeting was built. Everything else was sourced. I used a lot of Armani suits on people in the film. Deloris wears an Armani suit, the black and gold one. Howard White (Chris Tucker), a lot of his suits are Armani. The jade suit that he has on in the phone booth at the airport, we built that suit and shirt. We built all his shirts as well. We built all of Rob Strasser's (Jason Bateman) shirts. The suiting was vintage. And then for David Falk (Chris Messina), it was a mix. Some shirts were built. All his suiting was sourced. Some people we were able to get away with sourcing because of their body types. Chris Tucker and Ben were so tall, we had to build because we just couldn't find the right vintage suits for super-tall men. It's not possible.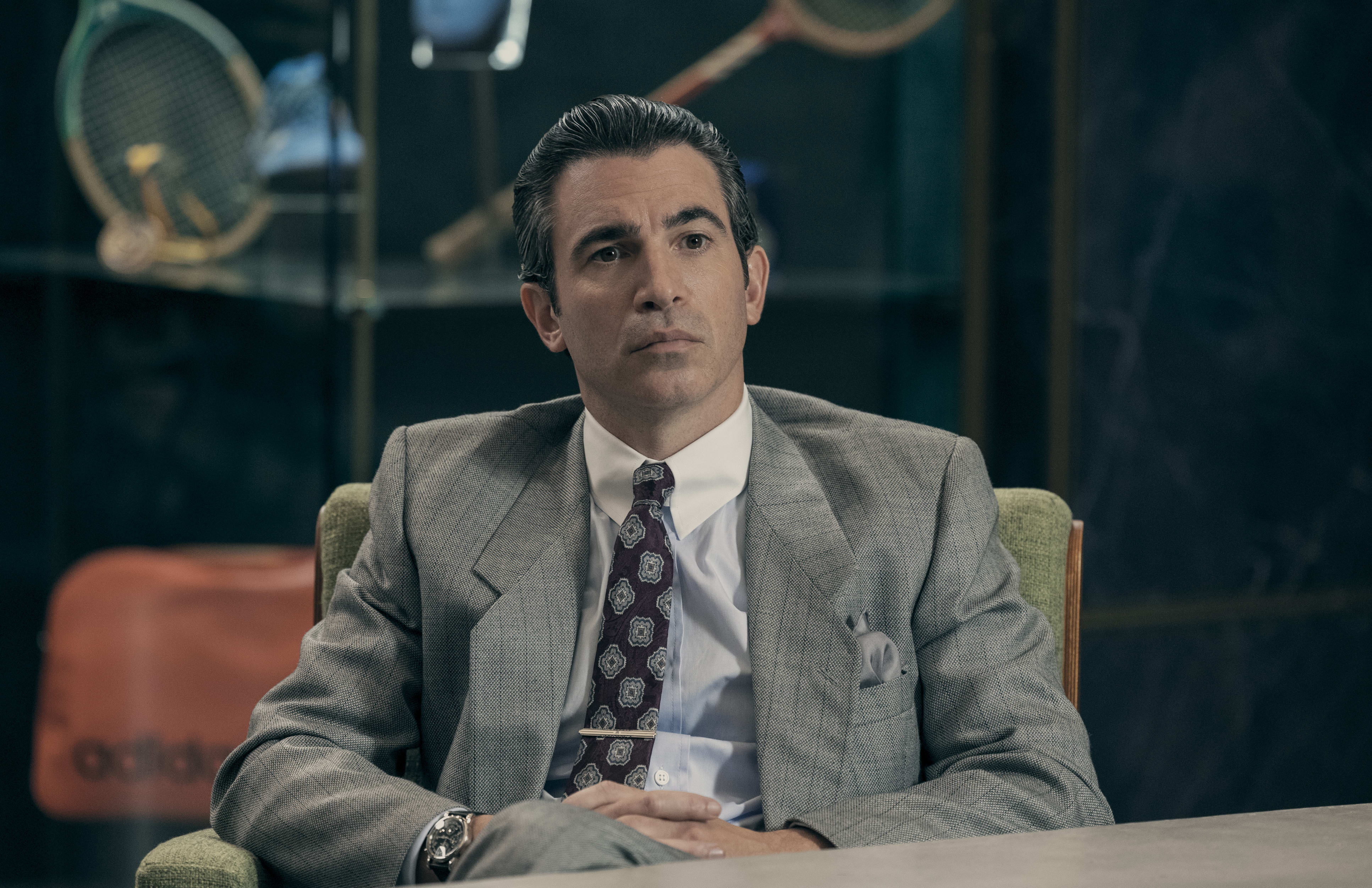 Are you looking at old photos? Are you talking to Sonny or Rob or whomever it is to better understand what they would have actually been wearing?

It's all based on research of the early '80s and knowledge that I have. I came off of doing I Wanna Dance With Somebody, the Whitney Houston biopic, so that was really helpful. I was kind of already in that headspace. But most of it was based on research of actual people, catalogs, and I think I got some notes from Ben but not a ton. He would share with me conversations that he may have had with Michael Jordan or anybody else. 
Chris Tucker is really close with the actual Howard White, so he would be really vocal about needing to look sharp because that's how his friend dressed. I got notes like that. But for the most part, it was research and my imagination.
I'm curious about the vintage Nike stuff. You mentioned the blue tracksuit that Phil wears. We only really see it in the final moments, but it's on the poster. It's actually from the early '90s. One, was it challenging to find vintage Nike actually from the '80s? Two, can you just talk about tracking that specific jacket down?

Most of the vintage that we could find was actually '90s. I didn't want to use that jacket originally because it wasn't accurate. But because he was using it in the end credits, it made sense. So I was like, "Okay." [Laughs.] Also, creatively, you don't want to stifle things just because it's not accurate. We have this amazing look that's on this amazing poster. 
I believe I found that jacket through an awesome vintage dealer whom I've worked with on Judas and a couple other things. He has warehouses full of Nike stuff. It's nuts. I bought a bunch of stuff and that was one of the things out of the pile. We were using some of that stuff as references for the track jacket that we ended up making for [Phil]. That was one of the reference pieces. It wasn't even supposed to be worn. It was just for fit. But it ended up in the movie, which is awesome. 
The Nike label has changed. [That vintage dealer] was one of the people who put me on to, like, figuring out what is late '70s, early '80s Nike. It's an orange label. So if we found stuff with the orange Nike label, we'd just buy it immediately. But it was hard. It was very few and far between. People know what they have now so they sell those pieces for a lot of money.
Are you willing to reveal your vintage source?

Not really. You know what happened. After I did Judas, someone went and bought all his '60s stuff. If I reveal it, then everybody's going to buy all the '90s stuff. And when I have another '90s project, I won't have anything. [Laughs.]
I loved the 7-Eleven employee uniform. Can you just talk about getting that right and what went into that? It's a small piece of the film, but I was just drawn to it whenever it came onscreen.

We found that on eBay. Can you believe it? We couldn't believe it. [Laughs.] We had found images of the 7-Eleven uniforms around that time and were just going to make it. Out of the blue, my supervisor Sarah ended up finding a couple of them. If we had made it, I don't think it would've read as good on camera, because the fabrication would be completely different now. It's so special. It completely transports you back to that time.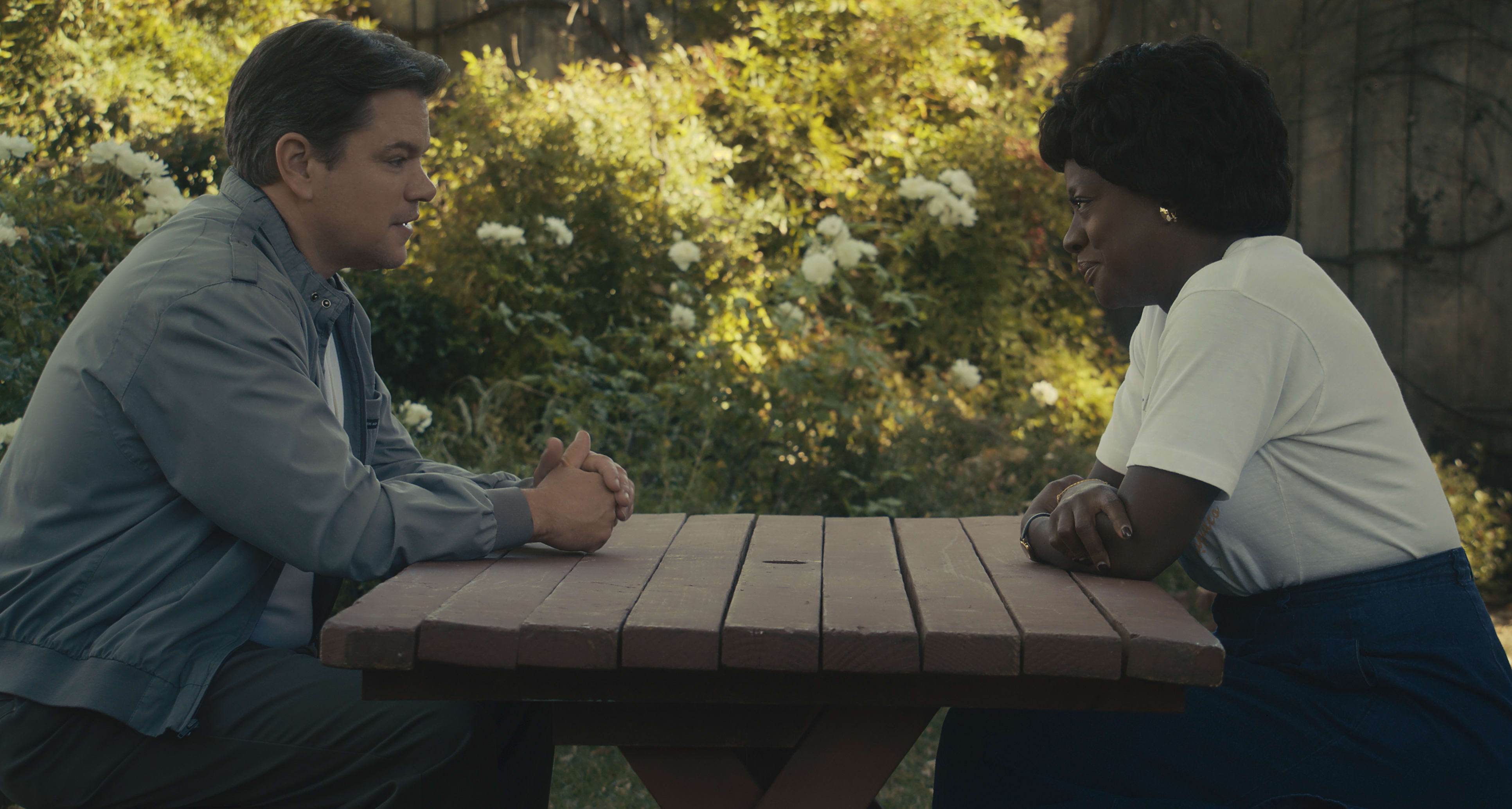 I also loved when Sonny first visits Jordan's parents in North Carolina. When they first appear onscreen, it's exactly how I would imagine parents to be dressed in the late '80s. Was that based off of a specific photo you saw or was that just what you felt his parents should be wearing?

No, it was 100% based on what I felt like parents would be wearing during that time. I had some images of James Jordan wearing similar things to that, so that was helpful. Fitting Julius [Tennon] was so much fun. He is from Texas, so he's very familiar with the vibe. He was like, "Yeah, this is right." [Laughs.] I didn't have any real casual pictures of Deloris. Most of the pictures I had of her, she was very put together in suiting and stuff like that, which is why every other time you see her besides at home, she's put together in suiting. I just felt like that was a very important distinction to make. I based her look off of my knowledge as a Black woman having aunts and a grandmother who are in that age range. My family's from North Carolina, so when I would visit, that's what my aunt would be wearing at my great-grandparents' house. Back then, when you traveled to a place, you got a special T-shirt. It was a big deal, and you would wear that T-shirt. When I found that T-shirt thrifting, I just loved the print so much. It was so '80s, so simple. It just tells you so much, so fast.
I paired it with the jean skirt, because she's a Christian woman. She would be wearing a long jean skirt, some little Pro Keds, and her gold cross. I just really enjoyed that being the first time you see her, because it also feels very warm. It's disarming versus when you see her in all these offices and she's got these suits on. It just felt right.
Another outfit was Phil Knight's running outfit with the purple tights and the big white Nike windbreaker.

We built that. It was based off of footage of Phil Knight wearing something similar. That was a lot of fun, because sometimes it can be hard to convince big actors like Ben to get out of their comfort zone and do something kind of zany. I was like, "Hey, I have a picture of Phil Knight wearing this. You wanna do it?" And he was like, "All right, if he did it, I'm gonna do it." He was down and we would just crack up laughing. That was definitely a labor of love. It took a lot to pull that one together. I think each item was made by a different person and we were fabric-swatching between L.A. and New York trying to find the right spandex colors to match. All the fabrications were different. The windbreaker fabric was the hardest. We couldn't find what we wanted, so we ended up using an acetate that's actually not for that use at all. But it ended up working out.
And it's all meant to be one-to-one recreations of specific items?

Yeah. That was based off of footage of Phil Knight running in a 60 Minutes clip from 1984. He is quirky. His hair is a mess. He's running in this super-futuristic outfit and then next minute he's sitting in an argyle sweater. It's so random. It was fun to play with those juxtapositions of his running versus being in the office and what that looks like.
At any point were you reaching out to Nike for assistance or trying to locate an especially hard-to-find piece from the archives?

No. For creative reasons, they decided to not involve Nike. I think it just allowed more creative freedom with the story and stuff like that. I didn't work with Nike at all. Any of the Nike in the movie is either sourced or things that we've recreated. So, like, Sonny has on a really simple polo with Nike embroidered on his left chest. We recreated that based off of a vintage sample that we found. We did a lot of that.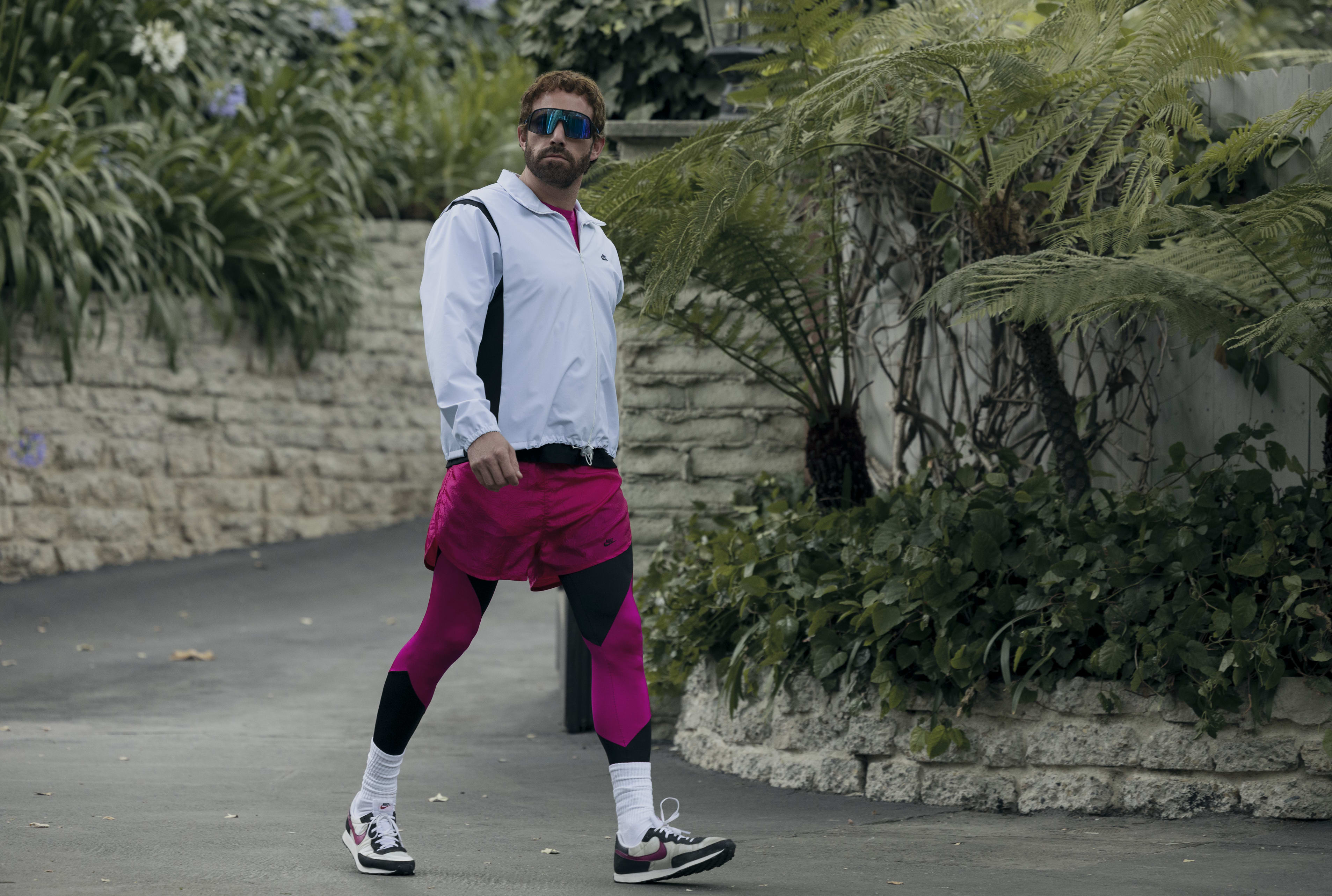 When it came to sneakers like the Cortez on the shelf in Phil Knight's office or the posters hanging on the wall, were you helping with sourcing that stuff at all too?

No, that's all François Audouy and his team. He's the production designer. Where things applied, we would help each other out, but for the most part they were sourcing and doing their thing. But it's awesome because it all works together so well. We didn't have a ton of time, but we all had our research up all over our offices and we would be in and out of each other's offices looking at each other's stuff. 
I saw it was like a five-week process?

Yeah, it was fast. [Laughs.] I was designing as we were shooting and fitting people as we were shooting. Viola [Davis] came in the day before she worked, and I had to prep a lot of stuff before she got there.
I loved everything that Jordan's mom was dressed in. Maybe the biggest scene in the movie was when she's on the phone with Sonny trying to secure the shoe deal at the end. She's just in this pastel floral shirt. Was there any particular reason you chose that shirt for that scene?

She was at home and so it was another opportunity to show her relaxed at home and also showcase casual '80s fashion for women. The inspiration for the outfit came directly from a catalog actually. We sourced shirts that felt like that vibe. It was also my pulling from memories of my childhood and my great aunts. 
I just thought it would be cool for her to be brokering this deal in something like that. It was a good contrast. She's very relaxed on the phone with him asking for this thing that's kind of insane for that time.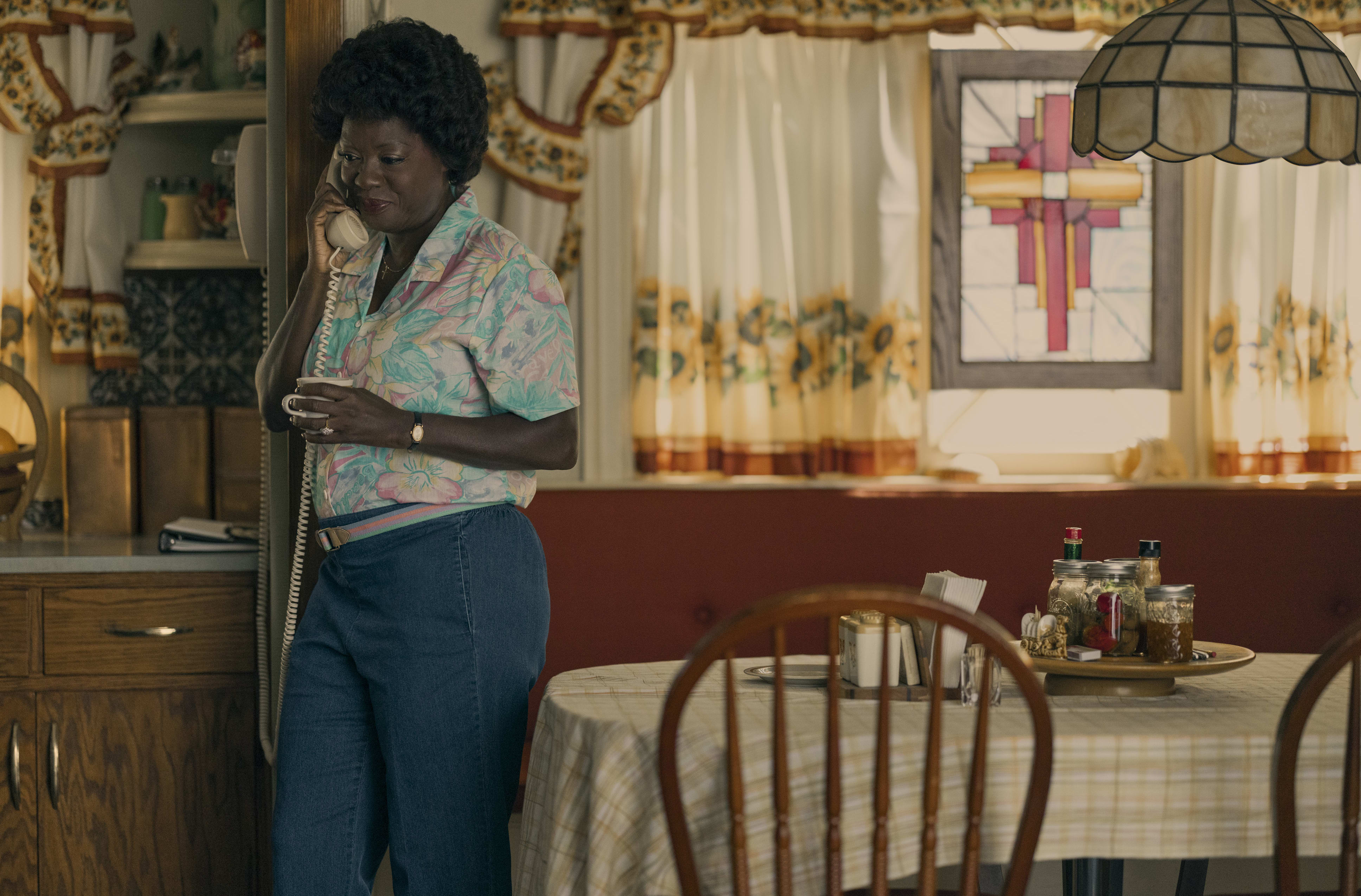 Who was the most fun to work with and dress?

I would say it's between Chris Tucker and Julius Tennon. They're just the life of the party. They're so fun. Me and Chris Tucker would dance every morning at like 7:00 a.m. to start the day. He's just naturally funny, and the way he plays the character is so cool because he knows Howard White. All the platitudes and stuff he says, I think that's what Howard actually says. It's just really cute. 
Do you have a favorite look or a favorite character in general?

It's weird because you would think I would say Phil Knight. But I really like Sonny's costumes. I rewatched the film at the premiere and I love everything I did in the movie, but Matt [Damon] is brilliant. He's a brilliant actor. There's something about [Sonny Vaccaro] being that passionate and endearing, but looking like a schlep. [Laughs.] His costumes have become my favorite upon my second watch. I think my first watch, it was between Phil Knight and David Falk, because I played him like super-slick Wall Street. He had all of the accessories. It would take so long in the morning to get him ready.
Was all of the gold jewelry, like the vintage Rolex in the Converse meeting, sourced by you? 

The watches are JP [Jones]. 
You mentioned Sonny. At one point, he's in this brown velour polo…

Yes. With all the piping. I'm telling you, we had so much fun sourcing all these zany dad polos from the late '70s and early '80s. It's so cool because people have come up to me who've watched the film and been like, "Yo, my dad wore that."
There's a lot of big actors in this movie. At any point, were they pushing back on the costume choices or like, "I look like a dork. I'm not wearing this."

You know, everybody genuinely loved their costumes and that doesn't always happen. It's just a credit to how serious of a group of actors this is. Me and Matt [Damon's] first fitting, he was so gracious. We tried on stuff for, like, so long. By the end of it, he was like, "Hey, I walked in and I was super nervous that I don't look like this guy. Now, I feel good about this character." That's, like, the biggest compliment as a costume designer. I'm just really grateful for that. Sometimes people are super vain, and they'll be like, "Oh no, I don't wanna look like this," and they're not thinking about their character.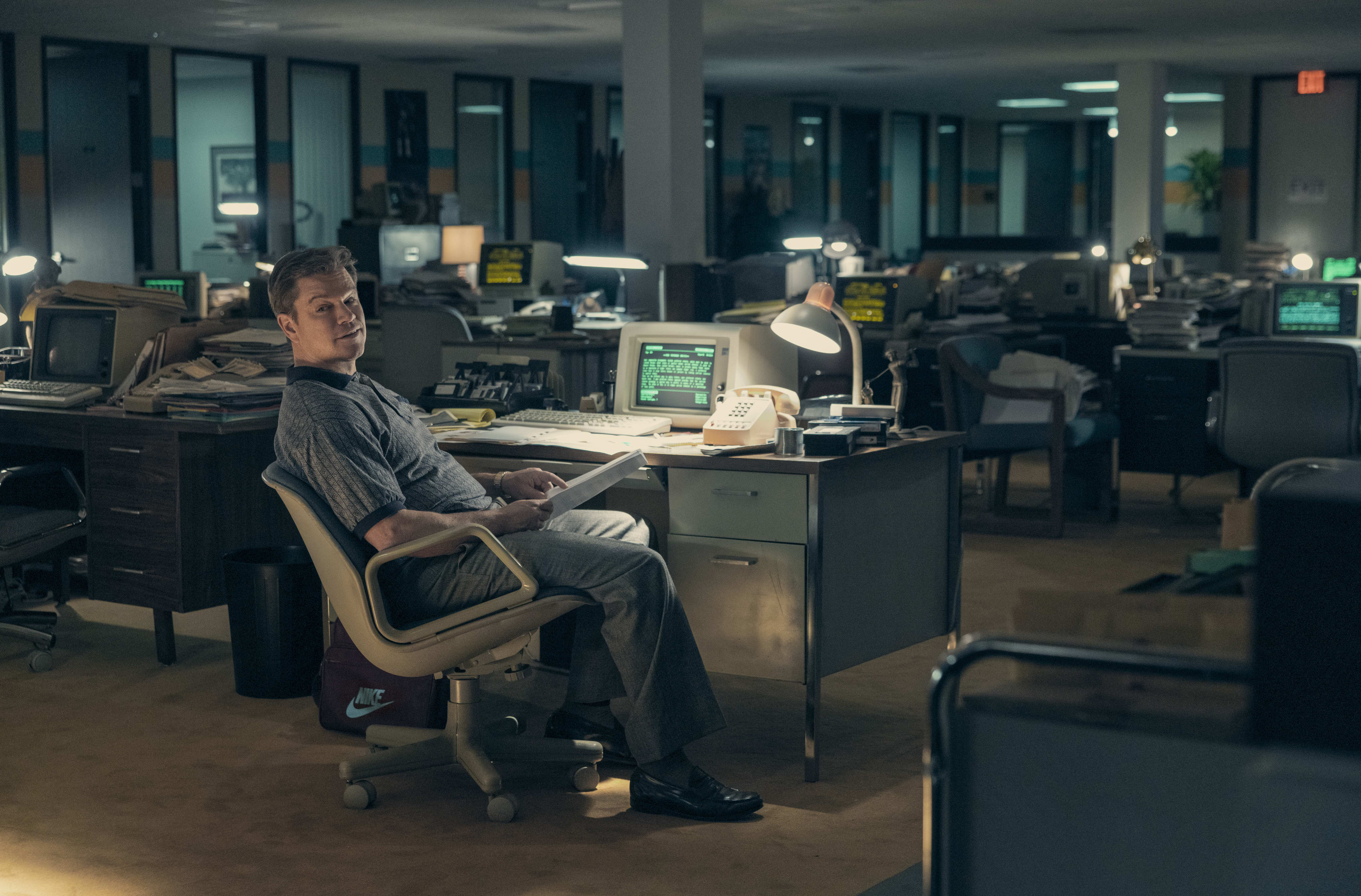 I was really excited to see the Nike stuff that ended up in the movie, but a lot of the scenes were taking place in an office space. You mentioned a lot of it was Armani or references to Armani. Can you just talk about getting that suiting right to match what a corporate worker would be looking like in the '80s versus just throwing them in a suit?

Whenever I'm doing a period piece with suits, I look at GQs from that time. It's so helpful. It'll let you know what suits were popular during that time and available at that time. It also will help inform the levels too because, like, David Falk has a more fashion-forward Armani look in the film. Strasser's character is wearing Armani, but it's not the same. He's not wearing double-breasted, peak lapel suits. He's wearing notch lapel suits, which are a little bit different. Peak lapel was like the new thing during that time. Old GQ and Esquire issues are the best for research. 
Are there any little Easter eggs you tried to sneak in?

Usually, there are inside jokes and stuff, but no. I will say, though, there is one moment that I think is really cool that people may not notice. Matt has on a Dapper Dan Tournament T-shirt in his house, and I'm really proud of that because we made that happen and it's very specific to that character. That tournament is special in the basketball world. Sonny started this high school all-star basketball tournament in Pennsylvania in the late '70s called the Dapper Dan. He says that it's why a lot of tournaments started after that. We are all familiar with the McDonald's All-American game. This predates that. So it was a really cool callout to throw the logo on a polo and give it some shine.
We found old literature from the tournament and I had a graphic designer pull the logo out and design it to look prefaded. We digitally printed it on a shirt. 
To wrap things up, I actually wanted to ask you about one of your recent outfits at the premiere. How did you decide on that? Who made that for you?

I had been going back and forth on what to wear to the premiere, and I couldn't decide. I didn't wanna wear a dress because it just felt too formal for the story. A friend of mine suggested I wear a Nike tracksuit, but I didn't wanna wear an '80s tracksuit. I just went down the rabbit hole trying to find something contemporary that could feel cool and dressy enough to wear on the red carpet. I came across this silver Nike Air jacket. Once I found the jacket and pants to match, I needed something that glammed it up. I had, like, these Stuart Weitzman heels that were perfect. I was on Instagram scrolling and I follow so many Black designers and independent designers whom I'm always trying to collaborate with for cool things like this. I saw Anonymous Plugs had an image of a super-long durag with a train and it had something printed on it. I hit her up and sent her a fabric reference of holographic fabric. One of my favorite things is holographic stuff. I sent her the movie poster with the Air font and she whipped it up in like three days.