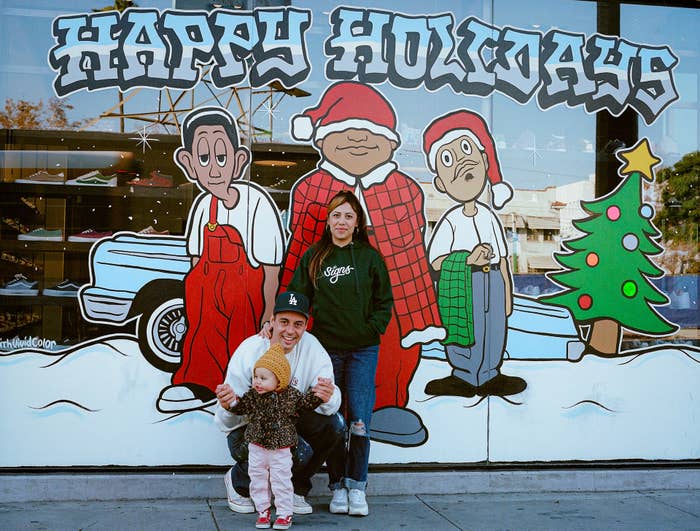 As a graffiti writer, Julien Bleser is no stranger when it comes to painting windows quickly, working late into the night, and returning to spots to finish his pieces. After he came back at 5 a.m. to finish painting the window of Supreme's Fairfax location, he was on his way to Undefeated's flagship on La Brea to catch another spot. He decided he wanted to create a piece inspired by the "Homies"—a supermarket toy line created by David Gonzales inspired by Los Angeles' Chicano culture. He arrived with a sketch he drafted up the night before, primed the window with white paint, and then whipped out a quill to start filling in the colors. 
Bleser isn't vandalizing these businesses. He's being hired to paint holiday windows for them.
If you walked by Supreme or Undefeated flagships on the West Coast recently, you've likely stumbled across With Vivid Color's quirky holiday windows. Founded by the husband-wife duo Julien Bleser and Sharnae Caceres, With Vivid Color is one of LA streetwear's most-trusted sign painters. For Supreme's Fairfax location this year, they hand-painted the Grinch with his loyal dog Max leaving a special surprise. Whereas for Undefeated's outpost in Las Vegas, the duo painted a Black Bart character catching a "Happy Holidays" tag on the store window. And beyond painting massive billboards for Undefeated, the duo has been commissioned to create hand painted art for LA brands like FTP, Union, Born X Raised, Golf, Bella Dona, Hypland, and more since 2020. 
We spoke to With Vivid Color to learn more about the art of sign painting, how Bleser's past experiences as a graffiti artist led him to painting signs for a living, and more.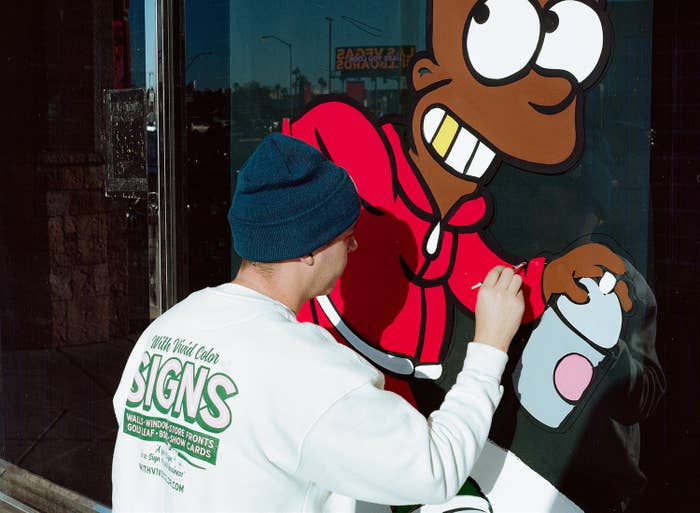 Did you meet Sharnae at that trade school?

JB: Yeah, I had already finished. She was still in the class. I went to the class to ask the teacher, an old-school graffiti writer named SINER LTS, an LA Legend, for help on something. Another teacher there named Ralph "Doc" Guthrie, who just died, said to ask one of the students for help. I asked Sharnae and that's how we met.
That's really cute. Also interesting to hear that your teacher was also a graff writer. Why are so many graffiti writers so good at sign painting?

JB: Because they're obsessed with letter form. In graffiti, from the moment you start, you practice it over and over. At first you're not doing graffiti for a career. It's just purely out of fun or whatever reason. By the time you want to pursue a career, what have you been doing for the last 10 or 15 years? You've been drawing letters. So I think that's why graffiti writers end up doing sign painting.
When it comes to the world of calligraphy, what are you two inspired by?

SC: For me, I really didn't know anybody in sign painting before I started. It was just seeing old signs on the streets. Old storefronts and things like that. Once I started learning about it, I started seeing them everywhere and began noticing every single sign in my city.
JB: For me, it's my dad Brian Bleser, my uncle Jonathan Bleser, and Alexis Ross. Those were the three who made me really want to do sign painting. As far as holiday windows, Sean Barton. I came across his holiday windows and he used to do Supreme, Undefeated, and most of the clients that I have now. Nobody did it like him. It was so sick and just blew my mind. And my teachers Doc and SINER. I would say those were the main people who really inspired me. And ESPO as well. 
How did you start doing this for every major streetwear brand in LA?

JB: So my buddy Chris from Tall Can Boyz, who works at Supreme, I met him about 10 years ago while I was doing graffiti at the time. Back then, he was working for a company called Deadline. I went there to talk to the owner about putting up wild posters. This was before I started painting signs and was still fully into graff and asking myself what I could do besides that. So I met up with the owner and this dude Chris was there because he was the graphic designer. Right away, we clicked because of graffiti and formed a relationship. This was in 2011. Fast-forward to 2018. I had started doing sign painting and I did one holiday window that was honestly illegal on a vacant building on Fairfax. He hit me up and asked if I could do one for Supreme. The first thing I drew, he liked it and I painted it. As for Undefeated, they were already one of my clients. I did a holiday mural for them to promote a toy drive and painted Alex 2Tone from Born X Raised as Santa Claus. James [Bond] of Undefeated eventually asked me to do the holiday windows for all their stores and we did ones in LA, Phoenix, San Francisco, and Las Vegas.
How long does it take for you to complete these signs?

SC: I think it just depends on what it is really.
JB: The drawing process probably takes like a day. Then the execution probably takes like another day realistically between the both of us.
What materials do you two use?

SC: Gold leaf, enamel paint, water-based paint. Those are the main three.
JB: For a lot of holiday colors, I straight up use Behr paint samples from Home Depot. It's pretty simple, nothing really too special. For the neon stuff, we use a fluorescent Nova Color. People always trip out about what paint we use but you can literally go to Home Depot, get samples, and you're good. For anything that's not a holiday window, we usually just use 1 Shot enamel.
It's cool that Home Depot is still the plug for you.

JB: Home Depot is very much the plug.
SC: Yeah, he lives at Home Depot. Seriously.
Aside from the holiday stuff, that FTP piece you did for the brand's founder Zac went viral. It's cool to see you painted art for his home. How did you develop a relationship with him?

JB: We actually went to the same high school. He grew up in the Crenshaw area and I grew up in Ladera Heights, which is very close to that. We weren't buddies in high school but right after high school, I met him. He had already started FTP but it wasn't as big as it is now. But we met through mutual friends at a pop-up. When FTP was getting bigger, he wanted somebody to do graffiti in his warehouse. So I painted the first big warehouse that they had and I've been friends with him since. When I told him that I could do sign painting too, I came back to that first warehouse and did the brand's characters on the walls and the FTP logo. He now has two houses and I've painted multiple things in both of them. In his main house, there are probably about six paintings I've done: in his gym, his studio, his new studio, and one you may have seen recently was the FTP Polo Bear. He just always has ideas and will always hit us up to execute them.
Obviously, a Supreme co-sign is coveted. I've previously seen the holiday windows in Japan but never realized Supreme did it in its American stores.

JB: Yeah, so the dude that I mentioned earlier, Sean Barton, he used to do Supreme's holiday windows. Right before me was Mister Cartoon. That was crazy for me personally because it's an honor to do a holiday window right after him, you know?
Do these brands give you specific requests or is it just freestyled by you?

JB: I'll come up with ideas and they'll give their input. Sometimes I'll take one or two different ones, you know. So I usually give a couple options. But for the most part, it's freestyled or I'll come up with the ideas. Undefeated: It's the same thing. One year, Undefeated asked me to do one inspired by old-school Las Vegas. So I took old signs from downtown Las Vegas and turned them into a window splash.This year, the manager wanted Black Bart. But usually, there's not too much input from their side.
The windows you make are certainly humorous and go beyond just painting Santa Claus. How do you try and differentiate yourself when it comes to this space because I'm sure there are competitors.

JB: I really try to put a twist on it and put in a little bit more effort. The traditional way to do it is you pull up, paint some snow and a tree fast, and make your $200. I'm really trying to make them into dope art pieces that really stand out that catch people's eyes and bring them in. Because at the end of the day, it's to draw customers.
SC: It's not your average holiday window.
JB: The main thing is also for kids to find it dope and be inspired.
SB: Yeah, kids love it when he is painting and whenever there are kids walking by, they're like, "Oh my God." Even the adults with them. When we were doing the "Homies" one, this kid walked up and asked, "Can I try?" He ran back into the store, but we got him to come out and do a couple strokes.
JB: There was like a group of kids who were filming and he yelled, "I got to say that I painted on Undefeated!" Growing up as a graffiti kid, you're used to people being, like, assholes to you. So when somebody gives you the time of day, you know they're going to remember that shit forever.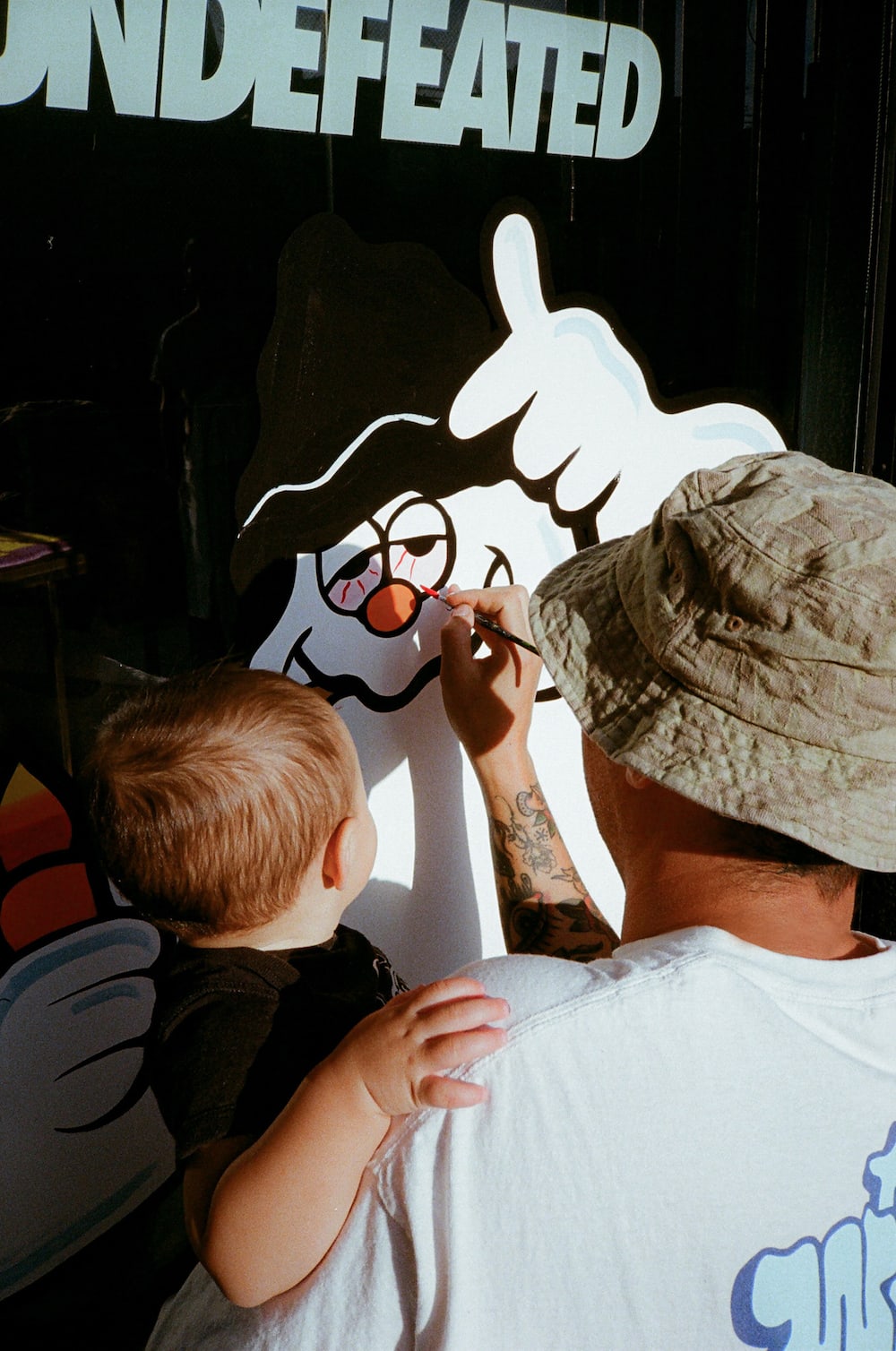 Speaking of that "Homies" window. Why did you want to center it on that?

JB: The "Homies" toy is like LA culture, you know? Especially, when you're living in East LA. Even though I'm from the West Side, everyone knows those toys. If you go to the Sante Fe swap meets over here, you'll see "Homies" stuff all over. They've been around since the late '90s, so to me they just represent LA culture.
It's cool to see you painted Undefeated's billboards too. Would love to hear more about that Kobe Bryant one.

JB: So that was painted a year before he died. Undefeated had a shoe that was coming out on Aug. 24 or Kobe Day. So James asked if we could do a Kobe billboard.
We looked at some photos and I had never painted a portrait before, which is crazy because the art's going up on a billboard. So I went home and whipped out the best portrait that I could do for somebody who only has a sign painting and graffiti background. I painted a small-scale portrait, they took a high-res photo of it, and then blew it up on the billboard. We looked and it turned out amazing.
Billboards are a big part of Los Angeles graffiti culture. Does painting something like that, or sign painting in general, give you that same satisfaction graffiti gave you?

JB: I would say it gives me way more satisfaction because with graffiti, you're really only helping yourself. Whereas with sign painting, I'm helping a business, I'm helping people, and I'm getting paid. So that's better. I also think it reaches more people. Only a certain amount of people like graffiti, you know? But even if somebody walking by doesn't really care about sign painting, the most simple sign can help somebody or their business.
What do you two look forward to in the future?

SC: Just growing and seeing what it turns into. We have a 1-year-old daughter and having her around it is pretty cool. We get to do it here at home. I know Julien is also doing merch.
JB: I just want it to grow even more. Take big and small jobs. Streetwear brands and corporate ones too. More traveling to places. I'd like to go to Japan and try to do some sign painting out there. Involving my family into the business more, you know? We just want to see it get as big as it can because who knows?