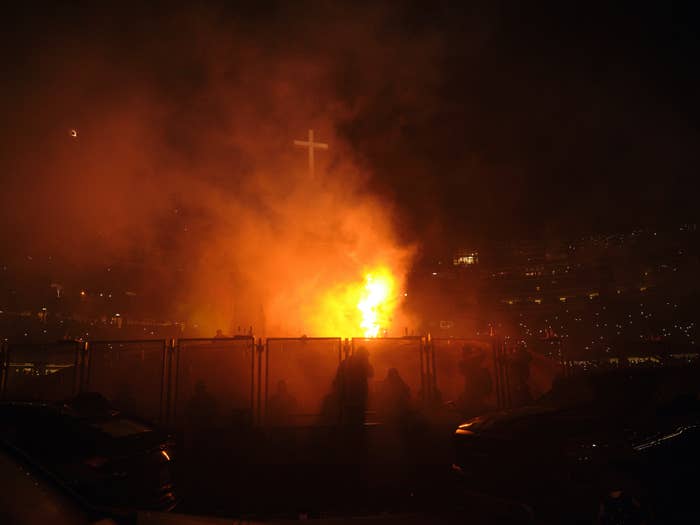 When a newly divorced Donda West purchased a 1,600-square-foot home on South Shore Drive for $40,000 in 1981, the Chicago State University English professor did so out of sheer necessity. While raising a young Kanye West in a small apartment in the Roseland area of Chicago, she embarked on a nine week research-trip in India and let her boyfriend, Ulysses "Bucky" Blakeley, stay at her apartment. According to an interview with Bucky for the Chicago Tribune, when a strict landlord caught wind of an unknown tenant, he terminated her lease, forcing Donda and Kanye to move into Bucky's small two-bedroom apartment in Evanston, Illinois. Donda had eyed the light blue house on South Shore Drive for some time but could not afford it by herself and did not want to put her new boyfriend in an uncomfortable financial position. However, Bucky was in love and he decided to purchase the home with Donda. 
Originally built in 1905, Donda renovated the home herself by replacing the windows, installing a new set of stairs, adding insulation, and more. For eight years, it was a safe haven for a young Kanye, who romantically remembers his crafty dog Genius, who routinely escaped from the backyard but always returned. He also reminisced on days spent biking straight from his backyard to Rainbow Beach Park nearby. After a group of kids slashed the tires on Kanye's bike and attempted to steal it, Donda decided to move out of South Shore Drive for her son's safety. Despite leaving, Donda writes in her memoir that she held onto the property because she was taught that owning a home was something she had to do. Although she sold it for $121,000 in 2003, the memories she made there laid in the foundation. 
"I didn't know it, but South Shore, and especially South Shore Drive, where we lived, was considered 'the shit,' a prestigious area in a coveted part of town," Donda wrote in her book Raising Kanye. "We were within walking distance of Lake Michigan and our backyard backed up to Rainbow Park. When Kanye talks about kneeling on the kitchen floor and says ''Mama, I'm gonna love you 'til you don't hurt no more,'" he was referring to that house."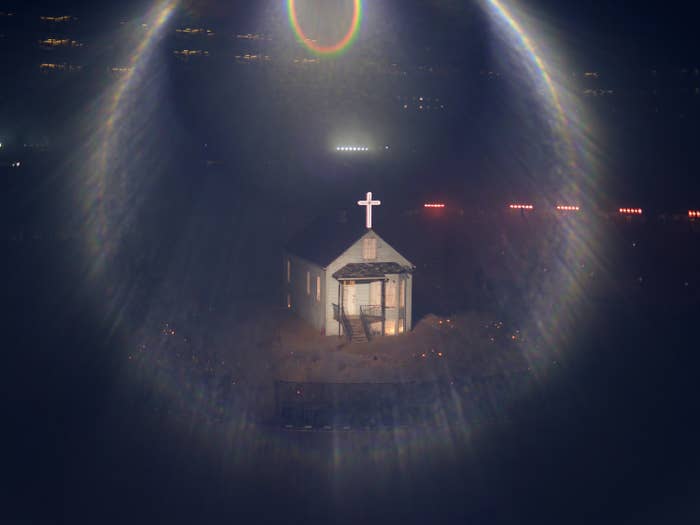 In the middle of Soldier Field, a stadium on the Southside of Chicago where the Chicago Bears play, Kanye's team recreated the house that Donda built on a mound of dirt and transformed it into a church outfitted with a cross on the roof. Burning candles surrounded the home, and once the flames went out, Kanye began his third listening party for Donda on Thursday night. The event started with images of Donda West flashing in a percussive rhythm on two gigantic stadium screens overhead. Candid photos of Donda next to Kanye at the Grammys, an image of Donda at a school graduation, a picture of her in front of the same house recreated on the field, and a portrait of her as a child. "Donda, Donda, Donda" rang through the audience's ears like a hymn, while her visage illuminated the stadium floor, eventually morphing into a flying white dove that casted a ghostly shadow over the house. When her presence disappeared, Kanye began to deliver the sermon of Donda.
During the second Atlanta show, Kanye wore a spiky Balenciaga jacket from Demna's apocalyptic Fall 2020 collection that many speculated was inspired by what the internet claims to be a Siberian bear hunting suit from the 19th century. Whatever the inspiration is, it's a piece of outerwear that serves a foreboding function when paired with a bulletproof Donda vest, black cargo pants, and military boots. It made Kanye look like an impenetrable person you would never cross. Someone whose skin is so tough that any jab towards him, whether it be about his music, Kim Kardashian, or his clothes, don't affect him. So when Ye approached the steps of his childhood home, he naturally looked more relaxed when opting for a leather Balenciaga jacket that was from the label's Pre-Fall 2021 collection, along with leather motorcycle pants and a dad hat embroidered with flames. Again, Demna Gvasalia, Balenciaga's creative director, orchestrated the event. And like the last Donda listening party in Atlanta, Gvasalia's penchant for religious dress codes and uniforms, became evident when a mob of dancers made a cultish circle around the stage again. This time every dancer was outfitted with black bulletproof Donda vests and masks. Throughout the show, several more circles formed, composed of Donda's disciples, and a rally of black sedans, SUVs, and minivans. The ensemble began to look more like the world's largest security detail surrounding Ye and his entourage on the porch of his house.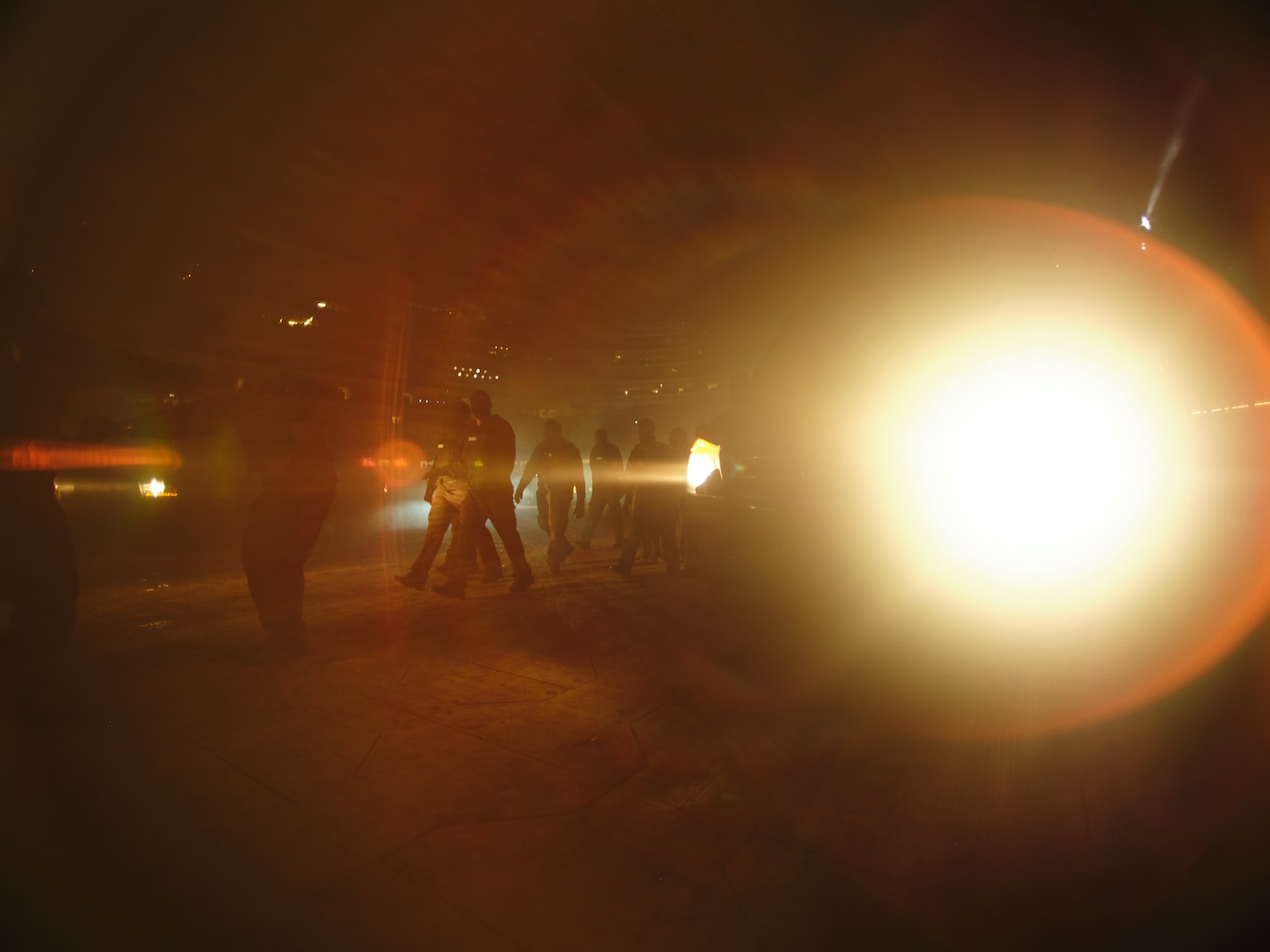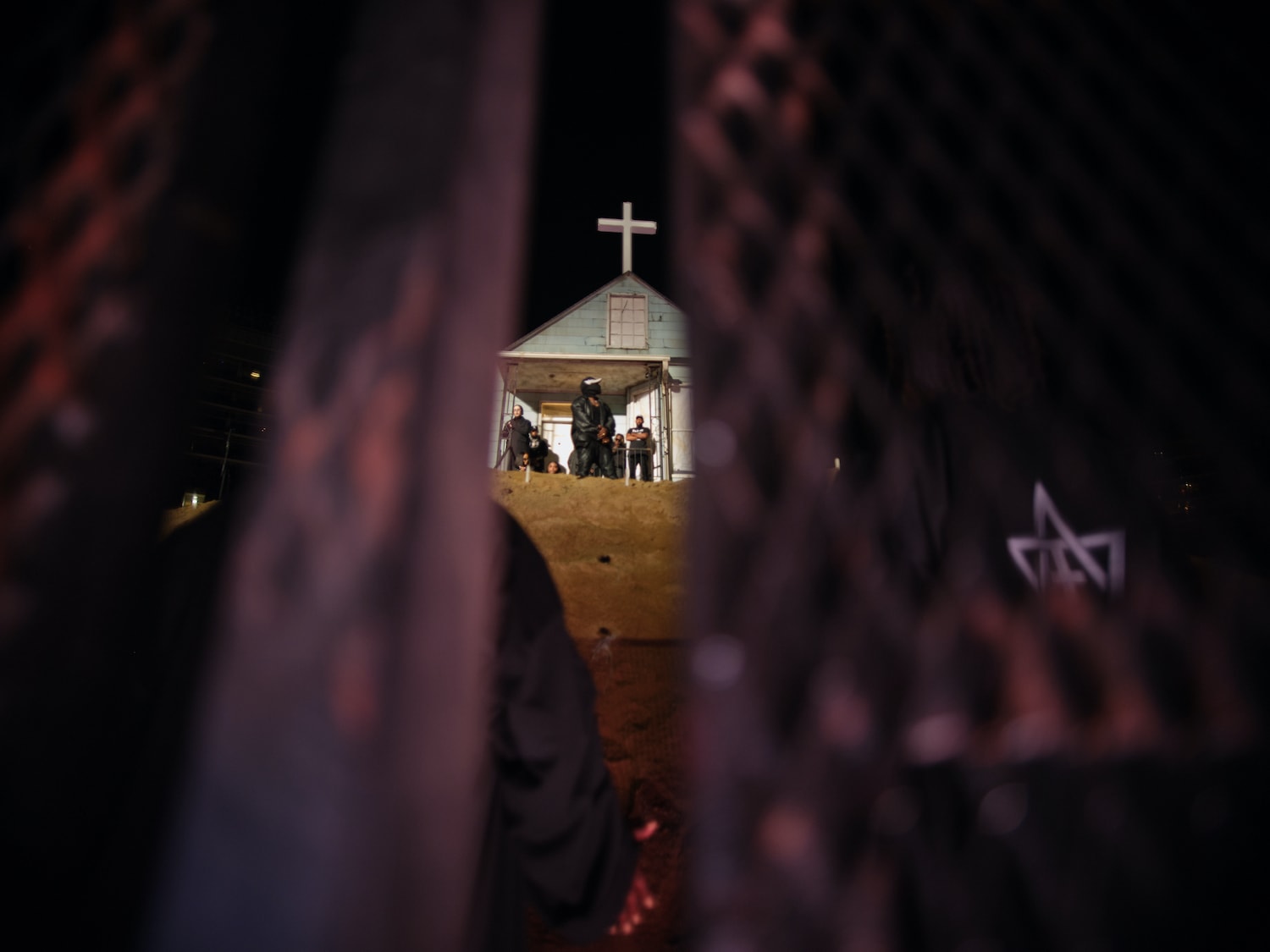 As the album played throughout the night, the stadium screen positioned Kanye inside a "Breaking News" television frame with headlines pointing to various biblical verses—positioning Kanye's words as gospel. Like Jesus freaks, Donda's disciples reacted to every lyric by bowing down to Ye, jogging in circles, and randomly sparring with one another in the middle of songs. The rest of the fans who descended on Soldier Field like the hajj at Mecca mobbed merchandise stands to buy long sleeve graphic T-shirts graced with Donda's image on the front and her home on the back. While walking to my seat in Soldier Field, I couldn't help but think how there was little separation between stan culture and religion. But instead of wearing gold crosses and skull caps, you have an entire stadium of followers wearing Yeezy branded clothing from head to toe. If their dress wasn't a clear indication of their devotion for Ye, some were so enthralled by Yeezy's spirit that I even saw one fan throw themselves on the field for a chance to join the enlightened circle to fully worship their idol, which was to no avail once actual security guards tackled them down to earth. And I thought actually lining up to buy a Canal Street-ass bootleg Kanye T-shirt outside the stadium was crazy enough already.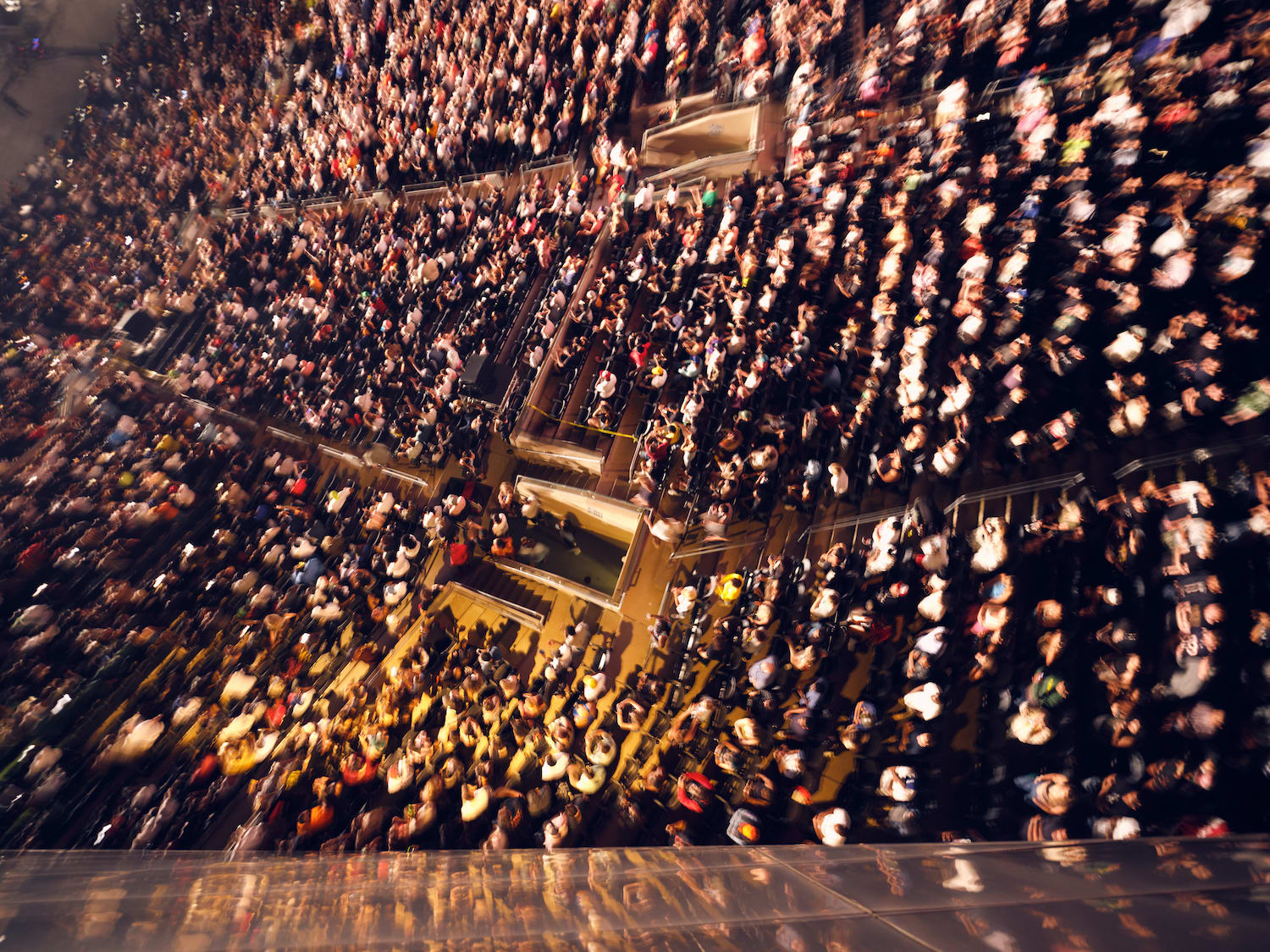 As a designer, Demna has built a reputation for organizing these immersive and visceral experiences that provide social commentary on style. Whether it's hosting a Vetements show inside a McDonalds to display the ever-present influence of rampant capitalism on the fashion industry or sending models to walk on flooded runways in FiveFinger Vibram sneakers for a Balenciaga show to emphasize the real dystopian future that climate change will bring. Although the setting in Soldier Field was a stark contrast from the jail-like bedroom West stayed in three weeks ago at the Mercedes-Benz Stadium for Donda's second listening party in Atlanta, the commentary remained the same. At both listening parties, Gvasalia questioned the deification of our own personal creative idols while painting a vivid picture of Kanye's own internal struggles. The Donda listening parties organized by West and Gvalsania felt nothing like the jovial affairs held in Wyoming, with mountains as a backdrop, for the release of Ye, or the hybrid Yeezy fashion show held in Madison Square Garden for The Life of Pablo. Instead, Donda's listening parties seem to capture West in his darkest hour. They depict the internalized plight of a tortured celebrity who remains an ever-popular, untouchable, deity in the eyes of his diehard fans but is also dismissed as a washed up lunatic by his harshest critics—there's a reason why Drake's reference of his age on Trippie Redd's "Betrayal" triggered him so much. A hyper-creative who has boldly stayed committed to his largest ambitions, even if that has led to losing his fans or family in the process. This image of Kanye being a polarizing celebrity, who is ironically very alone in this world, came across greatly at the very first Donda listening party in Atlanta. That might be why the theme of home is so present in Gvasalia's presentations. We went from seeing Kanye in a minimalist bedroom inspired by a locker room he supposedly rented for $1 million a day working on Donda to standing side by side with controversial artists on the porch of his childhood home. Outside, the world can damage Kanye and reduce his work to whatever headline fits. But here at home, he can shield himself and lounge in his own inflated sense of self-worth and ego while always being protected by God and the spirit of Donda.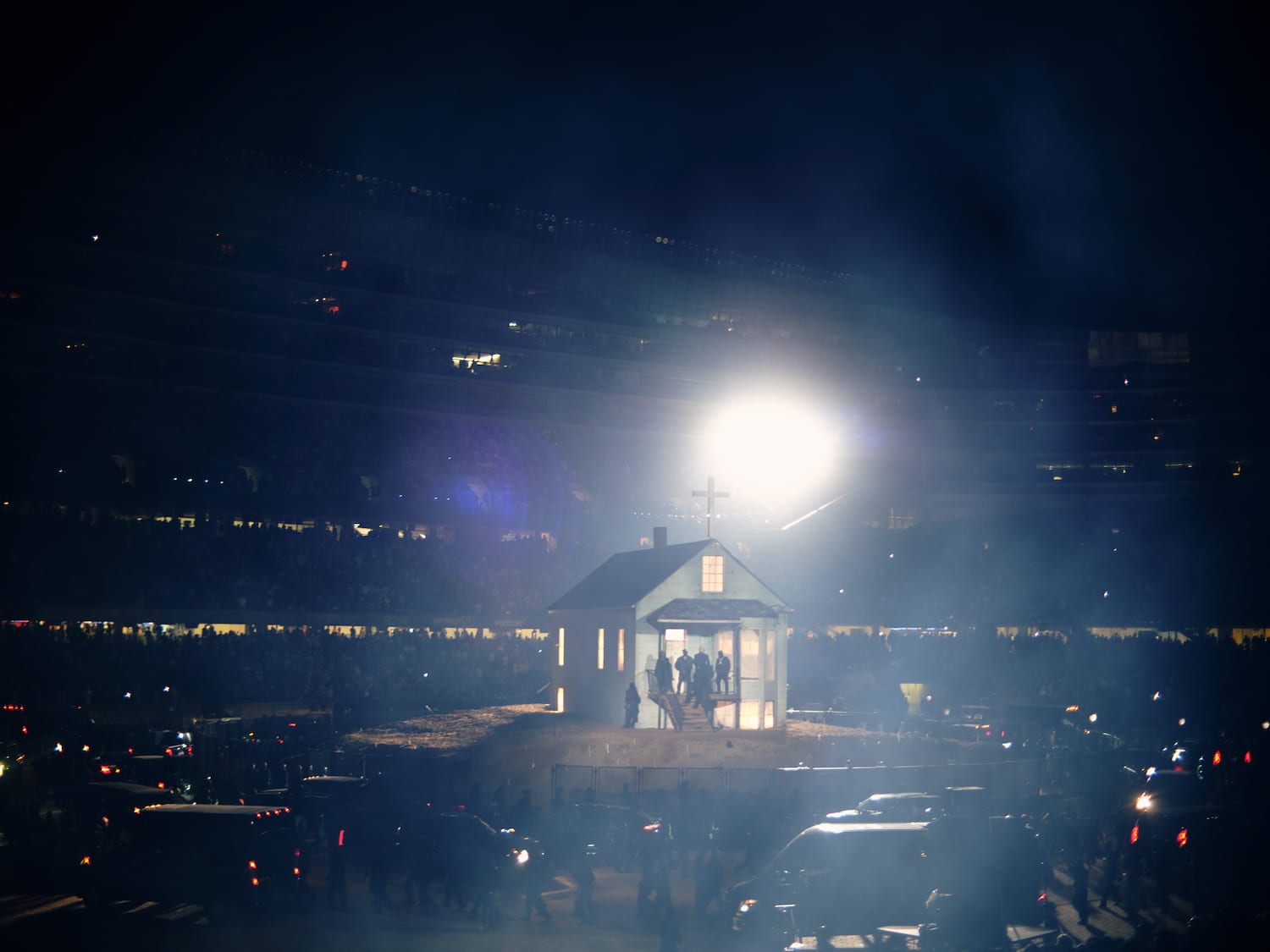 Days before the third listening party, Ye shared a cryptic still from the 1982 short animated film Le Ravissement de Frank N. Stein in a now-deleted post on Instagram. The film tracks the development of Frankenstein's creation realizing he is a monster, documenting how his perspective changes as he walks through a series of never-ending rooms until he's finally able to decipher his bride. But upon approaching her, she screams in disgust. The film ends by breaking the fourth wall and panning out to an audience watching the monster's devastated face inside a movie theater. 
And like that Frankenstein monster, we have painfully watched the moral and mental devastation of Kanye West so many times within the past couple years. To the point where we constantly ask ourselves if we're ready to accept him for just being a great artist rather than someone with a good moral compass. So what better way to make this plea for acceptance than take a Homer-esque journey back home to Chicago? Back home to one of the only safe havens for a massively successful artist who's entire existence is like the inside of that locker room at the Mercedes Benz stadium in Atlanta that was live steamed on Apple Music. An artist who lives in this reverse panopticon where every move he makes is monitored, hyper-analyzed, criticized and scrutinized by millions—5.4 million if we're talking about how many viewers tuned into Gvasalia's second Donda show in Atlanta on Apple Music to be exact. 
It's fitting that the roots of the word nostalgia is "Nostos," a theme in Ancient Greek literature that represents a hero's homecoming after facing many trials and tribulations. On the first verse of "Pure Souls," we hear Ye painfully long for simpler times. He waxes poetic about just being another weirdo in Chicago with a pure soul. He raps about being a Chi-Town kid who would shop at the flea market to buy fake designer clothes, wore Girbaud jeans in every color, and rocked that butter soft Pelle Pelle before Chief Keef went "Bang, Bang." It's clear that Kanye misses the old Kanye at times. But even if he has the money to buy his childhood home on South Shore Drive 100 times, or build a community center for kids like his mother would have wanted, it will never resurrect the woman he loves the most, and the old Kanye is long gone. Whether that's by choice or just a function of fame is up for the audience to decide.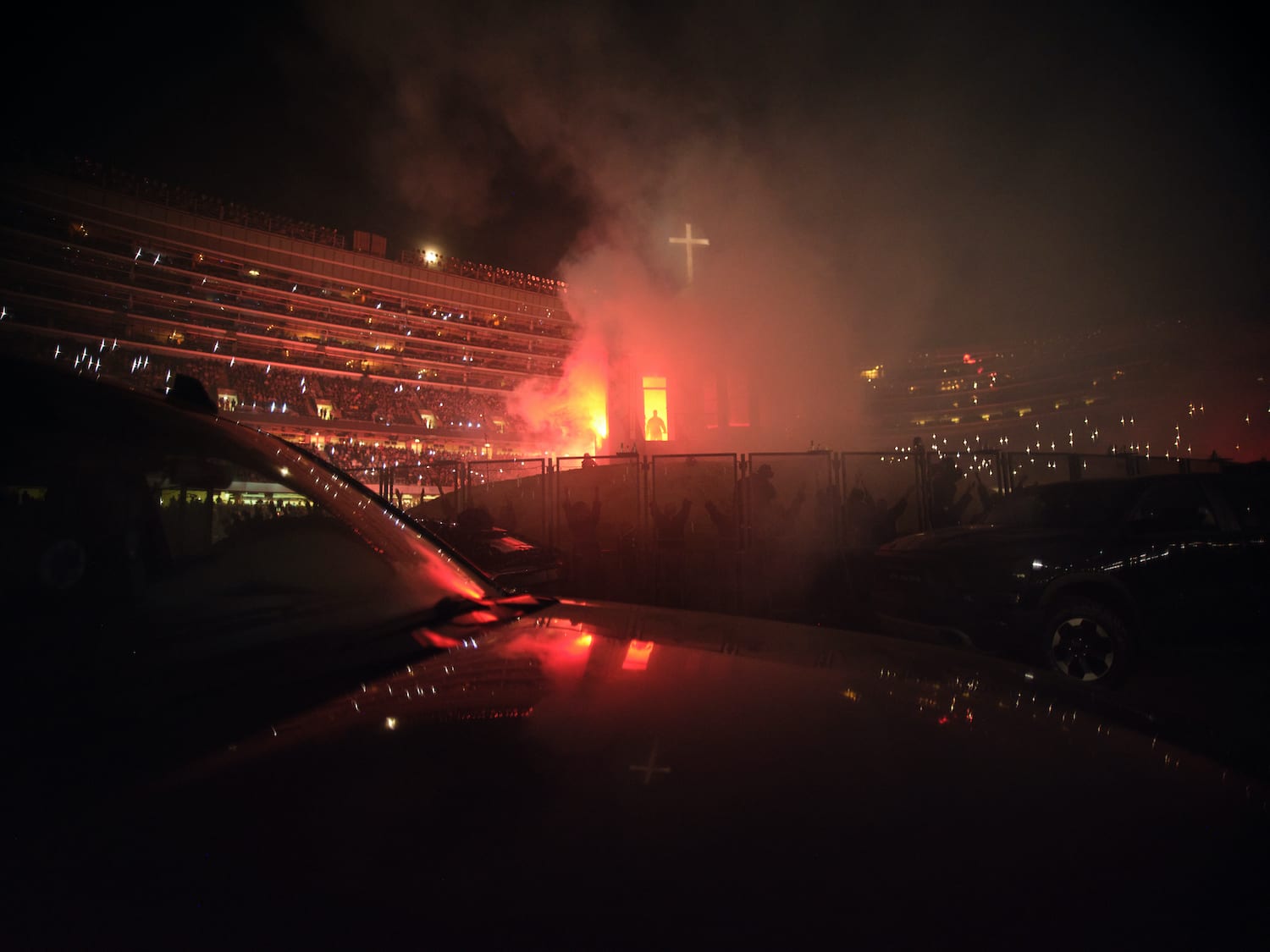 So why not start anew and accept the past is long gone? "It ain't how it used to be, this is the new me, so get used to me," says Kanye on "Pure Souls" as I suddenly notice his childhood home is smoking and slowly becoming engulfed in flames. "Lookin' in the mirror, it's the truth of me. Lookin' at my kids, it's proof of me." The lights in the home cut out and are only illuminated by the cross while Ye croons about wishing for another life yet not wanting to die alone on "Come To Life." Cue the self-immolation, a devastating scene to watch in any other context but creates loud cheers and pure pandemonium that could loudly be heard even inside this glass press box as Kanye walks down the steps of Donda's house while he's engulfed in flames. One could only imagine this was the reaction the Romans gave to gladiators when they were devoured by a lion in the Colosseum. 
Yet this dark play by Gvasalia ends on an upbeat note, that at the time of this writing, has likely made its rounds a million times on the internet with an opinion from everyone but Kanye himself. As the church organs for "No Child Left Behind" serenade the crowd a spotlight falls upon Kim Kardashian in a Balenciaga wedding dress from Gvasalia's debut couture collection for the house. At last, Kanye finally takes off his mask and flashes a genuine smile that we haven't seen in a very long time. He's been wearing a mask everywhere for the past few months as he shops, watches a soccer match, or attends a Balenciaga fashion show. In a rant he made about his frustrations as a creative looking to break into the fashion industry at the Wireless Festival in 2014, he explained why he even began donning those Margiela face masks way back in the Yeezus-era in the first place.
"I got this fucking mask on, because I ain't worried about saving face. Fuck my face. That sounded wrong, pause, but they finally got a headline. But fuck whatever my face is supposed to mean and fuck whatever the name Kanye is supposed to mean," said Ye. "It's about my dreams! And it's about anybody's dreams. It's about creating." 
Kanye used fashion, art, and lyricism to tell his story probably better than any musical artist has. And Gvasalia helped him achieve this with an incredible eye for narrative, setting, and tone. At first, Kanye was roaming around an all-white wasteland with a red Yeezy Gap puffer jacket as thousands of people watched. But when Gvasalia came on board, he went from wearing an armored Balenciaga jacket inside an nearly-empty bedroom to memorializing his childhood home with the help of his celebrity "friends" and his actual family. But Kanye knows that home is no longer home, yet love will somehow always be there. Maybe Kanye's acceptance of that will help him find peace within himself.