Some of June's Biggest Jewelry Purchases From Kendrick Lamar, Lil Uzi Vert, Drake, and More
From Kendrick Lamar's crown of thorns made by Tiffany & Co. to Drake's new iced out owl pendants, here were the biggest celeb jewelry purchases of June 2022.
Getty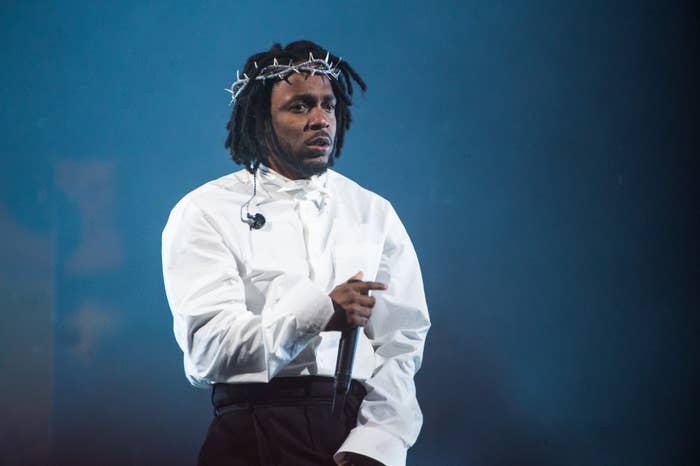 Most of us have been living frugally these past few weeks due to rising inflation prices and economic turbulence that's far beyond our control. So when Kendrick Lamar said, "Take off that weird-ass jewelry" in "N95," some of us really felt that. But, of course, with celebrities being far wealthier than all of us, we can't expect them to live and die by their own words. In June, Lamar flexed a titanium Tiffany & Co. crown of thorns embellished with diamonds that supposedly cost nearly $3 million to make. And he wasn't the only celebrity splurging on jewelry last month. 
Lil Uzi Vert got some more pink diamonds on his body, Drake picked himself up some owl chains, and other celebs showed off their own eye-catching pieces. Check out more of the biggest celebrity jewelry purchases from June below.
Jeweler: Tiffany & Co. 
Kendrick Lamar has truly been on a roll since dropping Mr. Morale & the Big Steppers in May. After showing off a diamond-encrusted pgLang chain in the "N95" video, Lamar pulled out another piece of jewelry that easily tops anything he owns in his jewelry box. He donned a titanium crown of thorns by Tiffany & Co. while he was giving a live performance from the front row of Louis Vuitton's Spring/Summer 2023 runway show during Paris Fashion Week. Lamar's surprise appearance, which was a touching tribute to the late Virgil Abloh, was followed up by another powerful performance at Glastonbury Music Festival. In response to the U.S. Supreme Court overturning Roe v. Wade, Lamar ended his headlining set by chanting, "Godspeed for women's rights. They judge you, they judge Christ," with blood streaming down his face while wearing his Tiffany & Co. crown. According to Tiffany & Co., the custom crown took nearly 10 months to make, involved over 1,300 hours of diamond-setting work, and included over 8,000 diamonds. "Kendrick Lamar represents the artistry, risk-taking creativity, and relentless innovation that have also defined Tiffany & Co. for nearly two centuries," Alexandre Arnault, executive VP of product and communication at Tiffany, said in a statement to Vogue. The crown weighs around 200 grams, includes 50 different thorns, and pulled inspiration from the well-recognized religious symbol and Jean Schlumberger's 1947 Thorns brooch.
Jeweler: Eliantte 
Remember when Lil Uzi Vert got a $24 million natural pink diamond implanted into his forehead? Do you also remember when Lil Uzi Vert's fans supposedly ripped this pricey pink diamond from his forehead but he somehow got it back? Well, Lil Uzi Vert is at it again and has just purchased another piece of pink diamond jewelry that's thankfully a little more pared down. As always, he hit up his trusted jeweler Elliot Eliantte to make his latest, which is an iced-out bracelet that Eliantte flooded with white diamonds that are accented by large, natural pink diamond stones. The jeweler suggested in his Instagram post that the bracelet costs $1 million alone. The pink diamonds are shaped like hearts and an eye to give it a distinctive look. Hopefully, no fan ever rips this off Uzi. 
Jeweler: Gabby Elan
Recently, it was revealed that P.J. Tucker left the Miami Heat to sign a three-year deal with the Philadelphia 76ers. Naturally, he had to buy something to celebrate. Like many other major celebrities, Tucker hit up the one and only Gabby Elan for a custom set of its famous grills. Tucker's set featured the father-son duo's iconic gold and enamel touches, which were shaped like flowers reminiscent of the Louis Vuitton monogram. 
Jeweler: Jason of Beverly Hills
No surprises when it comes to who made an owl chain here. To celebrate the release of his newest album, Honestly, Nevermind, Drake decided to ball out by hitting up Jason of Beverly Hills for a special order. Yes, Drake ordered 10 iced-out OVO owls from the same jeweler that made ASAP Rocky's "D.M.B." ring. These aren't the first owls Jason Arasheben has crafted for Drake. Back in 2018, Arasheben made Drake an OVO owl chain with a kilo of gold that boasted over 100 carats of Asscher cut diamonds.
Jeweler: NYC Luxury
The celeb who takes the prize for owning one of the most creative pieces of jewelry this month is Kodak Black. No, we're not talking about that $10,000 pendant he made featuring the disgraced former POTUS smoking a joint. Instead, we're looking at this crazy action figure piece made by the New York City–based jeweler NYC Luxury, who has previously made pieces for Lil Durk and designers like Virgil Abloh. The pendant, which reads "ZMF," captures Kodak Black as a G.I. Joe–esque action figure with guns blazing while wearing Amiri jeans, a Gucci belt, and a Gucci jacket. The pendant is fully posable like a real action figure and was a gift from Bandman Kevo.