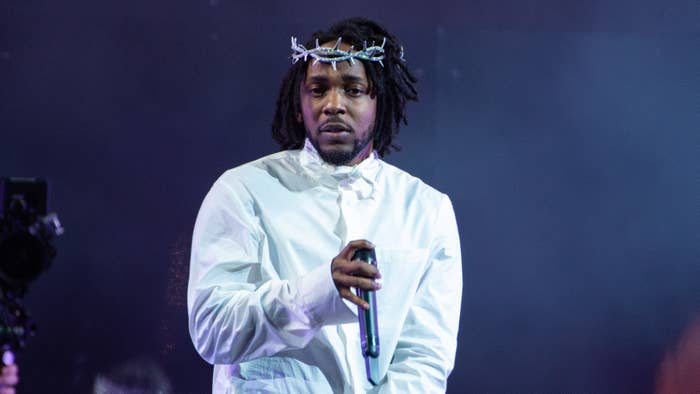 Kendrick Lamar closed out his Glastonbury performance Sunday with an impassioned message in light of the U.S. Supreme Court overturning Roe v. Wade. 
With a crown of thorns on his head and blood streaming down his face, Kendrick repeated the line, "Godspeed for women's rights, they judge you, they judge Christ," with growing intensity every time he delivered the statement. After a few deliveries, the Compton native abruptly stopped, dropped the mic, and walked off the stage. 
Kendrick became the latest artist, who performed at Glastonbury this weekend, to speak about the Supreme Court decision. Megan Thee Stallion called out her home state of Texas for "really embarrassing me right now," and urged the crowd to chant "My body, my motherfucking choice." Olivia Rodrigo brought out Lily Allen to perform her hit 2009 song "Fuck You." 
"I wanted to dedicate this next song to the five members of the Supreme Court who have showed us that—at the end of the day—they don't give a shit about freedom," Rodrigo said. 
Lorde concluded her performance by declaring, "Fuck the Supreme Court." 
Phoebe Bridgers struck a similar tone as Lorde, albeit from a more personal perspective after revealing in May that she had an abortion last year.