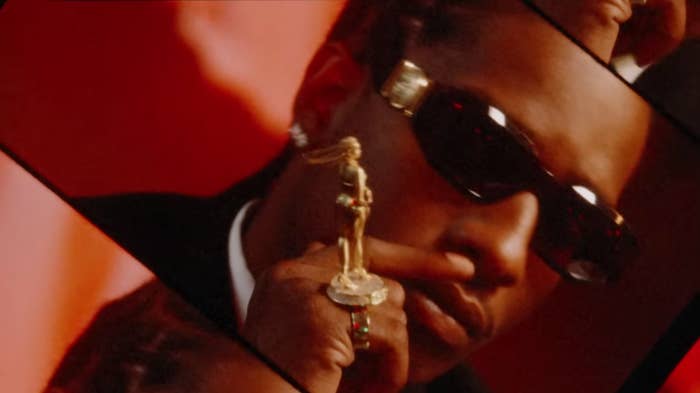 The music video for ASAP Rocky's long awaited single "D.M.B." features plenty of romantic moments with Rihanna. And while many have gushed over footage of everyone's favorite couple making wedding vows to each other with a pair of grills by Dolly Cohen, keen jewelry fans might have peeped a beautiful ring that Rocky was wearing which boasts a full statue of a special woman in his life. While it's not as big as the ostentatious gold eagle statue wrist gauntlets that Ghostface Killah used to wear, it certainly fits the vibe of a rapper we all know as "Pretty Flacko." The ring Rocky wore in the video was made out of 130 grams of 18 karat gold and boasts a little over five carats of round brilliant white diamonds.
Turns out, the gold two-finger ring was produced by one of ASAP Rocky's most trusted jewelers: Jason Arasheben, who is better known as Jason of Beverly Hills. The Los Angeles-based jeweler has been in the business for 20 years and has also produced jewelry for the likes of Micheal Jackson and Drake. However, he attests that Rocky is one of his most creative clients. 
"He's always a trendsetter. He's not one of those guys that just sits back and says: 'Okay, well because everyone's wearing Cuban links, I'm going to wear a Cuban link,'" Arasheben tells Complex. "He actually thinks out of the box and wants to show his individuality. He wants to think differently and it's always enjoyable to work with people like that. Because as a jeweler, it gets pretty boring when everyone comes and asks for the same exact thing." 
We spoke to Arasheben to get the inside scoop on how the  ring in "D.M.B." came together, the story behind other pieces of jewelry he made for ASAP Rocky, and the first pieces he made for rappers like Missy Elliott and Lil Jon.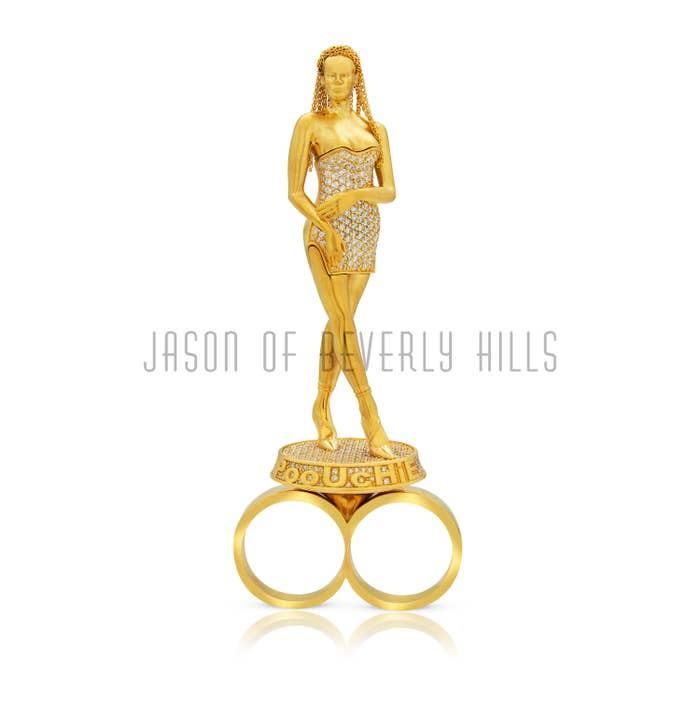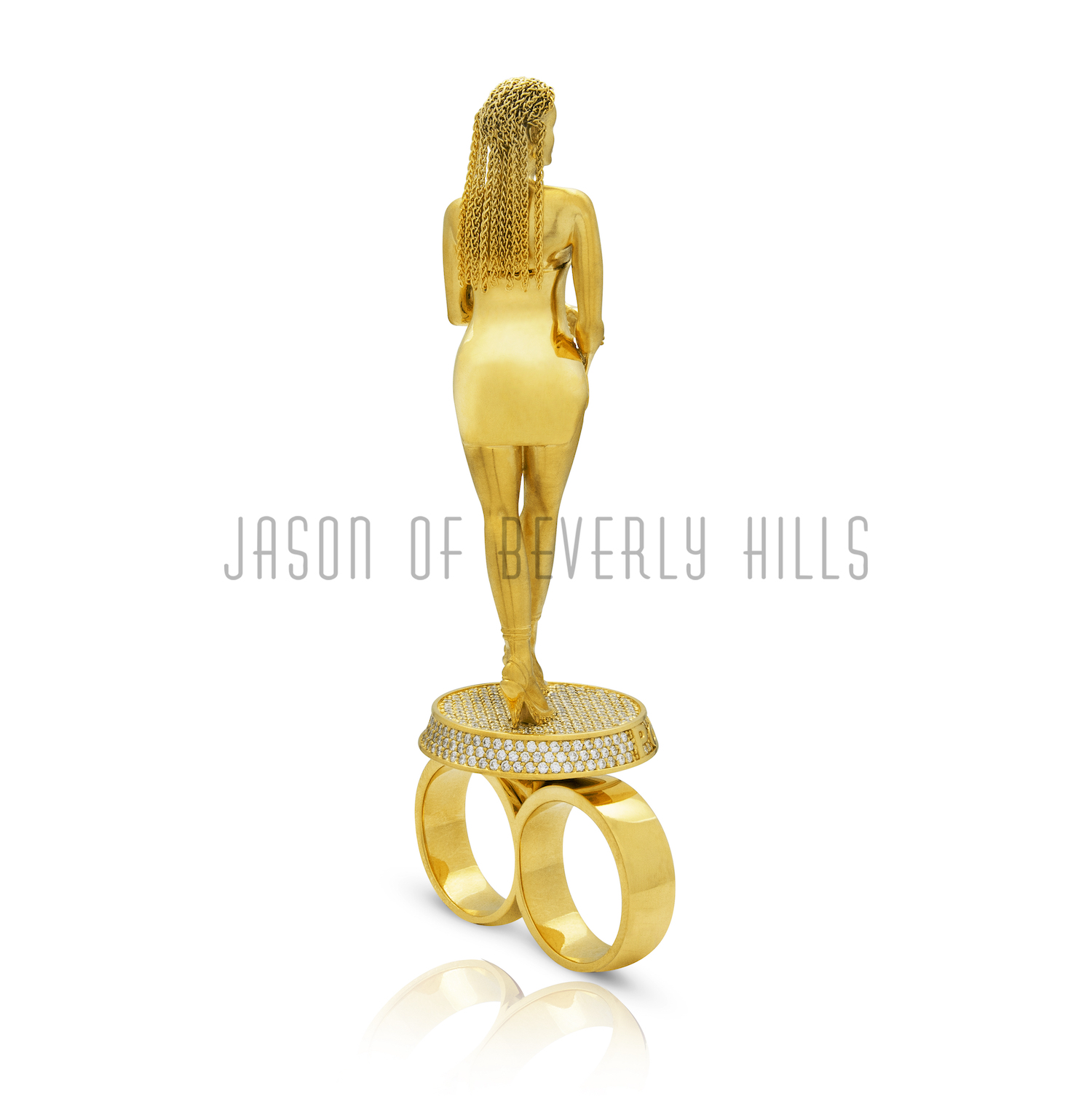 So essentially, the ring is actually just a general woman? I feel like most of the world thinks it's Rihanna. 

I mean, yeah. I know I'm seeing that everyone says it's Rihanna, but he never actually gave me specifics on who he was modeling it after. Obviously with him having it all in the video with Rihanna, I can see how everyone's saying that. 
What can you tell me about the details of this ring? Like the amount of diamonds the gold used in all?

Well, You have about 130 grams of 18 karat gold, just over five carats of round brilliant white diamonds. There're so many details even  down to the hair. Like you see in the video, we used little link chains to make the statuette's hair free flowing. So we tried to capture every single detail to make it as realistic as possible. 
How much is this ring worth?

The value of this ring is about $50,000. 
How long did it take to make it? 

We obviously went through a number of iterations before we finally landed on the final product. But I would say we went back and forth for a good four to six weeks to just get the design right. And then from that point it took basically 30 days to finish it. All in all, it was a two and a half month process? 
And you make everything in California, right? 

Everything is done in California. Yes. And I've been making stuff for Rocky for over 10 years now. 
You've made some amazing pieces for the likes of Drake and even Micheal Jackson. But you've worked with Rocky a number of times over the years. What's different about working with him on jewelry versus other celebrities? 

He's a great guy. He's one of my most favorite guys to work with and he's genuinely a nice guy. That's honestly hard to find in this business. This is a guy that, you know, if I go have dinner with him, he takes the time to say 'Hello, how are you doing' to every bus boy, waiter, and valet parker. He is the kind of guy who takes the time to acknowledge each and every person. No matter if they're a king of a country or if they're a janitor in an office building. And I think that's what I've always loved about working with him. He's genuinely a good person and that's hard to come by nowadays 
You said he drew the ring himself? Is that usual for your clients?

You know, some people do and some people don't. He's very particular about the design. So he drew out the exact pose he wanted on a sheet of paper and all that. And then our team of designers and myself tried to bring it to life. 
You also made that chain with the pendants spelling out "ASAP" in the video right? That's another crazy piece for sure. What can you share about that? 

That piece we made a while ago. But that's a unique piece because it kind of pulls from hip-hop history. Like if you look at each letter, it's kind of reminiscent of NIGO's chain that he made years ago with the dollar sign. It pulled from different eras of hip-hop to inspire the design of that particular piece. We designed that quite a long time ago, but he still wears it all the time. 
I need to ask. How did that ASAP Yams pendant that Drake made for Rocky come together? 

Obviously when Yams had passed, I know Drake and Rocky had done some work together. Drake had called me up and he said he wanted to do something special for Rocky and hand it to him in time for Yams Day. So I went back and forth with Drake on the design and how it was going to be made, all the way down to the packaging and how it was going to be delivered. He was very particular with that. A few days before Rocky had left for New York for Yams Day, I went over and I delivered it to him. 
How did it feel to see Rocky wear an earring you made to the Met Gala? Was that the first time a celeb wore a piece you made to that event? 

We've had some other celebrities wear them as well, but obviously I like working with Rocky because he's always on the cusp of what's hot in high fashion. He's always a trendsetter. He's not one of those guys that just sits back and says: 'Okay, well because everyone's wearing Cuban links, I'm going to wear a Cuban link.' He actually thinks out of the box and wants to show his individuality. He wants to think differently and it's always enjoyable to work with people like that. Because as a jeweler, it gets pretty boring when everyone comes and asks for the same exact thing. 
Speaking of rings, you've made some really crazy ones over the years as well and even made Championship rings for your hometown team, the Lakers and the Rams. One ring that stood out to me though was that bedazzled lighter ring. How did you even come up with that and would you say rings are your speciality? 

I don't know if rings are a specialty. But I think thinking out of the box is a specialty. Like I said before, I enjoy working with people that think out of the box because it's more in line with our company mentality. We always like to buy things that you're not going to be able to see if you're walking on Madison Avenue or Rodeo Drive and looking at the traditional jewelry stores. We want to design things that are going to make you think. Things that are going to excite you and look different from anything else out there. So when we do stuff like a razor blade ring or a lighter ring, it's because I don't design stuff a lot of times that I feel like I'm necessarily going to wear. I design things that are going to inspire me. And if I can do something and challenge myself to design something that no one else has, because no one else has the guts to do, that's exactly what I'm going to do because that's what makes my day exciting. That's what makes me get up in the morning with a smile on my face, knowing that I'm going to do something different than I did the day before. 
Is your policy for customs still nothing less than $3,000? Or has the price gone up since then?

Nope, we're up to $10,000 now. 
Since I got you on the phone, I got to ask, did you design Lil Jon's 'Crunk Ain't Dead' chain too? 

Yeah, way back in the day.
That's crazy because to me that's a super iconic piece of  rap jewelry. Was he one of your first rapper clients? 

That was like 15 years ago. But the first rapper client I had was Missy Elliott back in the day. I remember I didn't have a store. I didn't have an office. I didn't have anything. But Missy Elliot gave me a shot to do her chain for the "Work It" video. From that point I started getting commissioned from different artists and things like that. But I remember that was like the first rapper chain I made. 
Lastly, I find it crazy that you actually started making jewelry as a college student who was originally trying to be a lawyer. You got any advice to share for young jewelers who may be dreaming of getting the jobs you do? 

You can't set any boundaries for yourself. You can never give up and you can never take no for an answer. Because you know, a lot of times people say, well 'Oh, I got to have a lot of money to start a jewelry business.' I started with a pen and a piece of paper drawing designs. Your biggest asset is not the inventory or the people you know. Your biggest asset is yourself. So if you get yourself out there, meet as many people as you can, and don't take no for an answer, you'll be able to build anything and everything.