East London-born KwolleM has been quietly pulling the strings behind some of the UK's finest music and fashion endeavours over the last few years. Having introduced the world to "mellow grime" following his pioneering Mellow EP in 2017, the producer and all-round creative finally followed up with his much-hyped sophomore project, c2c, in 2020—a standout evolution of his sound that quickly became recognised as one of the most conceptually and sonically on-point projects to drop last year.
An exploration of life along the coast-to-coast train route that runs from East London to Essex, c2c saw KwolleM develop his sound to new levels with the help of his friend, fellow East LDN native and rapper Joe James, with the pair providing an honest documentation of their journey growing up between the two locations. Stirring soul samples are meshed together with iconic vocals from East End grime vets such as Crazy Titch, Devlin and Roachee, as well as James' own potent wordplay. With c2c and the Mellow EP, KwolleM accomplished an impressive feat: dropping two underground classics back to back.
During that three-year gap between his debut and sophomore EPs, Newham's KwolleM found himself working with some of the most exciting fashion imprints in the United Kingdom. From DJing to hitting the catwalk for Samuel Ross' A-COLD-WALL* label, through to sharing a studio with PLACES+FACES, KwolleM's impact at the sweet spot of the UK's most pioneering creative hubs has been low-key yet profound—orchestrated in a similar vein to his prowess with music creation. His refreshing understanding of both style and music has made him the perfect fit to help launch adidas' new Forum silhouette—a model that has a generational connection to convergence culture.
When adidas first dropped the Forum as a Basketball shoe back in 1984, its unique styling and innovative detailing quickly led to it becoming a cult classic, both on and off the court. Now, the Forum is primed for a new gen of sneakerheads and style connoisseurs, with the model's inherent versatility offering wearers the flexibility to easily finesse 'fits from the bottom up.
Styling the adidas Forum with some choice pieces from his wardrobe, KwolleM spoke to us about growing up Claret and Blue (i.e. a West Ham fan) in Newham, creating within the intersection of music and fashion, and how he formulated his original sense of style.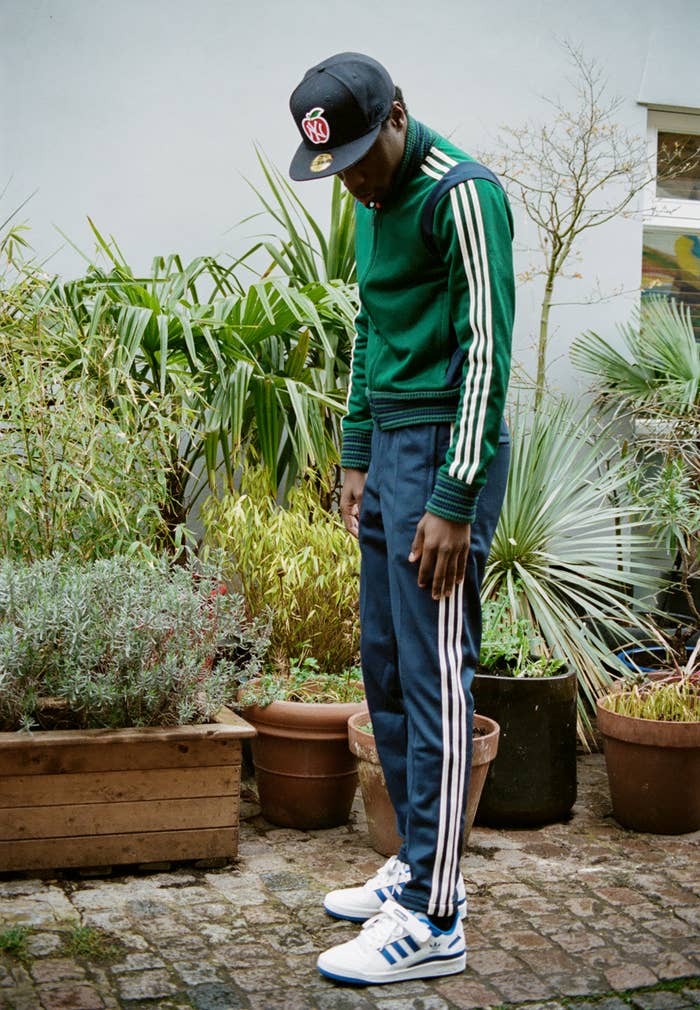 COMPLEX: What was it like growing up for you in Newham, East London, and how influential was your community in informing your world view today?
KwolleM: I remember Barking Road being at a standstill, with the traffic and pavements painted Claret & Blue whenever West Ham played at Upton Park. Climbing the mountain in Beckton to just chill for the afternoon. Going to the cages by Newham Leisure Centre to play football from midday till late at night. It was a relatively normal childhood, and I was fortunate enough to grow up in a very diverse area. You grow up as your neighbour's keeper and comfortable around everyone. Honestly, my world view was probably moulded more by my experiences out of my little bubble, seeing how everyone lived and behaved outside of my borough.

What did you want to be when you were younger, and has that changed over time?
I was like Dennis the Menace when I was younger, so I had to attend an after-school programme specifically for Black Afro-Caribbean kids in school. I ended up learning a lot about Egyptian history, so I was a 10-year-old who wanted to be an Egyptologist. I eventually became a teen and my aspiration shifted towards anything that would get my funds up. I do remember saying I'd be an Investment Banker in secondary school.
What was soundtracking your days as you grew from kid to teenager?
I was an MTV Base, Box, Kiss, Smash Hits TV on repeat type of kid, until I got a phone in Year 6 and discovered Channel U. Then my phone's very limited memory was filled with any and every grime tune I could download from Limewire. My favourites then were probably Jme's "96 Bars Of Revenge" or Kano's "Ghetto Kyote".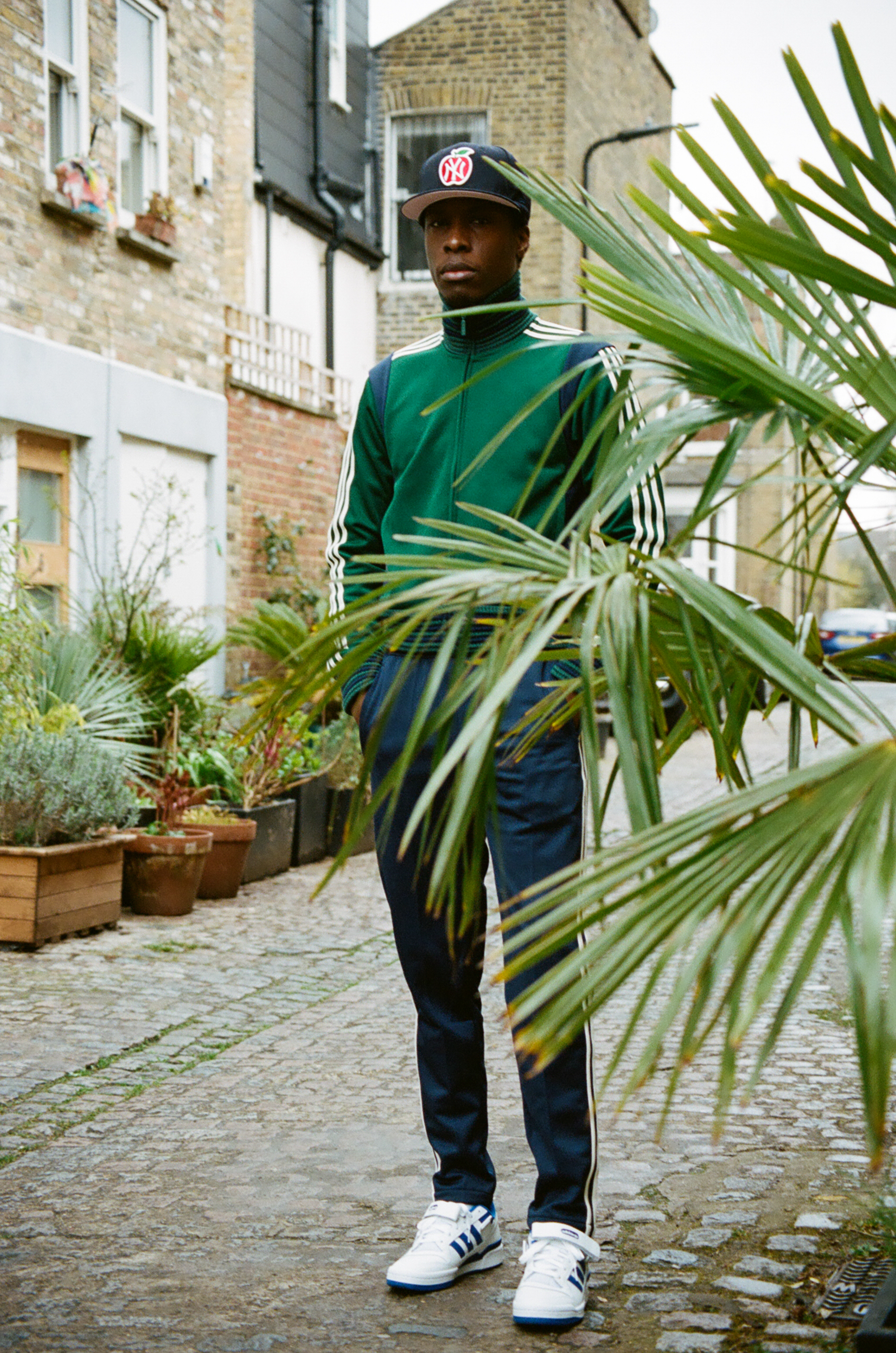 You're clearly very on-the-pulse when it comes to all things music, fashion, football and culture more generally. When did you first start shaping those opinions and interests?
Fashion, in the sense of just dressing, probably when I went to my first sixth form class in Essex. The smart-casual dress code and seeing how the Essex lot dressed opened my eyes a little. Professionally, it wasn't until I met my girl who studied fashion—her passion for it rubbed off, I guess. Music and football I got into as soon as I could form opinions. I grew up in the church and my mum was in the choir, and on the other side, me and all friends used to print the lyrics of our favourite songs and rap along to them in the school playground. And being so close to the Boleyn [football ground] meant I couldn't avoid football even if I tried.
You're a massive West Ham fan, and this season has been one of the best in the club's recent history. How have you enjoyed this season watching from home, and is David Moyes the messiah?
It's funny: there's this culture of 'a season we don't get relegated again is a great one'. We achieved it last season by the skin of our teeth; this season, we're nowhere near it, so I'm definitely enjoying it. David Moyes is the messiah, and c2c is his gospel!
Who would you most like to style, or make music with, in the West Ham side?
Gotta be the boy J Lingz (Jesse Lingard) or maybe [Michail] Antonio. Even Declan Rice actually, because he celebrated a goal with the Gun Lean.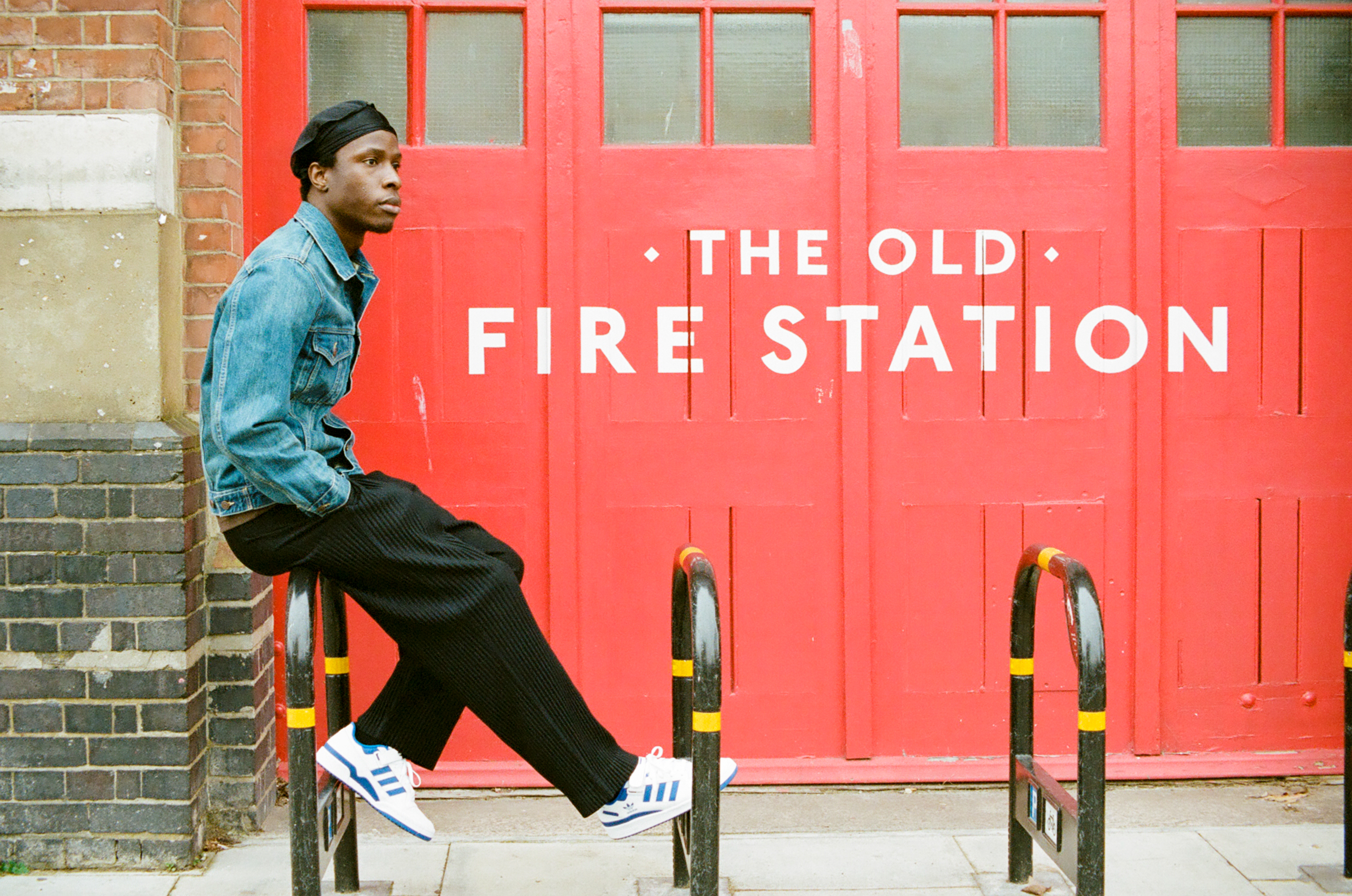 You're also a big sneakerhead. What makes a sneaker timeless, in your opinion?
Wearability and access. As long as they work with most outfits and it's not a raffle situation for every iteration of it, it'll be timeless.
How important is it to have clean, versatile sneakers as part of a wardrobe?
As I grow older and more frugal, it's probably the most important thing. The sneaker industry has undoubtedly grown and we've definitely seen a few messy yet beautiful designs over the years. But personally, nothing compares to a pair of clean and simple sneakers that complement the outfit but still aren't doing too much. Growing up, it was key to buy versatile sneakers because I'd want to mix Monday's jacket with Tuesday's jeans and then by Friday, I'm wearing Thursday's belt with Wednesday's hat—and a pair of clean and interchangeable sneakers help me to do that.
The adidas Forums have been a part of sneaker culture since 1984, where it originally started out as a basketball sneaker. Why do you think basketball sneakers have been such a prominent feature in streetwear in recent years?
Once it got attached to hip-hop culture, it was only inevitable it would trickle down to our windy shores. You weren't a cool kid unless you had a pair of clean basketball sneakers and if you were lucky enough to have two pairs, then you better walk slowly in your special pair because creases were sinful. But as I've gotten older, it's become even more of a norm. The mention of sneakers in viral songs and even the boasting of collections has made the trainers an easy way to collect cool points in the scene. But I don't think people have forgotten that Kareem Abdul-Jabbar championed the brand and now we have players like James Harden, Damian Lillard and Derrick Rose wearing adidas on the court. And when you have players who are in the race for MVP, or even MVP winners wearing the brand, the sneakers' relevancy cannot be questioned.
The template of the sneaker is white and blue and retains the same classic look as the OG. What do you rate about the model?
The removable strap gives you more room to customise the trainers to your preference. Being the first adidas basketball sneaker is iconic in itself, enough to explain why it's stood the test of time. From when I saw Michael Jordan had worn them, they earned my respect in the sneaker game. The white and blue makes them easy on the eye and easy to style, especially with a good bit of denim or even with trusty adidas joggers. Summer's coming up—give me a pair of shorts and I might even get a lay up or two in the Forum and then go get lunch with my significant other, looking casual but suave.
You've styled the Forum with some classic designer brands and bespoke items for our shoot. How easy was it to pick out pieces to pair up with the model?
Initially, I thought it would've been a little tougher than it ended up being. All white sneakers are a staple piece—there aren't many outfits you can't wear an all-white sneaker with. Then, with the white and blue sneaker, the shade of blue complements most shades of denim like an Ashanti chorus on a Ja Rule song. It wasn't difficult incorporating a little A COLD-WALL* and a dash of PLACES+FACES—that's my peoples—and ther's some Rick Owens and adidas + Wales Bonner in the mix too. But, overall, I'm not too reserved, I'm not too flashy. I am a man of balance! My outfits are a representation of how I deal with life and how I feel; comfy but stylish, from head to toe.
Who are some of your favourite designers, and why?
Wales Bonner is one of them. She takes inspiration from different subcultures within the Black diaspora. I feel like I'm reppin' for my people whenever I have her stuff on. It also helps that the stuff looks and fits good. Homme Plisse Issey Miyake is another; when worn co-ord, it feels like I'm wearing an advanced tracksuit. P+F and ACW*, obviously they're family; if I had tattoos, they'd hold some real estate on my arm somewhere.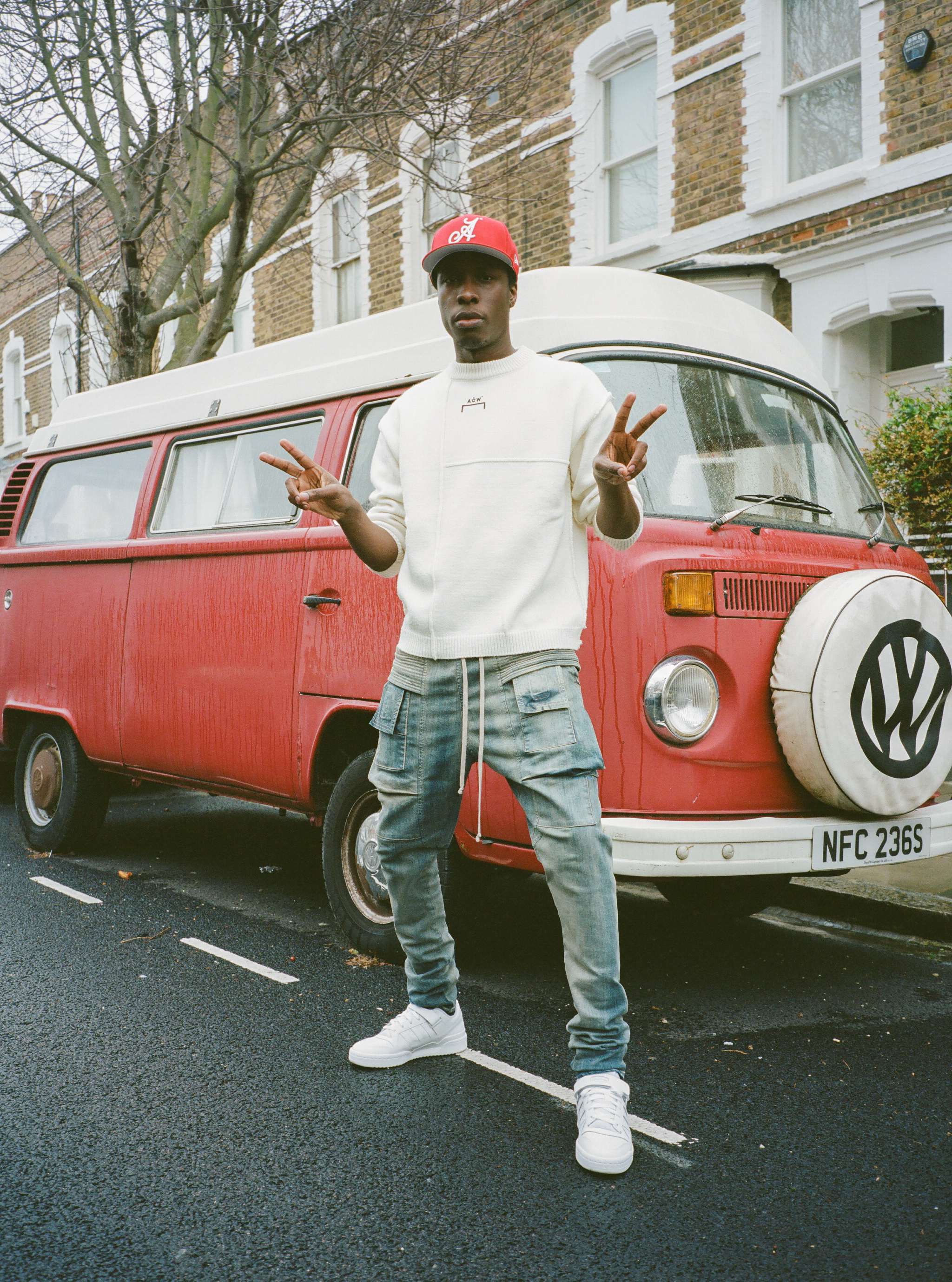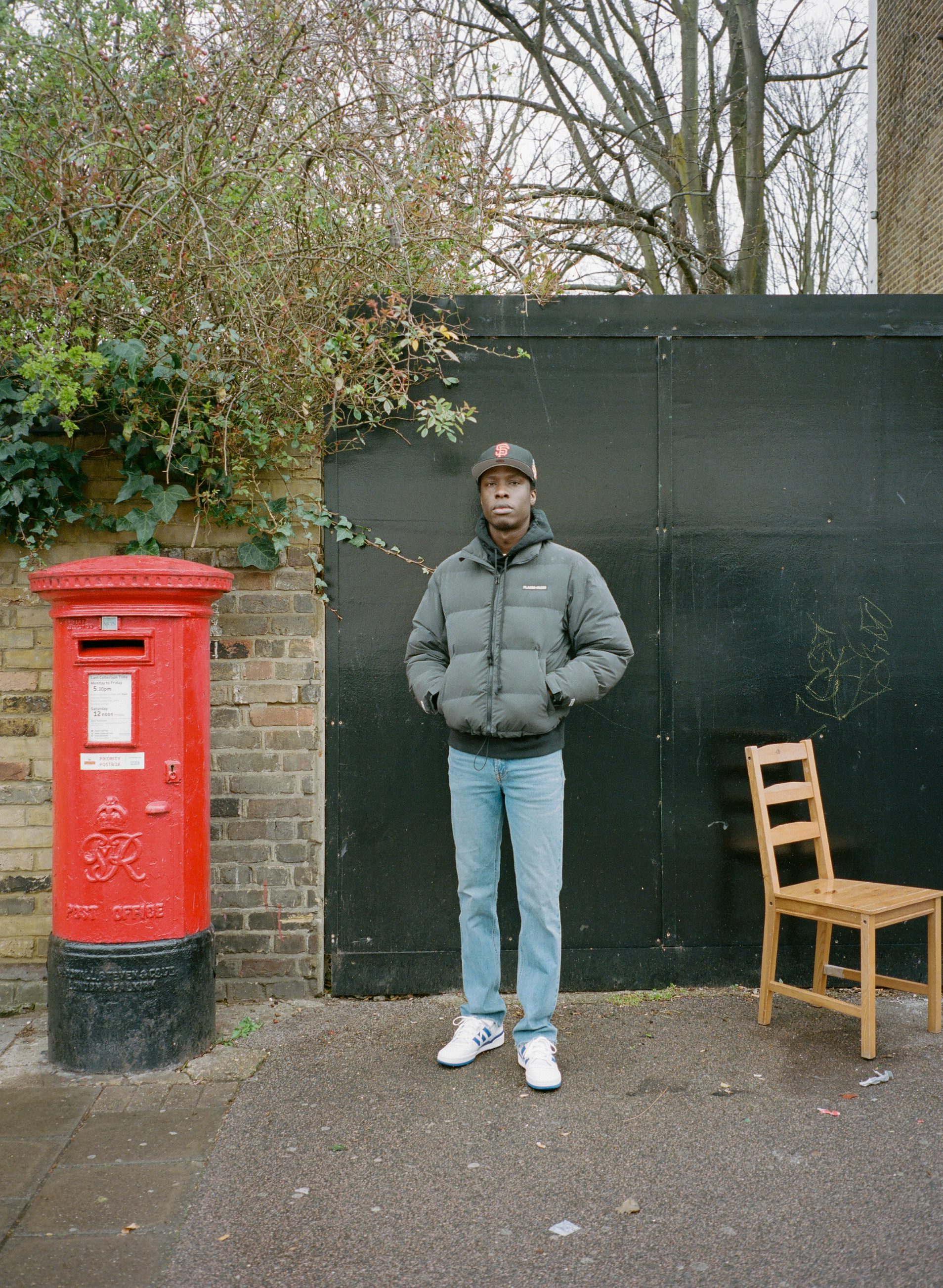 Joe James is a potent and direct storyteller on the mic, while your production style is sonically more laid back. Is that sort of Yin and Yang relationship reflected in your friendship, too?
Joe and I might as well be twins. It's more Yin and Yin if anything [laughs]. We like the same music, we support the same team, we're both Nigerian, we've both been Essex/ Londoners. We were even in Cyprus together last year. That's the bro!
Do you think he remains one of the most underrated rappers in the UK at present?
No doubt! I am privy to the unreleased music I have with him, and the multitude of unreleased music he's made with other producers too. I'm a Joe James mascot, so I'm gonna keep screaming it and try to force him to get more music out.
You made that whole EP during lockdown. How have you found lockdown personally, and do you think it aided your creative process with the project?
The first lockdown was cool—I caught up on sleep, started cycling and essentially completed my PS4. I'd exhausted every other time-consuming option, so, inevitably, I had to put my KwolleM cap on. Once I heard the first riddim get transformed into 'Mellow Grime' with a Joe verse—which took a couple hours to get sent to me—the enthusiasm took over.
If there was one thing you couldn't live without—from music, to fashion, to football—what would it be?
My girlfriend! Now that I've shouted her out, probably music, to be honest. It's my go-to as a consumer and as a creative. I don't even shower until I've picked the right drill track.