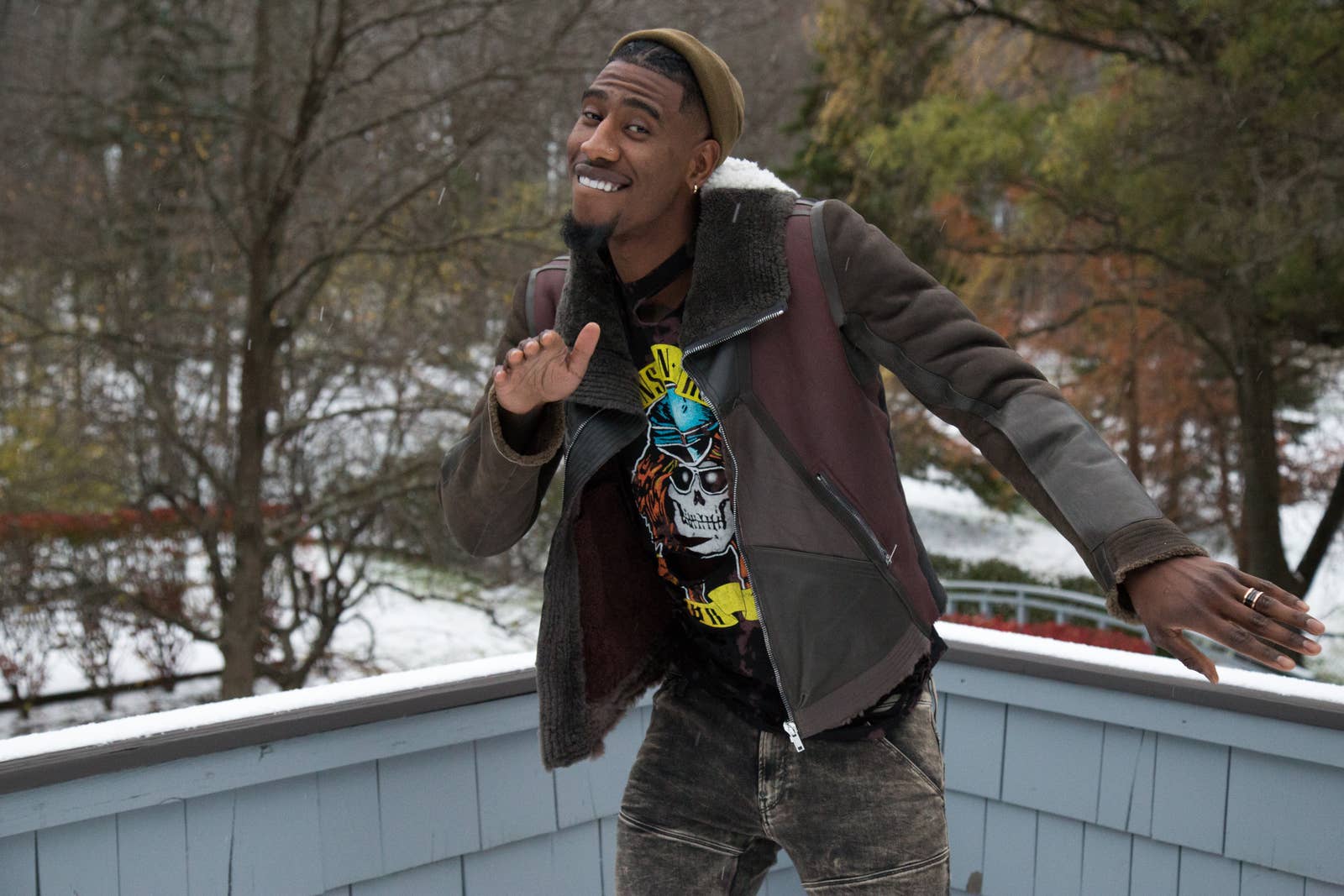 Slumped on a red leather couch in his modern, cabin-like home in Pepper Pike, an affluent suburb of Cleveland, Iman Shumpert is wearing biker jeans, brown combat boots, an olive green beanie, and a distressed Guns N' Roses T-shirt. It's kind of over the top for a random November afternoon, but that's the point.
"You should dress so that somebody remembers you," says Shumpert. "The first time you meet me, it's gon' make you feel a way. Either you gon' be like, 'Why are you wearing that?' or 'That's raw. I like his energy.' I want you to have a story when you meet me."
The Cavs shooting guard and, after his team overcame a 3-1 deficit against the Warriors, NBA champion stands at six feet five inches, with broad shoulders and a wingspan that's four inches longer than his height. His body frame isn't exactly made for most clothing, but his style is definitely an attention-grabber. This September, he and his wife Teyana Taylor, the singer/toned star of Kanye West's "Fade" music video were all over New York Fashion Week. Though Shumpert insists the event was mostly about Taylor, his outfits were the topic of many conversations. He wore a crop top, a Hood By Air trench with no shirt underneath, and a black kilt over black pants. Vogue crowned him "New York Fashion Week's biggest risk-taker."
Shumpert, 26, has always been interested in fashion. Growing up in Oak Park, Illinois, he often only had six or seven outfits. "I was always growing, so it made no sense for my mom and dad to load me up with a bunch of clothes," he says. "But I hated coming to school and feeling like a girl could be like, 'Iman's probably gon' wear this today.' So I would always have to mix and match and find a way to look different. I took a lot of pride in that."
Not much has changed: Shumpert is still different, both in his style and otherwise. Shumpert sat down with Complex to discuss why he loves crop tops, refuses to hire a stylist, almost named a clothing line after Gucci Mane, and won't visit a Trump White House.
Do you have a stylist?
No. Never had one.
Will you ever hire one?
Absolutely not. How can you style me? It's my style. Say I wear an outfit that you picked out and it pops up on some fashion blog and they laughin' at me. You're fired! But if I picked it and if y'all don't like it, that's just too bad.
You don't have a uniform.
Yeah. Not to use a name, but you know how Bryson Tiller has the dad hat with the hoodie and bomber? That's his look. It works, don't get me wrong. But if you saw somebody trying to duck through somewhere with a dad hat and a hoodie on, I would assume it's Bryson trying to hide from the cameras [laughs].
Do you wait for drops?
I'm not a wait-on-clothes guy.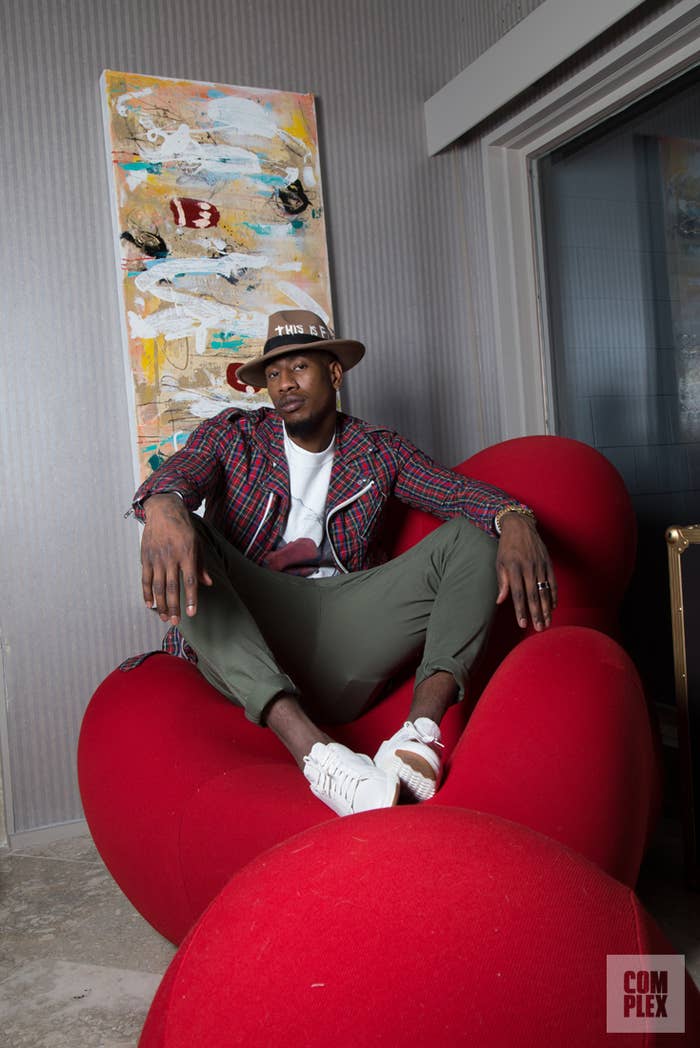 You also presumably have enough money now that you don't really have to wait.
Yeah [laughs]. The piece has to be super dope for me to get it knowing everybody's probably gonna have this or everyone's hunting for this. I pass on so many of those things because one of my worst fears is coming to a game dressed like somebody else.
Has that ever happened?
Oh, I've seen it happen with multiple teammates.
With you?
Hell no! Not with me. It ain't happening over here. But I've seen teammates come in [and told them] verbatim, like, "Y'all stylists is bogus!" Y'all all saw the same picture and dressed each other the exact same. I can't get with that.
Who were those teammates?
I ain't gon' do them like that [laughs]. But I was blown away. The new Jordans come out and half the locker room is in them. Like, no.
Do you regret any of the outfits you've worn?
Nah, but I laugh. There's a lot of things I look back on and wouldn't wear now, but it's because—not to throw it out there, but I signed for $40 million. Back then, I was just getting in the league and had to take care of this and that. I wasn't shopping as much as I am now.
Do you have the best sneaker collection in the Cavs?
I can go toe-to-toe with somebody with my shoes. But you can't do it with LeBron, 'cause what shoe does he not have? What shoe did they not send 'Bron? What shoe did they not send Kyrie? But, now, if we go in our closet and pull out heat? Ain't nobody gonna touch mine, period.
I'm big on how the sneaker's made and the history behind it. How many points did Mike score in this colorway? When I see the Concords, I see Mike in the black and red pinstripe jersey, we down 12 to the Grizzlies, there's three minutes left, everybody turns their TVs off, and we win. With the black and red Infrared VIs, most people just think, "Those came out Saturday." Oh, no. Mike reversed the Lakers with those! That's what I think of. Penny was backwards jamming y'all in these. The Pearl Foams, that's a little He Got Game action out here. We're Ray Allen out here when we wear these Foams.

"I used to watch 'Game of Thrones' wearing my kilt."
I remember when me and Teyana first started dating, we got into an argument about that 'cause I was like, "You don't know about these Barkleys? You don't know what you're wearing?" She was like, "No, and I don't care." To her, the colors go with the outfit that she's trying to wear. We had to accept that "sneakerhead" is just a diff terminology to us.
Who has the better sneaker collection—you or Teyana?
It's not a competition, but this is what I'm gonna tell you. Teyana's one of these, "I'm not gon' get just the Cool Greys [Jordans], the Space Jams, and the Concords. I'm gonna get the Cool Greys, Concords, Space Jams, and every other Jordan XI that dropped on Saturday." I'm not doing that. For some people, in their mind, Gamma XIs are acceptable. You bring those around me and I'll freak out like, "Why did you buy those? Mike lied to y'all. Those aren't cool. He just told y'all they were coming out Saturday, and y'all got hyped."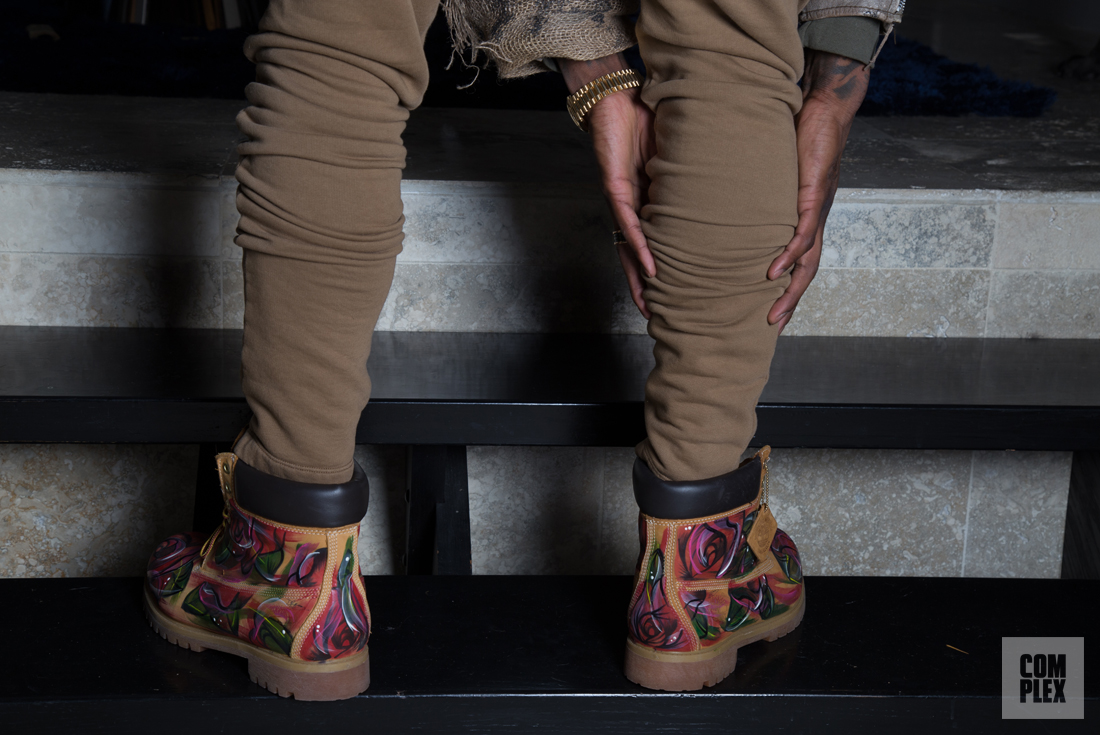 What's the most expensive piece you own?
Sneaker-wise, it's the Air Mags. I dropped six bands for those, with no hesitation. I've been waiting my whole life to get those. I also have a $6,000 Phillip Lim coat with pockets that are big enough to fit a sandwich. That's why I got it.
Earlier you mentioned plans of releasing an upscale version of your brand Post 90. What will that line look like?
I want to call it Guw³—Give Us What We Want. Me and my brother used to always be talking about clothes and if somebody gave us something good, we'd be like, "Yes, finally. Just give us what we want. Don't give me all that extra stuff." People would make pants, but they'd be weird at the ankle and they'd mess up my shoes. So then I'd have to do something goofy, like put rubber bands around it to pop my shoe out. I shouldn't have to do that. Or do the European cuff with the twist and roll it up. I shouldn't have to do that. At first I was going to call it Guwop.
But then people might think it's Gucci Mane's line.
Exactly! I wanted the word to resonate with you. I wanted you to hear Guwop, and maybe you did think Gucci, but it gets you interested. But in the end I was like, "We probably can't do that because he's officially Guwop. Unless we gon' have the man involved, but I don't want to do that." So I went with Guw³.
Do you think there are any current athlete or celebrity clothing lines that can compare to yours?
I think [Oklahoma City Thunder star] Russ [Westbrook] is doing a good job with his Barneys line. It's what I expect out of Russ and I can appreciate that. At first, people thought he was just doing it for attention, but nah, that's really how he likes to dress, bro. And I feel that.
I remember when I was in New York, Melo would be like, "C'mon, Shump, man! Don't make me walk into the arena with you like that." But people started complimenting me all the time, so he left it alone. He was like, "Damn, that kinda opened my eyes. I ain't realize so many people liked how you dressed. I thought people was gon' laugh at you. You my little bro, so I was tryna help you out. But I gotta let you rock."
What did Melo roast you for wearing?
I have an Opening Ceremony jacket that had sleeves that zipped off, and I used to wear it as a vest. It's a lot, though. It's got the lipstick joint on it, there's gold everywhere, and the back hem is in the shape of diamond. But it's real royal. You wear all black with that and people are gonna be like, "Why does he feel like he can wear that? He's gotta be somebody to just be wearing that." Melo was just like, "Ugh, c'mon, bro. Really? You can't just get a regular hoodie and just come out, bro? You gotta have that?" When we got to Cleveland, even Swish had to tell everybody, "Y'all will get used to how he dresses, man."
Let's go through some of these Fashion Week photos, and what was going on in your mind when you put those outfits together.
Oh, the crop. That shirt wasn't a crop top. I've been wearing crop tops before that happened. I wore them in Miami a few times. I always liked crop tops after I saw it on Fresh Prince. I saw a couple of guys do it in a bunch of TV shows with the sweats and I always thought it was dope. They would get ready to go to the gym and work out with the crop top on to show their abs. Of course people with no abs are not gonna understand a man with a crop top. You ain't got no abs, I get it. It's cool.
Do you own a lot of crop tops?
Nah—I made them though. When I wore that shirt I was like, "It just doesn't fit right, bro." That was from Baja East. So, Teyana was like, "Babe, do you think you should crop it?" I was like, "I don't know though 'cause it's fitted." We tried it and it worked 'cause I had the neoprene shorts so it made it look real dressed up.

"I'm not going to the white house."
What about the Hood By Air outfit?
I've always liked the extended shirts, hence why I do not like people showing their belts. That shirt came with that little strap and originally I was gonna wear a shirt under it. But it was hot outside. The abs was goin'. My only fear of going shirtless was taking Teyana's shine because Fashion Week is about her. But I was like, "This will be dope if i did it." So I asked her if I can. She was like, "Hell, yeah! I wanna see some stomach."
What about the matching kilts?
I designed my own kilt a while ago. I used to watch Game of Thrones wearing my kilt. I've always been into royalty; Kings wore kilts so they could hide all the weapons; I always thought that was dope as shit. I don't like when men rock the kilt with nothing under. But if you rock the pants with the kilt over it, as long as you do it right, which I feel like I did, I think it's dope. It was dope because [Teyana] wore the fringed skirt, so it looked like we were matching.
You, Kyrie Irving, and Jordan McRae film Snapchat videos in which you guys just sing and dance. How did that start?
We was in Toronto; we was gon' go out to eat or go out to the mall but Kyrie didn't want to go. So we were just in the room having too much fun. We start singing and I was like, "I'm finna snap it." They were like, "Yeah, snap it! I need to get my fan base up. You and Teyana got all the girl fans." We did it and people started tweeting. All these girls were like, "Y'all sound good." People don't think we the real deal, but we the real deal. You give us a cardboard box, put us in the front of a liquor store, and it's gon' be a good Christmas [laughs].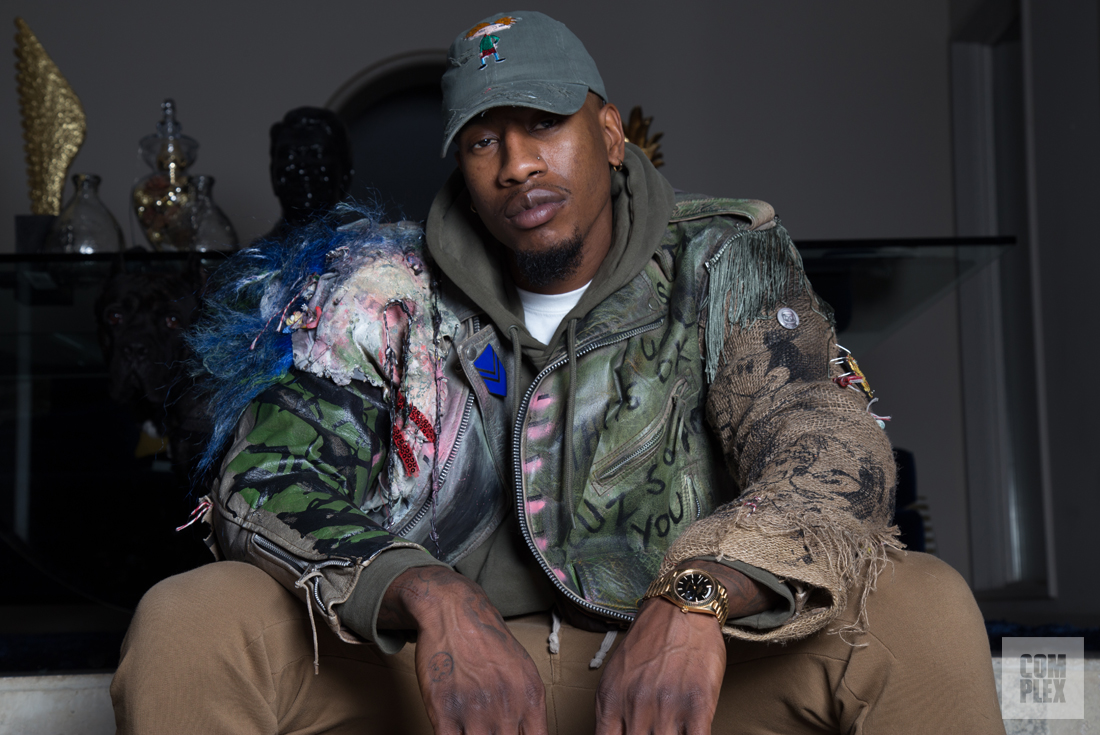 The group's name is Bestiny's Child—a play on Destiny's Child. Which one of you would be Beyoncé?
[Laughs]. To me, Jordan would be the lead singer. I really think he can sing. But if I had to pick a lead singer, it'd probably be Kyrie because of his image. The ladies love Kyrie.
You and Desiigner are friends and Pusha T has joked you guys look like twins. Would you ever do a show together?
We actually wanted to do a cartoon. We just have to find time.
What was your favorite part of visiting the White House earlier this month?
The best part was Michelle. She's the juice. It's like the way people are when they meet Teyana and they're like, "Shump, you cool and all, but Teyana's the shit." [Laughs]
People started boycotting New Balance after the company seemed to voice support for Trump. Kanye West recently said he would've voted for Trump if he had voted. Would you still wear Yeezys?
I understand people's stance on Trump. I can't get caught up in the racial, sexist bullshit he's got going on. That's his personal thing, ya dig? But I just don't think he can make anything shake like that. He not finna start no civil war out here. I do think he's crazy—straight up. I think he did that stuff to get people to think he's willing to shake it up. But did I vote for him? No. The other stuff that comes with him, I can't get with. But now that he's here, I'm not finna drag my feet. I gotta work here, at least until the offseason, if I wanna go get a crib in the Islands.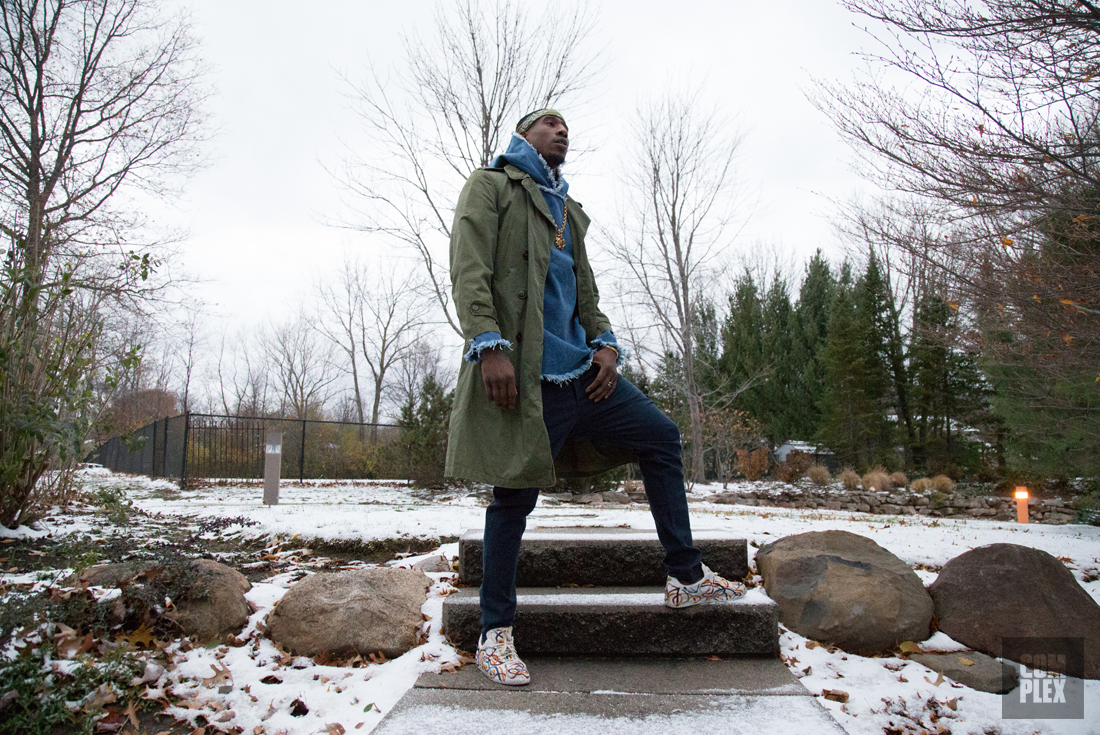 Will you go to Trump's White House if the Cavs win the championship again this year?
I'm not going to the White House.
In a recent interview, Phil Jackson referred to LeBron James' business partners as the NBA player's "posse." What do you think about Jackson's comments?
He always got a comment. It's Phil Jackson. Whatever.
Did you think it was offensive?
I think Bron would bust Phil Jackson's ass. If Phil Jackson was in his prime, playing basketball, Bron would bust his ass. I'm glad Phil Jackson got the rings for Chicago. You traded me away from New York, cool. It's all business, it's all love, whatever. But I'm a grownup now. You not my hero no more. The Bulls era is gone, Mike is gone, Pippen is gone, you ain't coaching the Bulls no more. So, I don't care what you got to say about 'Bron. I don't know how conscious he was of that word upsetting LeBron the way it did, but I understand why 'Bron's heated.
Draymond Green said in a recent interview that if the Warriors win the West Conference and the Cavs win East Conference, he wants to "annihilate" you guys in the Finals.
He should. We supposed to hate them, and they supposed to hate us. It's OK. They supposed to take cheap shots at us. They're gonna hate us, fam. That's what sports is. It's great. I love every bit of it. I'm glad he said that 'cause we gon' bust they ass, too. You need to type that up: We gon bust your ass. Period.