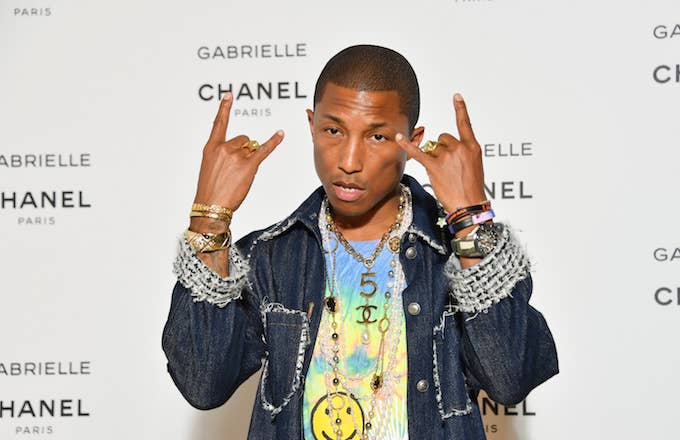 Pharrell has shared another glimpse at his much-anticipated Chanel capsule.
On Friday, the multi-hyphenate hit up Instagram with a 15-second video that highlighted pieces from the upcoming collection. The clip opens with a shot of several people lounging in front of a TV that features old footage of the label's founder Coco Chanel. It then cuts to Pharrell standing among greenery, rocking a co-branded shirt with a glowing orb in his mouth. The low-lighting, strobe lights, and operatic music give off some eerie, yet cool vibes—something you wouldn't expect from the storied French fashion house.
You can check out the teaser below. The Chanel x Pharrell capsule is expected to drop soon.
Pharrell, who began partnering with Chanel back in 2014, announced the collaborative capsule about five months ago during the label's Cruise 2018 show in Bangkok, Thailand. He has since provided a number of sneak peeks at the range, and opened up about his experience working with the late Karl Lagerfeld, Chanel's creative director of 36 years.
"It's been amazing. Karl has been incredible. He's just been incredibly generous," Pharrell told GQ France, shortly before Lagerfeld's death. "Some things were existing pieces that he just allowed me to bring more color to, and other things were things that I just felt like were missing. Like as a man, I've always wanted a lot of belts. But like I said, I got the joy out of wearing the girls' belts, not the ones that were super feminine, but they just made sense for my body. There's still a bunch of things that as a man, I would at least want unisex versions of. So the inspiration for this was mainly my wish list, things that I feel like I've always wanted."