Can Beyoncé or Adidas Sue Popeyes Over Its Ivy Park-Inspired Collection?
We spoke to a lawyer to see if Popeyes taking inspiration from Beyoncé and Adidas' Ivy Park collection is legal.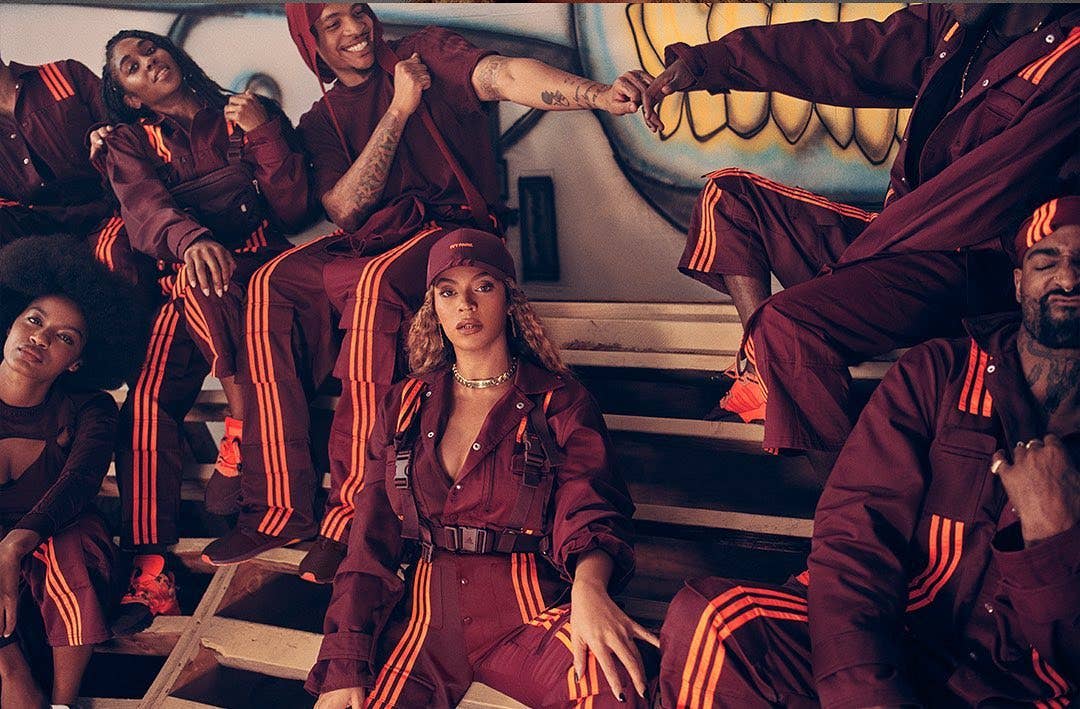 Publicist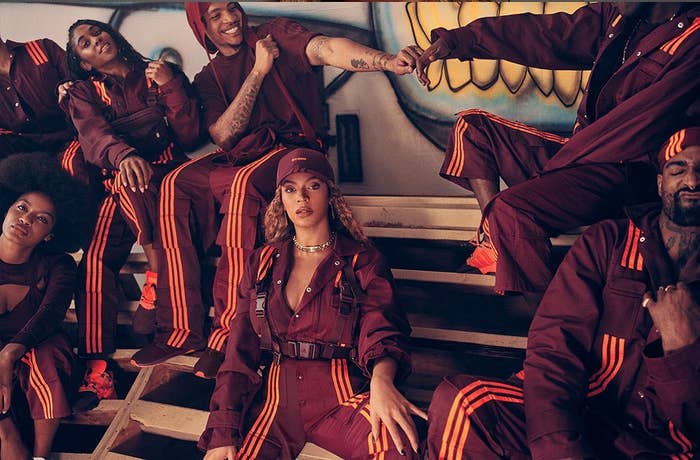 Earlier this week, Popeyes dropped a collection titled "That Look From Popeyes," which spoofed Beyoncé's Ivy Park Adidas collaboration that was released earlier this month, but is currently sold out.
Popeyes mimicked the Ivy Park Adidas collection's maroon and orange color palette, which, in all fairness, the chicken chain is known for, and produced athleisure pieces like sweatshirts, oversized crew necks with the Popeyes logo on the sleeve, and long sleeve quarter-zip tops—the company claims these pieces are employee uniforms. The imagery for the collection took cues from Beyoncé's e-commerce images and her lookbook shots.
It was a smart marketing play, and garnered a lot of attention—the Popeyes collection is currently sold out and proceeds will go towards the Popeyes Foundation—but was it legal? 
We spoke to professor Susan Scafidi, the founder and president of the Fashion Law Institute at Fordham University, to see if Adidas or Beyoncé can take legal action.
Did Popeyes do anything illegal with its That Look from Popeyes collection?
Adidas is very protective of its three stripes. I'm going to presume that Adidas and Beyoncé are both protective of their trademarks and names, but a colorway is not something that I think Adidas and Ivy Park are trying to claim as their own. They haven't registered a trademark for the particular colorway and nor has Popeyes, although perhaps at some point in the past it could have, since clearly consumers make the association between that maroon and orange combination and Popeyes. But since they haven't, I think that these two collections can coexist.
Adidas and Beyoncé may have not been thrilled by the Popeyes association. On the other hand, Popeyes is also taking the sting out of it a bit by giving the proceeds to charity, which doesn't have direct intellectual property impact. But it does mean that it would be strategically a little more difficult for Adidas and Beyoncé to object.
Have you seen something similar to this where there were legal ramifications?
This one is unusual. I was trying to think in those terms, and nothing really came to mind. Clearly fashion companies step on one another's toes all the time. Like when Vetements used the DHL uniform. And they used it very directly. It wasn't  just a similar colorway or a nod to it. They turned the DHL uniform into high fashion and DHL didn't seem to object. DHL is of course, not in the clothing business, but using the logo could have raised some legal questions, but DHL just went with the publicity, at least publicly. 
It's not clear to me that the Adidas, Ivy Park collection intended to reference Popeyes, they might not be thrilled with it going a little bit downmarket, in terms of their references, but it sold out, so they can't be too concerned that consumers made the connection.
It seems like it's very hard to copyright design. We see Fashion Nova copy a high end dress Kim Kardashian wears all the time, and it's legal right?
Under U.S. law it's unbelievably hard to copyright design. And in most cases, yes, Fashion Nova is able to do that without legal ramifications. Now they have to be careful about using Kim's image, because she has a right of publicity. They have to be careful about using the brand name, which is protected. But by and large, under U.S. law, most fashion designs are not protected. Maybe a fabric print, so the two dimensional aspect rather of the design, could be subject to copyright. But in general, the U.S. lags behind Europe, Japan, a lot of other places in protecting fashion.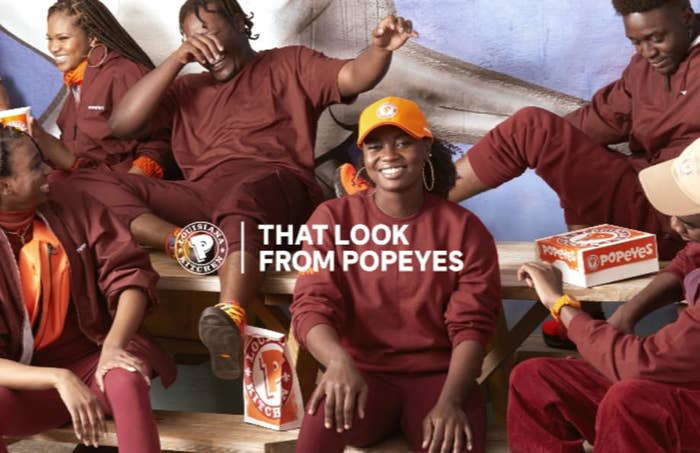 Why is that? 
Historically, the U.S. was a pirate country when it came to fashion. We had, as of the mid 20th Century, almost half a million fashion manufacturing jobs in Manhattan alone. And most of that was either generic garments or knocking off Europe. And unlike other areas where the U.S. created the industry, like the film industry where copyright was granted pretty quickly. The U.S. made a lot of money copying fashion. And our laws just didn't adapt. Now that's completely changed. We have about 5,000 manufacturing jobs in Manhattan at this point, but enrollments in design schools, post Project Runway skyrocketed. And starting in the '70s and especially in the '80s, the U.S. became a global leader in fashion design, as opposed to a copyist of Europe and particularly Paris. So intellectual property laws just haven't caught up with the character of the U.S. industry.
Do you think Adidas/Beyoncé would have any chance taking action if we were in a different country? 
Honestly, the garments are not that unique. We're talking about tunics and T-shirts and hoodies. The garments themselves probably don't rise to the level of originality that would support design protection. It's the nature of the collab, it's the styling, it's the colorway, it's the names on the label, that are selling that particular collab.
But you mentioned how Tiffany has trademarked Tiffany blue, right? I just want to know if Popeyes could have done something about the Adidas Ivy Park collection's maroon and orange colorway. 
So the work that a trademark does is to indicate the source of something. So you see the blue on that little box, you know it came from Tiffany, you hope there's an engagement ring inside. And so Tiffany has created an association in the consumer's mind, between that color and Tiffany. At least in the jewelry context. If I wanted to paint my walls Tiffany blue or make a Tiffany blue dress, that's fine. So they have specifically trademarked the color blue for those little blue boxes and also their shopping bags and the front of their catalogs, that sort of thing. But it's specifically by product category. Hermes has orange, Christian Louboutin has red for the bottoms of shoes. So in theory, Popeyes could have trademarked a maroon and orange color combination for fast food uniforms, in the clothing space, and if they did, then maybe Adidas and Beyoncé would have run afoul of that trademark. 
Clearly there is an association in the consumer's mind, so there's the possibility that Popeyes could have tried to shut down the Adidas Beyoncé collab, because they would've said it's a common law trademark, something that is pretty unique to the U.S. That's a trademark that because it's being used as a trademark and it's recognized by consumers, it gets some legal protection, even without a formal registration. But Popeyes would have trouble doing that because they are not competing in the same space. Popeyes sells chicken. Adidas sells shoes and clothes. So it's not the same thing. If however, Popeyes had sold its uniforms to the public forever and was clearly established in the clothing space, then there could have been a conflict.