Atlanta's art world would look a lot different if it weren't for Cam Kirk.
As the unofficial documentarian of the city's hip-hop scene, the 29-year-old has carved out a successful photography career that includes work with subjects like Gucci Mane, Future, 21 Savage, Lil Yachty, Migos, and more. He had built an impressive portfolio that could've easily landed him major gigs in entertainment hubs like Los Angeles or New York City; however, the Morehouse College alumnus decided to stay in the ATL where he would not only continue to build his own name, but also help nurture the city's creative community.
In July of 2017, the photographer opened the doors to Cam Kirk Studios with the intention to provide young, like-minded artists a place to create and showcase their work. Kirk was able to achieve this goal, and then some.
The studio has made incredible strides within the last 12 months, expanding its offerings into fashion and music, as well as implementing educational events for the community.
In celebration of the space's first anniversary, Kirk teamed up with renowned artist Louis De Guzman on a special capsule collection. The range is anchored by a graphic T-shirt design that features the phrase, "For the Community, by the Community," further underscoring the studio's commitment to Atlanta's creative scene.
Kirk spoke to Complex about his place within the city's hip-hop realm, the rapid growth of Cam Kirk Studios, as well as his goals for the future.
You can also check out photos of the studio, as well as the capsule's lookbook modeled by Bloody Osiris, below.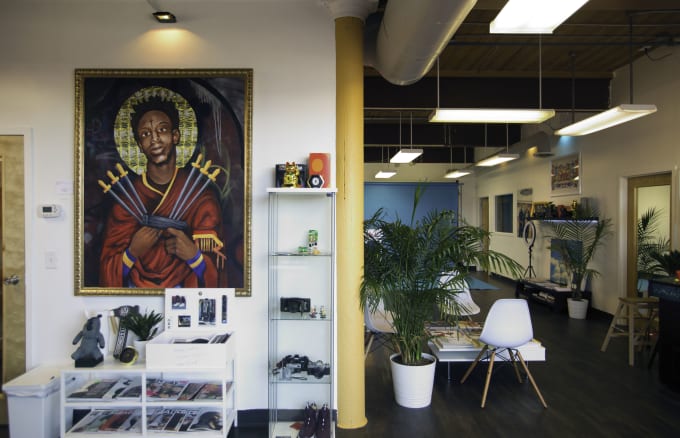 (This interview has been edited and condensed for clarity.)
You were in the photography game several years before launching Cam Kirk Studios. What inspired you to open the space?
I felt like the Atlanta creative scene just needed a hub. It needed a home. As a photographer living and working out of Atlanta for about four or five years, I never had a place that I felt like I could just go to and work comfortably at.
I noticed that, and it was something I kind of wanted to bring to Atlanta. At the same time, I wanted to make something that was affordable.
Our studio today, I like to say, is much different than the typical studio space, because it's not as intimidating as other studios spaces are today. A lot of studio spaces have really big open spaces, it's just like a big canvas for creatives to come in and paint their own picture. What we decided to do is make it a little more friendly, and actually create a space that was already filled with inspiration—from magazines to art on the wall to photographs on the wall. We wanted to make it something that people could feel good about creating at.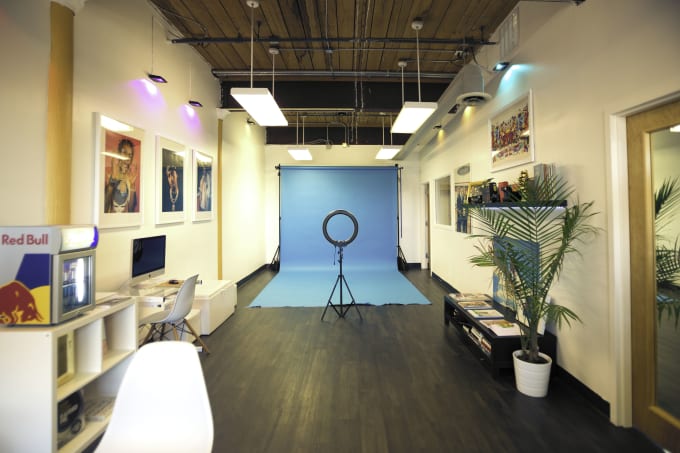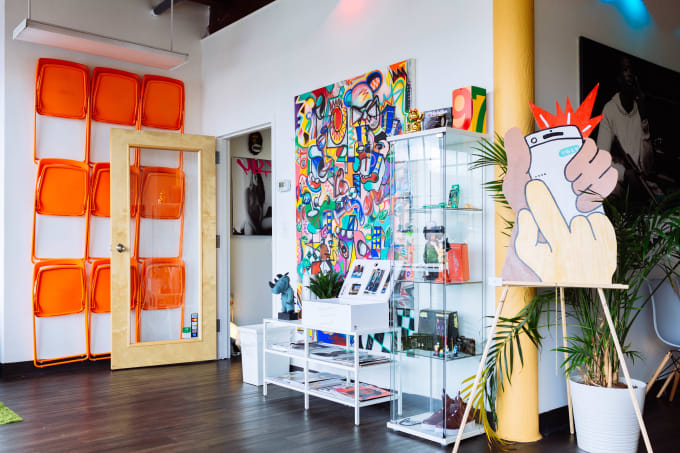 How has the studio grown within the last 12 months?
We've grown tremendously. This is my first business venture outside my photography career. There were a lot early lessons, bumps, and bruises of me just learning how to not only be a boss to employees, but also just how to run a business that's so different from how I run my personal photography career.
When I launched the studio, I had less than 10 appointments just in that first month. Last month, we did close to 300 appointments in just one month. Since the beginning, we've employed a lot more people in the Atlanta area. We've launched creatives talks. We have an event called the Creatives Couch, where we bring influencers and creatives from around the world to talk to the community, and do a one-on-one sit-down interview with me. We also host a playlist that we release one a month. The studio staff curates the playlist, and we highlight a lot independent artists, a lot of up-and-coming artists, as well.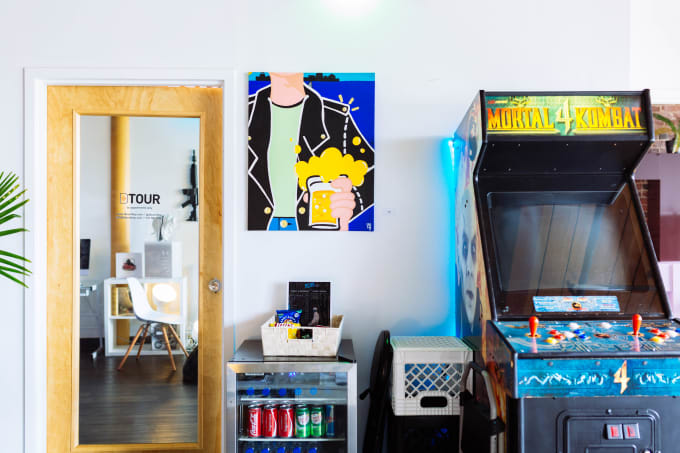 The studio has also turned into an art gallery. Right now we have an artist come in every month and take over the space with an exhibit. So in our exhibit right now we have an artist by the name of Brandon [Carlton, a.k.a. Ugly Brandon] from Chicago, Illinois. Next month, we have the guy who we did a collaboration on the T-shirts with, Louis De Guzman. The show is actually up in L.A. at RSVP Gallery right now, and he's bringing that same art to our studio for the month of July.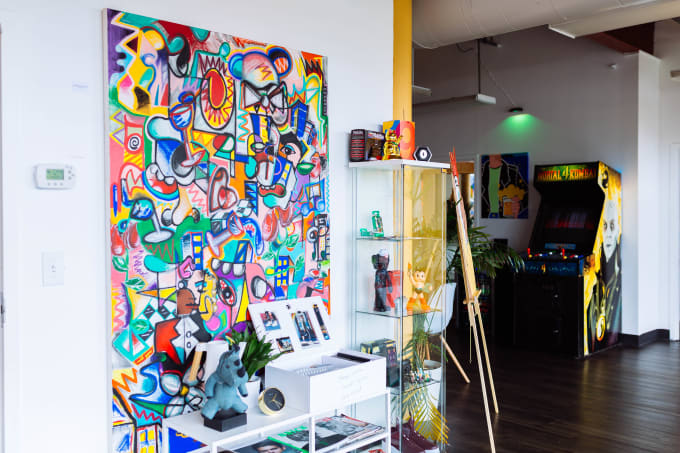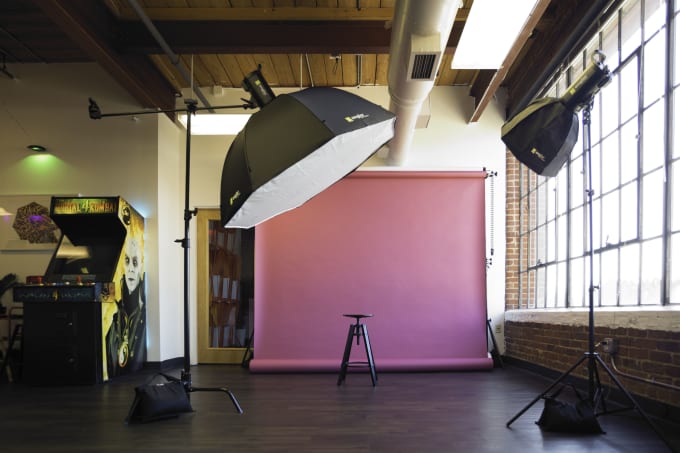 What kind of feedback have you received from Atlanta creatives?
The feedback has been overwhelming, to be honest. The creatives have shown that they need it, they want it, and that they appreciate it. Just watching the numbers go from 10 people creating there to 300-plus different appointments—it speaks for itself in that regard.
So people really love it. It's home to actually other big photographers. Lil Baby just shot his last album cover in there. Yo Gotti shot his last album cover there. Moneybagg Yo shot his last cover there. A number of companies and brands like Adidas have worked out there. So I think what people love the most about the space is the vibes. It's the fact that it's welcoming and accepting to first-time photographers, while also appealing to the professionals. You could be in there shooting your first-ever photo shoot as an artist, and literally right after you, Lil Baby is walking into the studio as you're leaving.
People have been mind-blown by the type of artists they've been able to meet and network with at the studio. It's been crazy.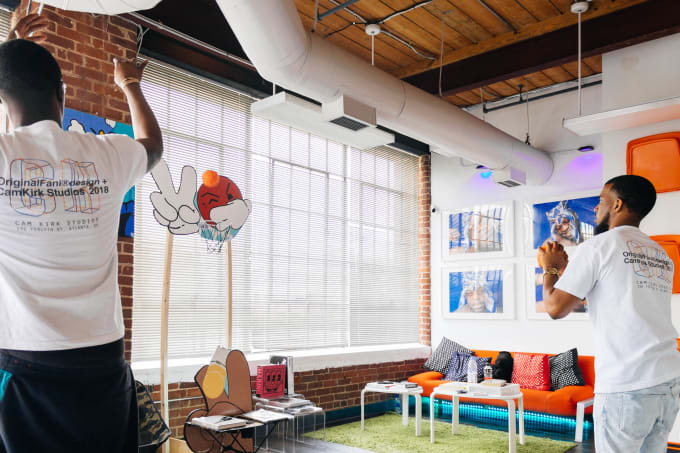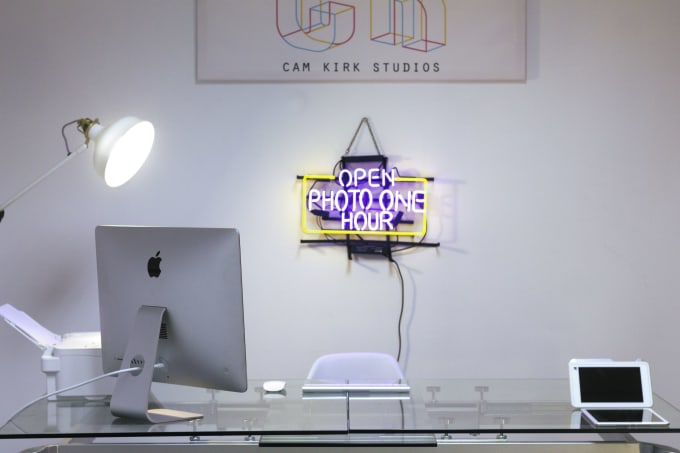 Can you tell me about the studio's retail space?
The store is called DTOUR that lives inside the space. It sells hard-to-find books and magazines, toys and collectibles, and hard-to-find fashion pieces, as well. So that's been a good addition to the studio because a lot of our clientele will go there and shop before their shoot, or they'll buy the latest magazine to get inspiration.
We also sell our studio merch. The whole premise behind DTOUR is to provide an alternative—literally what 'detour' means. So we play a lot with that, with like construction vibes and things of that nature.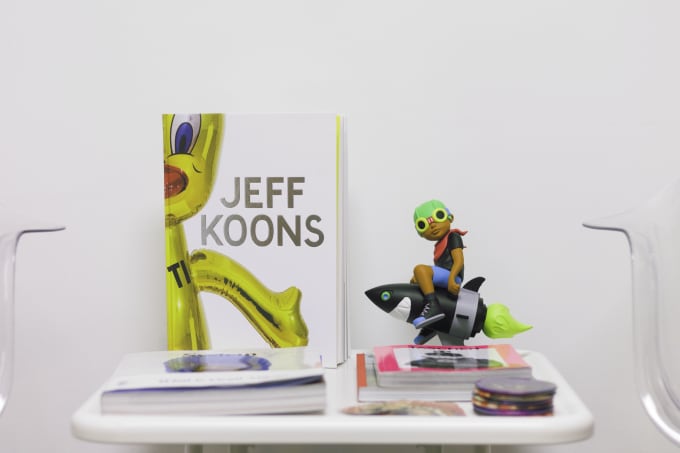 How did you end up collaborating with Louis De Guzman on the anniversary capsule?
For the anniversary, I wanted to get with a designer that I truly felt matched the energy of the space, that could bring something new to the Atlanta scene, a new vibe. I immediately thought of Louis.
When it came down to the anniversary, I know I wanted to have something that really hit home, something that really felt like a celebration. Louis' art style, if you look at any of his work is great—the way he uses colors, the way he pixelates images. So when I thought about our one-year anniversary, Louis was the one who I wanted do it with because he understands fashion and he also understands art. And he knows the struggle and the grind of being an independent artist trying to get his artwork out there.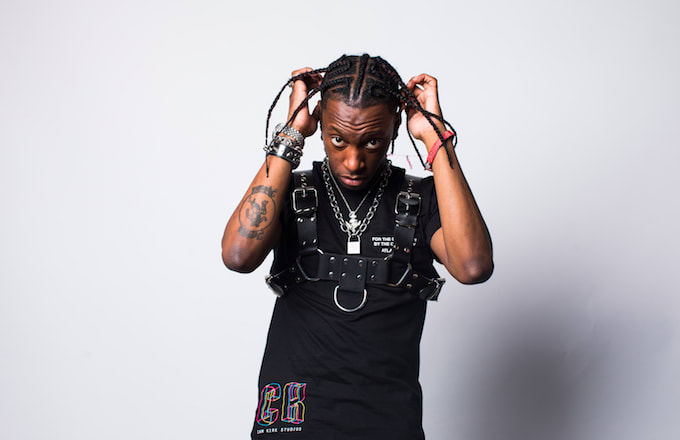 I felt like it was the perfect collaboration, so I reached out to him and we cooked up a few ideas, and he came up with the concept that was "For the Community, by the Community," which is the brand theme of the shirts. That fits the studio so well because the studio was built up, and is only as successful as the creative community is in Atlanta. And the studio has this really inviting and communal feel to it where all of our clients feel as though they're friends, a part of the studio, and a part of family.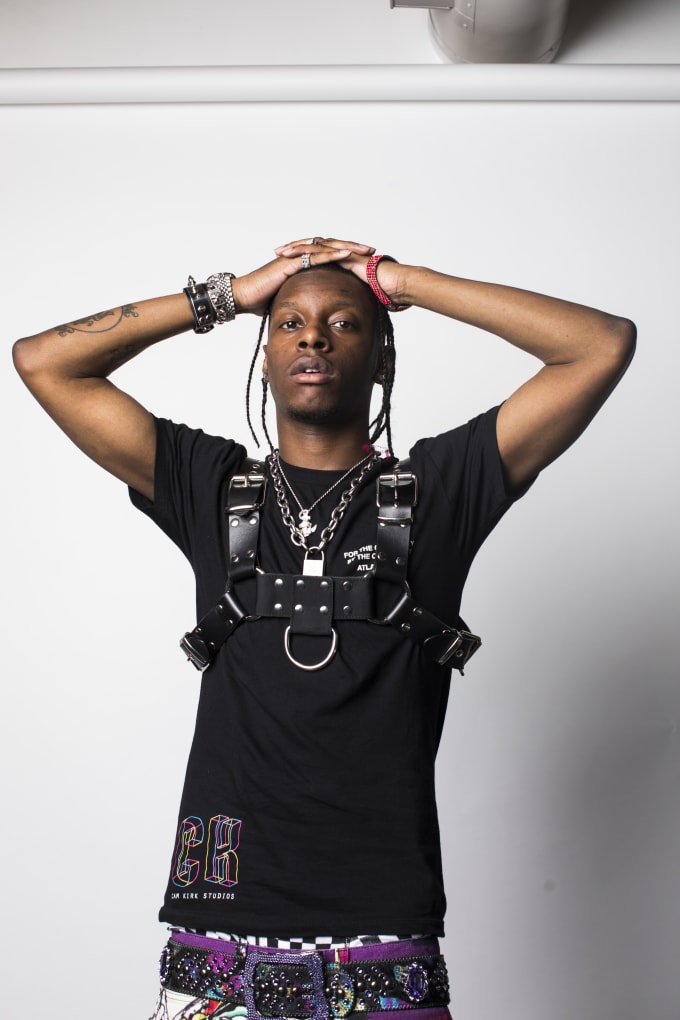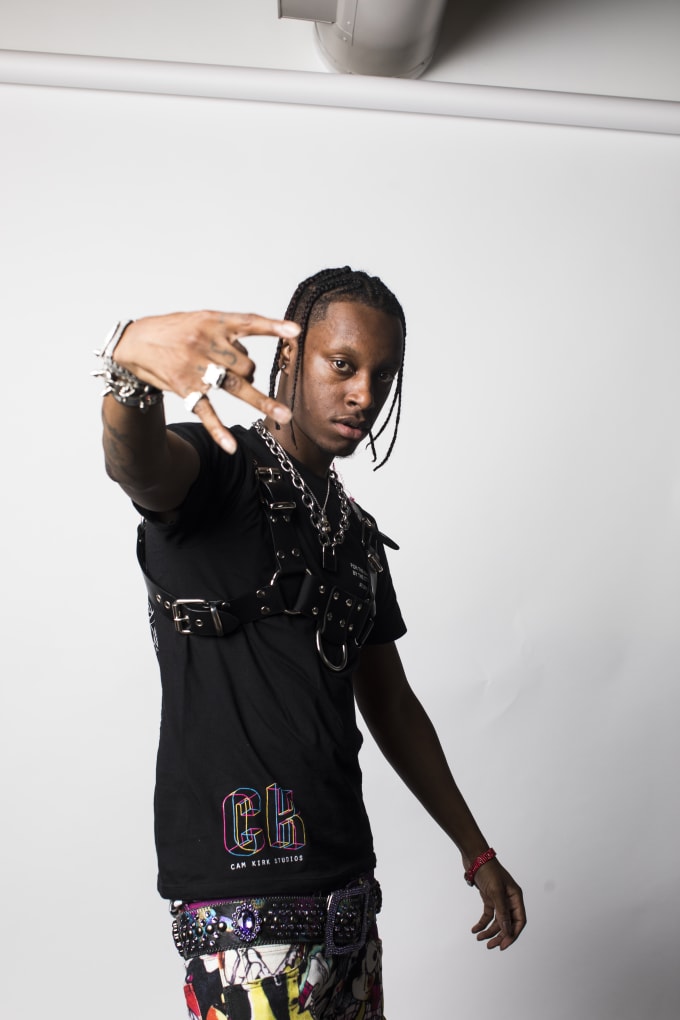 Whose decision was it to have Bloody Osiris model the T-shirts?
That was another one of my decisions. Now that we have our foundation together in Atlanta, my next mission moving on to year two is to start to promote the studio on a more global level and working with people that we feel embody our morals, and our feelings, and our creative perspectives, even if they're not from Atlanta. We wanted to find an artist who could embody creativity in their own way and have their own unique style, so Bloody O was the first one who came to mind for me. He was the perfect representation because he had so much influence with the youth and this new generation of creatives.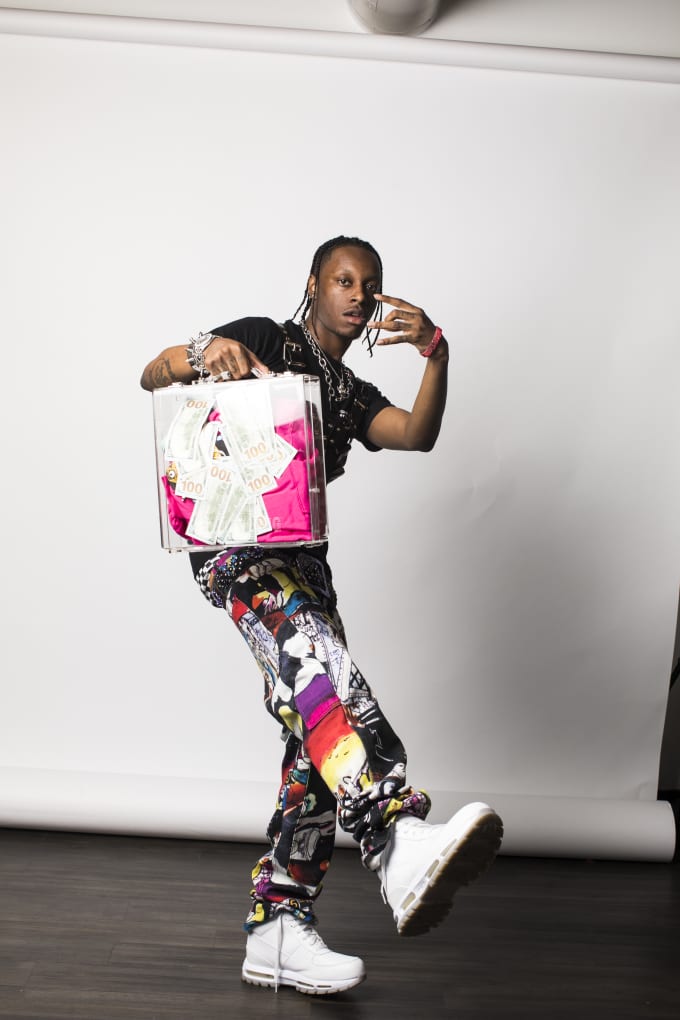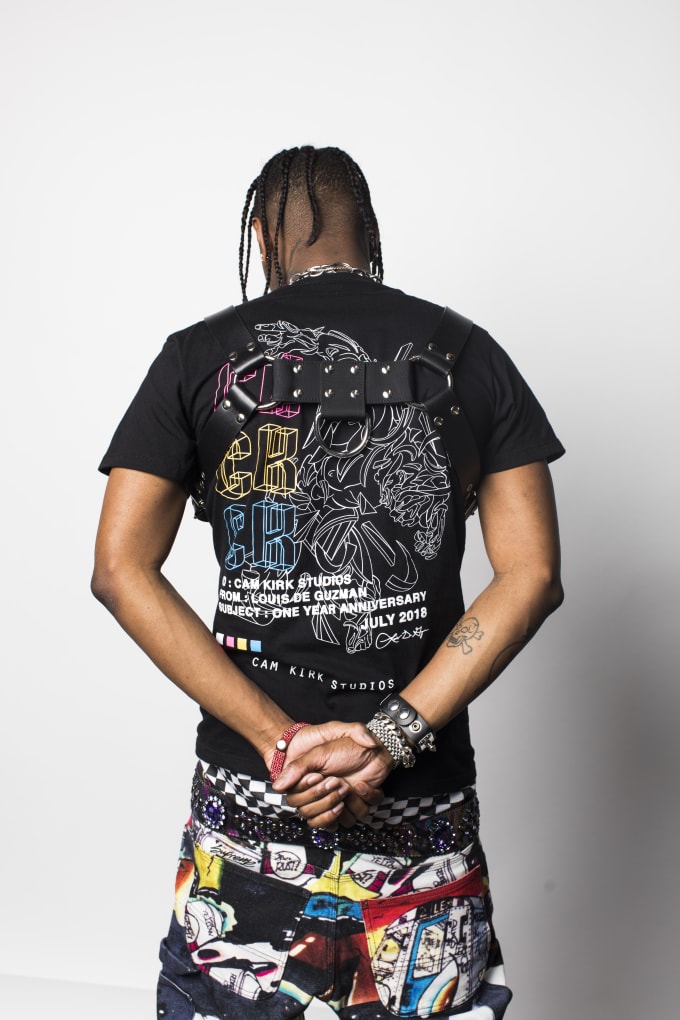 How did you get into photography? Did you start out in the rap scene?
It's a long-winded answer. It started for me in Atlanta after I graduated from Morehouse College. I actually booked Wiz Khalifa for a concert while I was in school, during his Deal or No Deal Tour. And that's actually the moment that pushed me into the music industry world and pushed me to buy my first camera.
Long story short, at the end of the night, I couldn't get a picture with him because my phone was dead and all my friends had left the building. So I remember at that point, I was like, "Man, I have to go out and buy a camera just in case. I'll have to learn how to use it really fast and take a picture if I need to take a picture."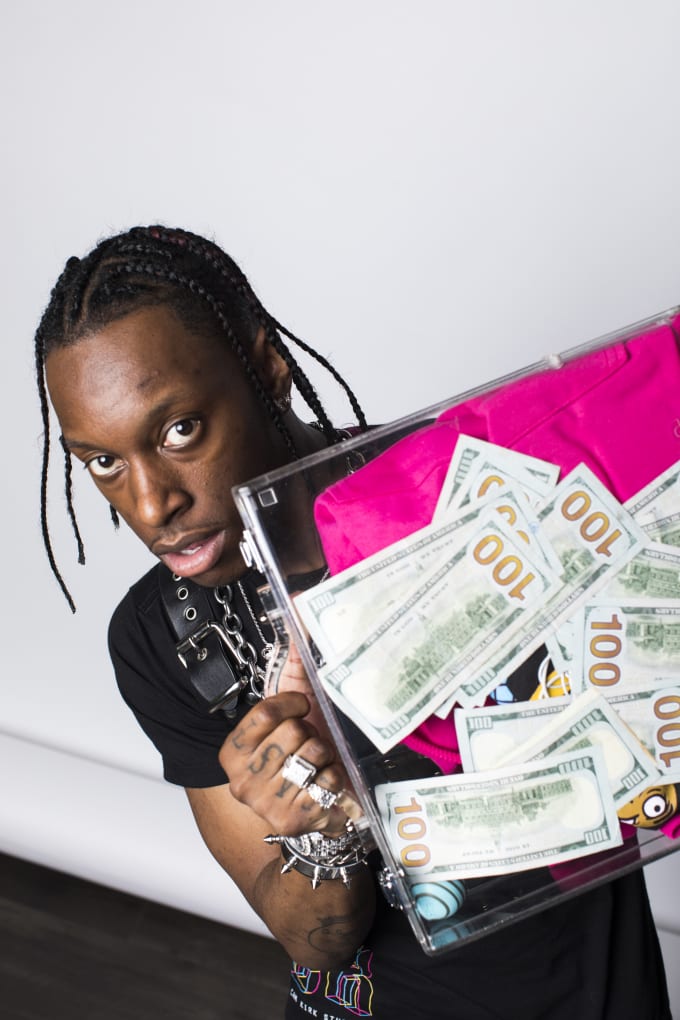 From that point on, that event actually pushed me into the limelight of the Atlanta music scene. The camera collected dust for about a year or two, as I just explored what I wanted to do in music—whether I wanted to be an artist manager, a promoter, or XYZ. I graduated college and decided I didn't want to go back to Maryland, I wanted to stay in Atlanta, so I decided to lean on the camera and find a way to make some money off of it. I was doing shoots for local artists, local events. It turned into a passion for me, and something that kind of came very naturally and very easy to me. And here I am five years later with my own studio, shot every artist in the game pretty much. It's been a blessing.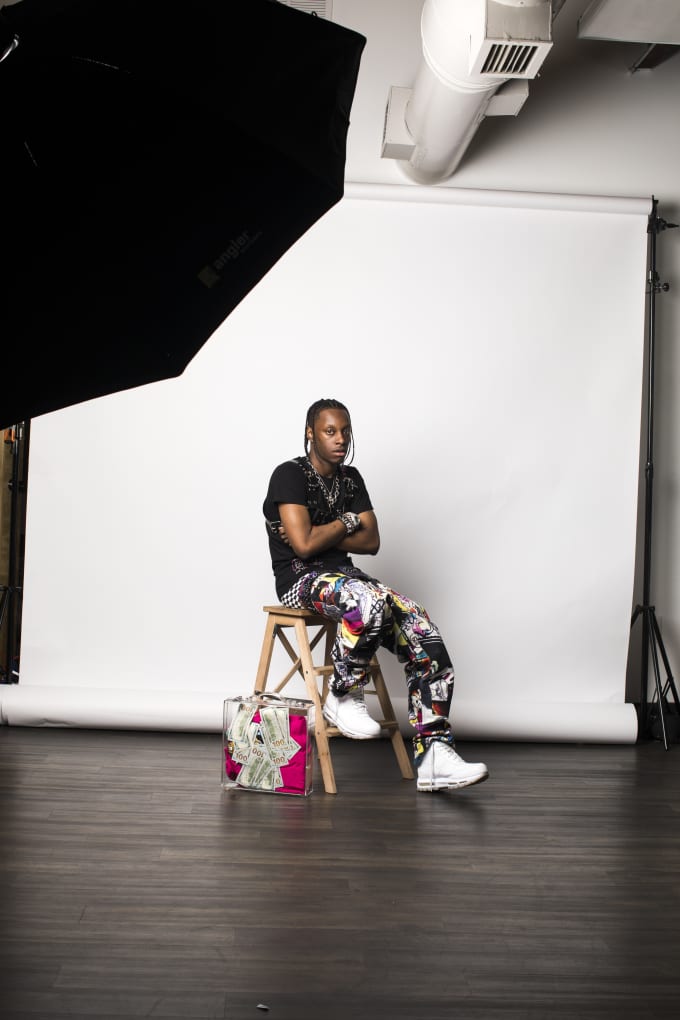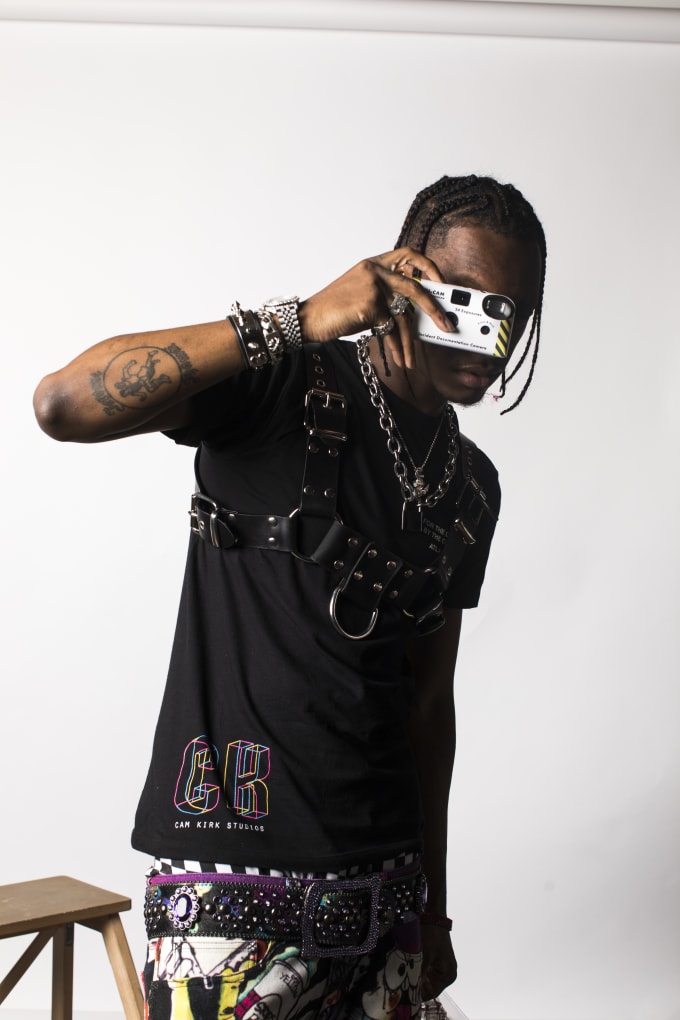 What kind of impact do you want your work to have? What do you want it to say about Atlanta?
My main mission from the beginning wasn't to shoot any and everything. My main goal was to perfectly, and with as much integrity as possible, document the culture that I felt in love with, which is just hip-hop as a whole. But most importantly, I wanted to document the lifestyle and the moments of these megastars that come out of Atlanta, because they often go undocumented, to be honest.
I remember growing up as a fan of T.I., Gucci Mane, and all these artists coming out of Atlanta that were making major music, but you had a hard time even knowing what they looked like. I always felt that Atlanta, without having a strong hold on the media, the artists were losing out when it came to actually getting recognized—gaining facial recognition—for the work they were putting in.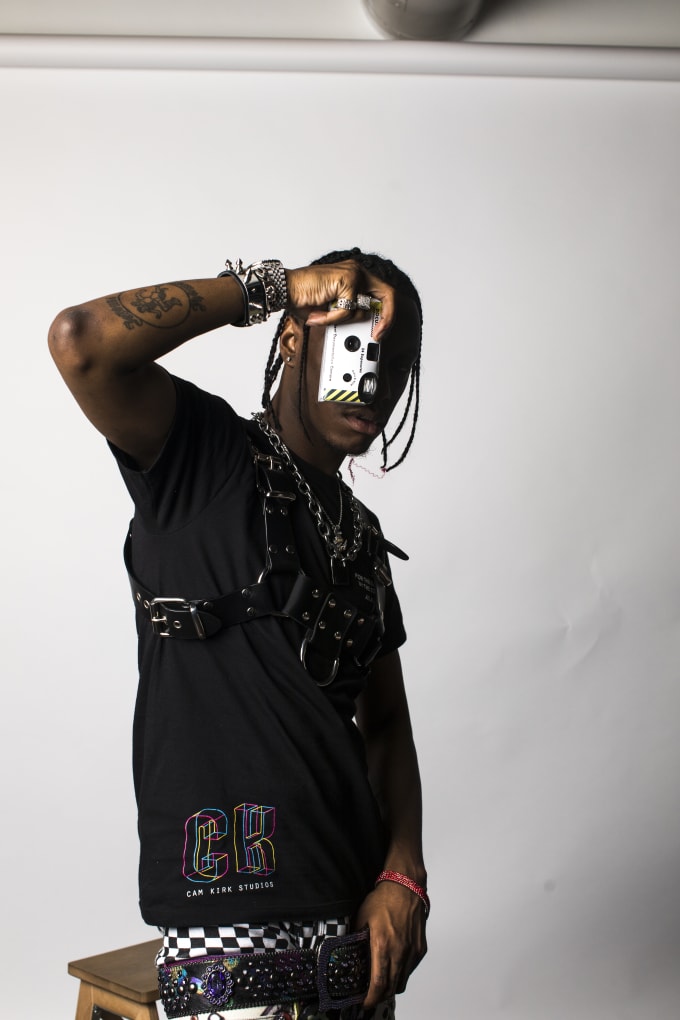 So one of my main goals from the beginning was to be someone who could change all that. I think it's kind of sad that during the heyday and the prime of T.I. and Gucci Mane, we don't really have a lot of photos to show those times in Atlanta. You can't really find photos of those rappers in the studio making songs, or when they were at the local club or local concert.
There were a lot of people doing videos but there weren't many people documenting in a way that I thought would be timeless, which is photography. So when I first started my career and got to be around Gucci Mane early—before he went to jail—that was my main goal. I'm in the presence of an icon, and I wanted the world to notice this. So that's what I set out with photography, to shed a light on the Atlanta scene.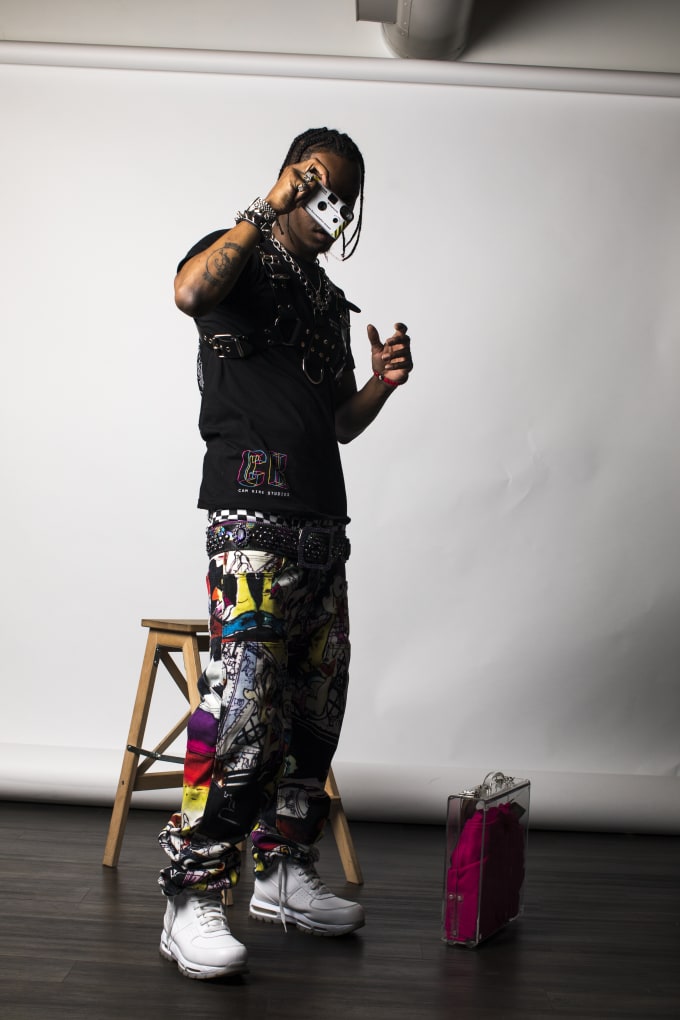 What's next for you and Cam Kirk Studios?
So what's next for me, man, is just continuing my photography and building my personal brand. I'm working on a really, really big global gallery, but I'll have more information about that later. I'm cooking up a follow-up to by billboard exhibit and the Trap God exhibit that I did in the past—something that will hit just as hard, if not harder.
I'm in a space now where I'm blessed enough to start creating things I want to create, instead of creating things people tell me or ask me to create. The studio has given me the flexibility to be able to work on things that I really want to work on, because now I have another source of income.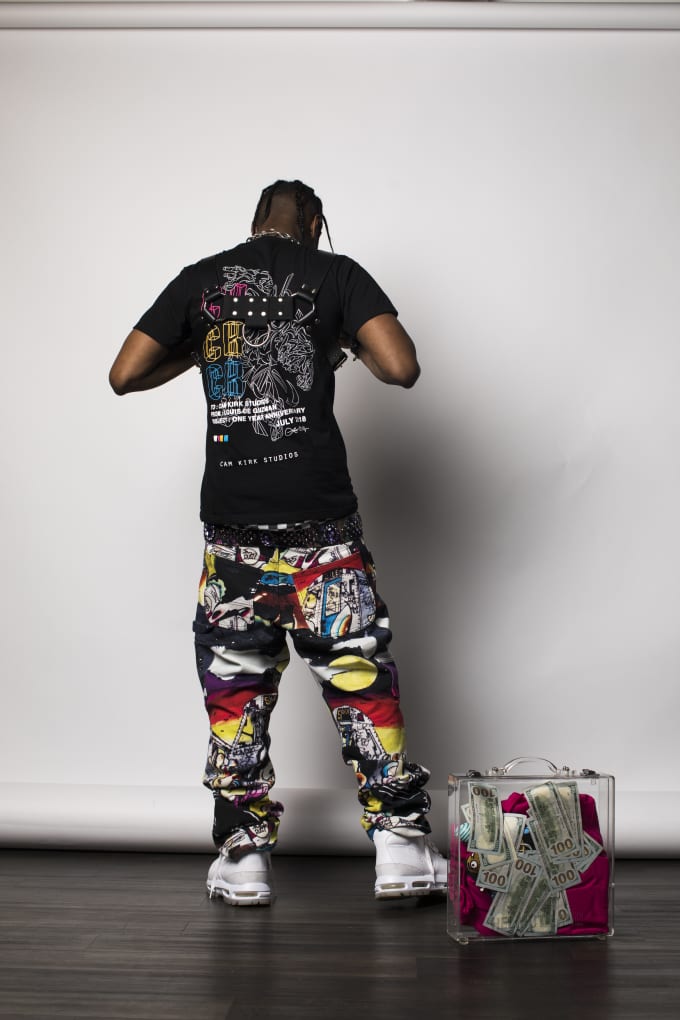 With the studio, our goal is just to turn it into a global brand. In year two, you'll hear a lot more from us doing bigger projects, bigger collaborations, working with bigger influencers from around the world. Also, my plan is to take the studio and mobilize it a little bit and move it to different cities with the same theme, and the same passion, and the same goals and the way that we do things. I want to take our mission to different cities and different communities.