In honor of the 2018 FIFA World Cup, Virgil Abloh and Kim Jones have teamed up with Nike on two distinct collections based on the classic soccer kit.
Abloh's Nike x Off-White "Football, Mon Amour" range was heavily inspired by memories of his youth—such as listening to his favorite rap records on the way to soccer practice—as well as his favorite European football uniforms. The collection is right in line with Off-White's signature aesthetic, as it features a bold stripe motif, loud graphics, and plenty of co-branding.
"The great thing about the vocabulary and history of football is that aesthetically it has its own look," Abloh said. "I was always inspired by the way European teams have a sponsor printed over the chest. When I was working on this collection, I wanted to celebrate the different variants of typography."
Notable pieces include the black-and-white checkerboard jersey, zip hoodies, and Alboh's Flyknit Zoom Fly.
"I wanted to communicate where a player strikes the ball. So, I put dots on the boot; if you're going to strike the ball, your foot/eye coordination is basically the only variance of chance," he said of the shoe design. "That's what the collection started with, these running shoes that mimic the same as your actual boot on the pitch so that you started subconsciously training all the time. Then I just applied that aesthetic from the bottom up."
You can check out Abloh's "Football, Mon Amour" collection below.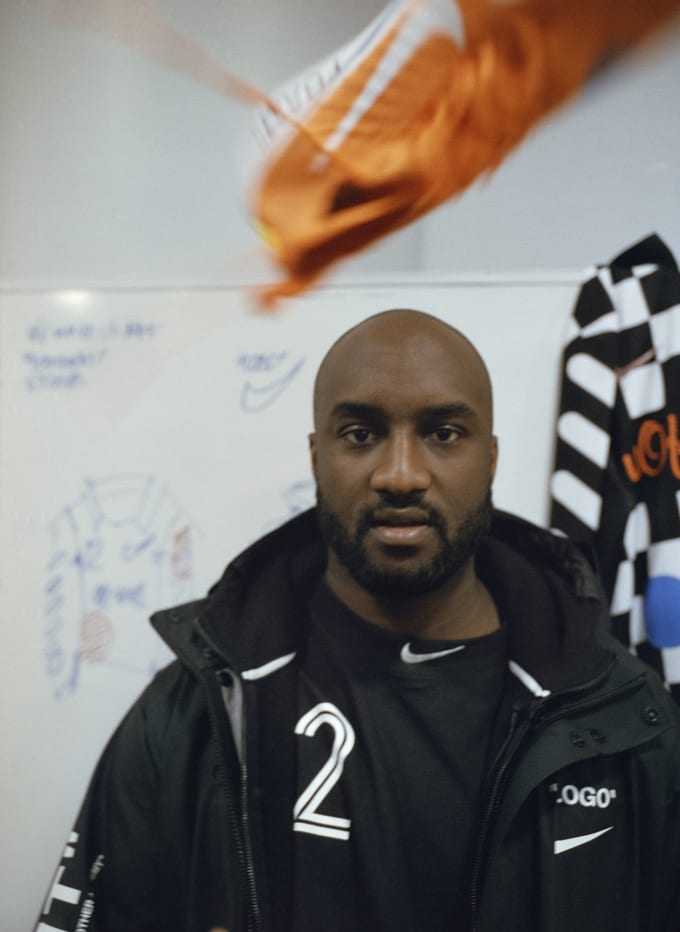 For his collection, dubbed "Football Reimagined," Jones took a much more subtle approach. His range is kept relatively clean with a dark navy color scheme and minimal branding throughout. Jones said his collection was inspired by the heyday of London's Kings Road, blending avant-garde tailoring with sleek sportswear.
"That whole punk era was all about proportions that gave power to the wearer," he explained. "I was inspired by the idea of DIY of the time—cutting up and putting things back together—to create something new."
Jones also took this approach when designing the collection's footwear.
"I was looking at the silhouette of the Mercurial along with my three favorite Nike shoes: The Footscape, the Vandal and the Air Max 97," he said. "Combining these into one shoe is an homage to punk, but with a super-slick end product."
Take a look at Jones' "Football Reimagined" pieces below.
Jones' and Alboh's Nike collections will drop June 7 and June 14, respectively. You can purchase the items at Nike.com as well as select retailers.