During last night's season premiere of Issa Rae's hit show Insecure, we saw her character go on a series of awkward dates, rocking different outfits for each occasion. The memorable scenes clearly highlighted the show's style evolution, but there was one piece in the montage that generated a lot of buzz: the bright red sweater embroidered with the word "Niggas."
Issa spoke about the design during her appearance on Complex's Everyday Struggle shortly before the season 2 premiere. The actress, who graced this month's Complex cover, said she wanted to include the piece after the show's director and executive producer Melina Matsoukas wore it on set.
"I was like, 'I want to put this in the show.' Our costume designer [Ayanna James] said, 'It can go in this [dating] scene,'" Issa explained. Though she couldn't recall who made the sweatshirt, the actress promised viewers she would tweet the name soon after. 
The bold crewneck was designed by NYC-based brand Omondi, which was launched in 2015 by Recho Omondi. The Kenyan-American designer discussed the piece in a March interview with W magazine, addressing the kind of response it's received.
"The majority was positive. It was a tongue-and-cheek offering we introduced for Black History Month. People liked the juxtaposition of this socially charged 'curse word' hand-sewn into pastel embroidery," she said. "It made some people uncomfortable—but our customer understands it."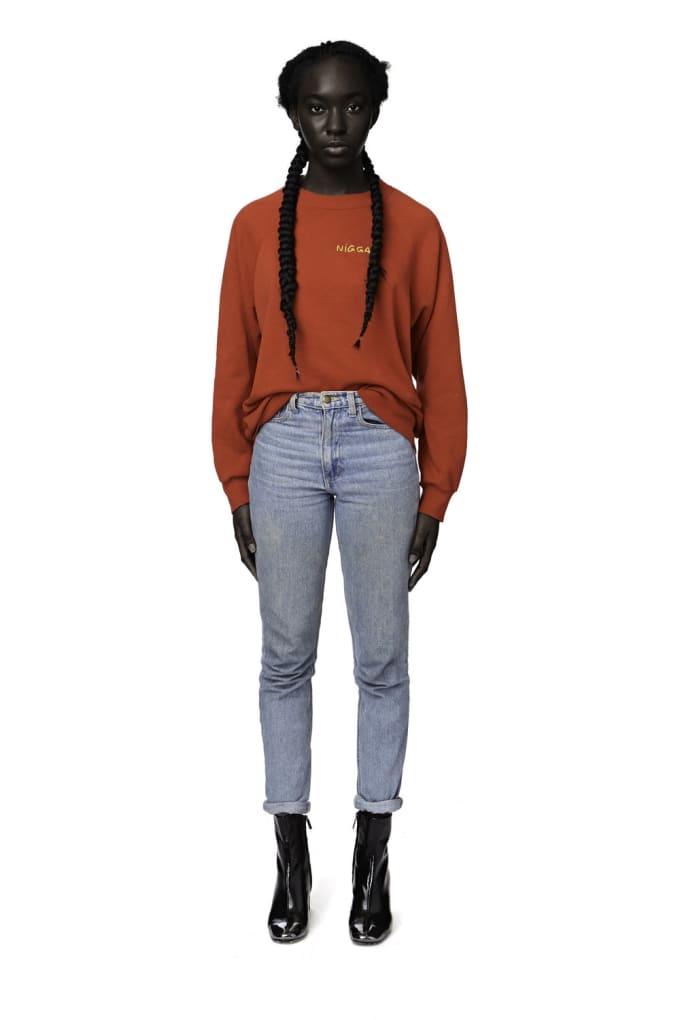 The sweatshirt is available in four colorways: red, blue, cement, pink, and nude (chocolate). You can purchase it now on Omondi's website for $160.