When Phillip Leeds, photographer and former tour manager of N.E.R.D, was young he was obsessed with his father's Nikon F camera. "I wanted a Nikon camera so bad," he says. At 12, his parents finally gave him one for his birthday. He was instantly hooked on taking pictures.
By the time Leeds was in college, he had developed a love for Polaroid cameras. He remembers attending an opening for an Andy Warhol exhibit called "Warhol: Red Books" in 2004 and becoming interested in the Polaroid Big Shot camera, which Warhol used to capture the portraits in his exhibit. He eventually purchased a used one off the internet and began shooting portraits of friends at his house in Brooklyn. But Leeds didn't consider himself a photographer. "I knew how hard it was to be an artist so I never tried to pursue it professionally," he says. "It was just a hobby I did, for me. I would just keep [the polaroids] in a shoebox."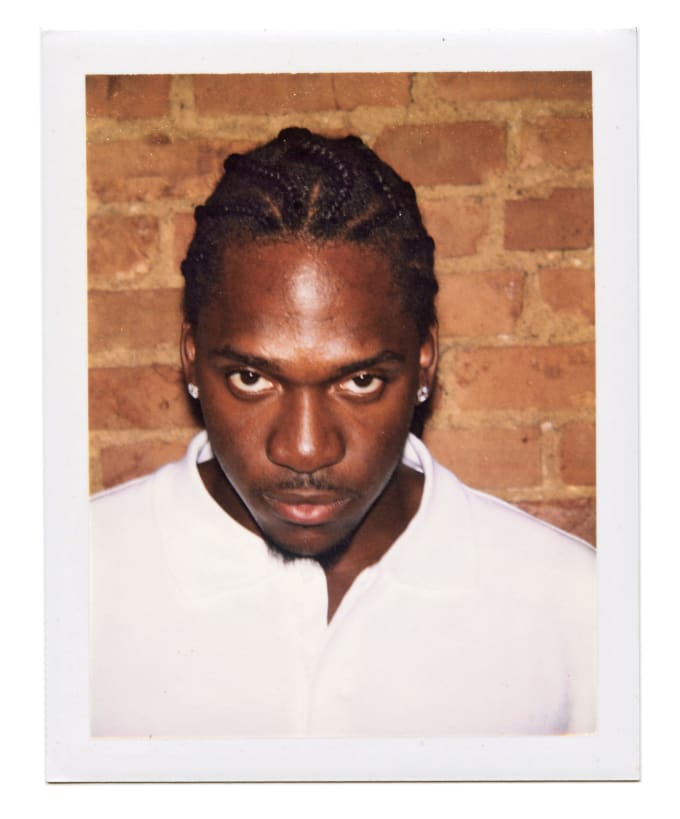 Fast forward to 2017 and some of those same images Leeds captured are now published in his first book, Big Shots!, which is available now. Big Shots! features 350 polaroid portraits of various artists and figures from the worlds of hip-hop and fashion, including Pharrell (who also wrote the foreword), Naomi Campbell, ASAP Rocky, Tyler, the Creator, André Leon Talley, Kid Cudi, and Jay Z. "That photo of Jay was taken at his office at Roc Nation," says Leeds. "One day, Jay had gotten a custom bat. He was in the hall and I kinda just ran up on him. At that point, I had a really cheap plastic photo album with the photos in it. I showed it to him and said, "I take these Polaroids. Can I take one of you?'" He flipped through the book for a second and said yes. I feel really lucky to have that photo because he doesn't take a lot of pictures."
Some of the photos, including one of Snoop Dogg, were taken at the Billionaire Boys Club showroom in New York, where Leeds worked as creative director/brand manager starting in 2006. "Snoop was in New York that day and came to the BBC showroom," Leeds recalls. "He's a gangster but he's also really friendly, nice, and funny. He's like a comedian. That day, he was literally doing like a comedy show pretending to be a BBC customer service employee and helping himself while he was rolling a blunt. We have one of those metal moving staircases because we had high shelves in our stockrooms. He was moving the stairs around, picking his sizes, and trying it on. I have photos of him from that day in four different outfits just 'cause he was trying stuff on."
"I don't really fanout a lot," he adds, "but for a rap-loving, pot-smoking kid from New York, smoking blunts with Snoop in your office while you're taking pictures of him is a bucket list kind of thing."
Leeds never set out to be a photographer or release a book. "I was just taking photos of people I crossed paths with, and it ended up being what it is," he says. But he's not complaining. "I didn't even realize what I had until I got a printed copy of the book," he adds. "I knew I had some amazing pictures of some celebrities, but now it's an actual hardcover book on someone's table. I feel like I'm in a dream or something."
Big Shots! is available now.