If you're really about that Supreme life, you'll know that skateboarder/artist Mark Gonzales has been around since the brand's earliest days. If you don't believe us, take a look the postcards (remember when those were a thing?)  The Gonz used to send to Supreme's OG shop on 247 Lafayette St. back in the day. But don't get it twisted, these aren't like the postcards you'd send to flex on your friends back home, this postage is covered in graphics that would reappear on future "Supream" merch.
The postcards, most notably addressed to Harold Hunter (RIP), were usually jokes about where Gonzales was writing from—or what was on the postcard he sent into the shop. While the cards seem like a platform for obscure inside jokes and crazy gibberish (have you heard Gonzales discuss his art?), a closer look reveals how impactful these postcards were to future Supreme designs.
Fast forward to Supreme's Spring/Summer 2013 collection preview. Remember the "Supream Schminx" tee? That's all thanks to The Gonz. Not only is the graphic one of his own doodles, the misspelling of Supreme is straight from one his postcards to Hunter.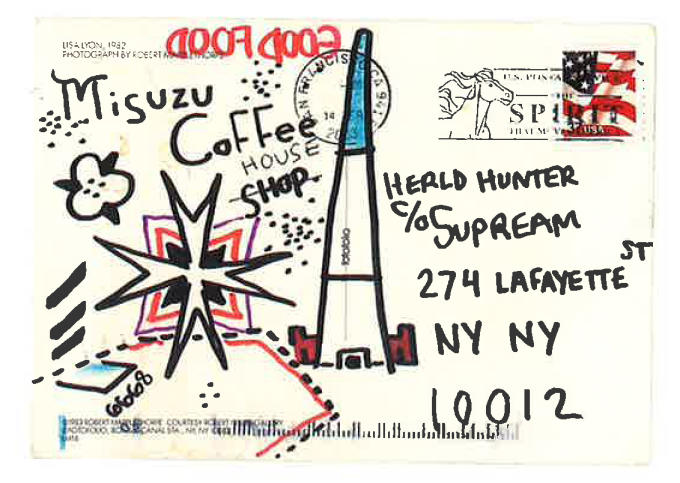 One of Gonzales' most visible and iconic works—his Shmoo characters—also appear on the postcards, in particular, one that Gonzales sent from Australia. In this case, Gonzales pokes fun at the regal-looking images (it's actually the Royal Exhibition Building) on the front of a Melbourne-themed postcard. It's graphics like these that would go on to inform future collaborations (and spawn coveted gear) for the Lafayette Street skate shop.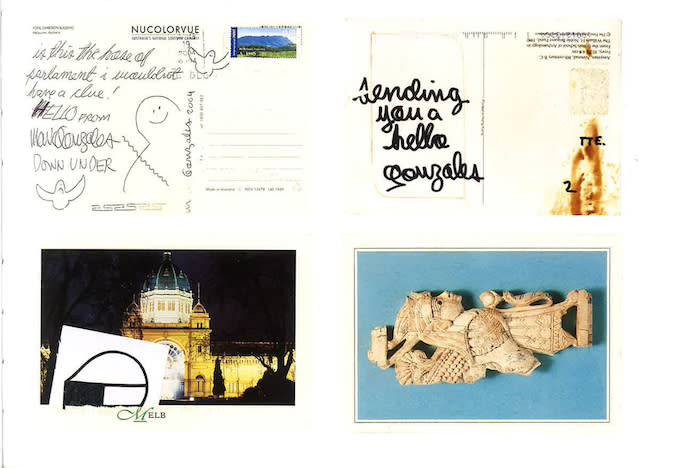 Is it surprising to see Mark Gonzales coming across like a crazy skateboarder with an artistic streak? Honestly, no. But it's always cool to see the very personal history behind one of Supreme's most recognizable graphics, artists, and skateboarders.