All the Blue Jays' Alek Manoah Does Is Win
The Toronto Blue Jays pitcher opens up about his mindset coming into this season, the team's good vibes, his sneaker game, and learning his slider from Twitter.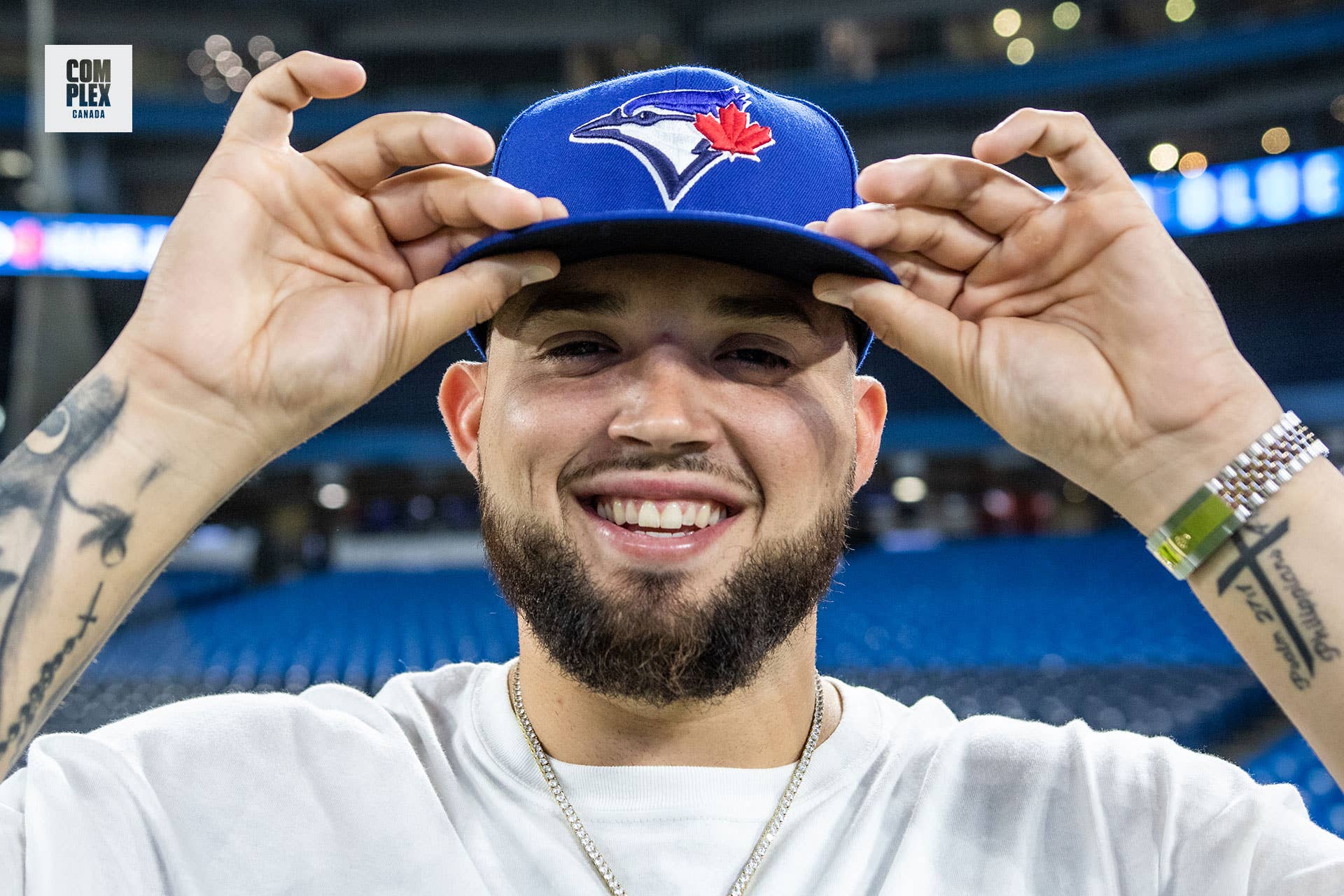 Complex Original
Image via Complex Original/Sid Naidu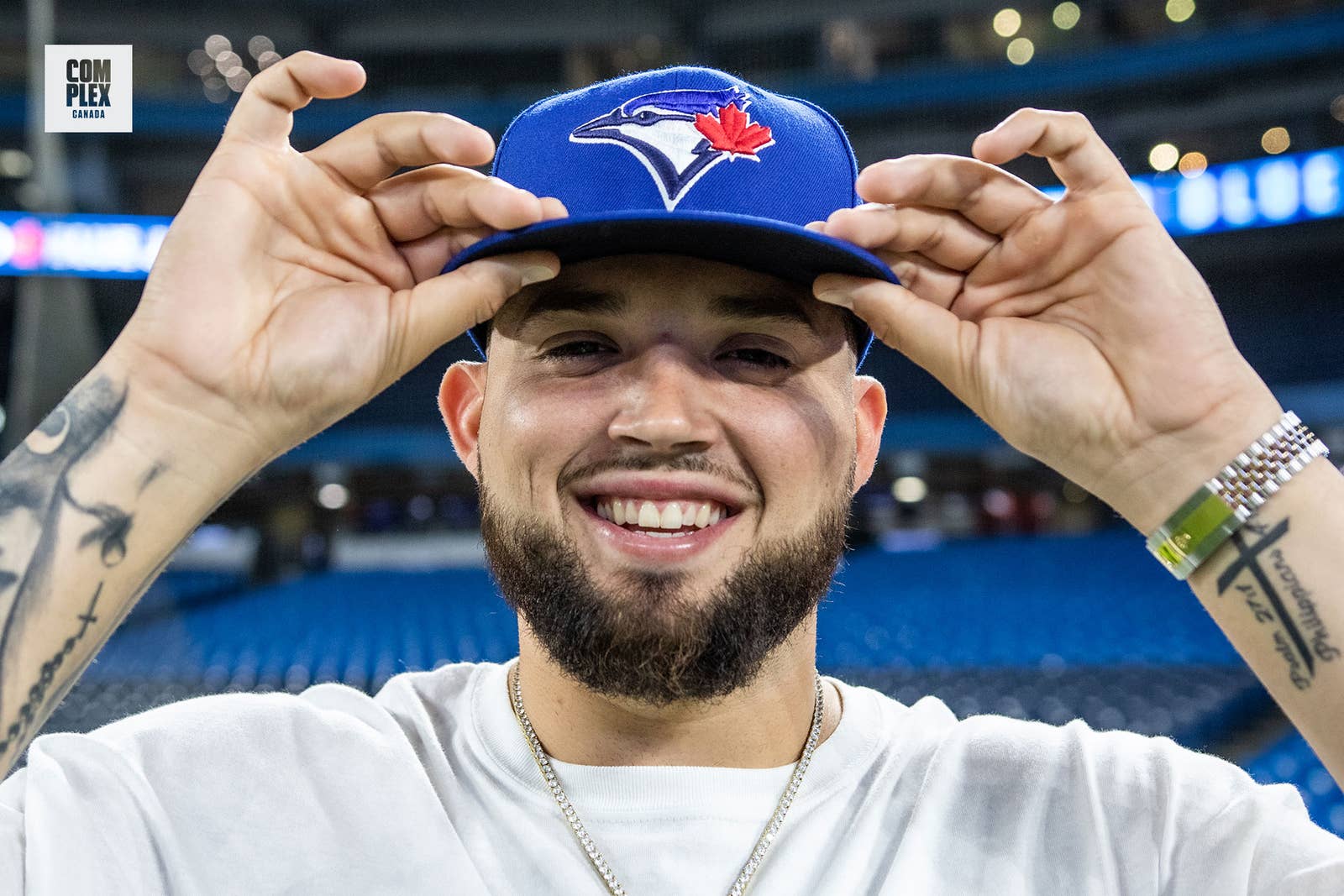 Alek Manoah just wants to win. According to the Blue Jays pitcher, he's always been that way, a product of growing up competing with his older brother Erik (also a pitcher, and currently playing pro ball in the independent Atlantic League) over even the most mundane chores. "That mentality was instilled into us at an early age," he told me earlier this season. After announcing himself on the scene with a 9-2 record as a rookie in 2021, Manoah's looking to build off that early success this year.
So far, so good.
Pegged by many as a potential breakout candidate coming into this season, he's somehow managed to exceed even those high expectations, pitching his way into the AL Cy Young conversation. The former first-round pick's rapid acceleration from promising piece to rising ace has helped give the Jays a deadly rotation to start the year, as the team waited for their equally deadly lineup to inevitably heat up.
Yes, it's still early. But even though Manoah's only a few months into his first full season in the majors, the 6-foot-6 righty already carries himself like a seasoned vet, hunting for wins out on the mound the same way power hitters hunt for fastballs middle-in. He's currently tied for the league lead with 9, although Manoah's quick to point out that the only W that matters to him is a team win—something the Jays have done in over 76 percent of his 34 career starts. Much like his fellow Miami native DJ Khaled, all he does is win.
Complex Complex spoke with Manoah about his mindset coming into this year, the sting of missing the playoffs by a single game in 2021, and why he pays more attention to his win-loss record than his ERA.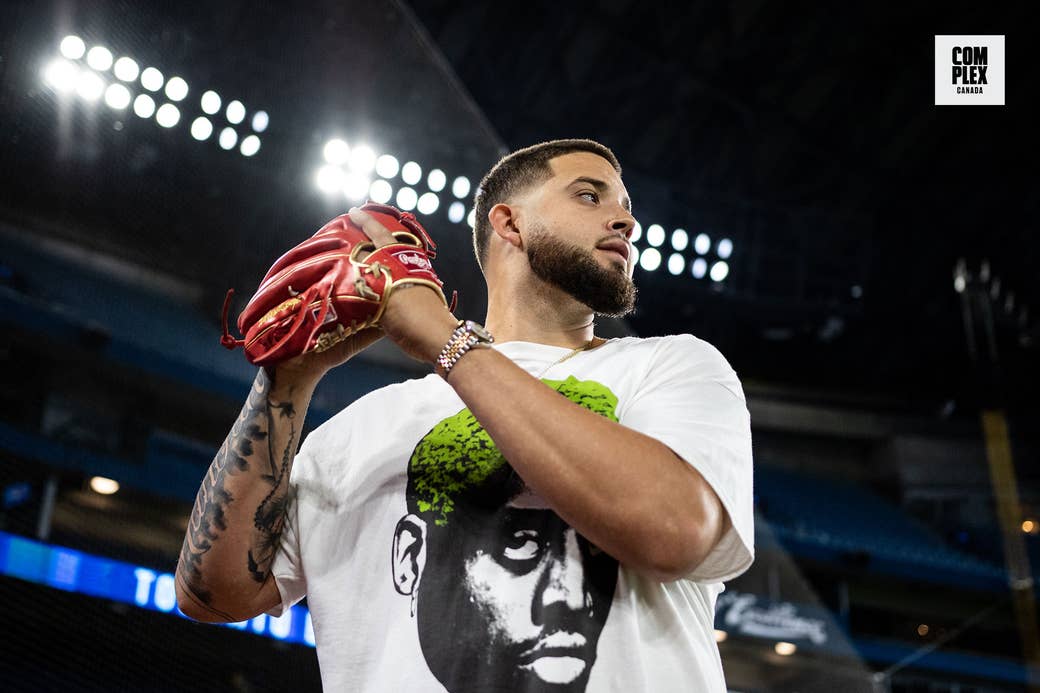 I was reading a stat the other day that you've got the best win percentage in the Majors since the start of 2021. You're starting to earn a reputation as a guy who finds a way to put his team in position to win. Have you always been that type of pitcher, or is that a skill you've developed over the years?
I just grew up in a really competitive household. Me and my brother were always competing with everything growing up… Whether it was who could take out the trash faster, we were just always competing in everything. We always wanted to do it better. That mentality was instilled into us at an early age. It doesn't matter if you go 0-for-3 or you have a bad game. As long as the team wins, that's a positive.
Throughout my career, players that win, those are the guys that persevere the most. Those are the guys that make it to the next level. Playing on winning teams in high school, that's how you get seen by college coaches. Playing in championship games, things like that. So that has always been [my] mentality: just to win, win, win.
And I know baseball is changing a little bit. They don't really look at pitchers' wins and losses anymore. It's more about ERA. Or xFIP, or whatever the damn analytics is. But at the end of the day, winning ballgames will get you to the playoffs, and winning playoff games will get you to a World Series. Winning a World Series has always been my goal. So I could care less about my ERA or my xFIP, I just want to win as many games as possible and get a World Series.
Totally. Although I'm sure it helps that your ERA and xFIP are really good right now too.
[Laughs.] Yeah. Well, you know, our offense is struggling a little bit, so we're going to pick up for them until they get hot.
"We all believe in each other. We believe in the way we work. We believe in our work ethic... We know that everybody wants to do the same thing, and that's win a World Championship."
You've gotten off to such a strong start, not just this year, but to your career. After such a successful rookie year, did you set any goals for yourself heading into this season?
Being able to go 9 and 2 last year was huge for me. Just being able to go out there and compete every day is a huge blessing, not only for me, but for my entire family, everybody I represent. So I just wanted to build off of that. That 9-2 record, that's what I look at the most, is wins and losses. Obviously, being able to have a low ERA, low Batting Average Against is huge as well, because you don't want to be a guy that gives up eight runs, but you're winning games, you know what I mean?
Usually that doesn't correlate anyways, but going into this offseason, I just thought in my head, we have five starters, if we're able to get 20 wins each, that's a 100-win season. And if we get a 100-win season, we're not worried about being one game out of a playoff [spot]. We're going to for sure be in the playoffs.
So my mentality coming into this year was, [it] doesn't necessarily have to be my statistical win, but as long as the team wins the games I start, I want to go out there and win 20 of those games, be able to give the team a chance. If I do my part to get 20 team wins on days that I start, whether I actually get the win or whoever else gets the win, just as long as the team gets the win… If we add that up over five starters, that's going to be 100 wins. And we won't have to worry about watching the playoffs from home again.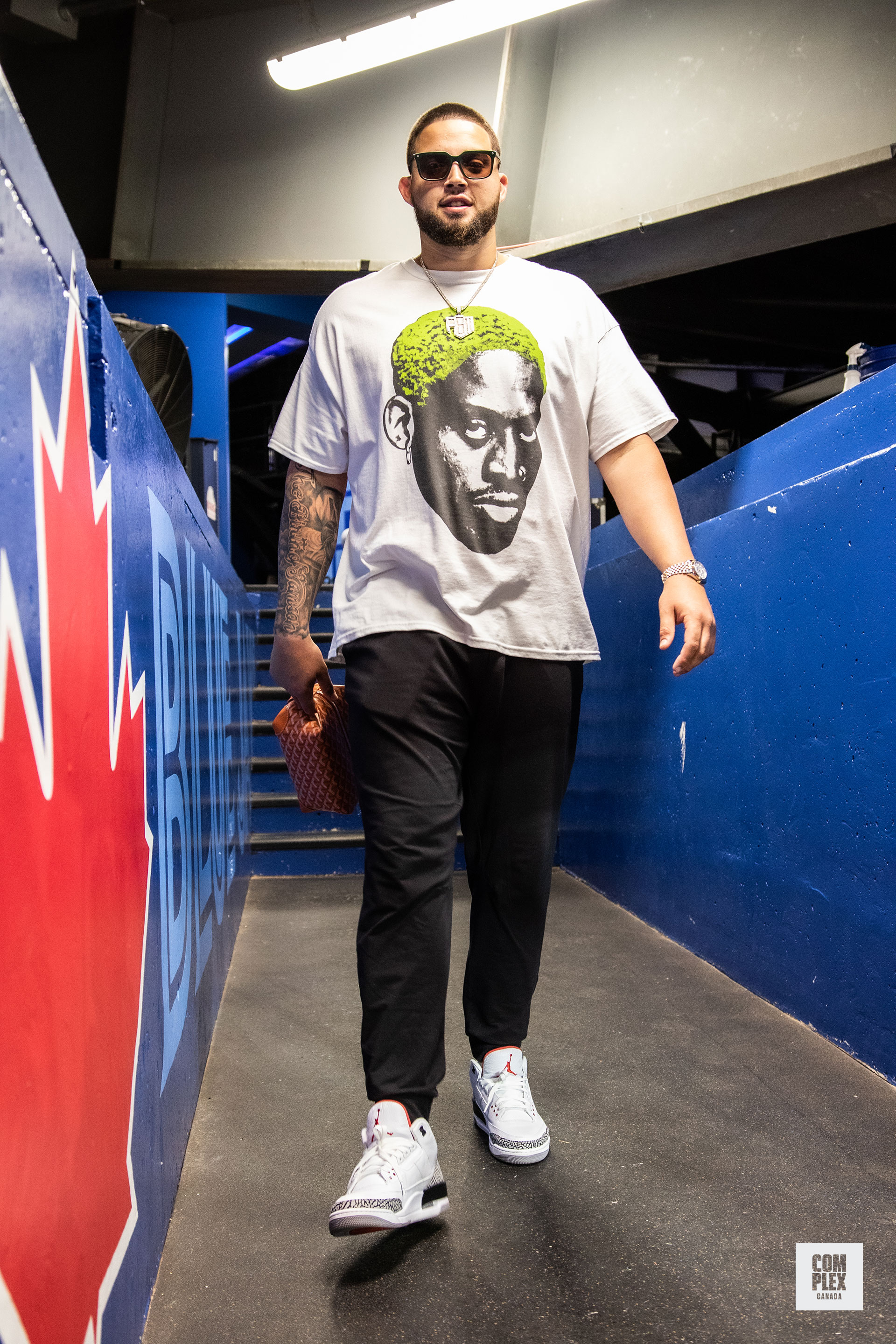 You mentioned missing the playoffs by one game last year; it's a killer. But I'm wondering if that experience helped you gel as a team at all, in terms of what you wanted to achieve this year…
100 percent. I think the biggest team goal is focus, energy, and just having that intent every day. Literally understanding that one game can be the difference. And we felt that to the max last year. Looking back, you look at some series and you're like, "Man, we should have definitely won those games…"At the same time, we're a really young team. But now we have that bitter taste and that bitter feeling of… Man, one game. One game is the difference, you know?
And I think that's just the level of focus that we're going to have this year: every game matters. It doesn't matter if it's April, May, it's July, middle of the year, guys are getting tired. It doesn't matter. That focus and that intent needs to stay the same and we want to make sure we're not one game short this year.
It seems like you guys are pretty loose though too. I'm assuming there's got to be some kind of balance. Baseball's a long season, right? You've got the home run jacket, you seem to have great chemistry. What's the vibe like around the team right now?
It's amazing, you know, because even when we're not doing well, guys are still having fun, guys are still joking about it. Even George [Springer] yesterday on the bus was like, "Hey, pitchers hang in there with us." And that's an offense understanding that they're not doing the best right now, but they're not going to get down about it. They know how good they are. They know how good they can be. They know that they can joke about it a little bit.
But it just goes to show you how confident they are that they are going to find their groove, that they are going to get it going. We're a bunch of young guys, we're playing in the big leagues, we know we're pretty good. We're extremely competitive. We're competing with each other to get better every day. Everybody pushes each other. We just enjoy working with each other every day at the ballpark, enjoying the ups, enjoying the downs, and being able to go out everyday and perform.
I read you're a fan of Rob Friedman's Pitching Ninja Twitter account. Is it true that you developed your slider from watching his videos?
Definitely. I was going into the Cape [Cod] League, going into my junior year of college, and I always had a really good fastball, good two-seam. The command was iffy, good deception on the mound. I was kind of just "throwing" in college, doing decent with just a fastball. But I knew that I was going to play the best of the best in the Cape. And I was like, 'Man, I've got to find something else to separate. I don't just want to be good, I want to be one of the best ones out here.'
And scrolling through Twitter, I was just non-stop scrolling through Pitching Ninja's page. I would always see mechanics, grips. And I was like, 'I wonder if I can throw a hard slider? I want to see if I can try and learn one of those.' Because I had a loopy, bad curveball, and I was like, 'I throw hard, maybe I need something to go with that.' So I started trying some grips: Dellin Betances' cutter grip, Chris Sale's slider grip. Just started manipulating things and throwing it. Trying it, seeing how it feels, and then just working from there. But yeah, definitely got the foundation from watching some of those videos on his Twitter page.
"It's how I carry myself every day, trying to inspire the next generation, man. Trying to be a voice for kids that come from where I come from, and grow up in similar surroundings."
And now your slider is a regular feature on his page, which is kind of nuts.
Pretty crazy, huh?
It's come full-circle. Do you remember the first time you got featured on it?
I was in college. I might have struck out like 10 or 13 or something like that. He posted it, and I was just like, Man, that's crazy. Because he posts all big league guys, and I was just a college guy. So being able to end up on there, that was pretty cool.
I can't remember the first time I told him I learned it from him. It would've been an interview or something, talking about how did I learn my slider grip. Then he found out I had learned it from his page, so now I think he loves it even more. [Laughs.]
He's got a vested interest in your slider at this point.
Definitely. He's invested in it.
Last year, the team bounced around a lot, playing in Florida and Buffalo before finally coming back to Toronto in July. How's it been being back in Toronto for good this year?
Man, the Rogers Centre is absolutely electric. I think that's a huge difference maker, being able to play at home in front of 40,000 fans, yelling and screaming and rooting us on. We really feed off of that. And definitely missed it last year, playing in Buffalo—the fans in Buffalo were amazing, and definitely supported us. It was like a home away from home. But when you play the Yankees or the Red Sox in Buffalo, at the end of the day, Buffalo is New York… So playing against the Yankees in Buffalo was kind of like a home game to them. And playing against the Red Sox, [the fans] travel well as well, so… It's good to be home. All the fans are rooting for us. Definitely a home atmosphere. Being able to sleep in a consistent bed every time you're at home is amazing.
And just being able to enjoy the city of Toronto. It's a super diverse place, super fun city, lot of things to do, a lot of amazing people. They really welcome us with open arms. So I think being able to be at home, not only is it good on the baseball [side], but really good on the mentals and the vibe.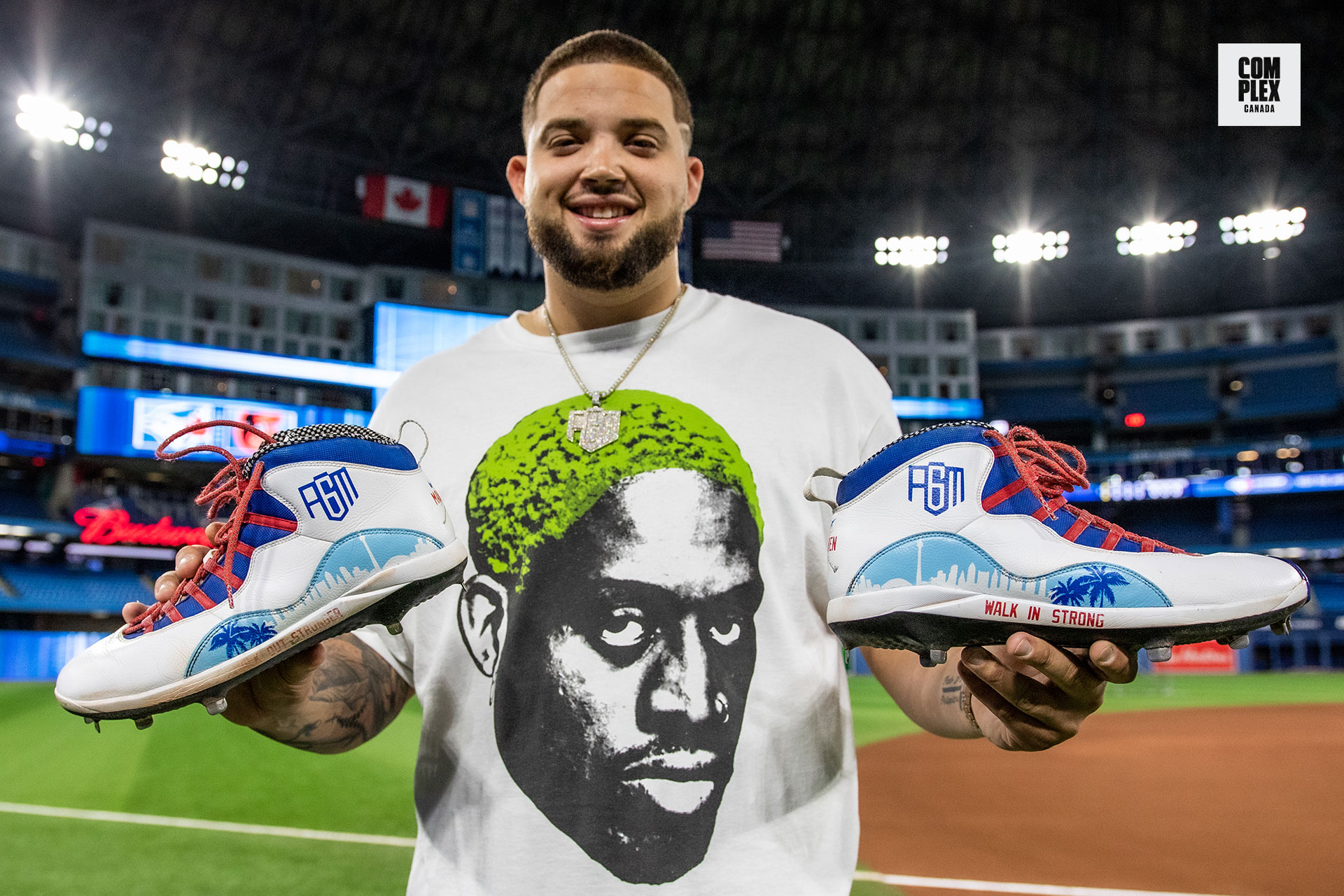 I heard you're a big sneakerhead, so I've got to ask you about those cleats you've been rocking. Did you have a hand in designing them?
Yeah. I told them I want some of my Miami roots to be involved, and then I also want the Toronto roots as well, as my home away from home. It's like half the Miami skyline with half of the Toronto skyline. The colors are obviously inspired by the team: the baby blue, and the blue and the red. And then I also wanted to throw my logo on there as well, the AM6 logo and my gym back home, Manoah Driven.
What about your gameday fits? I'm waiting to see the tunnel walk become a thing in baseball… Are we ever going to see that become a thing in the MLB, like it is in the NBA?
I mean, every time I'm walking through that tunnel, man, I'm waiting for a camera to snap a pic, but sometimes they're just not there. I don't know. I think we just got to get a camera guy down there a little bit, show off the heat. [Laughs.] They do it on the road a lot, but not a ton at home.
It's funny, because I know baseball is trying to go after younger fans, and I don't know that a pitch clock is the answer. You guys have personality, you've got style. The NBA has been able to leverage that so successfully, I'd love to see baseball do that more.
I agree. Baseball is a really amazing game. I think once people see not only how amazing the game is, but how amazing the talent and the young energy is around the game—I think being able to see how we are off the field as well, and how electric and fun things can be, and just the vibes that we're setting—I think will allow people to enjoy the game even more. And want to care about it even more.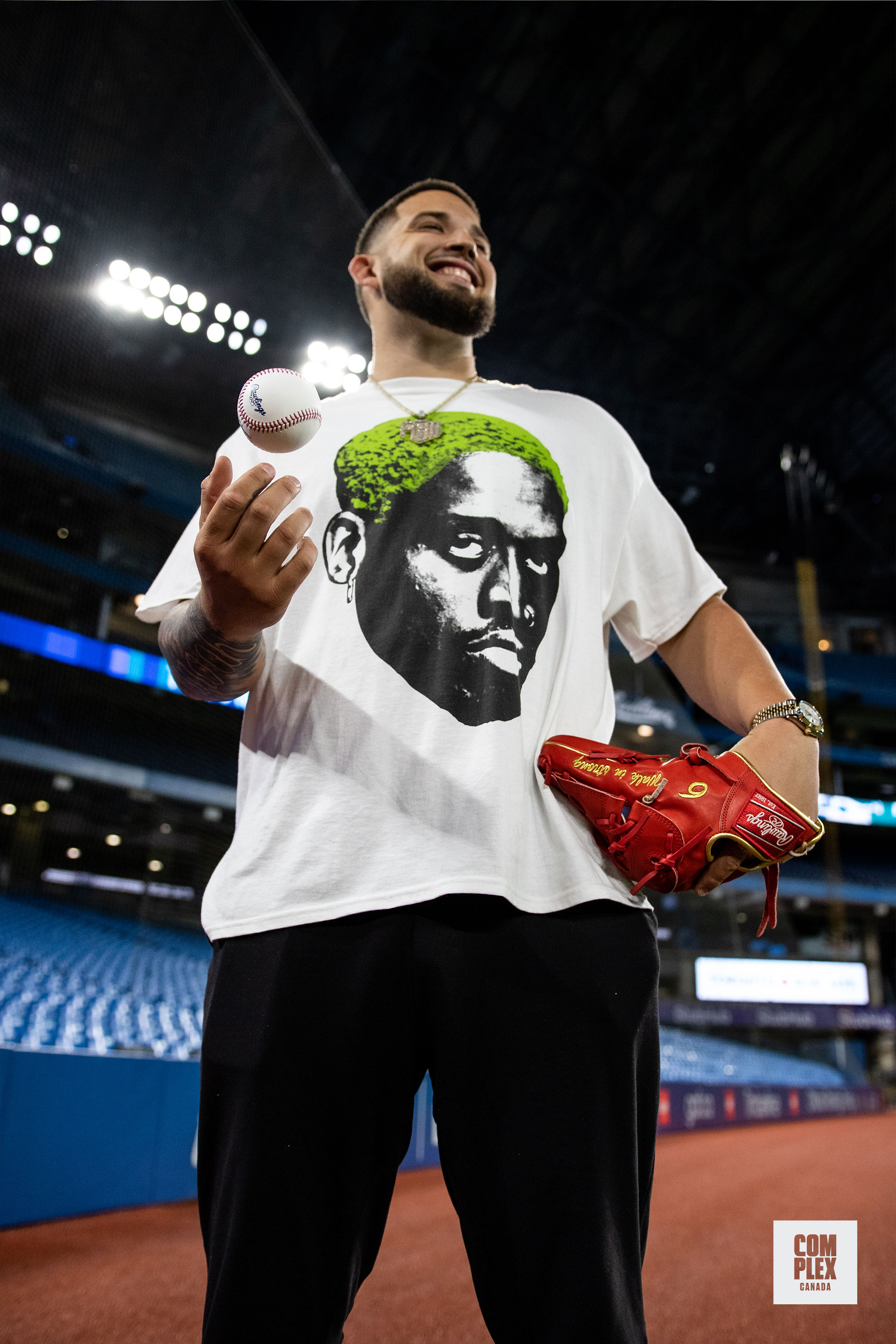 Do you see yourself as an ambassador for the game in that way? I know you haven't even had a full season in the majors yet, but is that something you see yourself growing into as your career progresses?
That's definitely something I aspire to doing. It's how I carry myself every day, trying to inspire the next generation, man. Trying to be a voice for kids that come from where I come from, and grow up in similar surroundings and circumstances. And being able to inspire them to want to play in the big leagues, to want to enjoy the bright lights, to want to be in front of the cameras, to want to be in big positions, to want to play in big games, and to want to be an inspiration to others… I think that's big.
The moment little kids stop loving baseball, baseball is going to die. So being able to inspire kids and bring a fun energy to the field, have some swag on the field and off the field, just be an inspiration for those kids growing up, it's definitely something that I'm trying to do right now—and as my platform grows, I'll continue to do.
That's awesome. So, since this is Complex, I did want to ask you about music. Is there anything in particular you're listening to before a start these days to hype yourself up?
I listen to a lot of Drake. The song "Freddy Krueger" by YNW Melly, I listen to a lot. Get in my Freddy Krueger mode before I pitch. I've always just loved hip-hop.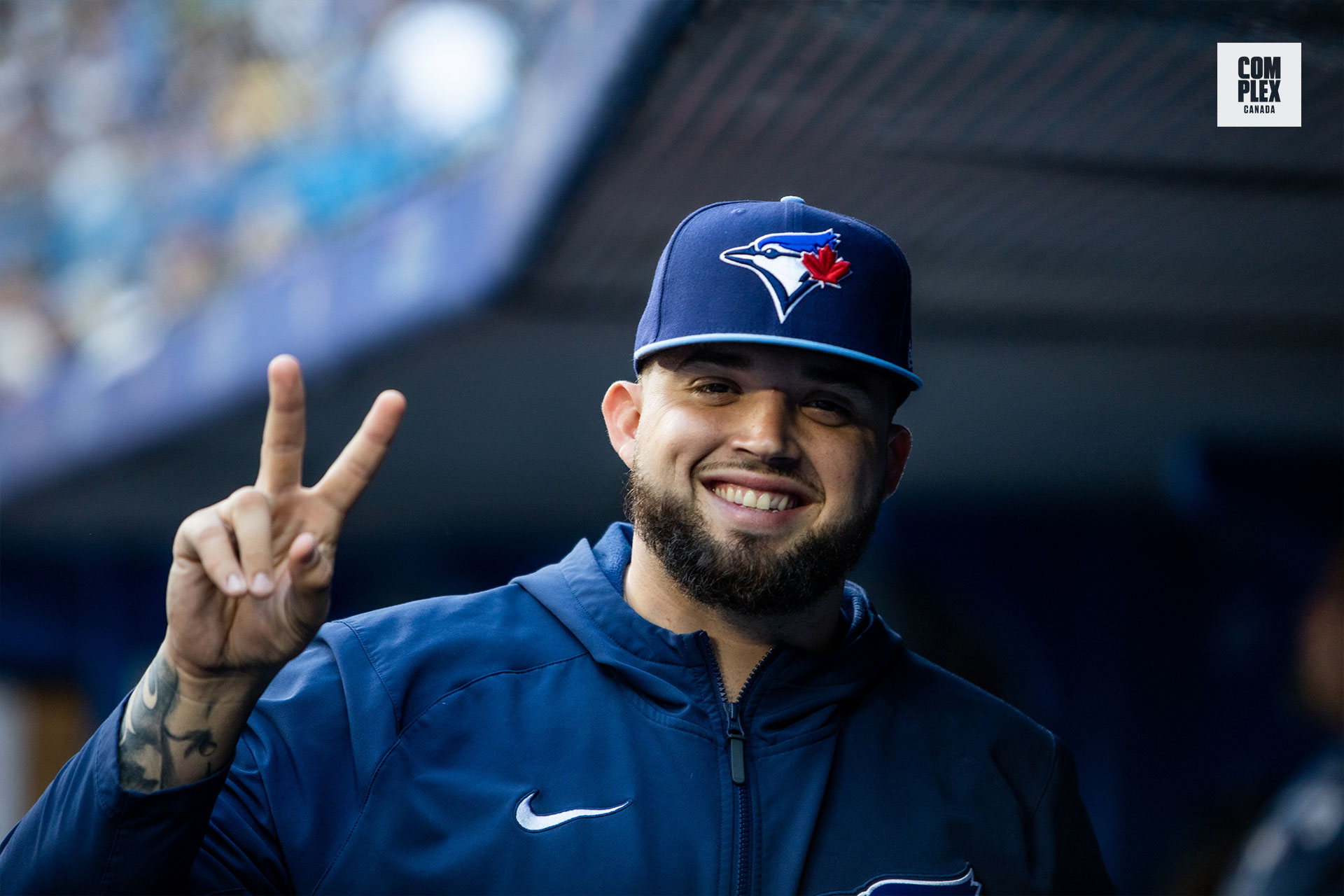 I know there's big expectations for the team this year. For you too. What's the difference between those outside expectations, from the fans and media, versus the expectations you guys have for yourself inside the clubhouse?
A lot of expectations that come from the outside are result-oriented. And I think a lot of the expectations that come from within, with us, are not result-oriented. It's more effort-oriented and focus-oriented and work-oriented. We all believe in each other. We believe in the way we work. We believe in our work ethic. We know what we're doing. We know that everybody wants to do the same thing, and that's win a World Championship. We understand that if we show up every day, and we play hard and we work hard, and we take batting practice, and we throw our good bullpens, and we go out into the field and we give it our all, at the end, the result will be what we want it to be.
So we don't put expectations based on results or "We'll win a World Series," or anything like that. We're not thinking about that. We're just thinking about going out there every day, playing hard every day, focusing every day, winning every game, battling every game, and getting better every day. And we understand if we do those things, then everybody will be excited at the end.