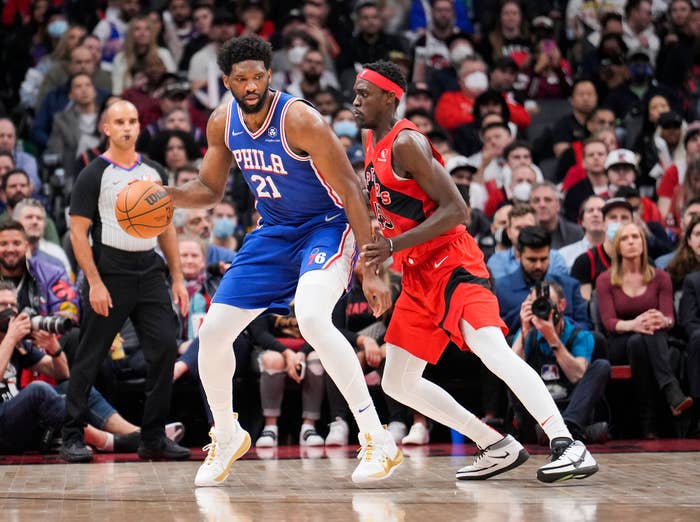 In what feels like forever, the Toronto Raptors will be heading into the 2021-2022 postseason carrying nothing with them but some house money. With nearly all Toronto's playoffs of the past several years marred by huge expectations and insurmountable anxieties to cast away—the Raptors have already leapt past the disappointment of their Tampa tank year with a regular season full of collective improvement. Whatever happens next is gravy. Right?
Ideally, yes. Realistically, no. The Raptors fought tooth and nail all year to secure playoff positioning above the play-in tournament, and these efforts shouldn't go to waste. There's no better way to truly see the potential of the team's current core than to compete in high-leverage situations against the league's top organizations. It's why viewers eyed the standings with bated breath in the last few weeks in hopes that Toronto would be matched against the top Eastern conference team they've had success against this season: their 2019 semi-finals opponent, the Philadelphia 76ers. 
When asked whether he'd maintain his aggressive play when guarded by Joel Embiid, Pascal Siakam responded, "I feel like I can attack anybody so I don't really care about that." 
It's a fair question; after a monster Game 1 against the 76ers in 2019, former Philly head coach Brett Brown memorably placed the 7-foot, DPOY caliber center Embiid on Siakam with great success. The Raptors saw their starting power-forward shy away from shooting and attacking a looming Embiid who stayed glued to the paint—effectively shutting down Siakam's driving angles and nearly erasing him from the matchup. 
But that was three years ago. 
In the time since, Toronto's roster composition, in addition to Siakam's capabilities, have changed. That's evident in this season's matchups against Philly where Siakam has looked undeterred by whichever player has been placed in front of him; he's become more comfortable and capable with the excess space provided by sagging defenders. And not by spamming threes, but by manipulating player positioning on the court and proficiently passing out of double teams and disrupted defenses. The threat of Siakam's passing alone, averaging 5.3 assists this season, has been enough to place the burden of decision-making on the opposition— forcing them to make a multitude of decisions he easily seems to predict. This year, there is no 'easy fix' of placing Embiid on the All-NBA candidate and for this, you can thank the Raptors' unorthodox roster composition. Because Toronto has dominated the glass against Philly with their length, athleticism, and lack of a traditional center, there's no option but to ensure Joel Embiid is occupied close to the basket to make up for the rebounding discrepancy. By putting the center on Siakam for the duration of the game, with the latter's improvements as a perimeter ball-handler and play-initiator since his first year as a starter, the Sixers would be left vulnerable to Scottie Barnes' patented, second-jump offensive rebounds and OG Anunoby's sneaky vertical. 
The changes to either team don't end there, with Fred VanVleet acknowledging the development of Joel Embiid's game in the last few years as well: "[In 2019] he was more back to the basket, playing like a 5. Now he's turned into Kevin Durant, Michael Jordan, Kobe, Shaq all put together."
Marc Gasol isn't here to suppress his game in ways that saved Toronto from the vulnerabilities presented by double or triple teaming. For Saturday's matchup, the Raptors will have to throw multiple looks and bodies at the Sixers' lead scorer. He's simply a better scorer than ever before, making historic strides for his position in NBA history. For a 9th ranked NBA defense, the rotational discipline required to execute that is an ask that may eclipse any of the advantages the Raptors hold. 
It's tough not to reminisce about postseason series' past considering both teams have retained a memorable face or two from an iconic round two matchup– but these teams have truly transformed since. The solutions of yesterday are unlikely to be applicable today, and it's a testament to the growth of a couple of fellow countrymen who will meet yet again.