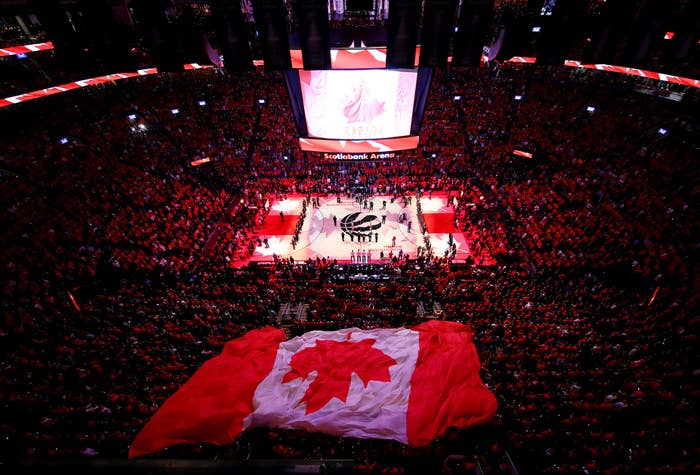 It's about to get a lot more comfortable for some Torontonians to cheer on their favourite teams or go to a concert soon. On Tuesday, MLSE announced a new partnership with non-profit KultureCity that will make events more accessible for people who experience sensory overload.
With the partnership, shows and games at Scotiabank Arena, BMO Field, and Coca-Cola Coliseum will soon offer accommodations that will help combat overstimulation.
"Our communities are what shapes our lives and to know that MLSE is willing to go the extra mile to ensure that everyone, no matter their ability, is included in their community is amazing," said Uma Srivastava, Executive Director, KultureCity. "We're honoured to partner with MLSE to provide a truly inclusive experience for all fans." 
With the help of medical professionals, the three venues have trained their staff to recognize the signs of sensory overload and how to appropriately handle it. On top of this, fans can see what sensory features are available and where they can find them by downloading the KultureCity app. One tool that fans can access are sensory bags, which will provide noise canceling headphones fidget tools, verbal cue cards and weighted lap pads to those who need them. 
"MLSE prides itself on providing best-in-class experiences at our venues, which includes ensuring that all fans, no matter their accommodation requirement, can enjoy our live events," said MLSE's Vice President, Venue & Operations Caroline Wright in a press release. "Through our partnership with KultureCity, we are furthering our commitment to make our venues inclusive to all fans."
Sensory needs are more common than most people think, with about one in six people experiencing it in some way. Factors like autism, PTSD, dementia, and other mental health issues and disabilities can all cause overstimulation. Venues with big crowds and sudden loud noises are a huge barrier for those who deal with sensory overload and still want to go to large-scale events. 
KultureCity has already helped over 900 venues become sensory-inclusive. The partnership with MLSE makes the Raptors and the Leafs the first Canadian teams to be on-boarded by the non-profit.