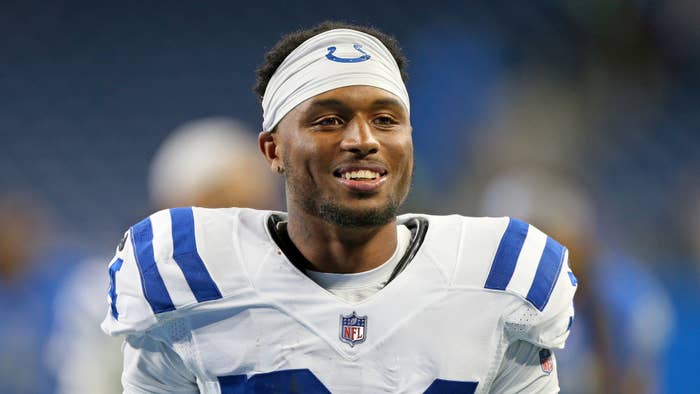 UPDATED 6/29 4:20 p.m. ET: Following an investigation, Isaiah Rodgers has been suspended for at least one season gambling on NFL games ones involving his own team.
Per NFL.com, Rodgers and his teammate Rashod Berry have been suspended indefinitely through at least the rest of the 2023 season for placing bets on games during the 2022 season. Free agent Demetrius Taylor has also been suspended indefinitely, while Tennessee Titans player Nicholas Petit-Frere is suspended for the first six regular season games in the 2023 season for betting on other sports at his team's facility. The Colts have waived Rodgers and Berry in light of the suspensions.
"We have made the following roster moves as a consequence of the determination that these players violated the league's gambling policy," said Colts general manager Chris Ballard said. "The integrity of the game is of the utmost importance. As an organization, we will continue to educate our players, coaches, and staff on the policies in place and the significant consequences that may occur with violations."
Following the conclusion of the 2023 season, Rodgers, Berry, and Taylor can petition to be reinstated.
Per gambling reporter David Payne Purdum via NFL reporter Dov Kleiman, Rodgers won a $1,000 bet on his team last season on the over/under on rushing yards by a Colts running back. As Kleiman noted, most of his bets were closer to $50 at most.
The NFL prohibits players from gambling on any sport while at any team or league facility, including practice venues. "We have been made aware of Nick's suspension by the league," the Titans said in a statement released on Thursday. "We believe in Nick and know that he has deep respect for the integrity of the game and our organization. We will continue to emphasize to our players the importance of understanding and adhering to league rules and policies."
See original story below.
Colts cornerback Isaiah Rodgers Sr. is currently under investigation by the NFL for alleged sports gambling.
According to ESPN, the player violated the NFL gambling policy, as he placed "hundreds" of bets, including some on his own team. He allegedly made the bets under an associate's name.
In a statement, the Colts acknowledged the situation, saying, "We are aware of the NFL's investigation and will have no further comment at this time."
In a tweet, Rodgers owned up to his actions. "Addressing the current reports, I want to take full responsibility for my actions. I know I have made mistakes and I am willing to do whatever it takes to repair the situation," he penned. "The last thing I ever wanted to do was to be a distraction to the Colts organization, my coaches, and my teammates. I've let people down that I care about. I made an error in judgment and I am going to work hard to make sure that those mistakes are rectified through this process."
"It's an honor to play in the NFL and I have never taken that lightly. I am very sorry for all of this," he concluded.
Indiana Gaming Commission director Jenny Reske spoke to Sports Handle about the situation, saying, "I can confirm that we have received information pertaining to this matter and we are following developments."
Rodgers is still on the team, but the future remains in question.
This is not the first time an NFL player has breached the policy. In April, two Detriot Lions members—receiver Quintez Cephus and safety C.J. Moore—and Washington Commanders defensive end Shaka Toney received one-year suspensions for betting on league games.
Lions players Jameson William and Stanley Berryhill also faced six-week hiatuses for sports gambling on non-NFL games.