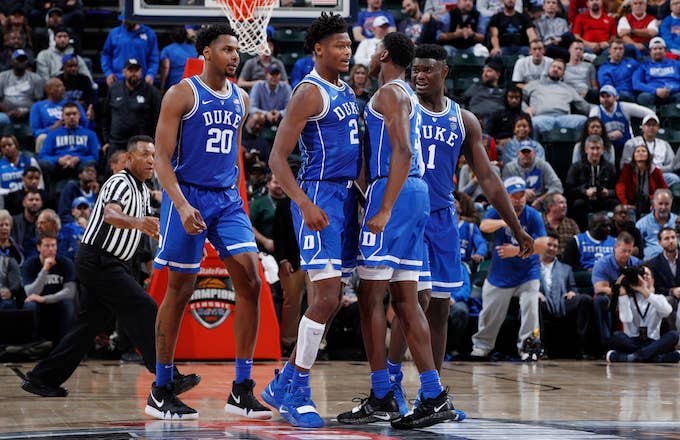 Back when Sam Hinkie was showing the NBA the folly of heavily incentivizing the draft in an effort to build the Sixers into a real title contender, the discussion centered on whether John Calipari's stacked Kentucky team could beat those woeful 76ers. This year, with the top three high school recruits in Durham under Coach K—Zion Williamson, RJ Barrett, and Cam Reddish—Duke has supplanted Kentucky as the go-to choice to beat the dregs of the Association. These days that's the LeBron-less Cavs, at least according to Paul Pierce, who said as much on ESPN Wednesday night.
It's true Duke stomped Calipari's higher-ranked Kentucky team earlier this week, 118-84, with Zion Williamson showcasing what's made him an internet darling, and R.J. Barrett proving Canada might have produced a talent with more potential than the high school version of Andrew Wiggins rumored to be in the running for a $100 million shoe deal. On top of that, Cam Reddish might end up a better NBA player than both of his teammates because of his shooting and malleability on defense. And yes, Steve Kerr earnestly compared Zion to Bron before realizing he was treading too close to the NBA's tampering rules. Perhaps the biggest reason Pierce said what he did stems from what a mess the 1-10 Cavs are this year.
But Pierce's proclamation is just as silly as the Kentucky-Sixers discussion Eric Bledsoe set off a few years back. We're glad Chauncey Billups told the truth to Truth, too. 
Even if the NCAA Tournament is the best three weeks of hoops drama every year, the regular season is marred by players who are inexperienced and foul prone, and the best of them are usually pretty selfish after getting feted on the AAU circuit like basketball royalty. The freshman triumvirate of Reddish, Barrett, and Williamson might be the best since Chris Webber, Jalen Rose, and Juwan Howard, but the NBA is still populated with grown men who play every day to put food on the table. The Cavs might stink in comparison to the rest of the Association, but they'd annihilate this Duke squad even if their freshman trio was paired with college-aged Christian Laettner and Jay Williams.