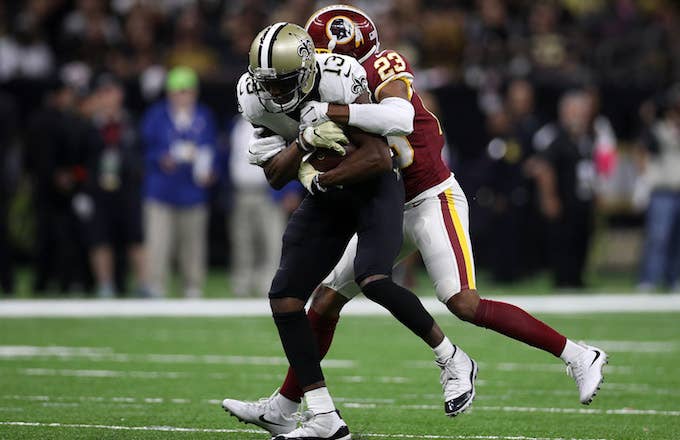 Washington cornerback Josh Norman and New Orleans wide receiver Michael Thomas did battle on Monday Night Football, but the 43-19 blowout didn't sate either player's need to get the last word, so they publicly traded barbs over Twitter. Norman—who has engaged in a putdown battle with Odell Beckham Jr. and Antonio Brown—is no stranger to on-field beef spilling over online, but Thomas appeared ready to take on the challenge.
Norman wasn't the only Washington player annoyed by Thomas, though. Multiple Washington players mentioned Thomas' irritating on-field shenanigans, including safety D.J. Swearinger and cornerback Quinton Dunbar, but it was Norman's quote that riled Thomas enough for a direct response.
"That guy — to speak on him, I will not waste my breath," Norman said of Thomas when he was asked about him after the game. "I'm sorry. I will not. He's not worthy of it. He never will be worthy of it."
In response, Thomas said he "made that boy check out after the first half." Josh came back at him multiple times throughout the night, calling him a "clout chaser" and "blocking decoy," but he deleted his own role in the back-and-forth bad-mouthing. Thomas, naturally, called him out for deleting the tweets as a "goofball con artist." We're assuming this is how middle school beefs go in 2018. Here's the now one-sided feud in all its glory:
As mentioned, Norman wasn't alone in his contempt for New Orleans' wide receiver, and Thomas' last tweet about Norman being a goof ball might've had something to do with how Swearinger referred to him as a "clown" after the game because he was "doing little petty stuff after the play."
Dunbar was equally dismissive and thought Thomas' antics on the field were more corny than a sign of something to really spend much mental energy worrying about. "I don't take disrespect well," Dunbar said after the game. "For you to keep hitting another man and going back to the huddle, who does that? Not hitting after the whistle, but tapping you as he's going back to the huddle. Just little corny stuff." 
We can't think of anything as corny as a Twitter feud between two professionals athletes, but it's also the NFL, and harmless Twitter takedowns are better than the deranged, off-field violence we've seen occur after one too many hits to the head.