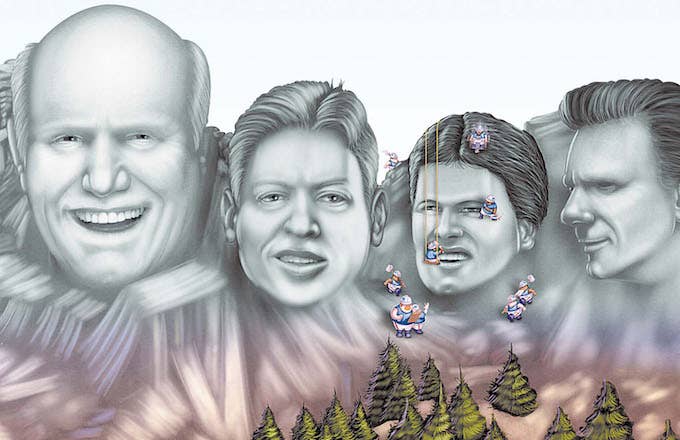 It's hard to ascertain the GOAT in football. There are so many players on the field, and it's such a team-oriented objective to secure a win that to label anyone as the best ever seems like you're shortchanging whatever crew was around that player and aided in their success. Perhaps that's why Joe Montana, appearing on the Stick to Football podcast, has such a hard time with the idea of an NFL GOAT, despite the fact he's leading the charge with a perfect 4-0 record in the Super Bowl.
But Joe Cool—along with Terry Bradshaw—has been supplanted for the most Super Bowl wins by a quarterback in NFL history (Charles Haley also has five Super Bowl wins). Tom Brady isn't perfect in the Super Bowl, with a 5-3 record, although he has the most wins and his numbers put Montana to shame. There's still a very real case to be made that the NFL's new pass-friendly rules helped play a role in that statistical discrepancy, so some OG Niners fans still think of Montana as the GOAT, as do some media outlets. So what does Montana think?
"Eh, everybody wants that title, I think," Montana said of the GOAT designation. "I think it's really hard to give anyone that title. Tom [Brady] obviously has had a tremendous career and I have a lot of respect for what he's done and all he's accomplished. Everybody tried to compare us and there's just no comparison.
"The way I look at it, I mean, if you go back and try to compare when I played to guys who played long before me—if you look at Otto Graham and Sammy Baugh, those guys were way ahead of their time in what they were able to accomplish. You can hardly find film on them, but the game is forever changing and I just say, 'Enjoy everyone for what it's worth.' I'm just happy to be in the conversation. But obviously Tom is just putting up stupid numbers, so it's going to be hard for anybody to catch him, I think."
So there you have it, from the mouth of the Comeback Kid himself. Brady's statistical dominance along with all those Super Bowl wins, not to mention his appearances—as if you can use a Super Bowl loss to denigrate a player—puts him ahead. But the debate does a disservice to us all because it's asking to compare discordant eras when the game was completely different.
It's why a grandfather laughs when his son says Michael Jordan is the No. 1 of all time before pointing out that Bill Russell won 11 rings in 13 seasons. And why the grandson laughs when his father talks about MJ's perfect 6-and-0 record in the NBA Finals before pointing out LeBron reached the Finals eight years in a row and bested a 73-win Warriors team in the Finals that outshines any team Russell or MJ conquered. Then the grandfather chimes in and says Russell not only went to the Finals eight years in a row, but won it each time, and so and so forth ad infinitum until the father, the father's father, and the son are on a barstool in heaven and God, while mixing them all an Old Fashioned, finally tells them to shut the hell up.