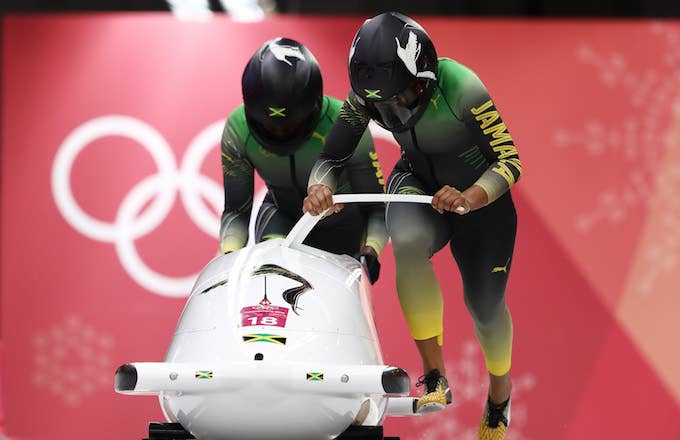 If anyone knows how to make history, it's Jamaica. On Tuesday at the Winter Olympic Games, the Jamaican women's bobsled team became the first women's team from the island to take part in the event, Mashable reports. 
The team came into the competition with the odds stacked against them. Losing their coach, sponsorship, and even their sled right before the games, Jamaican beer company Red Stripe stepped in to make sure teammates Jazmine Fenlator-Victorian and Carrie Russell made it to Pyeongchang. The team finally made their debut 30 years after the first national bobsled team made their way to Calgary's Winter Olympic Games in 1988.
The pair chose to name their sled "Mr. Cool Bolt" after both the 1993 Disney film Cool Runnings and Olympic legend Usain Bolt.  "A lot of people know of bobsleigh because of the movie Cool Runnings and Jamaica making that launch in 1988 and really pushing bobsleigh with their popularity," Fenlator-Victorian told Reuters. "But we're also humbled and honored to be compared to those men that started and fought so hard to represent Jamaica," she added.  The team competed in their very first historic run on Tuesday, finishing in 51.29 seconds and coming in 17th place. They would fall to 19th overall after two more runs. Regardless of the final result, the pair is solidified in Jamaican sports history. They also got plenty of love from supporters like Saturday Night Live's Leslie Jones.
The athletes feel their participation is about more than just winning. "It's important for us as a women's team to show people that women can do dangerous, speedy, strong, fast sports as well as," Fenlator-Victorian said. "It's important for us to show that Jamaica can do it."