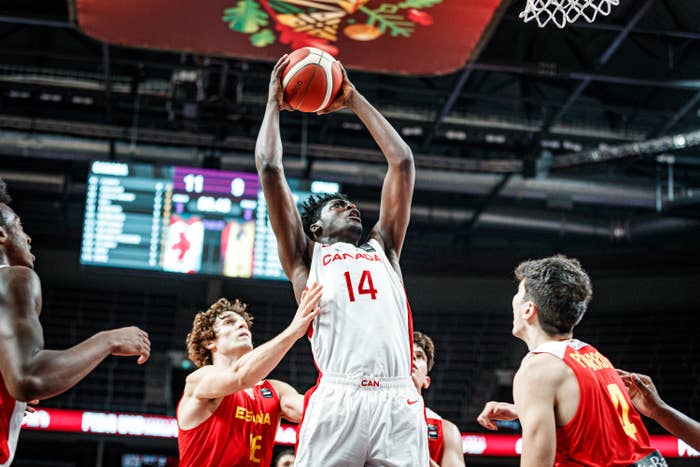 Canada is not supposed to be a basketball country. And looking solely at the results from our senior teams, it would appear that we aren't. The Canadian men, ranked 18th in the world, have succumbed to several heartbreaking losses in qualifying tournaments, failing to reach the Olympics since 2000. And the women have disappointed in recent FIBA World Championships and Olympic Games, where they have never medaled despite being ranked fourth in the world. 
But Canada is not supposed to be a soccer country either. And yet, after years of similar disappointments at the international level, the Canadian women's team won their first-ever gold medal at the 2021 Olympics, while the men just recently qualified for the FIFA World Cup for the first time since 1986. Most Canadian soccer fans didn't think it was possible. Until it was. 
Sometimes when you're emotionally attached to something like a sports team that fails to live up to your expectations time and again, it's easy to get caught up in the disappointments of the past and assume that they will continue indefinitely. It's much harder to take a big-picture approach and to look towards the future with a best-case-scenario outlook. Not because you are a homer, but because there are legitimate reasons to be optimistic, if only you look beyond the past outcomes. 
Canada Basketball Chief Executive Officer Michael Bartlett has those blue sky ideas and conversations all the time when it comes to the future of Canadian hoops. In fact, when he interviewed for the job a little over a year ago, Bartlett—who comes from Maple Leafs Sports and Entertainment, where he worked for 10 years producing community events such as Jurassic Park—pitched the idea of bringing an international basketball showcase akin to the NBA's Summer League to Toronto each and every summer, where they would showcase the best young talent to Canadian fans. After all, Canada's boys are ranked fourth in the world and the girls are ranked eighth, so there is no shortage of talent, only a lack of opportunities to showcase them. 
That idea is quickly coming to fruition. Set to take place in Toronto from July 5-10, GLOBL JAM "will shine the international spotlight on the game's rising stars and feature women's and men's teams from around the world competing in an Under-23 tournament at Mattamy Athletic Centre."  The tournament is a collaborative effort between Canada Basketball and Sportsnet, where games will be broadcast. Plus, GLOBL JAM will feature events at Yonge-Dundas Square including the Canada Basketball 3x3 National Championships and activities that celebrate the intersection of sport, art, and culture. 
We spoke to Bartlett about the need for a basketball showcase like GLOBL JAM to take place on home soil, gender equity in sport and what Canada Basketball is doing to level the playing field, and the future of Canadian hoops. The convo, edited for clarity, is below.
Why don't you start by telling me a little bit about GLOBL JAM and how the idea came to be?
Well, we want to turn Canada Basketball into an events company for the purposes of multiple objectives. One: more opportunities for our athletes to perform on home soil. Two: more opportunities for fans to attend games on home soil. And then three: The corporate part, where if you're in the sports business you know that the best way to turn your commercial business around is to have more assets to offer to partners and more tickets to sell and more content to broadcast, and events drive that. Our Sportsnet partnership was actually designed with that in mind: It's not just about broadcasting games that we're playing in other countries such as FIBA Qualifiers and World Cups—it's about creating events to broadcast here, too.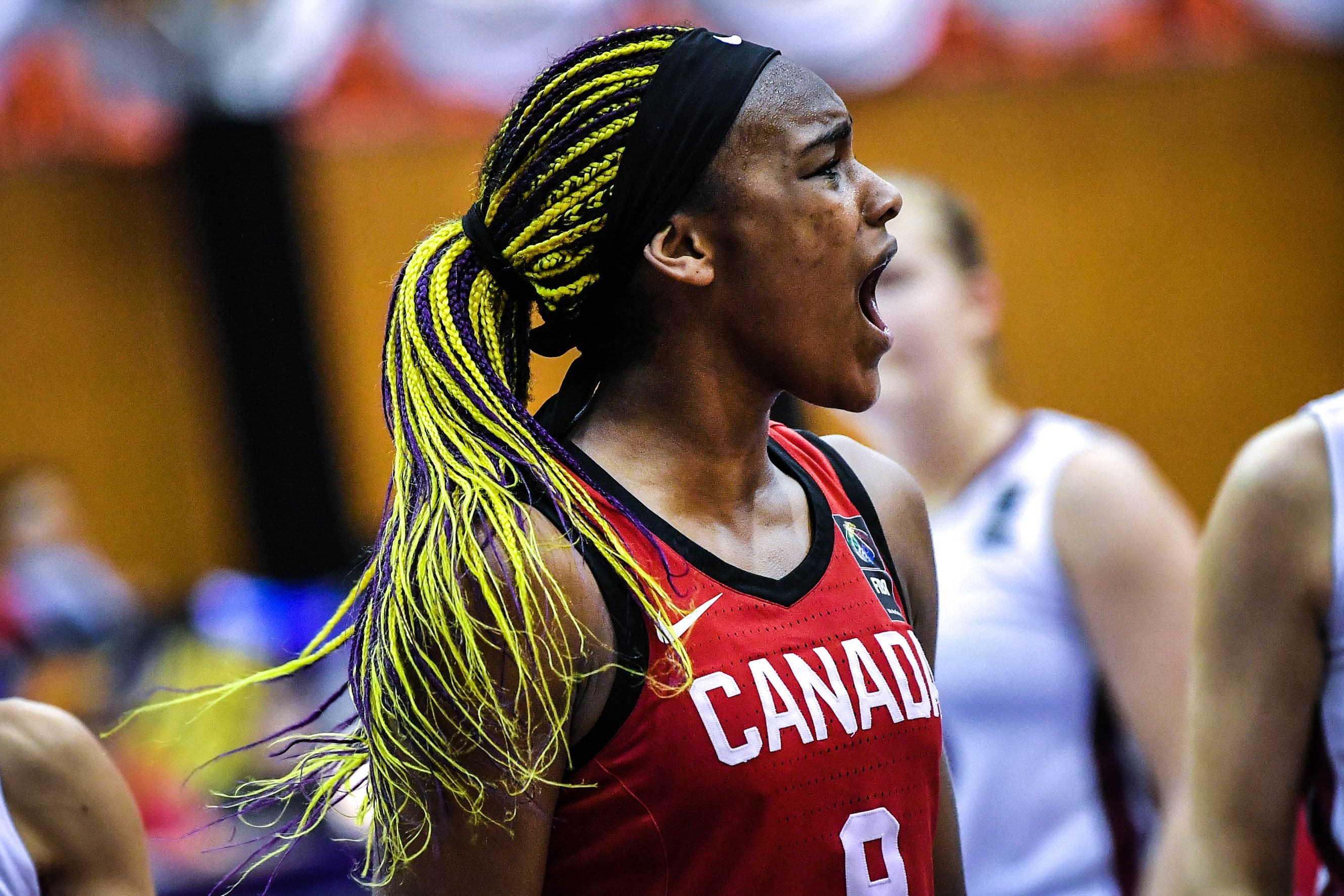 You said something interesting about creating "more opportunities for our athletes to perform on home soil." We have what I consider a big problem in Canada where the most talented athletes leave the country from a young age in order to develop in the United States, often spending the rest of their basketball careers there. How important is it that Canadian kids get a chance to play in front of friends, family, and hometown fans? 
You're right. It's a function of our own talent and growth, for sure. Our best athletes are leaving home at 14, 15, 16 years old and they're going down to prep schools, they're going to the NCAA, and then they're going to the pros. And, at least on the men's side, the best ones get to play in Toronto one or two times a year against the Raptors, and it's not really a home court. And on the women's side, with no WNBA franchise here and no European pro teams that would stop through here, they're getting zero opportunities to play at home. 
So, if we're not hosting and building these events, then their opportunities are essentially limited and quite frankly out of their control. So, our intention for the benefit of these athletes, their family members, and their friends is to have more opportunities for them to play at home. 
"We expect it to be a coming-out party for a lot of these kids to become household names in Canada even before they reach the NBA or WNBA or European pro stardom."
GLOBL JAM will feature the eight of the best Under-23 squads in the world. How did you decide on that specific Under-23 age group? 
The Under-23 age group is one that's starting to get a bit more popular in the international basketball community. Canada, like many other countries now, has a very deep pipeline of basketball talent. You look at March Madness, and we have 50 Canadian athletes in the bracket this year: 30 on the men's side, 20 on the women's side. And there's only 12 spots on each of the senior teams. So now, for the first time ever, Canada is in a position where it's potentially going to be cutting NBA and WNBA and European pros from its senior teams. And in a lot of those cases, it's going to be the younger pros who just aren't necessarily ready yet to take that leap. So we have stars, we have high end basketball talent everywhere you look, playing in every league and at every level, and we want to feature them. 
And we also know it will be a fascinating tournament for Canadian hoop fans who are starting to see these kids for the first time. We expect it to be a coming-out party for a lot of these kids to become household names in Canada even before they reach the NBA or WNBA or European pro stardom. This will get their names out there a bit more, giving them more of a platform to showcase themselves and have fans kinda fall in love with the Canadian talent coming up the pipeline.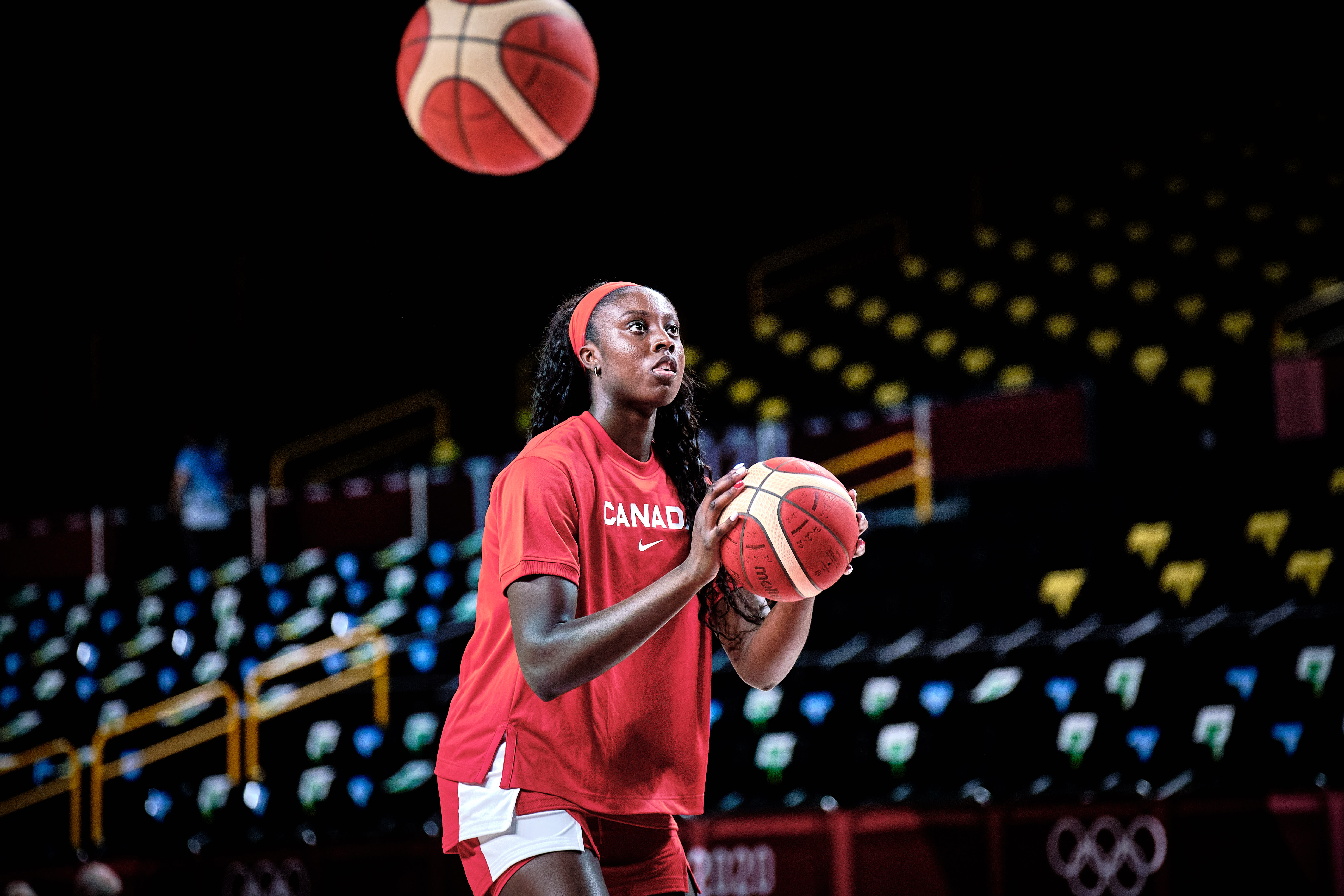 I understand how this could be a great opportunity to showcase our young talent, but I've also heard you talk about this being a development opportunity for Canada Basketball. Can you explain that? 
Yeah. Under-23 becomes a bit of a development team for us. As I said when we launched, it's very possible that a good chunk of these GLOBL JAM 2022 rosters make up our L.A. 2028 Olympic teams. 
As you've heard Team Canada head coach Nick Nurse say when he re-upped with the program: Canada Basketball now has to be about consistency. That's why we lost in Victoria this past summer and failed to qualify for the Olympics: We put a roster together that didn't know each other, hadn't played together. Sure, some of them grew up in various age group teams playing with each other but not consistently. So, if we create a tournament like GLOBL JAM, from a competitive advantage standpoint, over time, those athletes are getting a chance to play together in a marquee tournament on home soil against other global teams. It's just going to make our consistency in playing together that much more achievable. So, it's good for their development.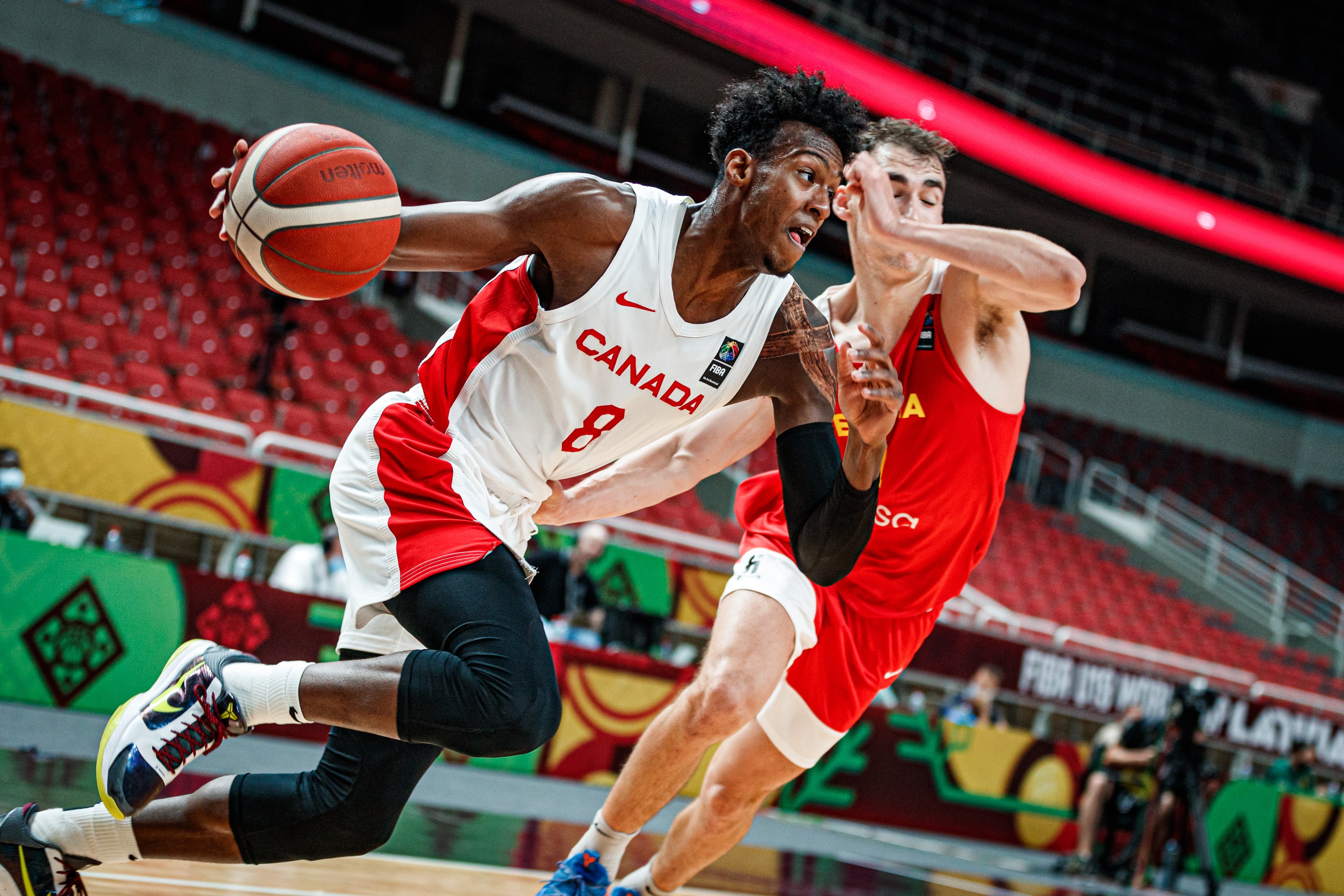 The timing is interesting because GLOBL JAM is scheduled to start immediately after the men's FIBA World Championship qualifiers, where some NBA players should be available to play. Was that intentional? Do you hope to have some of the players overlap and play in both tournaments, or at least stop by as spectators? 
It certainly is intentional. We're still talking to FIBA about whether or not we can get those qualifying games to be played in Canada. But yeah, I want this week-plus in Toronto to start to be regarded as something like the NBA Summer League of Canada Basketball. I've been to Summer League a bunch of times, and there's about 80-100 athletes participating in the tournament along with about 400 current and former athletes that are there just enjoying it, being part of the exercise, being part of the hype, and being part of the night time festivities. We want this to be that for Canadian hoop fans and athletes. So yeah, I can imagine a day when our senior women's and men's team are sitting courtside cheering on their next generation brothers and sisters. That's something that we want to create. We don't know how much of that environment we'll be able to create in year one, but that's certainly the ambition. 
Plus, the sort of environment that we want to create would be good for the development of the team culture. I talk a lot about a "one-team culture." Every one of our teams play with the same jersey on. Even though we've got a whole bunch of different teams with the men's and women's teams at different age groups, we really have one team. But we haven't curated enough crossover amongst them: They don't spend enough time together. They don't know each other well yet. So, we want to have a bit more mixture in our training camps, in our scrimmages, and this week of activity might allow us to do that just based on the timing of when we planned it. 
"Basketball represents this country in a way that other sports don't in its diversity, in its simplicity, in its community, in its access, with no other barriers other than to pick up a ball and play. It's a beautiful representation as a game of what Canada is as a community."
How would you sell GLOBL JAM to the average basketball fan who is going to be in Toronto during the week of July 5th but who doesn't necessarily know a lot about these athletes and is maybe on the fence about attending the inaugural tournament? 
It's going to be entertaining, period: It's damn good basketball, and it's worth spending time and money on.
The thing about this next generation of talent, too, is that it's an entertaining, athletic brand of basketball. I look at the potential rosters that we could have on the court just for Canada, and it's a positionless game, potentially similar to how the Toronto Raptors play, where you could easily have 6-foot-8 guards on the men's team run the ball up the court and hand it off to our talent in the middle. And then on the women's side it's potentially positionless as well. It's the new version of basketball that you're seeing dominate the NBA right now and Canada's rosters are going to be able to play that version. And then you look at the other squads such as the USA or Brazil, and we've picked these teams to come because they're highly competitive, they have Under-23 programs already, and they think they're going to test our athletes. 
But when we win—and we expect to do well, we're holding ourselves accountable—it's going to be because we played really well, not because we're up against any slouch teams. So it's gonna be fun to watch. And that's a reason to come.
I know that the 3x3 National Championships are set to take place at Yonge and Dundas Square, which should be an entertaining thing for the public to watch. But can you give us some insight into what other events will be happening there during GLOBL JAM?
Obviously, there will be a significant amount of footprint allocated to the 3x3 courts. But we want this to be a place that screams all elements of basketball that you can immerse yourself in. So, the activities are certainly intended to be fun and engaging and deliver basketball-themed experiences. We're talking about art installations which connect visual and sensory elements of art and culture to basketball, because we know whether it be fashion, photography, music, art: culture and basketball are all intertwined. 
There's also a stage at Young and Dundas. So, because I kind of grew up in this industry through producing Jurassic Park, there are some elements that I'm going to steal from there in terms of how we can have an interactive stage show that keeps people entertained and gives them reasons to come back for more day after day. 
That sounds interesting. Does that allude to the possibility of the Under-23 games that are going on at Mattamy Athletic Centre to be simultaneously broadcast on the big screen at Yonge and Dundas?
Yeah. 100 percent. That's something that we've talked about, and maybe could even happen for the finals this year. We're hoping to be inserting some of that magic of Jurassic Park into the festival atmosphere that we want to create.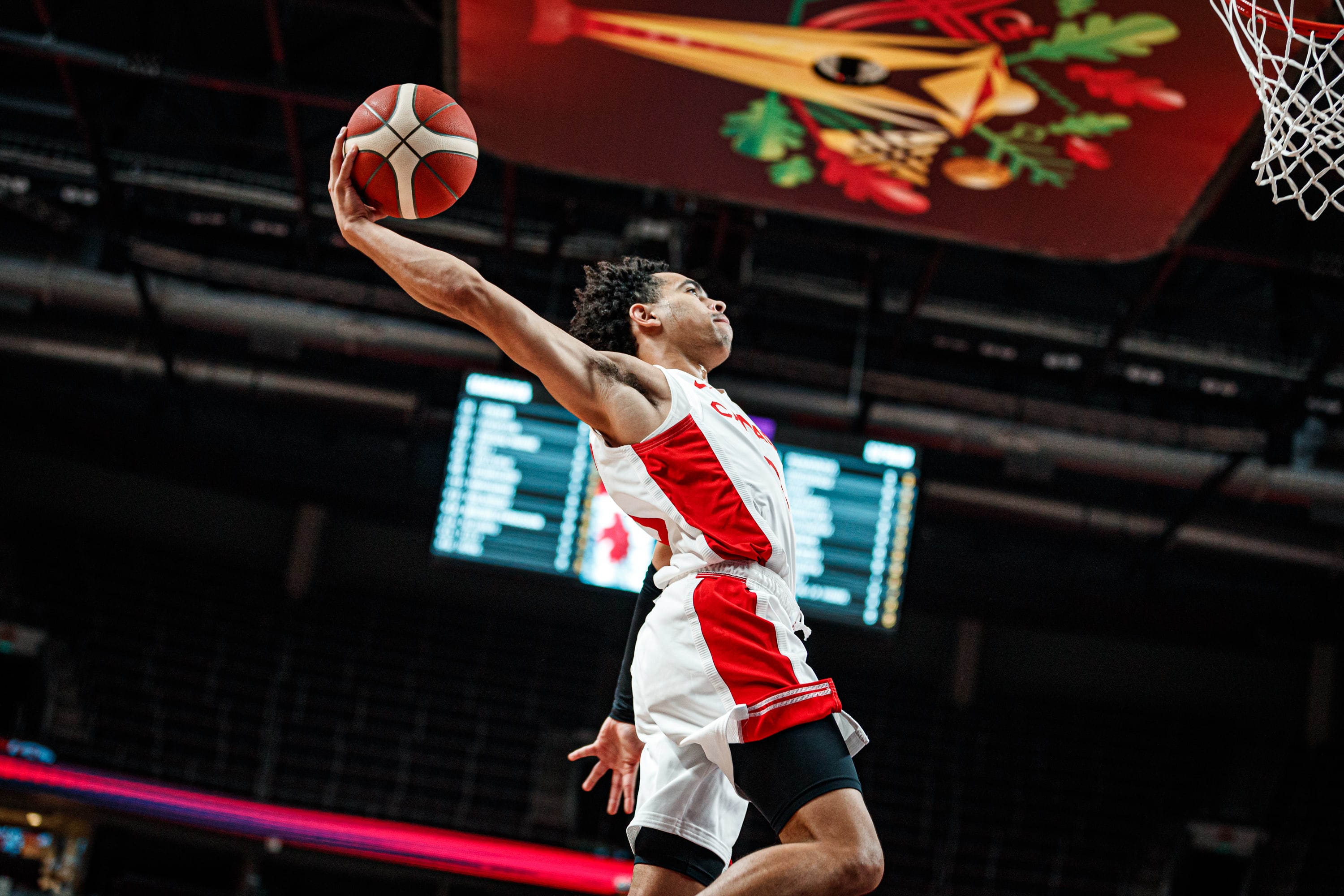 In terms of the games themselves, since they aren't going to factor into youth rankings (FIBA has no Under-23 rankings) and it's not a qualifier for anything, how are you incentivizing competitiveness and making sure that this is something that these athletes and federations really want to get up for?
The greatest truth about athletes is that they want to win. So, you throw any athlete against an athlete, whether it be a game of H-O-R-S-E or a card game: They want to win. We haven't really spent too much time thinking about incentivizing because of how quickly the different federations responded to this, which tells me that nobody is really worried about whether these teams and athletes are going to show up with energy for this opportunity. The federations all jumped at the opportunity, which kind of proves that the whole world wants more basketball. 
The other thing is that we project this to be a great scouting showcase for the next generation Canadian athlete. Especially for the NCAA player, for example, who might not be a one-and-done and instead is on a two, three, four year trajectory and still has some pro dreams that maybe need a little bit more work to realize. I've talked to executives in the NBA and WNBA and European pro teams around the world who I think will be watching the showcase. We think certainly the scouting access here is going to be put on a tee for the athletes. So, we think that will be attractive them.
Plus, a lot of our conversations with the corporate partners is about delivering a top-notch athlete experience. So, after year one I want the athletes—whether they're on Team Canada, Team Brazil, or Team France—I want them walking away saying: 'Gosh, I gotta get myself back on my team for next year. That was fun. That was awesome. I was treated like a star. I was treated with respect.' We want the athletes to be hungry to get back to next year's GLOBL JAM. And that's part of the athlete-experience promise that we're making.
That's great to hear, but we've seen countless examples in basketball where the men might walk away saying those things, but the women aren't treated with the same respect. What is Canada Basketball and GLOBL JAM doing to level the playing field?
Well, we're doing this with equity at the foundation. I want the women to be leaving the tournament saying: 'I was treated equally and as good as the men were.' The disparity between the men's and women's experience is something that plagues international and domestic sport. 
One thing that Canada Basketball and Sportsnet have agreed upon in our partnership is to make sure our women's teams are on TV more and, quite frankly, as much as our men's teams. So, GLOBL JAM will be an equity driven broadcast with the women's team on TV in primetime slots, just the same as the men. And then in our broader partnership with Sportsnet, every time our senior women's team plays internationally, that will be broadcast on Sportsnet, just like the men will. And that's an important indication of where our values are as an organization and also an important opportunity to get more women's high level basketball on TV in this country.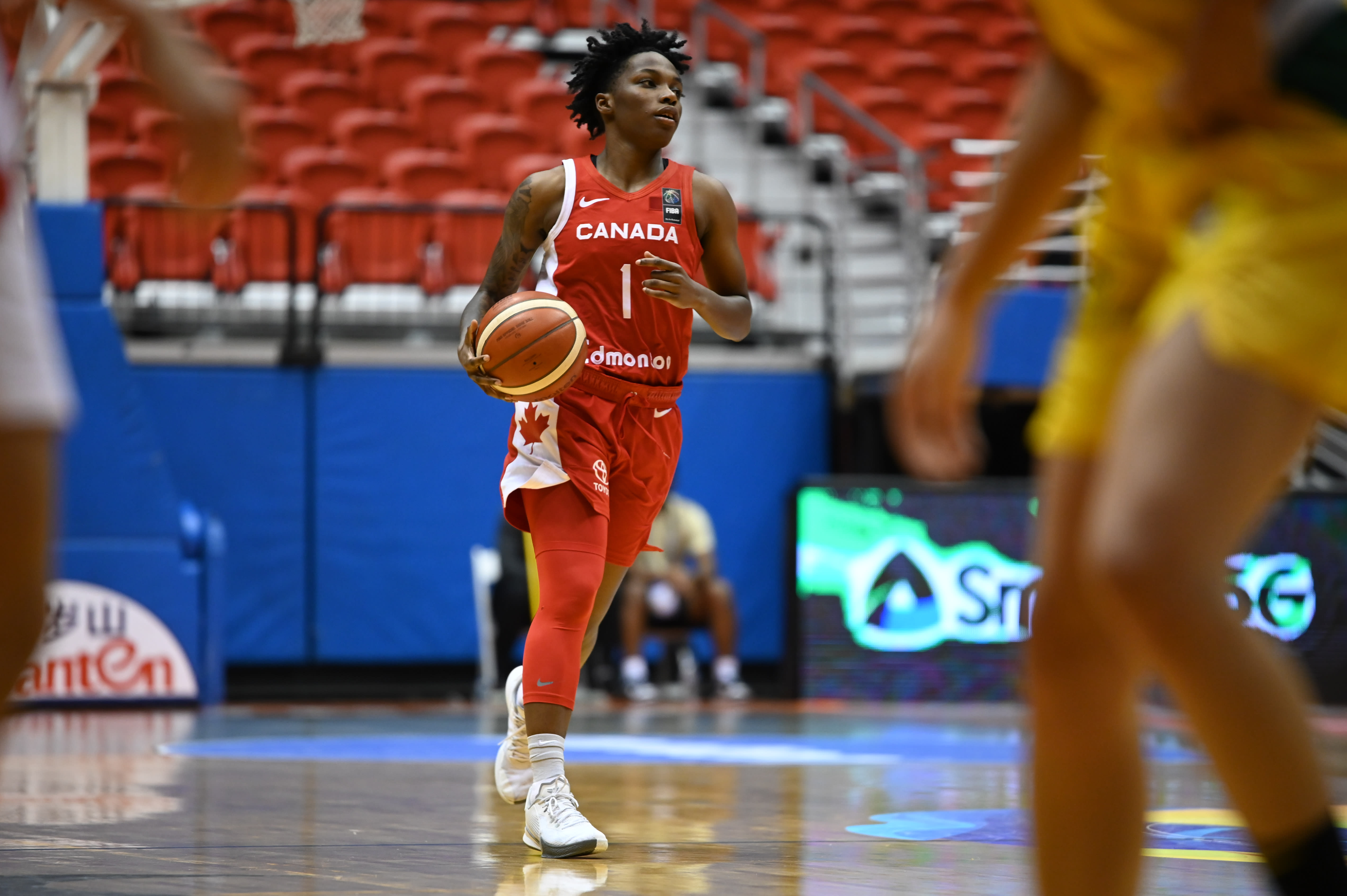 Tell me about Canada Basketball's Mad Love campaign and the biggest problem high-level female athletes still face in this country? 
What we did with the Mad Love campaign and speaker series was to take a very intentional tone on the barriers that face a woman in sport versus that of a man. And I think it was a successful campaign to shine a light on the inequities, both in access and opportunity. But it's not just a marketing campaign for me; we also had to live by the commitments and fix the inequalities that we called out. We had to be self aware that we had inequities within our own program. So, the way that our women were gathering for training camp, the hotels that they were staying in, the travel: those things were not balanced with how we were doing it on the men's side. But we've since leveled that up. And we'll continue to make investments into our women's program that ensure the investment and experience and resources are leveled up. 
Also, we'll continue to talk with basketball stakeholders in North America about providing  professional opportunities for female athletes in our country. I don't love the fact that 95 percent of our athletes who are making a paycheck in women's basketball are making it overseas, and then the other 5 percent are making it in the United States, because there is no WNBA franchise in Canada. The role of the national body towards getting a pro team in Toronto or a pro league in Canada (similar to what the CEBL is for men) is probably more so from a collaborator, lobbier, sharer of passion and resources perspective.. It's not our job to own and operate a professional team in this country, but it is our job to mobilize conversations around it. We have relationships with NBA Canada, the Raptors, the CEBL. We're friends with them, we're at the table with them, we're strategizing with them. But It's not all going to happen overnight. 
Finally, since you've admitted to having those "blue skies" ideas and conversations, what lies ahead in the future of Canadian hoops? 
We're considered a hockey country but we're quickly becoming a basketball nation. We watched the Raptors parade on TV and Canada was on the street that day, and I don't just mean the volume of people, I mean the mosaic of the country was visible in the streets that day. Basketball represents this country in a way that other sports don't in its diversity, in its simplicity, in its community, in its access, with no other barriers other than to pick up a ball and play. It's a beautiful representation as a game of what Canada is as a community.
I firmly believe the next "where were you when?" moment with regards basketball in this country—just like "where were you when the raptors won or on parade day?"—the next one will be about our Canadian national teams. I believe our opportunity is to use the game to unite the country, and we have a head start on the other sports in that respect. There are still gaps with lack of diversity in our coaching ranks and officiating ranks, and there's still barriers that hold back ultimate diversity of play. But I think the game is better positioned to unite the version of Canada that we all know and that we're all proud of than any other sport, and winning will do that. We gotta win. But we will. And when you see the next snapshot of Canada's mosaic on the street celebrating basketball, I want that to be at our hand, at our outcome.