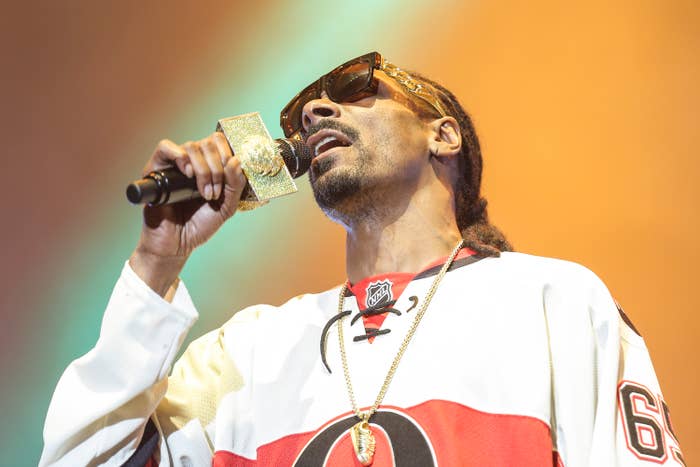 After news came out that Snoop Dogg was joining the race to buy the Ottawa Senators, the legendary rapper doubled down on his stance saying he's completely serious about wanting a stake in the team.
In an interview with The Athletic, Snoop explained that he was truly interested in purchasing the Senators and that it wasn't a publicity stunt.
"This ain't no joke or no gimmick. Or an image or likeness play. This is a real ownership play," Snoop said to The Athletic. "And Snoop will put his foot in the town."
Some early critics wondered why Snoop would choose to invest in Ottawa rather than an American city like Atlanta or Houston.
"I want Ottawa because Ottawa wants me," Snoop added. "It's a thriving city. The team is going to make a U-turn once we get ownership. The players are inspired. The community is inspired. I felt like this is what Ottawa needs."
Snoop further explained his love for Ottawa, stating that he cherishes the Ray Emery jersey he received in 2007 and that he hung up a picture in his weight room of him wearing an Erik Karlsson jersey during a show at Ottawa Bluesfest in 2014.
"I love the city," Snoop said. "Every time I've come through the city, they've rolled out the red carpet for me. The fans, the city. Everyone. It's been nothing but love. When you go around the world as much as I have, there are certain places that stick out in your heart. Everywhere I go in Canada, it's always been love, but there's something about Ottawa. And the opportunity for the team to be bought? It's impeccable timing right now."
Though Snoop would want the Senators to compete, his main goal would be to find new ways to bring hockey to more underrepresented communities.
"My role in Ottawa would be a community activist. Finding new ways to be better. Being active, innovative," Snoop added. "And being up close and personal with the whole community. Any time I'm part of something, I become family. I become connected to it."
On ESPN's First Take, Snoop also said: ""The kids need to know that there is an option to play hockey if you look like me."
Despite Snoop's interest, many other parties are interested in purchasing the Ottawa Senators. The deadline to submit a bid is still a over a week away and his competition is Ryan Reynolds and the Remington group.