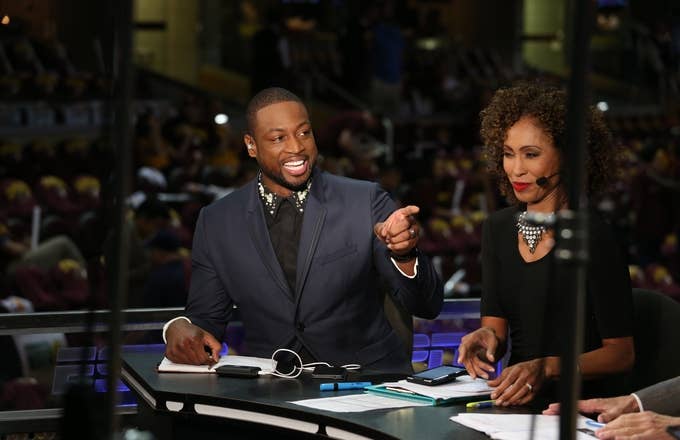 Though Dwyane Wade wrapped up his farewell season earlier this month, he's likely to make his way back to the hardwood floor soon.
A report from the New York Post indicates that the newly retired point guard is being eyed by both ESPN and TNT for an analyst position. The two networks are said to be prepping pitches, with intentions of having Wade take his seat behind the desk during the current NBA playoffs. Wade has experience, as he appeared as an analyst on ESPN during the 2015 NBA Finals (the Warriors beat the Cavs 4-2). Given his likeable personality and incredible tenure in the league, it makes sense he's being sought.
The report also attempts to predict where the former Miami Heat star would land. Though TNT's Inside the NBA has found a harmonious trio in Charles Barkley, Kenny Smith, and Shaquille O'Neal, 56-year-old Barkley has stated he may retire at 60. That, in conjunction with Wade's relatively short flight between the Atlanta studio and his Miami home, gives reason to suspect he may go to TNT.
Paul Pierce (who famously compared his career to Dwyane's), Chauncey Billups, and Jalen Rose serve as the current on-air talent for ESPN's NBA Countdown. With Billups in talks for a front-office position with the Timberwolves, a space may also need to be filled there as well.
Though it's not clear if he will take the job, it is certain that Dwyane is really enjoying retirement.