Drake Hilariously Taunts Klay Thompson After Toronto Raptors' Game 3 Victory
After the Raptors won game 3 of the NBA Finals, Drizzy didn't hesitate to one-up Thompson in their ongoing rivalry.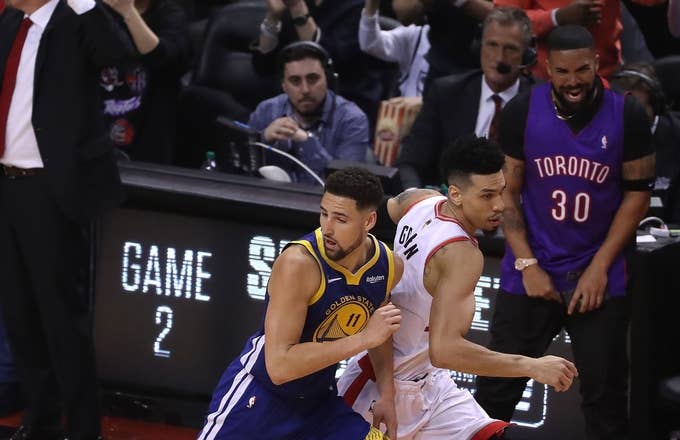 Getty
Image via Getty/Steve Russell/Toronto Star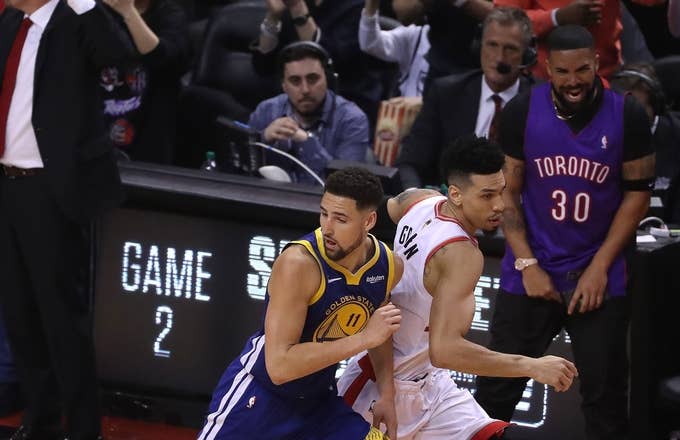 The rapper posted a hilarious picture of a shirtless Thompson, whose eyes were glazed over, as he seemingly enjoyed himself in the company of three women. "Stay golden my friends... goodnight," he wrote, followed by several laughing emojis.
What makes this even funnier is that, following the Warriors' game 2 win, Thompson was talking spicy to Drake, saying "See you in the Bay, Aubrey. Weren't talking tonight were ya? With your bum ass."
The shooting guard, along with Kevin Durant, was not able to play in last night's game, as both are currently experiencing injuries. Head coach Steve Kerr said Klay, who suffered from a sore hamstring, is expected to make his return in tomorrow's game.
It was recently reported that KD, who was ruled out for the first three games, could possibly make his return sometime in the middle of the series, though his status remains unknown.
Hopefully both players can soon make an emphatic return to keep up the competition, prompting Drizzy to keep up the courtside shenanigans (that is, if you aren't completely annoyed by it yet).