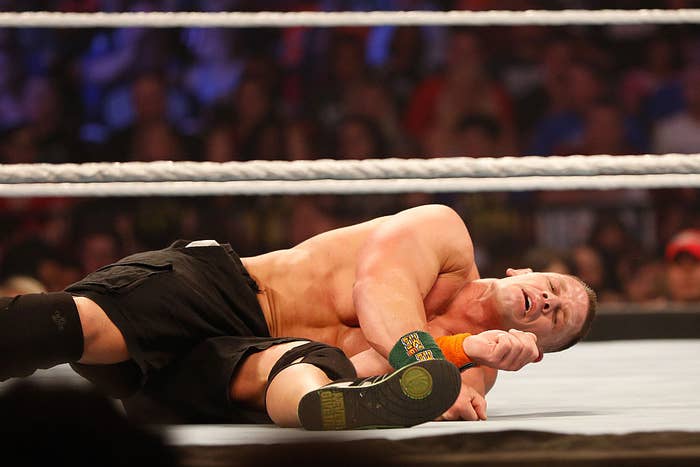 WWE's main event storylines, despite their twists and turns, have a moral, ethical center.
The heels will ultimately get their comeuppance. The faces will overcome adversity. And typically, the good guys will surmount that adversity on the biggest stage possible to maximize its impact. It's why WWE's creative team has emphasized and touted the company's "WrestleMania moments" in recent years. They celebrate Shawn Michaels fulfilling his "boyhood dream" at WrestleMania12. They replay Daniel Bryan winning the WWE world heavyweight title at WrestleMania30. WrestleMania is the place, they say, where mortals, even unlikely mortals, can become legends.
But for these moments to mean something, the faces have to start as the underdogs, from the bottom of the proverbial ladder, to highlight the struggle it took to reach the top. And in recent years, SummerSlam has represented the bottom of that ladder—it's the worst night of the year to be a babyface. If WrestleMania is the place where dreams come true, then SummerSlam is the place where dreams go to die.
Heels win the main event at SummerSlam. It's an unwritten rule, with few exceptions. And even when they don't win, the babyfaces will still get screwed over, somehow. Daniel Bryan beat John Cena in 2013's main event, but then Randy Orton cashed in his Money in the Bank briefcase on Bryan right afterwards, pinning him in under a minute. The same sort of thing happened to CM Punk in 2011's main event; he beat John Cena, but before the show went off the air, Alberto del Rio cashed in his Money in the Bank to steal the title.
And speaking of John Cena, the eternal babyface of WWE has a glaringly lopsided, losing record at SummerSlam. The last time he won a singles match at the pay-per-view was in 2007, when he beat Randy Orton to retain the WWE title. He lost to Batista in 2008. He lost to Orton in 2009. He won a multi-man tag match in 2010, he led his WWE team to victory over upstart stable the Nexus. According to Chris Jericho and Edge, however, Cena might have been originally booked to lose this one as well; he used his backstage clout to flip the result. Former Nexus members Ryback and Justin Gabriel have confirmed as much in subsequent interviews.
And since then (karma perhaps?) Cena has been on a six match losing streak at SummerSlam. He lost to CM Punk in 2011. Then again to Punk in 2012. Then to Bryan in 2013. Then to Lesnar in 2014. Then to Seth Rollins in 2015. Then to AJ Styles in 2016.
And the striking thing about these losses is that with the exception of the Rollins loss (which featured Jon Stewart with a steel chair), every one of these losses was a clean loss, with a clean pin in the center of the ring. Cena's match versus Lesnar in 2014 wasn't even competitive; Cena took 16 German suplexes to the back of his head and was never in full control of the match, even once.
Which is to say that this year, Cena will be losing again, this time to Baron Corbin. On this Tuesday's SmackDown, Corbin lost his Money in the Bank briefcase thanks to Cena's interference. And unless WWE Creative has decided to completely bury its young, upcoming superstar, this cannot go unaddressed. Cena might not lose in the literal sense; he may walk away with a DQ win, depending on how brutal Corbin decides to get. But he's certainly going to end the evening flat on his back, one way or the other.
There are currently two world titles in contention at SummerSlam: the WWE championship and the WWE universal title. The match for the former, which pits Jinder Mahal against Shinsuke Nakamura, will be the most prominent babyface win of the evening. And that's mostly by necessity. The Mahal experiment, where WWE creative tried to remake a complete jobber into a bona-fide champion, has failed; years from now, it'll be embarrassing to see Mahal's name alongside Bruno Sammartino's, Hulk Hogan's, and The Rock's. Nakamura, on the other hand, is completely over with the fans, and is more flexible to work with. Mahal is one-note and has one compelling storyline—the evil minority with a victim complex. Nakamura is also an ethnic minority, and he does not make his background his entire identity. If WWE wants to be a truly global company, Nakamura is the key to that perception.
But Nakamura vs. Mahal will not be the show's main event. It'll either be at the beginning of the PPV or right near the middle of it, where it can build the fans' positive emotions before crashing them back down to earth The main event will be a Fatal 4-Way for the WWE Universal championship between Brock Lesnar, Braun Strowman, Samoa Joe, and Roman Reigns. And because this is SummerSlam, the guy who absolutely no one wants to win? That's the guy who's going to win. Strowman won't win; he's been a smark anti-hero, ever since that extended beatdown segment on Raw, when he tipped over that ambulance with Reigns trapped inside.
Reigns isn't winning it. As much as fans boo him, he's also, simultaneously, the biggest merchandise seller in the company. There's a massive, silent majority who love the guy. WWE will continue pushing him as a babyface, and they're not going to set him up for failure in front of a hostile, contrarian Barclays Center crowd. That Shield reunion that everyone is hoping for? Not yet. That'll be the positive "WrestleMania moment" months from now.
Joe isn't winning it. He's the second most likely, but he hasn't been properly built up for it, from a narrative standpoint. This past Monday, Joe barely had the chance to talk and get his promo in; Paul Heyman hogged all of the time.
Brock Lesnar is winning it. He's a scripted heel, and he has heat with everyone. The marks hate him. The smarks are sick of him, and wish he would work a full-time schedule. If Vince McMahon wants to troll all the WWE fans, this is the way to do it.
For Lesnar, SummerSlam is his place of triumph. He won his first WWE title here. His overall record at SummerSlam is 5-2. And he's won and main evented four out his last five matches. For all his talk about leaving WWE if he loses; he's contracted to WWE for the immediate future, and he's advertised to appear at September's No Mercy. Ticket sales have already started.
So prepare to leave SummerSlam pissed off and unfulfilled, per usual. But don't worry. The Beast Incarnate will get his comeuppance. Eventually.