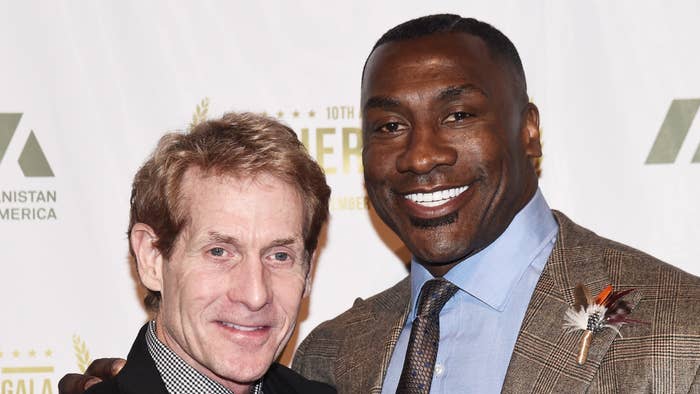 Shannon Sharpe thanked viewers and gave a tearful goodbye to Skip Bayless during his last appearance on Tuesday's episode of Undisputed.
"You've embraced me and allowed me to become your favorite TV uncle, and for that, I'm forever grateful," Sharpe said. "You've rocked with me when you knew very little about Shannon Sharpe. The guy that can come out here and talk, hopefully, you've found me entertaining. Hopefully, you've found me educational. Hopefully, you found all the things that I gave you that you looked for when you came and tuned in and watched me and this man for seven years."
The NFL Hall of Famer then thanked Bayless for giving him a chance.
"And last but not least, Skip Bayless, you've fought for me, bro. I'm here because of you," Sharpe said while fighting back tears. "You've allowed me to share the stage with you. You've allowed me to share the platform. I'm going to cry in the car, but I won't cry now. The opportunity that you gave me to become what I became, I'm forever indebted to you. I'll never forget what you did for me. You've helped me grow more than you'll ever know."
Sharpe added, "All I ask is when you lay your head on that pillow at night is know I gave you everything I had," while Bayless said,, "I wanna thank you for all you have given to me. ... I wanna thank you to dedicating yourself to this job."
Shannon Sharpe announced he was leaving Undisputed after he reportedly reached a buyout agreement with Fox Sports last month. He will also be taking his Club Shay Shay podcast with him.
Sharpe and Bayless launched Undisputed in September 2016, months after the TV personality parted ways with Stephen A. Smith on ESPN's First Take. Since one of their first clashes that occurred in 2018, the two had their fair share of heated moments that mostly consisted of Skip cutting Shannon off during segments.
Things really got heated in January, though, when Sharpe didn't come to work after Bayless issued a tweet that questioned the NFL's decision to postpone a "crucial" regular season game in which Buffalo Bills player Damar Hamlin suffered cardiac arrest.
Then in April, Skip claimed Sharpe was jealous of Tom Brady because he was still playing at a high level past his prime. The comment had the Undisputed hosts engage in a full-blown argument on the live broadcast that they later settled in private.
After announcing his exit, Sharpe liked several tweets aimed at Skip Bayless, such as one that compared him to the comedian musician Weird Al Yankovic.
"@FS1 keeping @RealSkipBayless and losing @JennyTaft @ShannonSharpe is like a music promoter keeping Weird Al Yankovic but getting rid of Lady Gaga and James Brown," the first tweet read.
The other read, "Their relationship got progressively worse over the last 2 maybe 3 years because skip fought for him to be on that show but I feel like skip couldn't stand Shannon succeeding without and that's when skip was taking pot shots on air."
According to Sharpe's tearful goodbye, it seems he and Bayless are on good terms following his exit. As for his next career move, Sharpe is rumored to join Stephen A Smith and First Take over at ESPN.
"I welcome Shannon Sharpe to First Take," Smith said on The Stephen A. Smith Show. "But it would be in the mix of being a part of the family. I like the potpourri of contributors."