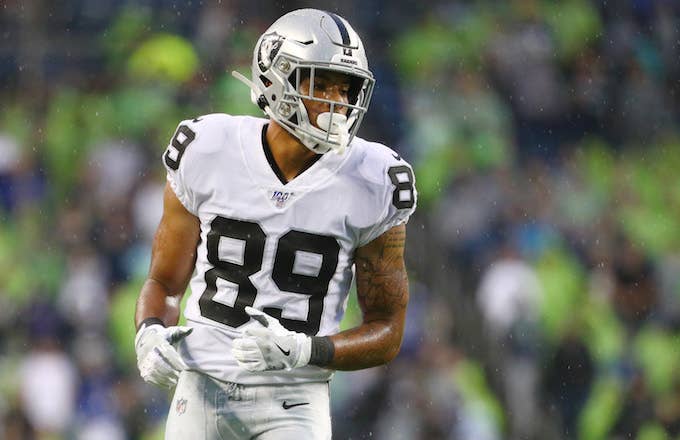 UPDATED 8:20 p.m. ET: Now it appears Doss is willing to let bygones be bygones after the Raiders upped their offer. 
A surprising move for a Raiders team that originally let Doss go because of their depth at wide receiver. 
See original story below. 
The hits just keep coming for the Oakland Raiders. After they released Antonio Brown, as per his request, the team tried to bring back standout wide receiver Keelan Doss after letting him go to trim down their 53-man roster. 
Doss has been on the Jacksonville Jaguars' practice squad, meaning he could either not play Week 1 by staying with the Jaguars, or join the Raiders' active roster and possibly get some snaps on Monday night. He chose to remain in Jacksonville. 
Doss made a name for himself as an undrafted rookie during HBO's Hard Knocks, amassing 162 receiving yards on 17 receptions and a touchdown in the preseason. Despite his consistent presence on practically each episode, Raiders head coach Jon Gruden disputed his attention as being anything more than just hype. 
"That was your storyline. That wasn't my storyline, just so we're on the same page," Gruden told reporters. "He did a heck of a job. We tried to keep him on practice squad. He felt like he had a better opportunity to make the team in Jacksonville. You hate to see him go, but we're happy for his future."
When the Raiders looked to bring Doss back, the Jaguars were willing to increase his salary to the rookie minimum of $495,000, which is normally given to a player on the active roster. While the Jags' offer certainly sweetened the pot, Doss had to enjoy the opportunity to stick it to his former team.