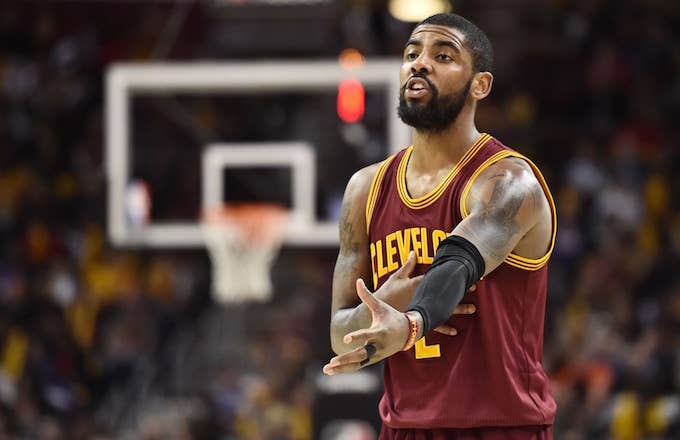 It looks like Kyrie Irving is utilizing his All-Star Weekend experience in New Orleans to conduct a full-on troll tour. After declaring on the podcast of his Cleveland Cavaliers teammates Richard Jefferson and Channing Frye that the earth is flat, Irving stood by his comments at All-Star Media Day, adding that people should question the educational system more often. "I've seen a lot of things that my educational system said was real and turned out to be completely fake," he said. "I don't mind going against the grain, in terms of my thoughts and what I believe." 
And Kyrie didn't stop there. He also questioned the existence of dinosaurs. "They find one bone and make up 98 percent of it digitally," he said. "And then they give it to, uh, pictures of what they should look like."  
Did Irving take someone up on a bet? Did the Cavs star point guard recently see the 2010 film I'm Still Here starring Joaquin Phoenix and say to himself, "I gotta do something like that to these reporters." This is getting out of hand. 
We're not the only ones who think Irving is trying to troll us all. 
Hopefully, we're all right.