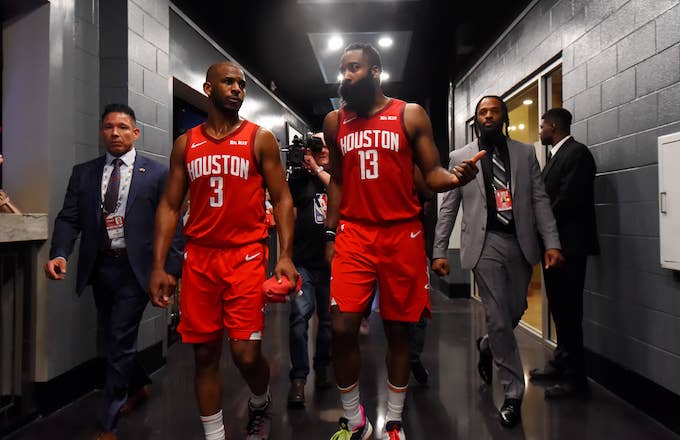 Just a little over two months ago, James Harden confidently said, "I know exactly what we need to do," in response to a question about what has to be done in order for the Houston Rockets to take the next step in the 2019-20 campaign. 
It was a confident statement from Harden, especially after he just saw his team get eliminated from the playoffs by the Golden State Warriors for a second straight season. At the time, we weren't able to piece it all together, but the 2018 NBA MVP might have been hinting at the idea of moving Chris Paul in the offseason. 
After trying to make it work for two seasons, Harden and Paul's relationship may have hit the point of no return when the two reportedly got into a "tense" verbal back-and-forth following their Game 6 elimination at the hands of a Warriors team without Kevin Durant.
While Rockets head coach Mike D'Antoni and forward P.J. Tucker tried to downplay their rumored feud, Houston proved that the organization wasn't satisfied with the team's direction under the Harden-Paul tandem when they traded their veteran point guard and a package of first-round picks for Russell Westbrook. 
With the Rockets set to start anew next season with The Beard and Brodie, ESPN's Brian Windhorst revealed some aspects of the reported argument, which ultimately became the beginning of the end for Harden and Paul. Windhorst describes one of their exchanges as being a "schematic thing" and an issue with spacing. "Chris barked at James, and James turned to him — this was described to me by a player who was on the court — and he said, 'With you it's always f—ing something,'" Windhorst adds.  
Teammates arguing is not a new occurrence. In fact, it can be healthy for two players to air out their grievances, instead of letting their issues fester for a longer period of time. However, for CP3 and Harden, their conflict may have been well beyond repair, and their relationship was indeed "unsalvageable," as Yahoo! Sports' Vincent Goodwill reported last month.